Inception of Windows:-

Windows was launched in 1985 by Microsoft, founded by Bill Gates and Paul Allen. Back in that era, before Windows, when you needed to operate a computer, you needed to enter commands in the computer language. As the operating system was Microsoft Disk Operating System, commonly known as MS-DOS, and user needed to type MS-DOS commands in order to run the computer. Therefore, people with DOS knowledge only, could use those. In 1983, Microsoft announced its first ever Graphical User Interface (GUI) called as "Interface Manager" in 1983. Two years after the announcement, on Nov. 20, 1985, Microsoft brought "Windows" to the world.
Windows 1
Year of Launch : 1985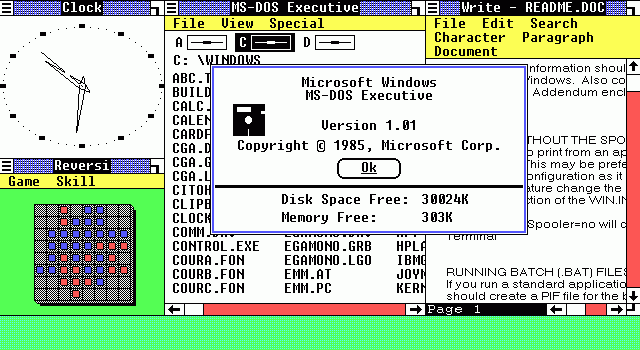 The name was changed to "Windows," because the user could see a rectangle on the screen when the Graphical User Interface was launched. The major breakthrough that Microsoft achieved by launching Windows, was that it enabled the users to use the computer by using a device called "mouse." This mouse enabled the user to move an arrow-like shape called "Cursor" on the screen. This cursor could be used to perform all the activities, previously that which were performed using the DOS commands.
The icons on the screen were to be clicked by the cursor, which was to be moved by the mouse, which was an external device. Microsoft's one major challenge was to make Windows 1 very user friendly. And one major hurdle was using the mouse, which was very new to the market.
Reaching the users: –
Microsoft made a nice move by introducing a game called "Reversi" in their system. The game was supposed to be played by using the mouse, which made users familiar with the device and the technique, also the maneuverability. Microsoft wanted the users to use mouse to perform the majority of the operations, instead of keyboard. The version came in 16-bit. The era was that of the floppy disks. Another important feature that Microsoft created was the ability to switch from one program to another. This feature was a major simplification to the earlier process.
The earlier system did not allow the users to go to another program simultaneously, with one program running. So, you had to exit one program and open a new one and perform tasks, and again close this one, if you wanted to open a new program. This problem was solved with the launch of "Windows." The ability of Windows to perform multiple tasks was commonly known as "Multi-tasking."
Microsoft put-forth their product Windows as very 'user-friendly' system and indeed it proved to be one. Drop-down menus and the ability to scroll was something that people loved and it was a simultaneous learning for a lot of users during that time. Windows Paint was a feature that became a hit with the masses. Apple sued Microsoft for the Copyright Infringement, but lost the case.
Windows 2
Year of launch : 1987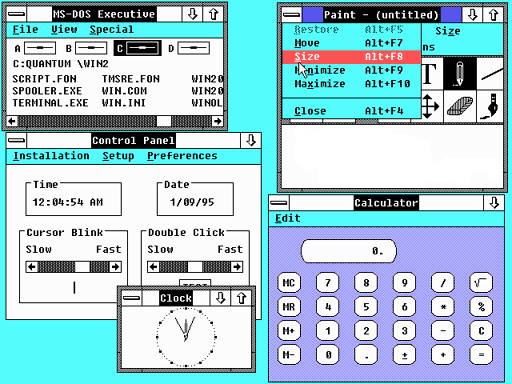 "Windows 2" made debut around sometime in 1987. The version had some features added to the past ones, which made it more interesting. New Windows introduced Microsoft Word and Excel, new graphical interfaces. "Word" was used to write text while "Excel" was an application used to store information in a grid layout and is the most popular Spreadsheet used until now.
Aldus PageMaker was the only non-Microsoft application introduced on Windows with the second version of windows. Windows also released its next two mini-versions Windows/286 2.1 and Windows/386 2.1.
Windows banked on the release of Intel 386 processor and took a major leap. Microsoft just enhanced the memory for the system and also improved the speed and performance. Windows 2 had already started to penetrate in the corporate world.
Cutting down Time: –
The convenience provided to the user was one reason why the growth kept coming in. People using the computer could now use 'shortcuts' to perform the operations easily. The shortcuts could be used by pressing a combination of certain buttons on the keyboard and the operation could be performed. They were also able to 'maximize' and 'minimize' the windows. Initially, users did zoom in and zoom out to switch from one program to another.
Another introduction by the second version of Windows was "Control Panel." The Control Panel is available in all the versions till date, where a user can change settings related to the hardware and software available in the computer.
Windows 3
Year of Launch :  1990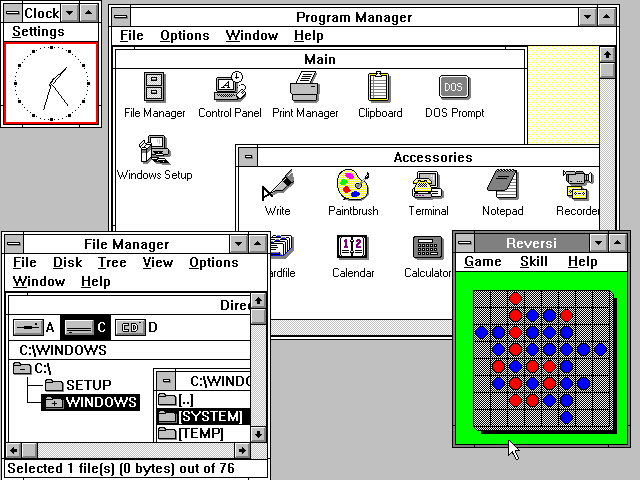 It was in 1990, that Microsoft unveiled the next version of Windows. "Windows 3" was leveled against Macintosh's interface. Microsoft just upped their ante to take Apple Inc. Windows went step ahead to its previous version and introduced the concept on 'Virtual memory.' The sound card, CD-ROM and multimedia features were liked by the public and Microsoft sold Windows 3 like hot cakes. Microsoft sold around 10 million copies. Though there were some bug-corrections done in between, but nothing stopped Microsoft to grow bigger.
Enhanced Performance: –
Windows 3 also took care of protection of the computers by having enhanced protection mode with "kernel." The fundamental function that Windows 3 provided by having "Kernel" on its system is that it just enhanced the performance by leaving very less room for break-down of the system. In more technical terms the phenomena of 'Crashing' was taken care of.
Introducing Games :-
Windows donned a colorful look than ever, it supported 256 colors. The new version definitely had better graphics, better processor and icons. Microsoft released an advertisement saying "Now you can use the incredible power of Windows 3.0 to goof off." The focus of Microsoft was now not limited to Office-use but slowly drifting towards homes as well. With that thing in their mind, they were able to develop some engaging games for the users like Solitaire, Hearts, and Minesweeper.
Windows released some of other versions under Windows 3 like Windows 3.1 and Windows NT. Another reason for Windows 3 to achieve the success is the introduction of "TrueType" Font. This type of font was mainly popular with publishers at that point of time. "TrueType" Font gave the user a control to choose the font size and the pixels. This technology was developed by both Microsoft and Apple together.
Windows NT was pitched as a platform for business operations that came along 32-bit operating system. "NT" actually meant New Technology. It promised its users to perform complex operations and was seen as a more enhanced version Windows 3.1.
One player that was pioneer in the 'Networking' market at that time was "Novell." Microsoft had entered the market with its ability to serve LAN server market. Microsoft could do that because they had strong hardware and equally compatible softwares. There was a change in the way businesses happened, because of LAN(Local Area Network), which it fuelled the growth for Microsoft.
Windows 95
Year of Launch :  1995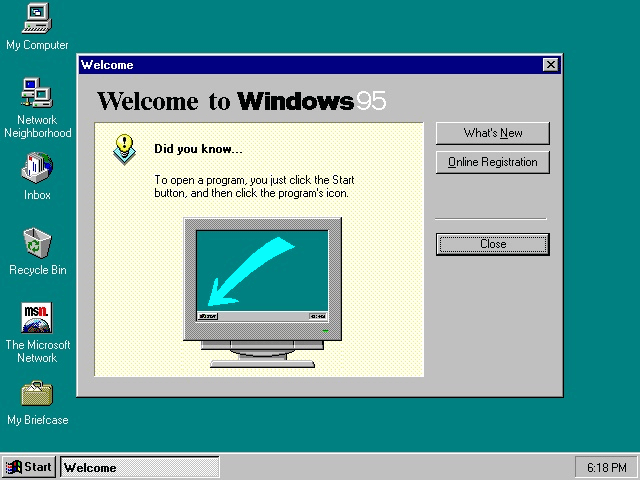 Connecting to People with Advertisements:-
Windows 95 launched in 1995, went to sell 7 million copies in less than two months' time. It was sort of a massive success for Microsoft. 386DX processor and 4MB RAM was the minimum requirement to run Windows 95. This is a time when Microsoft truly commercialized the Windows. Microsoft put on advertisement that went on air called "Start Me Up," sung by Rolling stones. The commercial prompted the users to purchase the new version because the commercial featured the significance of "Start" button. This feature exists till date and we know that as 'Start Menu.' Similarly, task bar was also introduced.
Windows 95 was code named "Chicago" initially. Windows 95 was never compatible with operating system that was not MS-DOS, so users had to get MS-DOS, in order to run Windows 95. This strategy really paid Microsoft off well.
Internet Saga:-
Remember, Internet happened around the same time and Microsoft precisely took the opportunity to launch Windows 95 with all the ability to run Internet on it. It came with Dial-up connections and In-built Internet support. E-mail was a major part of communication and Microsoft came with total support to these features by having Plug and Play capabilities, these made it convenient for users to Install softwares. MS- Outlook proved to very important at that point of time, even today major corporations use Outlook as their official communicating medium for e-mails.
Constant innovation has always lead Microsoft ahead. Bill Gates always saw the opportunity and kept changing accordingly. Microsoft watched the world react to the "Internet," which was making news at that point of time. And they did not want to turn a blind eye to the 'network of networks,' which commonly defined Internet during those times.
Bill gates went on to acknowledge the power on Internet by relating its development in the world of Personal Computers. Soon after his acknowledgement, they came up with "Internet Explorer." The browser was synonymously known as World Wide Web because of its large scale presence. Few would know that the a browser named "Netscape Navigator" was used earlier to the Internet Explorer, but was completely wiped off later due to cross-functional usage of Windows and Internet Explorer, which gave it a clear advantage.
Microsoft later added some more versions under the product brand name "Windows 95."
Windows 98
Year of Launch :  1998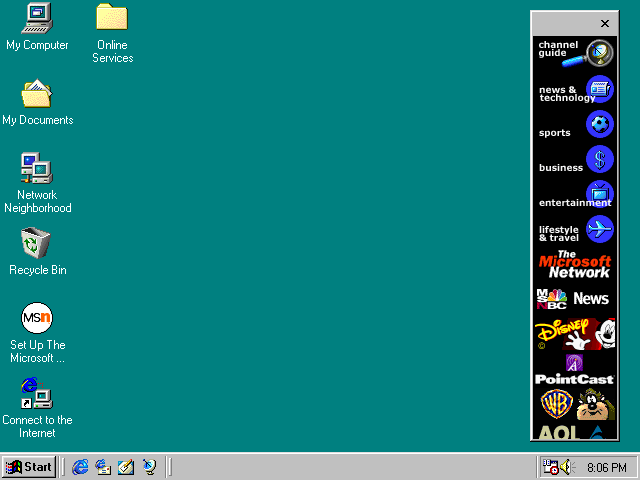 In 1998, "Windows 98" released. This time there were internet cafes all around due to the internet revolution happening all around. Therefore, Microsoft had to bring in better tools to run the internet better on the machines. And Windows 98 significantly helped by its ability to search information on the internet and simultaneously on the computer as well.
The Powerful Browser Story:-
Windows 98 eventually came with extra firepower by adding more hardware and FAT32 file system. This feature could support disk partition more than 2GB. There was a shift in usage of LAN with the help of Windows 98, as Microsoft added a feature that enabled multiple computers having access to the internet with only one internet connection. Microsoft continued to make "Internet Explorer" more compatible with Microsoft which forcefully carved the path for "Netscape Navigator" to exit.
"Quick Launch Bar" was also presented with the same version of the Windows. This launch bar was used to pin up the regularly used programs by the user on the taskbar, which was placed at the bottom of the desktop horizontally. This was like a short-cut key, which could permit the user to directly open the application without having to browse through the Start menu. A year later it also brought second version to the markets.
Windows 98 made the navigation experience easier. The back and forward buttons that were newly seen with the Internet Explorer added the convenience factor for the user.
Windows ME (Millennium Edition)
Year of Launch :  2000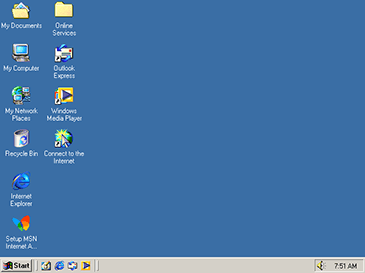 "Windows Me," which just enriched the experience of the user in terms of Multimedia like Video, Music etc. Many people could just easily play around with the music and videos by editing and saving lot of things simultaneously. This was especially a boon for people belonging to Cinema Industry.
"Windows Me" was the last version of Windows that ran on MS-DOS. The "Autocomplete" feature made its presence for the first time with this version. But, the version did not gain the success as compared to its previous versions for some obvious reasons.
Restoring the System:-
A user had to configure all the settings all over again that he previously had set, if the system crashed. To avoid this headache, Microsoft brought another feature called as "System Restore." This feature was quite a relief for the users, whenever a problem occurred with the system, they could just go to System Restore option to have the settings that user had before the problem had occurred.
The version had many bugs, which made the user-experience far below the average that all previous versions gave. Most of the users were irked because of the speed of the system; it was painfully slow and earned a bad reputation. The installation problem also kept on popping up; this was certainly a version that could have dented the name for Microsoft. Some people even called it as "Mistake Edition" from the Microsoft; such was the plight of the people.
Windows 2000 server
In the year 2000, "Windows 2000" hit the markets. The whole of this version was developed on Windows NT Workstation 4.0. It provided the support to add a lot of hardware to the system. It also provided support for networking devices which were wireless.
Saving The Power:-
"Hibernation," also known as sleep mode made its appearance. Here, a user could turn off (without switching off) the computer and start later to save power. This mode enabled to presume the windows exactly in the same state, where he had left the machine before the "Hibernation" mode.
Windows 2000 was also known as "W2K," which was also built for Laptop usage along with the use for desktops. There were 4 sub-versions released under Windows 2000. "Windows 2000 Professional" was one of those, which is quite well known.
Windows XP
Year of Launch :  2001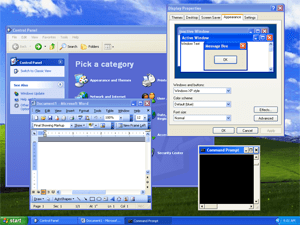 Microsoft have ended support for windows xp, but it is still 3rd most popular operating system in the world.
On October 25, 2001, Microsoft released "Windows XP" to the market. "Windows XP" was finally a combination of Windows NT/2000 and Windows 95/98/ME. Windows XP interestingly drew criticism soon after the launch. The criticism came in majorly because of issues with Security. To address this concern, Windows released Service Pack in 2002. It continued to release a series of service packs after that as well.
The same ability of Microsoft to keep improving every time by releasing a series of service packs and also coming up with new editions under the same XP version became the reason for Windows XP to be the longest running version in the Microsoft history.
The Victory-Story:-
What made Windows XP a huge success? We can look back and see what all changes that Windows underwent to make it such a hit. One reason was definitely the 'virtual feel' that XP was able to give. The design was completely a new one, it donned a new bright look with Start button, task bar and control panel having a different appearance, rather, an attractive appearance.
The 'Help and Support' was a best feature that XP gave, because it had complete guide for the user to overcome common problems that occurred. The software updates were available online and the system was more secure in terms Virus risks and hacking threats. With this version, Microsoft taught users how to avoid unsafe mails with attachments by giving apt updates.
The release of Windows XP triggered the use of Personal Computers like never before. More than one billion Personal Computers were said to be sold around the world. Microsoft clearly saw difference of usage patterns amongst Home-users and Office-users. Hence, they came out with a "Home-edition" and a "Professional-edition"; the latter edition had greater computing powers for the office use. One of the features that it provided was Remote-desktop system, which allowed users to share, edit and access so many files simultaneously from different machines. Other features were file encryption system and advanced networking options.
Some other editions that released under Windows XP were Windows XP 64-bit Edition (2001), Windows XP Media Center Edition (2002) and Windows XP Tablet PC Edition (2002).
Windows Vista
Year of Launch :  2007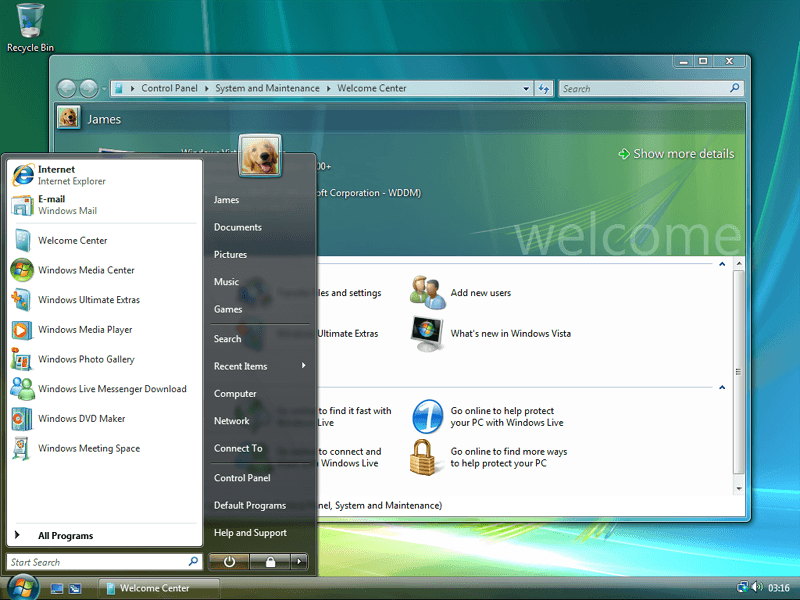 More Computing:-
"Windows Vista," launched in 2006 for specifically business operations. This new version promised reliability, security and better performance. Microsoft said that they had come with Windows Vista keeping Business processes in mind.
Vista gave a better data security than all of its previous versions. It also modified the appearance of the 'Start' button all over again. Once again, the design changed. The 'Search' button which lets the user search any file on the system became faster.
Even this version had some basic flaws in the system, one that was very apparent was that, that the user had to go through a plethora of requests to run any software and click 'yes' button for innumerous times repeatedly. Vista was not compatible with older computers, which was another issue.
Some strong points that Vista could bank on were its ability to provide support in over 35 languages. It provided amazing support to PC-gaming. DVD-maker and 'Speech recognition' features were also rolled in. Vista, in comparison to other versions was actually more responsive on the same hardware.
After the release to the business customers, Vista came up with consumer version six months later. These editions were available in both 32-Bit and 64-Bit versions.
Windows 7
Year of Launch :  2009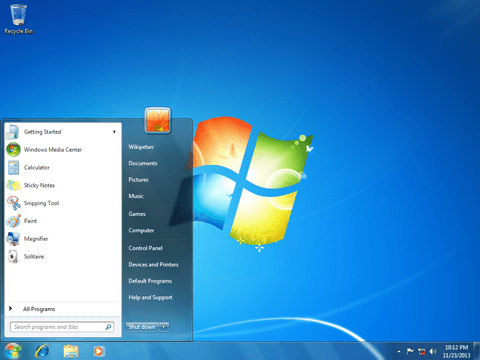 Windows 7 is the most popular Os in world today installed in more than half of the PC user across the world. Its simplicity, ease of use and soft on CPU characteristics have pushed it to Number one Operating system in the world today. Below is the user share as of October 2015 of operating systems across the world.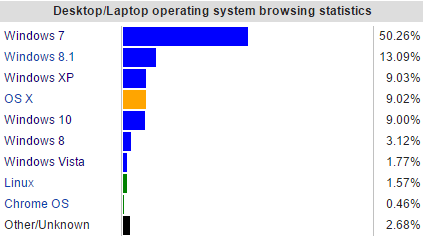 Fixing the Old glitches:-
"Windows 7" was released in 2009. Windows 7 could address some problems that were in the Vista. One was the problem of too many pop-ups surfacing continuously in the Vista. Windows 7 took care of the problem by allowing the user to sideline the popups and check them at a later point of time. Users were satisfied with the 'Dialogue-Box' problem being solved.
Touch-Pad:-
Around the same time, Laptops were selling wildly around. Windows 7 included many features that were designed to keep in line with Laptop users. The user could zoom in by using the 'touch-pad' on the laptop. There was multi-touch support available. There were various resizing options available. "Handwriting recognition" made its debut with the Windows 7.
During the same time, other browsers started to make more prominence over the Internet Explorer, which remained a default browser for the user for a very long time.
Windows 8
Year of Launch :  2012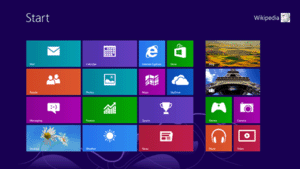 Taking on Tablets:-
"Windows 8" was released in 2012. During this point of time, the mobile market was picking up like never before. There were many smartphones in the market. People bought Tablets which gave them features that a desktop could give, plus the 'feel-good' factor and the mobility advantage. To overcome this problem, Microsoft designed Windows 8 in such a manner that it had a new design and feel. They worked on the 'feel' parameter to a great extent.
It was designed in such a way that both desktop and Laptop users could use it, as in conveniently with the mouse and the touch-pad as well. Icons on the screen appeared in the same fashion as that on the mobile screen, like "Widgets."
Windows 8.1:-
Windows RT came in from Microsoft for mobiles. Based on some confusion and criticism from the users, Windows 8.1 (a free upgrade) was released. It came back with more known format of the 'desktop-view,' which was more convenient with mouse. Some other applications were also added to engage the users better.
Windows 10
Year of Launch :  2015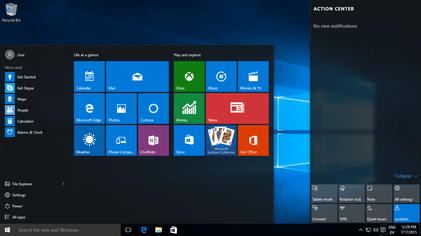 Feedback:-
"Windows 10" was released in early 2015. In the beginning, users were asked to give feedback for its 'test' version. Microsoft took reviews and critics from lot of Windows Users to build Windows 10. Windows 10 was developed by keeping mobile, tablet and desktop platform in mind, and could be used on all of these.
Good-Old View:-
Desktop made a comeback with Windows 10 including the "Start" icon. The strength of cloud computing and connectivity is clearly seen as it enables the user to connect iPhone and Android smartphones to Windows 10 PC. Both tablet mode and 'mouse and keyboard' mode are available. Even Xbox consoles can have Windows 10.
More User engagement.-
Windows 10 features a lot of entertainment options like Microsoft Groove for Music lovers to manage their playlists and store them on "OneDrive," which could be accessed by any Windows 10 device. Windows 10 also promises a lot of space for personalization.
Written By – Dheeraj Rawal