The Windows 10 has already hit the systems around and is laden with all new features, improvements and security updates. Launched in four versions, viz. Windows 10 Home, Windows 10 Pro, Windows 10 Enterprise and Windows 10 Education, it was officially unveiled on September 30, 2014. The Windows 8 drew flak from many enterprises, while it was also preferred by some. Microsoft took into consideration all the feedbacks, fixed various issues, tweaked and added to the Windows 10. The new OS might seem complex to the users initially. So we thought of introducing the supposedly best ever version of operating system, till date, to you.
Firstly, we begin by listing the Microsoft official  Minimum system requirements for Windows 10, which is as follows:
1GHz or faster Processor or SoC
1GB RAM for 32-bit OS or 2GB for 64-bit OS
16GB for 32-bit or 20GB for 64-bit OS of Hard Disc space
Graphics card of DirectX 9 or later with WDDM 1.0 driver
Display of 800×600
Users running Windows XP or Windows Vista, must purchase a copy of Windows 10 from the Microsoft Store or other retailer, since there is no direct upgrade path from Windows XP or Windows Vista to Windows 10. Whereas, users running an eligible version of Windows 7 (SP1) or Windows 8/8.1 can upgrade to Windows 10 Home or Windows 10 Pro for free, during the first year of general availability.
Microsoft has made this Windows 10, a totally integrated thing working on all platform viz. PC, Tablets, Phone and wants it work like a Service, rather than a "replaceable by another number" version. So Windows 10 will be treated as a complete software that will have periodical upgrades. After its July 2015 launch, Microsoft has committed its support for a decade long service of Windows 10. Now let's take a look at the key features which makes Threshold (its codename), a killer OS.
The Good Old Start Menu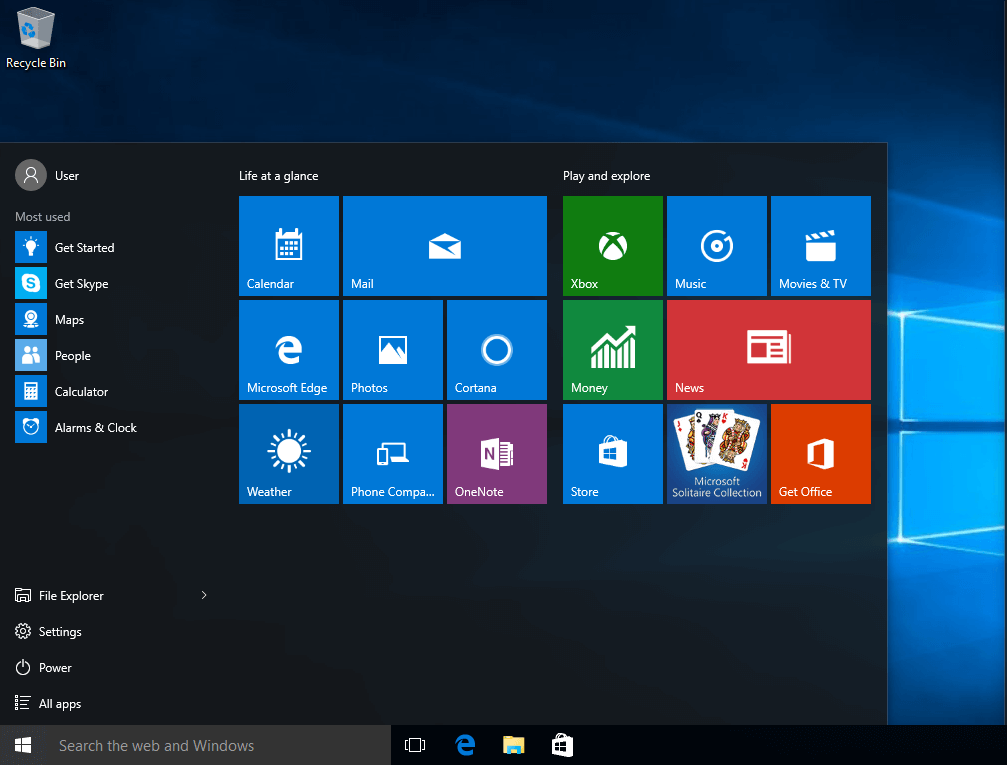 Which millions of users were missing in Windows 8, has returned. If you one of those who detest Live Tiles and the Metro interface, you can right-click on every one of the defaults in the Start menu and select Uninstall to wipe them from your system. (Or simply Unpin from Start if you'd rather hide than eradicate them.). However, if you appreciate the blend of the traditional interface with the Live Tiles, note that you can right-click on any tile and select Resize to alter the tile's dimensions.
The Uncluttered Virtual Desktop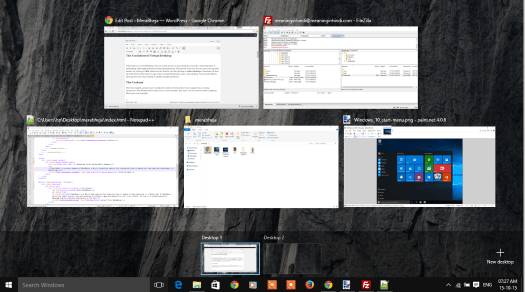 With Windows 10 Virtual Desktop, users can switch between as many desktops as they like, which helps them in multitasking while toggling between various opened desktops. This also lets work to be done in a neat and organized manner. By clicking on Task View from the Task Bar, and then clicking on Add a Desktop, a thumbnail will show up at the bottom of the task view page. Click on a blank thumbnail to open a clean desktop. Users can also shift an open app from one virtual desktop to another through this feature.
The Cortana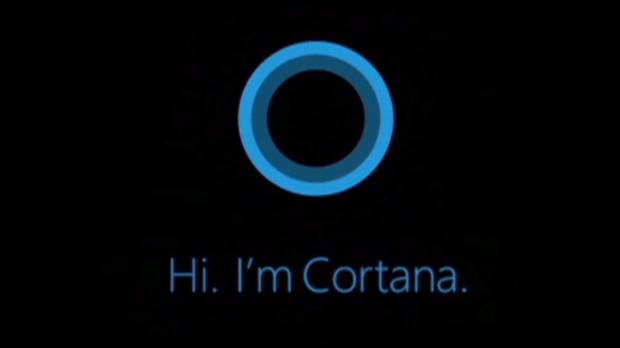 This Voice Implied Assistant can be configured to replace the Search Box if your computer has a working microphone. This debutant feature helps you to create reminders, play music, and do numerous tasks by applying filter as per your command.
The steps for enabling the same are as follows: Click the Search bar in taskbar > select the Notebook icon in the left side options pane> select Settings, then enable the "Let Cortana respond when you say 'Hey Cortana" option. You can also customize what areas this digital helper can access by in the Notebook menu.
Snap Assist
Snapping has become faster and easier in Windows 10. When you snap an app, the new Snap Assist feature will pop up, windows will display a thumbnail list of open windows and when you click on one of them, they will be automatically snapped to left or right of the screen.
The Command Promt
To the relief of many geeks around the globe, now the native cut and paste shortcuts in the Windows command prompt. But it isn't enabled by default. To activate it, open a command prompt (by running cmd.exe from the Windows Start Menu, for example) right-click the Command Prompt's title bar and select Properties. Open the new-to-Windows-10 Experimental tab and check the box next to Enable experimental console features. Finally, check the boxes next to Enable new Ctrl key shortcuts and Extended edit keys, then click OK.
Action Center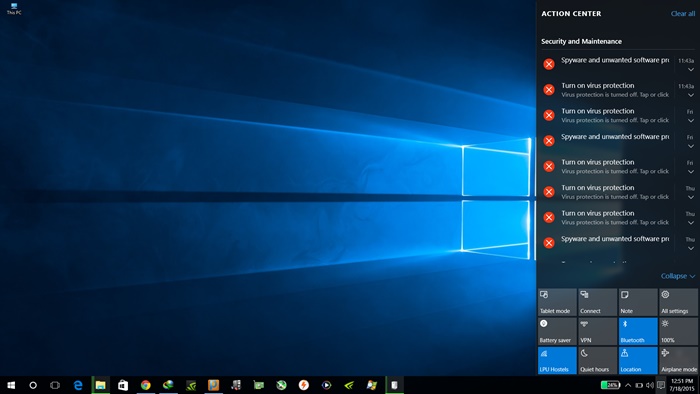 It is a sidebar that provides notifications and contains buttons for common tasks and is the replacement for Charms menu. It is a small icon that looks like a comic-book word bubble in your system tray.
Edge Browser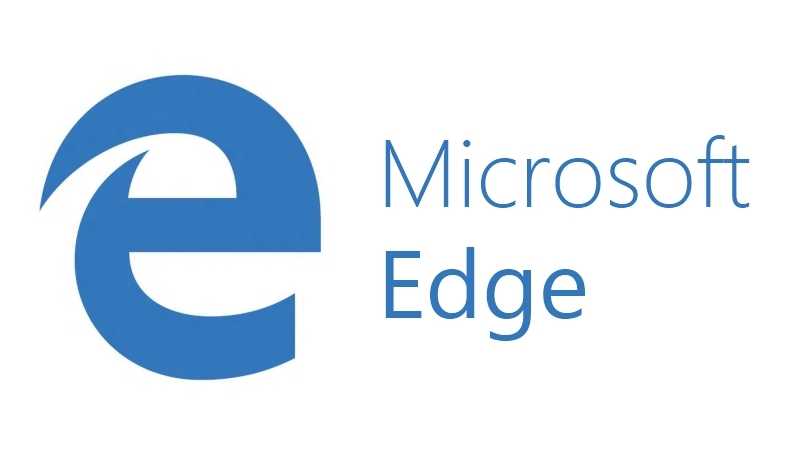 Developed by Microsoft under the codename Project Spartan, Edge will be the default browser in Windows 10 to give you a better web experience. Internet Explorer will also be included with the OS, but will be basically available in unchanged version, i.e. IE11 which was found in Windows 7 and 8.1.
Improved Apps
The Mail and Calendar apps are faster, more full-featured, and more mouse-friendly than before. The new Mail allows you to personalize your app using the added customization options. For example, you can you change the image in the preview pane with the picture of your choice, configure how Mail behaves when you perform on of its new swipe gestures on a message. To customize, click the Cog icon in the lower-left corner of the app, then select Options. You'll find all the gesture options in the Quick Actions portion.
Maps, our very helpful app, in Windows 10 can be used to save maps offline too. Click the Settings icon in Maps > select Download or update maps under the Offline maps header. You'll be bounced to the Settings app, where you'll be able to select which continent, then country, then the State whose offline map you'd like to download. Also, Windows tells you how large the download will be before you start.
Battery Saver feature
Unlike its predecessors, the power saving technique in Windows 10 is better and smarter to limit the background processes, when your the battery of your system is running low. In order to enable click on Start menu > Settings > System > Battery saver.
Quick Access view
The Quick Access view that shows your most frequently accessed folders and recently viewed files when you open a File Explorer. Otherwise, open File Explorer, then select View > Options from the Ribbon. A Folder Options window will open. Click the Open File Explorer drop-down menu at top, then select the This PC option. Click OK and File Explorer will be defaulted to This PC option like in Windows 8.
Updates Upgrade
In Windows 10, its now possible to download updates from using peer-to-peer technology rather than downloading them directly from Microsoft. This helps in saving your bandwidth as well as time. Head to Settings > Update & Recovery > Windows Update > Advanced Options > Choose how you download updates. By default, Get updates from more than one place is enabled and configured to grab updates from PCs on both your local network and the Internet at large.
Not only this, Windows 10 allows you to schedule a specific time for pending updates which require rebooting of your PC. Open the Settings option in the Start menu, then head to Updates and Recovery > Windows Update. If you have an update pending, you'll see the screen at left, which lets you schedule your reboot after you select the Select a restart time radio button. An even better option is to click on Advanced options and link and ask Windows to notify you to schedule a reboot whenever updates are ready to install.
It lets traditional desktop to switched dynamically to Metro-like interface. The tablet mode allows standard PC users to operate without a keyboard or a mouse. Open up Action Center and click theTablet Mode button. Everything will be removed from your desktop, save for spaced-out icons for the Start button, Cortana, and Task View. Now press the Start button to enjoy the view of the full-screen apps and Start screen.
By selecting theTablet Mode >Tablet Mode Settings, you'll be able to tell Windows whether you want to even use Tablet Mode on your device, and specify how you want to handle Tablet Mode prompts if so. You can also tell Windows to keep your open and pinned apps on the taskbar when in Tablet Mode if you so desire, as well as to boot into tablet mode at start-up.
Video Recording of an App
Windows 10's new Game DVR function is supposed to be used for recording video evidence of your most glorious gaming moments, but you can also use it to create videos of any open app or desktop software (though not OS-level areas like File Explorer or the desktop). On Pressing Windows key + G, you will be asked if you want to open the Game bar. Click the Yes, this is a game box and various options will appear in a floating bar. Simply click the circular Record button to capture a video. Your saved videos will be found in the Game DVR section of the Xbox app, or inside your user folder under Video > Captures.
Apart from all these, Enhanced Graphics, X-Box Live integration, Improved Security features including Windows Hello are some notable improvements. Further, Windows 10 offers you more granular control over the colour of your taskbar, Start menu, and search field providing options in the Personalisation menu.
Furthermore, Contact Support app inside the All Apps menu can lets you reach the appropriate community forums to find help for the issue, or even connect you with a Microsoft support representative via online chat or phone if you stumble into a particularly bad problem.
The New Keyboard Functions
Windows 10 users can make their tasks convenient with the help of following few shortcuts:
Snapping window: Windows key + Left or Right (Can be used with UP or DOWN to get into quadrants.) Quadrants is the new Snap view mode that pins apps to the four quarters of the screen.
Switch to recent window: Alt + Tab
Task view: Windows + Tab
Create new virtual desktop: Windows key + Ctrl + D
Close current virtual desktop: Windows key + Ctrl + F4
Switch virtual desktop : Windows key + Ctrl + Left or Right
View weather, news, sports, help, etc. : Windows + S
Speak to Cortana: Windows + Control + C
So people we guess you are ready for the ultimate Windows experience, by the time you complete this article. Enjoy the Windows 10 ride.