Whatsapp is the most famous mobile messaging platform till date. But do you know some of the secrets tricks of whatsapp which can take you to the next level. Here in this article, i am highlighting most famous whatsapp tricks So far.
Read Whatsapp Messages without the sender finding it out
Turn on the flight mode on your phone.
Read the whatsapp message
Now, turn on the flight mode again.
No, blue ticks will appear and the sender will not know that you have read his/her whatsapp message.
Now, no more typing needed to send whatsapp message
Once you tap on the message box, the mic icon appears on the keyboard
Just click on that mic icon and just talk your message.
It will be automatically get typed as you speak.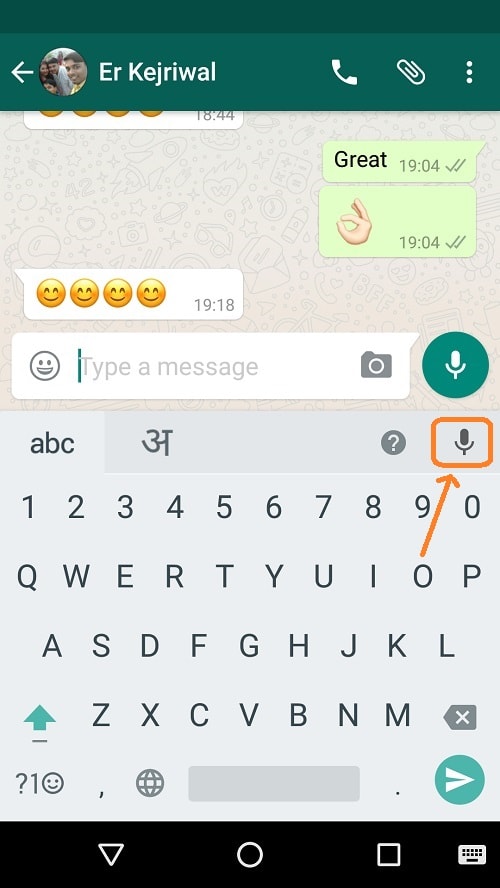 Use whatsapp without any phone Number
Do you know you can use whatsapp without any phone number. Yes you heard it right. Follow the steps:
Uninstall whatsapp from your mobile.
Download whatsapp from play store.
Turn the flight mode on.
Download and install spoof messages app from play store
Start the installation process.
Now , It will not be able to verify you via internet and it will prompt you to choose alternate SMS Method.
Now choose check through sms and enter your email.
Instantly without waiting for any more time click on cancel and authorization process will stop.
Now open the spoof messaging app and enter below details.
To: +447900347295

From: +(Country code)(mobile number)

Message: Your email address
It will now verify whatsapp for you and you will start using whatsapp.
Spy on someone else whatsapp
Borrow your friends' android phone which you want to spy for just one minute.
Go to settings —> About phone —> Status—> Wi-Fi MAC address
Note down the mac address. Keep the phone for few more minutes. we need it man.
Now go to your phone and uninstall whatsapp.
Change your Mac id to your friend's one by spoofing mac.
Now Download and install whatsapp on your phone. Whatsapp will send the verification code to your friend's phone.
verify your downloaded whatsapp by the verification code sent to your friend's phone.
You have installed exact replica of your friend's whatsapp. Now whatever he or she will do, you can track it with your phone. Useful for parents and lovers. Do not use it for illegal purpose.
Read Also : 101 Coolest Whatsapp Status Compiled
How to know When he or she read your message
1 – Just go to the conversation chat window of whatsapp and keep the message pressed for few seconds.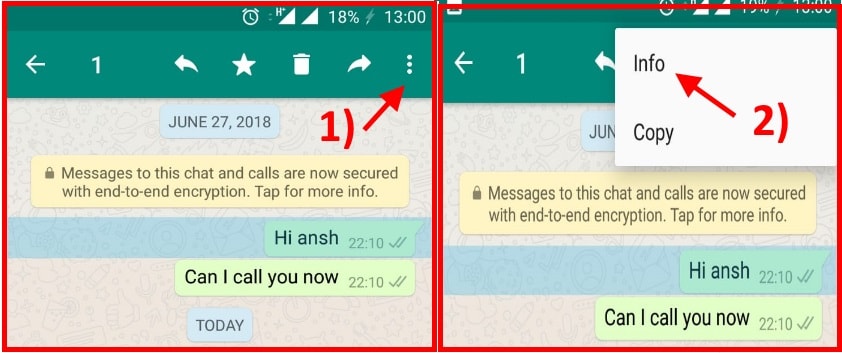 2 – On the top right, just click on three vertical dots.
3 – Finally , click on Info.
Stop everyone from Knowing you read their message by default
You can also stop whatsapp from showing someone else read notification. That is , no one can find out you read their message or not. The only disadvantage is that once you check this option, You also can not determine when your message was read by other.
Steps:-
Open your WhatsApp and tap three vertical dots icon on the top right of your screen.
Now move to Settings > Account > Privacy.
Uncheck Read receipts.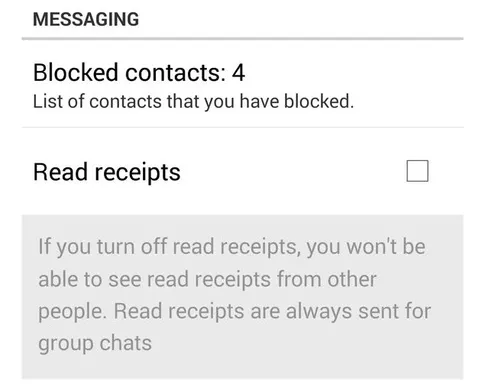 Use Whatsapp Quote feature to quote any message
For this you need to long press on the selected message. Now if you look at the top section, you will be able to view a new icon. This icon is the Reply icon. Press on it.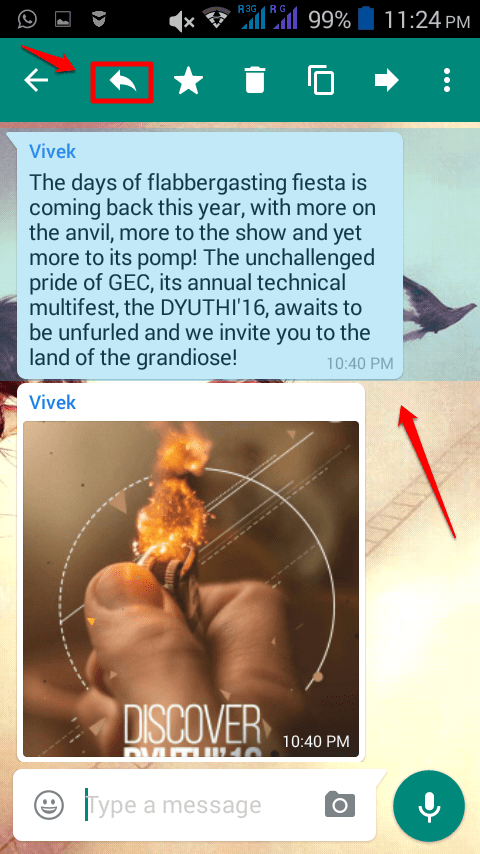 STEP 3
Now you will be allowed to type-in your reply or your comments regarding the selected message. Type in your comment as shown in the screenshot given below.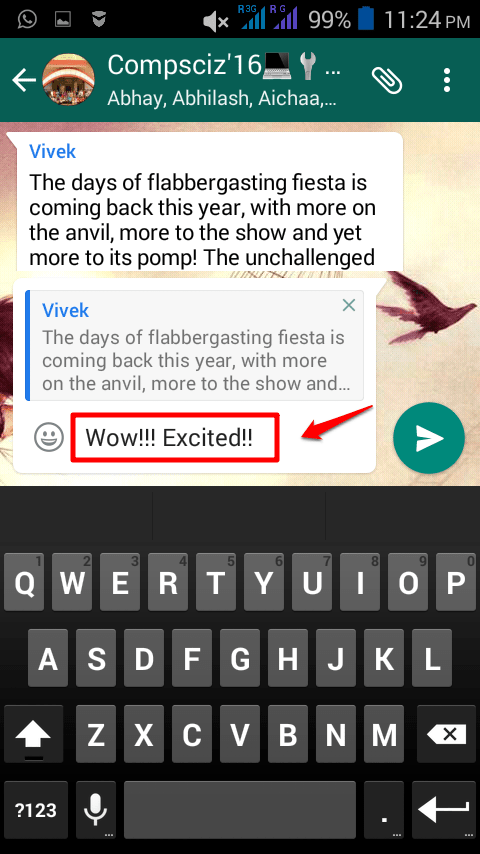 Mark any message on whatsapp as starred and find it later
Just Long press any message and mark it as starred.
Now, you can find it anytime easily from main whatsapp windows. Just Click on Three vertical dots on main window, and click on starred messages.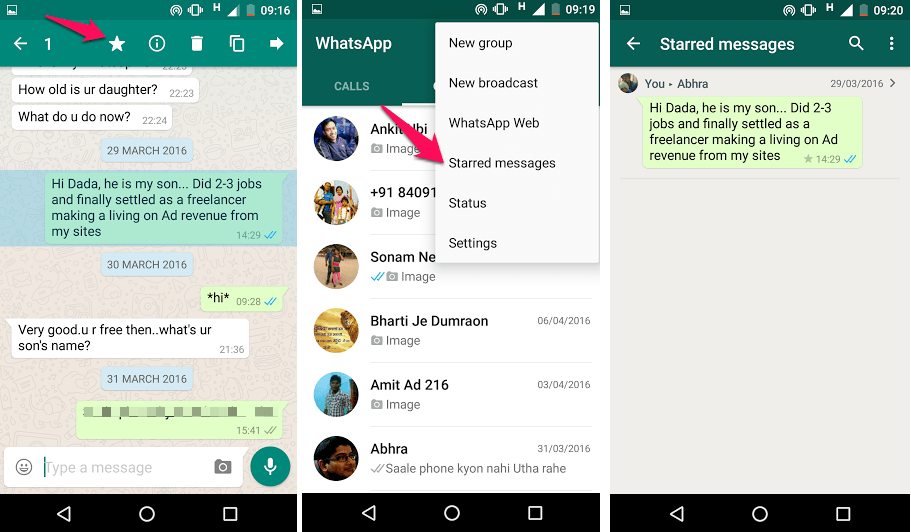 Want to save Your Mobile Data Usage ? Stop Media Auto download
Are you getting more Mobile data Bills. Well may be whatsapp be the culprit. Millions of images sent by friends and groups are getting auto downloaded to your phone without your wish. You can easily stop this by changing settings here. After this you will only download images you wish to.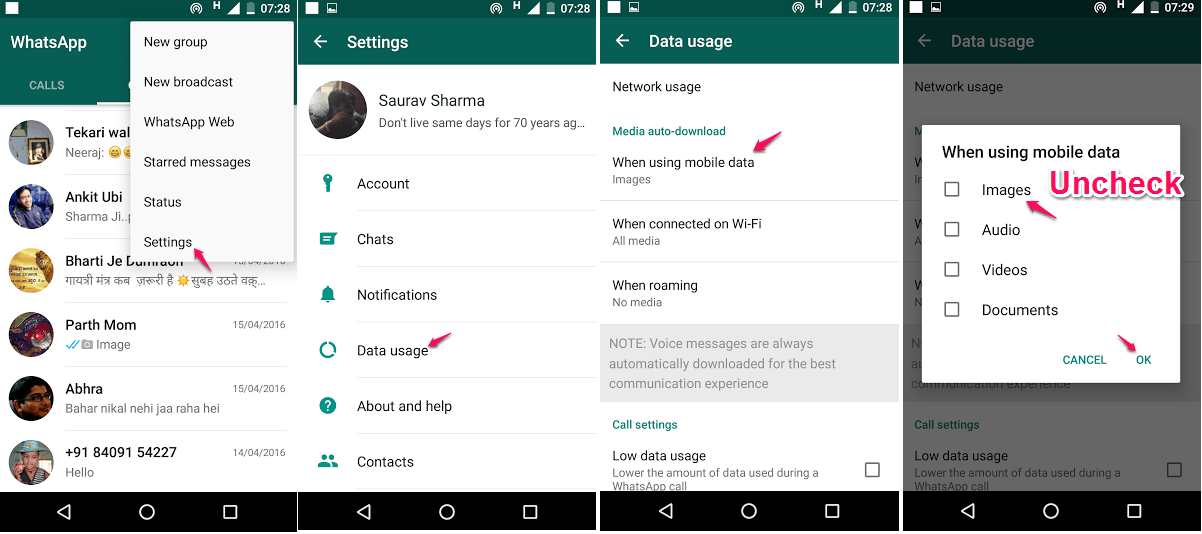 Lock Your whatsapp with a PIN
Some of your whatsapp messages may not be suitable for everyone else in the family, like children, parents etc. In this case you can lock your whatsapp with Lock for whatsapp app.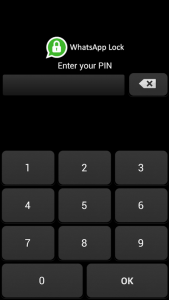 Recover your deleted messages on Whatsapp
Connect your mobile with your pc via USB cable.
Go to folder named whatsapp/Databases
Two files are there named msgstore-yyyy..dd..db.crypt and msgstore.db.crypt
msgstore-yyyy..dd..db.crypt file contains all the messages sent or recieved in last 7 days.
Open it with notepad or wordpad to view and read messages.
Use Multiple Whatsapp account on same Phone
It may be that you have various mobiles with you and in that case a person tends to have more than one whatsapp account. But once you lose or break the old phone, you always wish to use it in your favorite phone. But is it possible. Yes its possible with help of an app.
Download and install Parellal spaces app from google play on your phone
Add accounts over it and run more than one Whatsapp account via it.
Create shortcuts for Frequently contacted friends
Do you know you can easily create a person's shortcut on your phone home screen.
Just keep the contact pressed for few seconds and a pop up menu will appear.
In it choose Add Conversation Shortcut.
Your shortcut will get created.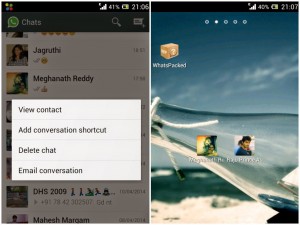 Change Phone Number Keeping the same account
If you have just changed your sim, You need not worry thinking , what will happeen to your account. Whatsapp have a setting in which it allow anyone to change the phone number.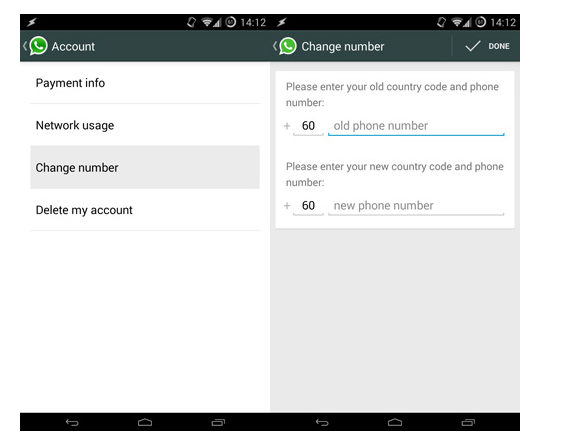 Whatsapp Profile Picture Prank !