Instant messaging apps have proven their worth similar to e-mail where a user can not only exchange text information but also images and the videos instantly. The instant messaging apps are easier to use than the e-mail. Here the user gets a facility to have simultaneous communication with a group of people. Whatsapp has emerged as a very popular app of instant messaging. However, there are other apps too. Following are some apps that can be used as an alternative to Whatsapp :
Recommended: Lesser Known whatsapp Tricks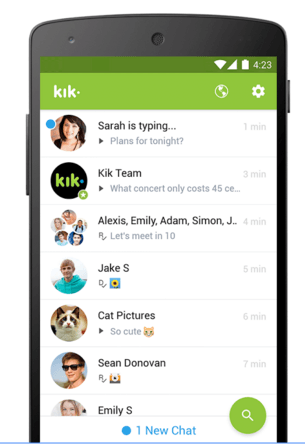 Kik is a very easy-to-use app that you can try as an alternative to whatsapp. Most important feature of this app is that there is no need of a cell phone number, which is a primary requirement while using other apps built to share messages. Here just the old school names can be used as your identity. This feature of this app has made it very famous among the youths. Started in 2009 on the Blackberry network, this app has also a web browser that enables the user to browse and search with ease. It facilitates group chatting by just using hashtag or you can also create a personal group. So, those using iPhone, Android based or the Window based devices can try this app and start sharing messages.