Back in August 2003, when Skype was first officially launched, it was a huge deal. Video chats over the internet suddenly got a lot simpler and easy to use. Thus a lot of people started using it, which resulted in its huge success. Skype connected people all over the world for a nominal charge, which is of course now free. The company, over the years, introduced many features and made Skype one of the top tools used for video chatting and VoIP calls. People connected to each other on Skype, can also text each other, receive calls, send and receive images and other files with each other.
Recommended: 5 lesser Known whatsapp Alternative
But now that we are in 2015, Skype has some serious competitors. Although it is still among the top utilities for video conferencing and video calling over the Internet, Skype is not able to cater to every user's needs due to its design limitations, so if you are also looking for some alternatives for Skype , look no further.
Update : With introducing video calling feature Whatsapp has become one of the biggest Skype alternative on Mobile.
Best Skype Alternatives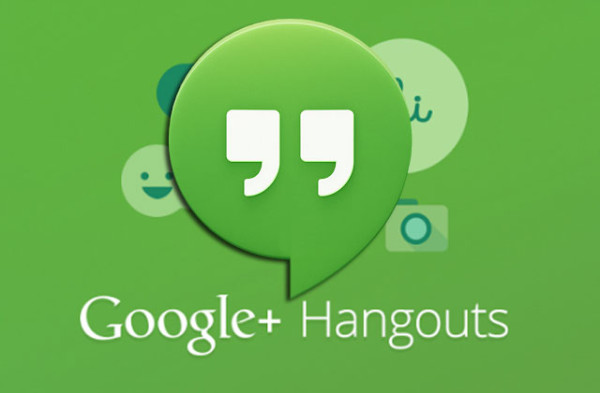 Google is a major competitor when it comes to offering VoIP and video calls over the Internet. Google offers ,Google hangouts integrated with google+. Google Hangouts is exceptionally full of features, free features when it comes to functionality. You can chat , text, VoIP call or Video call over the internet via google hangouts. Not only that you can also group chat, with your friends, colleagues, relatives, anyone you like, for free. You can have up-to 10 members simultaneously in a group chat, in Google Hangouts and chat with all of them. If you are not a resident of USA or Canada, Google will charge you a nominal fee, when you use VoIP calls via Google Hangouts. The amount Google charges for this service is the lowest when compared to its competitors, making it a great choice for you. Apart from using the usual services, you can also use Hangouts on Air. This service allows you to broadcast your Hangout, around the globe simultaneously. You can use this feature to broadcast interviews, discussions, performances etc, around the globe to make it available for everybody to watch. Google will also post a video of this hangout on your Youtube channel via your YouTube account so that you can view it later as well.
What sets Google Hangouts apart from Skype is that Skype requires you to download a third party program, on your Pc in order to use Skype, where as Google Hangouts only needs your login information for a google account or a google+ account, to log into Hangouts and then you can start a VoIP or Video call directly from the browser. This makes it much easier and hassle free to use, and can also be used easily on various different platforms and devices.
FaceTime is another service out there that offers the ability to make video calls over the Internet. Sadly, this service is exclusively available only for iOS and Mac users. Apple natively launched its Video calling application, FaceTime to connect all the users on apple devices. FaceTime offers you the ability to make HD quality video calls to all other FaceTime users free of cost, and share your moments.
FaceTime comes bundled with most apple devices, if not , you can always download it from the AppStore.
These were some of the top alternatives to Skype out there, you can use the service that is most useful to you.
3- UberConference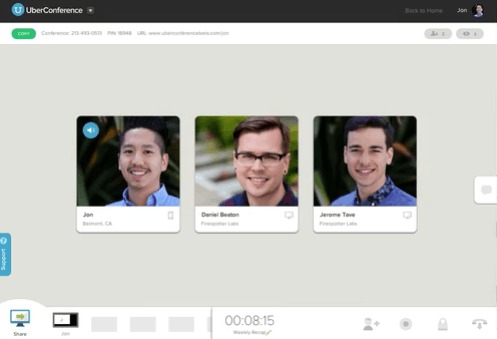 UberConference is a trusted and widely used service when it comes to Audio Conferencing. People around the globe, corporates and citizens alike, trust UberConference for an uninterrupted and service and flawless experience. It does not offer Video Conferencing or Video chat but can allow you to audio conference with up-to 100 persons at once. It also has many important features that make it an ideal candidate when it comes to Audio Conferencing over the Internet.
It offers both , a paid and a free membership. The free membership just has restricted access to all the features, and hence you may want a paid membership if you plan to use them to their full extent. Even though, both memberships offer these in common
– You can have Unlimited Conferences online in both the memberships.
– Free members can conference with up-to 10 members, where as paid members can conference with up-to 100 users.
– HD audio quality, with the option to record the chat, and lock it also, for privacy purposes.
– Connected to your LinkedIn, Facebook, Google+ and other accounts as well
All in all, UberConference is an excellent choice for Voip calls and Audio Conferencing and is trusted by the majority.
4- VSee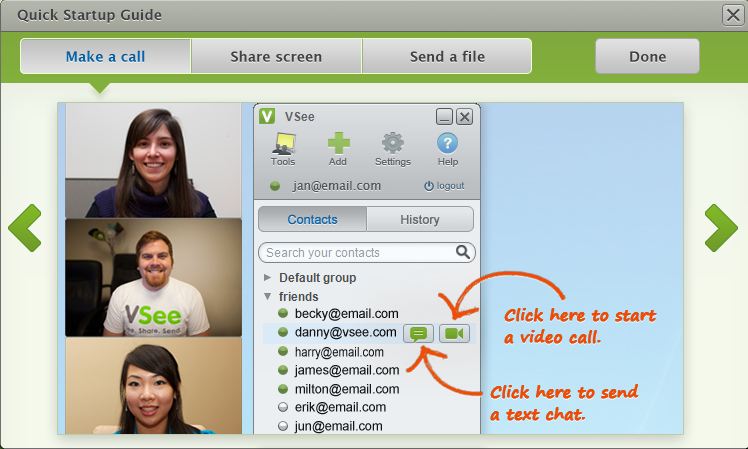 Originally a Medical consultation website, VSee can also be used for personal purposes. It was developed as a medium to provide medical consultation over the Internet, to people that do not have easy access to such facilities. The app still caters to these needs, but also offers Unlimited group video calls for any user. You can use this feature to your benefit.
Advantages of VSee over Skype
1- Uses 50% less bandwidth when compared to Skype
2- 720p Video quality
3- Easy File Sharing between users
VSee offers both paid and Free memberships for its users. If you are currently a student, you can use your .edu email id to sign up for VSee and get the paid benefits for free.
1- Unlimited Group Video Chats
2- Instant Messaging
3- File Sharing
5- Voca
Voca is a tool released primarily for the mobile platforms. It is compatible with both, iOS and android, and works flawlessly in both the environments. It is one of the best alternatives to Skype in terms of VoIP Calling. As far as VoIP calling is concerned, Voca offers free International calls to its users, over the internet, you can use it to place a call to any country in the world. Not everything is free, many features of the tool are paid, but the prices are nominal and fairly convincing if you plan to use the tool for its designed purpose. You can also make encrypted calls , all over the globe and even send encrypted text messages for a small amount of fee.
Voca has a great user interface on both the platforms and all of its features are very well integrated into its design. It offers free messages to its users as well, and the connection quality is fairly good when it comes to VOIP. All in all, Voca is a serious competitor to Skype in every aspect and offers good service. The payment method also resembles that of a prepaid plan, where you refill your Voca account with some credit, and the tool shows you exactly how many minutes of Talking time you have left before you need to refill again.
6- Viber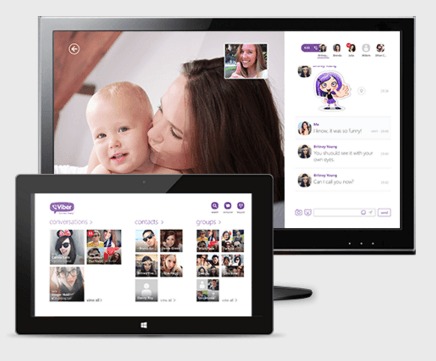 Viber was a fairly new introduction to the world of VoIP calling. It started off as a mobile app on android and iOS, offering Voip calling all over the world. Viber from there grew and became the tool it is today. Viber is now available for Windows as well as Mac users and now offers the ability to video call as well. Viber is one of those hassle free services that rarely require any maintenance and you can just sit back, relax and use the service. Viber is completely ad-free and has no ads plaguing it what so ever. Viber now gives you the ability to make VoIP calls as well as video calls all over the world, the only condition being that , Viber be installed on both the devices. You can use it to call any landline or cellphone number worldwide as well, Viber will charge you a small fee for this service , which is fairly acceptable when it comes to the pricing by some of its counterparts.
7- Oovoo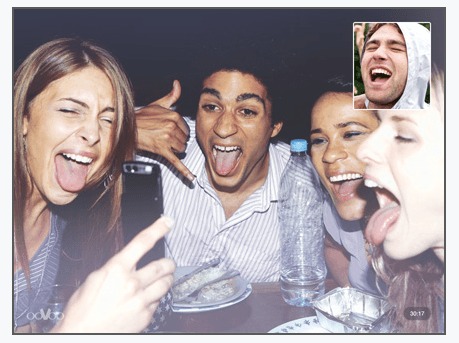 This is another service on the lines of Viber, fairly new and targeted at the younger generation, Oovoo offers you the ability to video chat, conference, and text between its users. This service is available for all major platforms including Windows, Mac, IOS and android, and offers higher resolution video quality , compared to many of its counterparts. You can also Video chat with your friends, family, colleagues etc, and have up to 12 members per chat. You can also record voice calls for later use, and even share your screen. This feature is extremely useful if the users are trying to experience something together, or just teach something to each other. You can also send files of various extensions to each other and exchange different media. Oovoo , can also one click upload a recorded video to YouTube. This feature is extremely useful and handy for all the YouTubers out there. Oovoo also has a paid version, which offers vast improvements over the free package. The paid package is ad free, with 1000 minutes of additional storage and the ability to make VoIP calls to cellphones and landlines.
Note: Unlike other services out there, Oovoo calls can also be answered via FaceBook and do not need you to have Oovoo installed.
8- GoToMeeting, GoToWebinar and GoToTraining
GoToMeeting is a very popular and very famous web service for Video Conferencing. Its partners in crime, GoToWebinar and GoToTraining are branches of the same service, offering the ability to conduct webinars and trainings respectively. GoToMeeting is widely trusted service for video conferencing, used by many corporate companies and start -ups alike. Unlike its counterparts, and other competitors, GoToMeeting offers only paid service to its users, although you can sign up for a one month trial and then carry on as a member. You can use the one month trial offer to give all of its features a shot and test the reliability of the service. Although i should tell you that it is arguably one of the best out there , that's available for all users. GoToMeeting will charge you 49$ a month for its service and provide you with some of the best in its category features
– Ability to have unlimited meetings with users
– Up-to 25 users per every meeting
– HD Audio and Video quality
– Support for Windows, mac, iOS , android and other devices
– Ability to share screens with all the members of the meetings
– Ability to draw and highlight on the shared screen
– Send files
Similarly GoToWebinar and GoToTraining are services that offer you the ability to conduct webinars and training sessions with majority of the above stated features and more.