Best Free Photo Editing Software for Windows: – Adobe Photoshop and ms paint (the free photo editor of windows ) has been reining the photo editor software category since long and is still going strong with its unique features. However, over the recent years, there has been a revolution in this category and many innovative digital photo editing software have emerged as an alternative to ms paint.
While as an aspirant photographer you can create an image, perform basic retouching of photos or edit vertical images using the adobe Photoshop, the modern photo editing software on other hand allows you to edit your digital images effortlessly, clearly and much faster than the traditional Photoshop.
Read : 8 Free MS word Alternatives
Today, there are plenty of alternatives available in the online market for drawing programs like ms paint which are absolutely free of cost while they allow you to edit and beautify images. Although they will not be able to compete with the potential and prowess of the tools like Adobe Photoshop, they still equip you with so many choices to tweak your digital photo at no cost.
Considering that the Adobe's CC version (Creative Cloud Plan) starts at Rs. 499 per month, the free alternatives do a pretty decent job in meeting your photo editing needs with much efficiency. The free products include both software that can be installed and that are web-based hence, you have the option to choose the one according to your convenience.
We have listed the best free photo editing software like paint but equipped with better capabilities in Windows in this post today, which will help you make a choice far easily. So let's take a quick look.
Top 10 Free MS paint alternatives for Windows PC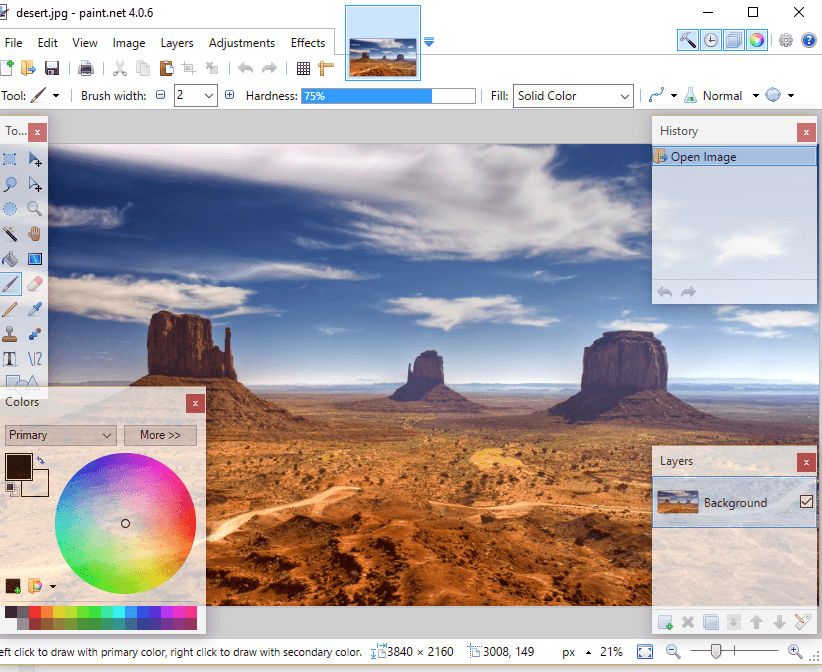 Paint.net started off as a student aid in the year 2004 and since then there has been no looking back for this software. It has rather emerged as one of the competitors for GIMP and even possibly stands up to the likes of Photoshop. Its layout may remind you of the MS Paint, however, it offers some additional features which were not available in the primitive version of the Windows.
It may not be as good as the ones mentioned in the above list; however, it does serve your basic needs of editing such as, making slight modifications and implementing effects quite efficiently. You can locate the tools organized along the side bar which serves as the quick timesavers helping you to edit, fill, add content, erase while the more elaborated items are positioned at the menu on the top that says "adjustments and effects".
The interface of Paint.net is pretty close to the state-of-the-art looks of the Windows 8 platform. The toolbars are properly arranged individually and the property panels can be easily spotted located at different parts of the display. The labels placed are clear and the default items displayed are only the ones that are required.
The only downside of Paint.net is that it falls short of just a few features when compared to GIMP. However, it does provide a great ms paint alternative when spoken of looks and ease.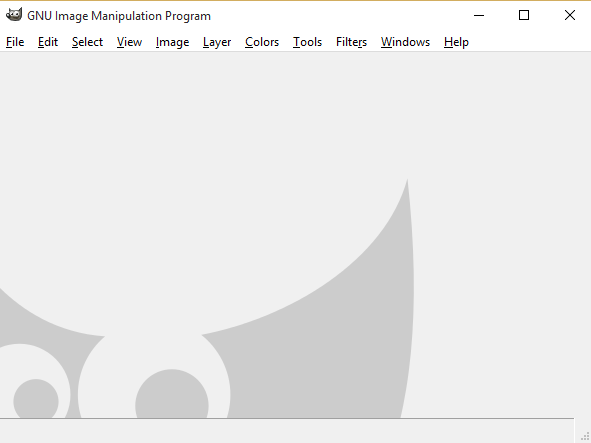 What better than editing your digital images just the way you want with a powerful tool without costing a dime? Yes, GIMP is one such software that helps you edit your images with just the finesse you have been looking for. Fine-tune your personal photographs, add the black and white effect, crop it to your content and more with ease using GIMP.
It is an open-source software that requires a group of designers to volunteer for the products development and maintenance. It offers many enhanced tools that help improved your editing and brushing-up (retouching) needs in a professional manner. The free tools are quite close to the ones offered by Adobe Photoshop, hence it works as a great alternative for those on a budget but need quality software.
On starting the application it opens up the image in an exclusive window and other windows in the side pane displaying the tools in an organized manner. It offers a large enough workspace to experiment with your images where you can even separate in into two displays. While it allows you to apply different effects to your image using the tools in the box like, paint, crop, lasso, brush, etc., you can also make use of additional gizmos like magic wand and other plugins.
With so many wonderful features, GIMP has its own negatives as it is not that easy to get started with. It has a pretty instinctive interface and needs a learning curve to get used to it. However, for a free app with such great functionalities to offer we can certainly devote a bit more time, can't we?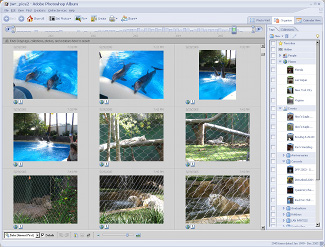 Well, we can already see those curious eyes asking if we have got it wrong somewhere! Nope, we are absolutely in our sane mind and there are many of us do not know this fact that Adobe lets you download one of their previous versions of the photo editing software named, CS2 absolutely free of cost! Adobe released this software for free immediately after they announced their other products with a subscription.
In order to download this free version you need sign up with Adobe.com and you will be assigned an Adobe ID. Using this ID you can log in and get access to the site and agree to the terms and conditions mentioned. Even though you may see the fine print saying that Adobe does not suggest downloading an older version you can still go ahead. You have the option to download the Photoshop in your language so select your preferred language accordingly.
What more, as you get the full CS2 application completely free of cost which includes enhancement tools like, After Effects, Illustrator and more? Despite the Adobe alerts that it is out-of-date and not supported, it still runs successfully on Windows 7 and 8 versions since the time it is released for all.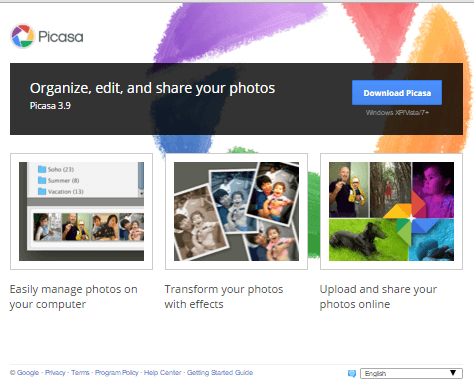 A Google offering, Picasa is one of the best photo editing software for Windows that meets your editing needs just perfectly and all at no cost. It also helps you organize and share photos effortlessly as it integrates to the Picasa Web online collection. It compiles all your photos in one location and displays them, while it associates with all the image files on your PC using the Folder Manager.
In addition, it allows you to create labels, apply keywords and implement many other effects and modifications without altering the original image. You can simply choose a basic size for upload and the application will automatically groom the images. You can also integrate your albums to Google Plus and to other websites.
Picasa is more of a photo administration application which organizes images and creates slideshow rather than a being professional photo editing software. Although it offers elemental editing potential, Google offers Picasa as a quick makeshift alternative that does a pretty good job to edit images with amusing effects like Lomo-ish or grains.
It does take a bit of time to get used to the interface, but it offers a fast solution and modest tools absolutely free of cost which is a big plus in its genre.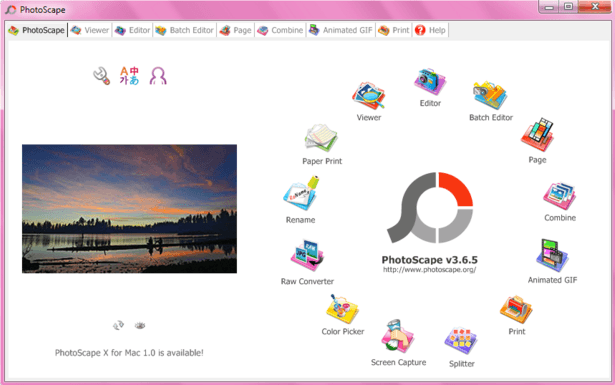 Photoscape offer you a host of options apart from photo editing that is, creating GIFs (animated), screen capture of the entire screen, make slideshows and more. In order to arrange the functionalities that you use the most, you have the option to personalize the toolbar which can also be undone and changed back to the original toolbar settings in case you wish to explore more about the software.
It places all the features of the application in one platform so that when you position the cursor on the option it provides the detailed information on the tool. You can edit images through the editing option (tab) which allows you to perform various actions like, implementing effects, resizing the image to modify its appearance, or fine-tuning the brightness.
Create posts for your social media platforms with finesse in moments by aligning the photos together through the options like "Page" or "Combine". You can also make GIFs from a collection of photos and the option is available under the specific tab. With additional tools like, image splitter, RAW-to-JPG, screen capture and more it is one of the sought after photo editing software with a modern touch.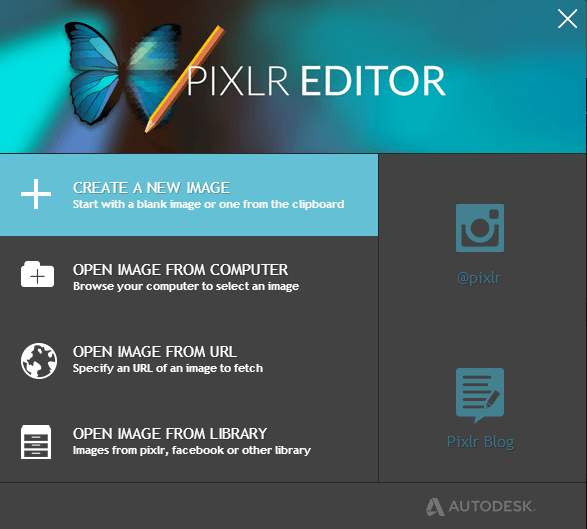 A completely free photo editor app, Pixlr Editor is available both online and offline and works on your web browser, PC or mobile platforms like Android and iOS. It is a great tool to edit your photos on a device that lacks space, for example, Chromebook. The fact that it features a lot of functionalities similar to the quintessential Photoshop, distinguishes it with others in the category. Pixlr Editor is available only online and offers more comprehensive features.
Although it may not be the best in the genre as the interface is comparatively cluttered and a bit old-fashioned, it's got all the tools organized on the interface. Special mention goes to the Navigator panel which is especially smooth to access. Pixlr Editor allows you to create an entirely vacant canvas, open a photo from one of the PC folders or simply mention the web location where the image can be traced which you wish to edit.
It offers a wide range of tools and filters that help you to enhance the image appearance which is located on the sidebar just like in Photoshop, and the layering tools that are almost of the same quality. The only negative we find about the software are the advertisements which appear on the right end of the panel which restricts the space for editing.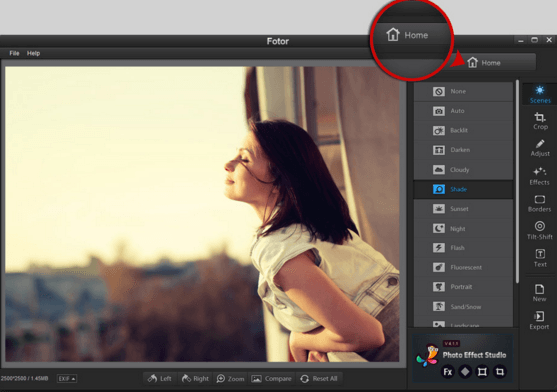 One of the easiest platforms to edit photos, Fotor offers a wonderful variety of tools, effect filters and adjustments. Talking of the effects, they are not just splendid in terms of the range, but you can straight away apply an effect with just one click and then slide the bar to fine-tune its strength.
Even though it is a cloud-based editing tool for images, it can still be used as a desktop app helping you to access photos from the computer's folder, open and edit them and transfer it over to new editions.
The main interface is segregated into three categories Edit, Collage and Design. Upload the photos of your choice and then select the photo that you instantly want to edit. While it also provides you a whole lot of other options like, resize (crop), brighten and fine-tune your selected images, it also allows you to personalize the home page by setting your own theme.
This tool will not aid you with integrating photos in layers, open crude documents, and arrange an increasing image collection, but will definitely help you with a speedy interface, and a compelling and amusing way to enhance your images.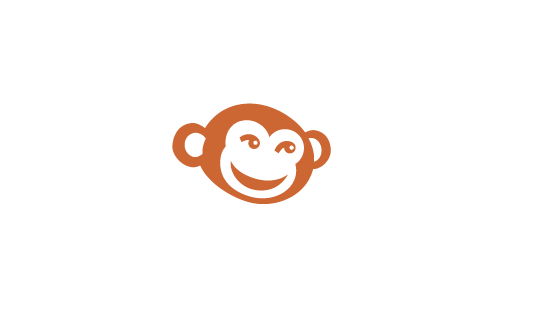 PicMonkey is a fun alternative to the otherwise serious photo editing tools. It is not exactly a replacement for Photoshop as it provides a different approach to photo editing with its innate components helping you to superimpose your photos and add that extra touch of fun dose.
It lets you add fancy clip arts on your selected images such as, placing a hat, adding stars, shades, hearts, quirky texts and more. Additionally, PicMonkey does offer other enhancement features like, rotate the pic, crop or resize, fine-tune brightness and other filters.
The well-designed software is just the right equipment for amateurs in this category who do not relate to the layering effects or Gaussian blurs. While there are many features free to use, you can also upgrade to the pro version "Royale" for $4.99 per month.
The free version of PicMonkey meets your needs just right with a wide range of amusing effects that can even leave behind the likes of Instagram in the race. It is a simple way to spruce up your otherwise mundane pic to life.


Flickr is perhaps one of the most avant-garde photo editing software as it considers your images as stream, therefore, arranges all the saved images in the app in a dated manner. The tool works in association with Aviary which provides the feature of editing, while Flickr aids sharing the photos online.
Aviary as an editing tool for Flickr offers a straightforward UI with the items organized in a clear order. The items on its interface include options for brightness enhancement, resizing the photos by cropping, color adjustment, red-eye repair and more. Not just that, in order to enliven your photos, Aviary also allows you to apply a number of effect refinements same as Instagram.
Photos in Flickr are automatically tagged and classified by the Image Recognition feature which enhances the quality of the images. Offers free storage space of 1TB with a beautiful arrangement of tools. We love the group functionality too that features communities with photo interests of all taste.
Geotagging, tagging of keywords, tagging of people, visitor traffic stats are some of the other features that make Flickr stand out in the crowd. However, the ad pop-ups can be a bit distracting for many. Also, users are given no control over the profile page design