WhatsApp calls have become synonymous with standard calling feature on your phone. Sometimes you may see that the WhatsApp calls are not connecting, or not even the calls are not starting up! Usually, this happens due to the lack of proper permission of the WhatsApp app.
Workarounds –
1. Make sure you are connected to a stable internet connection. Bad network can lead up to a bad WhatsApp call or no call.
2. Turn off the battery saver mode you are using. It can affect and cause this issue.
3. Restarting your Android phone may work in this situation.
Fix 1 –  Change the WhatsApp permission
WhatsApp permissions like microphone is needed for the WhatsApp Call feature to work properly.
Step  1 – Find the WhatsApp app and tap the small information "ⓘ" button to open the WhatsApp information.

Step 2 – Once you have opened the WhatsApp settings, tap the "Permissions".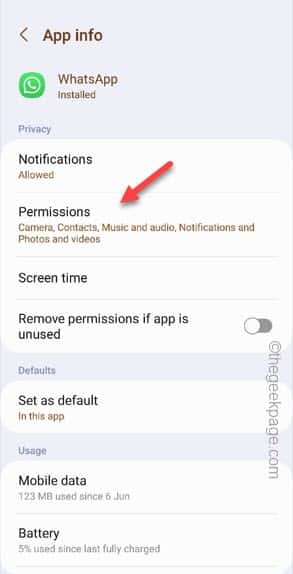 Step 3 – Then, open the "Microphone" settings.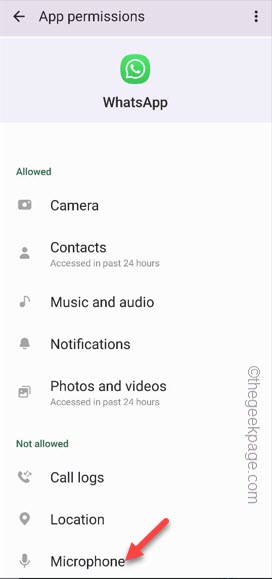 Step 4 – Just, set that to the "Only while using the app" mode to use that.

Step 5 – Returning back to the main Permissions page, look for the "Phone" permission.
If it is disallowed, open that up.

Step 6 – Set it to the "Allow" mode.

Quit the WhatsApp settings window.
Return back to the app and try to dial up once more.
Fix 2 – Tweak the Low data usage for calls in WhatsApp
There is a setting that can lower the data usage for the WhatsApp calls on your phone.
Step 1 – Open the WhatsApp.
Step 2 – After this, use the ⋮ and tap the "Settings".

Step 3 – Open the "Storage and data" settings.

Step 4 – Inside the Storage and data settings, tweak the "Use less data for calls" setting to "Off" mode.

After disabling this feature, start a quick call to some one to test this out.
Hope this works!
Fix 3 – Turn on the Background data usage
Not receiving any WhatsApp calls on your phone even while the mobile data or the WiFi is turned On?
Step 1 – Hold the WhatsApp app and use the "ⓘ" button.

Step 2 – Open the "Mobile data" settings on your phone.

Step 3 – Going onto the next screen, you shall find an option called "Allow background data usage". Make definitive that it is turned On.

Now, open the WhatsApp and try to call that number once again.
Fix 4  – Clear the WhatsApp cache
If locally stored WhatsApp cache is causing this issue, clearing it might help resolve the issue.
Step 1 – You have to press & hold the WhatsApp icon once more.
Step 2 – To open the WhatsApp settings directly, use that "i" button.

Step 3 – Scroll down until you see the "Storage" option. Open that up.

Step 4 – Inside the WhatsApp settings, open the "Clear cache" just to clear the WhatsApp cache.

Cleaning up the WhatsApp cache may fix this WhatsApp call issue you are facing.