Some users have reported that when they are trying to remove a Bluetooth Device, Windows 10 won't let them remove the Bluetooth Device. If you are facing this problem, you do not worry as here are working fixes for the problem.
Fix 1 – Try to remove bluetooth device in Airplane mode
1. Press Windows logo key + A from your keyboard
2. Click on Airplane mode to turn airplane mode ON.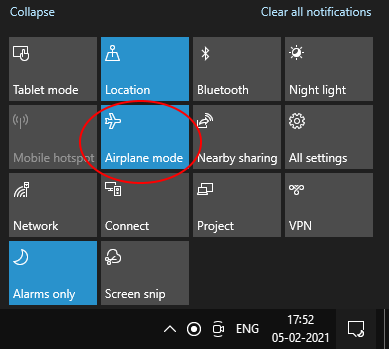 Fix 2 – Using Control Panel
1. Search Control Panel in Search Box and Click on the Control panel Icon to Open Control Panel.
2. Click on view Devices & Printers.

3. Right Click on the device and Choose remove device from the context menu.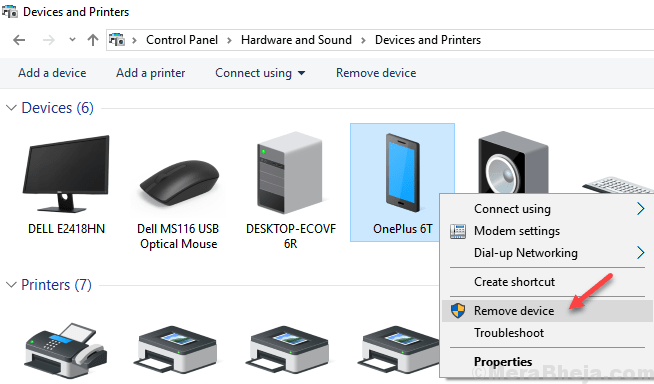 If it still keep reappearing when you turn on Bluetooth. Try the Next Fix given below.
Fix 3 – Using Device Manager
1. Press Windows keys + R together to Open RUN command box.
2. Write devmgmt.msc in it and Click OK.
3.  Click on View Tab and Choose Show Hidden Devices.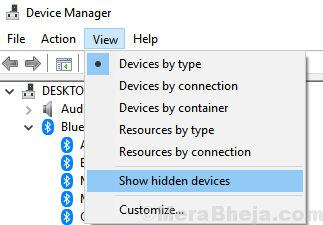 4. In Device manager expand bluetooth.
5. Right Click and Choose Uninstall device for the device you want to remove.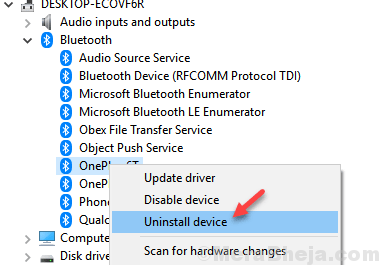 Note that there may be one or more entries for the device you want to remove. Remove every item associated with the device.
Fix 4 – Restart the Device Association Service in Services
1 – Hit Windows and R key together to open run command box.
2 -Now, write services.msc in it and click OK.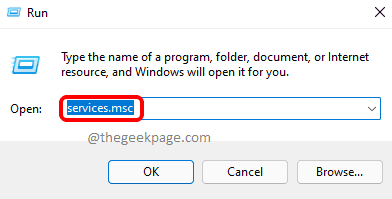 3 – Now, Locate Device Association Service and double click on it
4 – Now, Click on Restart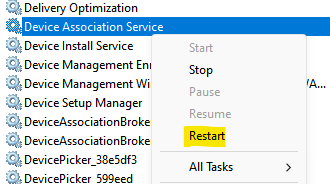 Fix 5 – Using Bluetooth Command tool
1. Go to http://bluetoothinstaller.com/bluetooth-command-line-tools/
2. Be careful with ads on the website and carefully download Bluetooth command line tools setup package .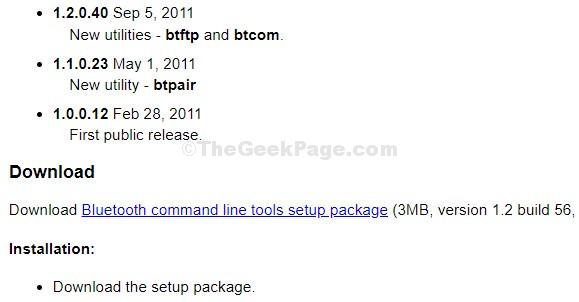 3. Put the device in Pairing mode.
4. Search Powershell in Windows 10 search box and then right click on Powershell icon and Open Powershell as administrator.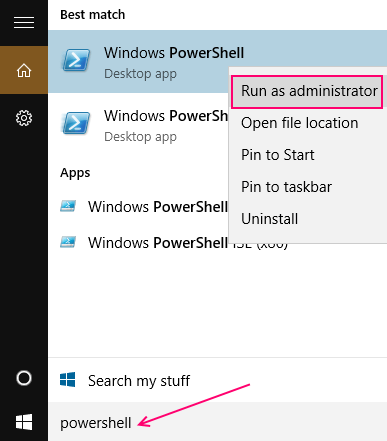 5. Type btpair -u in Powershell command window and hit enter key from keyboard.


Windows will prompt you if you want to allow pairing to your device that isn't working.
Thats it. The problem will get fixed.
Fix 6 – Remove Bluetooth device in safe mode
Before proceeding , please make sure your bluetooth device's Bluetooth is OFF.
1. Press the Shift key on your keyboard and keeping it pressed Click on start button, and then click on restart .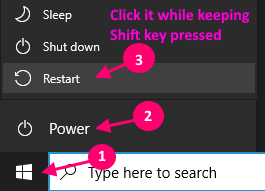 2. Click on Troubleshoot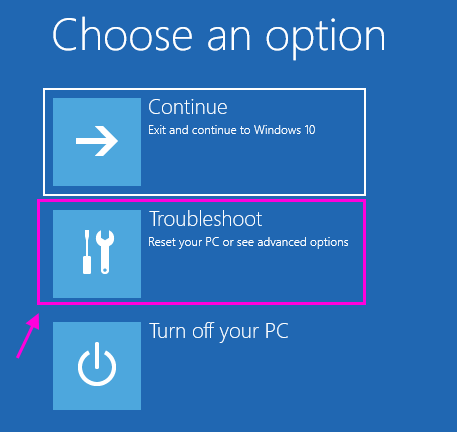 3. Now, Click on Advanced options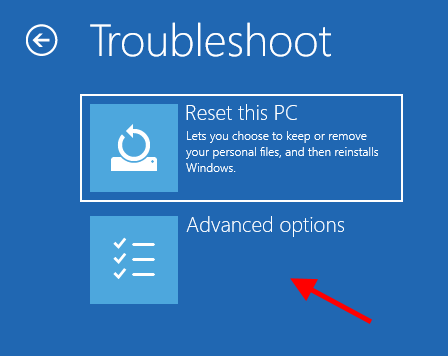 4. Now, Click on startup settings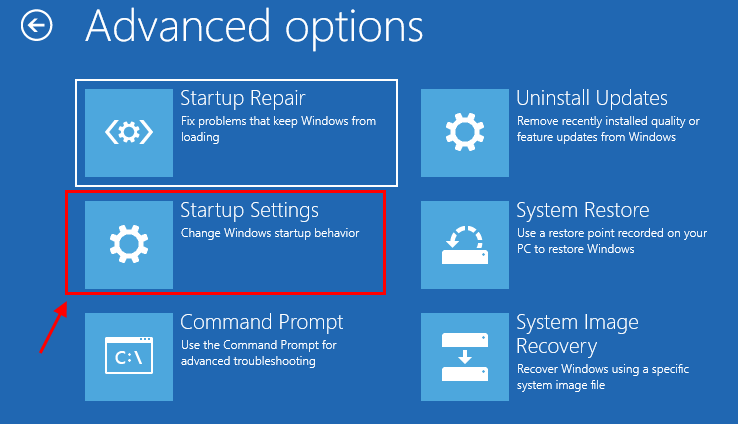 5. Now, click on Restart.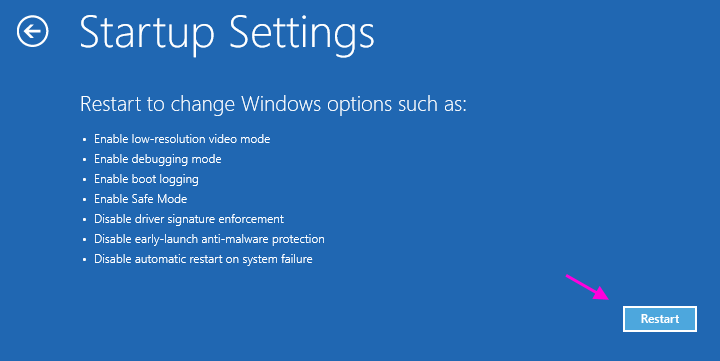 6. Now, Press 4 or F4 from your keyboard to enter safe mode on your PC.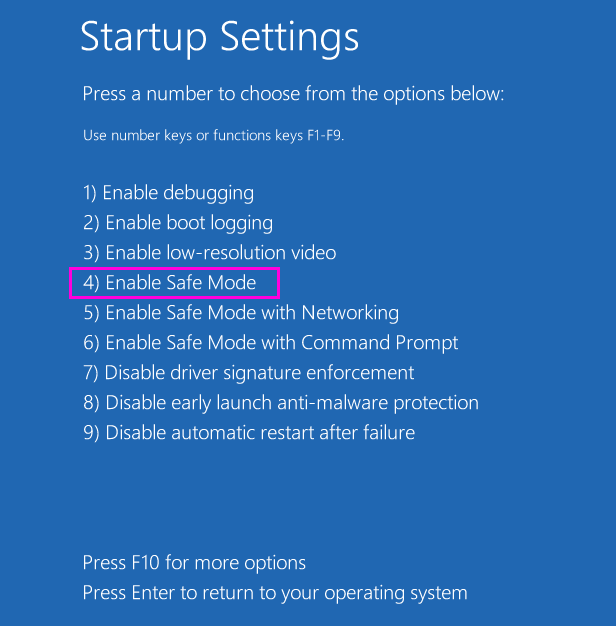 7. Now, Press Windows key + X key together and click on device manager to open device manager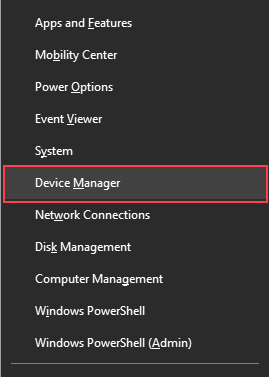 8. Now, Right click on Your computer main bluetooth adapter and choose uninstall.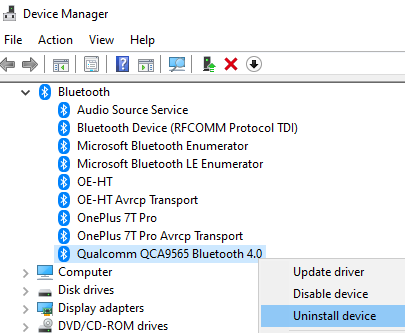 Do not worry , once we will restart PC, it will get reinstalled.
Note: – If you do not know your main Bluetooth, Normally its containing  the same brand name as your wireless adapter.
9. Now shutdown your PC and start again.