One of the best technologies that we should be grateful for is Bluetooth which allows you to connect your earphones, audio speakers, other devices, etc. wirelessly to your smartphone.
Lately, there are several reports which say that some iPhone users are not able to detect the Bluetooth devices around them on their iPhones. This is causing frustration among iPhone users because they cannot connect any of their devices to iPhone via Bluetooth.
The reasons responsible for causing this issue may be because of technical glitches within the iPhone, Bluetooth device may not be in pairing mode, screen time restrictions enabled for Bluetooth, iPhone software being outdated, etc.
Having these factors in mind, we have compiled a set of solutions in this article below that can easily fix this issue. So continue reading to learn more about them.
Fix 1 – Turn Off/On the Bluetooth
Step 1: To start with, you should open the Settings app on your iPhone.
Step 2: Then click on the Bluetooth option from the menu list as shown below.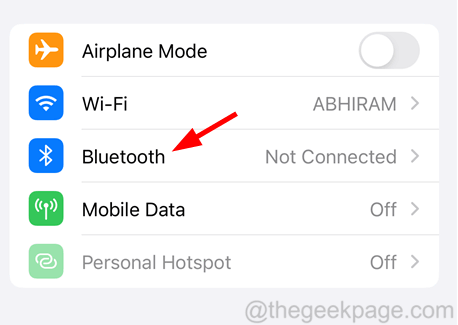 Step 3: On the Bluetooth page, click on the Bluetooth option's toggle switch to turn it off.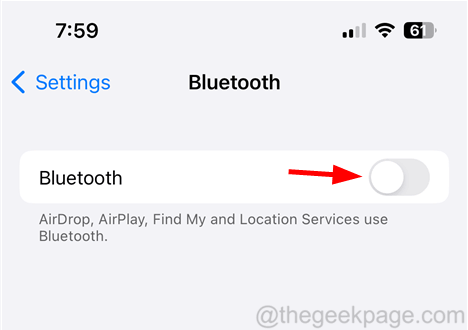 Step 4: After the Bluetooth is turned off, you should force restart your iPhone now.
Step 5: To force restart the iPhone, you should first press the volume up button and leave it immediately.
Step 6: Next, you need to press and leave the volume-down button quickly.
Step 7: Afterwards, you should press the power button and hold it.
Step 8: There appears an Apple logo on the iPhone screen after some time and only then you should release the power button.
Step 9: It now starts to force restart your iPhone.
Step 10: When you reach the home screen, tap on the settings icon.
Step 11: Go to the Bluetooth option as shown below.
Step 12: Enable the Bluetooth option by clicking on its toggle button.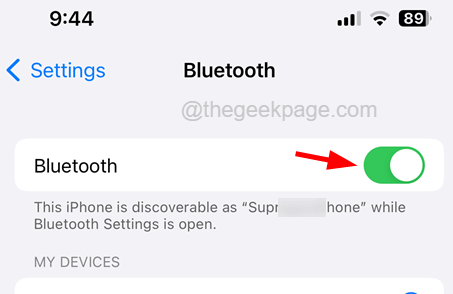 Now check whether you are able to discover the Bluetooth devices around you.
Fix 2 – Check if the Bluetooth Device is in Pairing Mode
Most iPhone users usually get these issues because they do not realize that the Bluetooth device around their iPhone is not in pairing mode. When the earphone or other device is not in pairing mode, no matter what you do, it will fail to detect the device on any iPhone.
So we recommend our users try checking whether the Bluetooth device is in pairing mode or not and then turn it on and put the device on pairing mode.
Also, make sure the Bluetooth device has enough charge within it.
Fix 3 – Disable the Content & Privacy Restrictions on the iPhone
Step 1: Launch the Settings app on the iPhone first of all.
Step 2: Once the Settings app is open, look for the Screen Time option and click on it as shown below.

Step 3: Next, tap on the Content & Privacy Restrictions option as shown.

Step 4: Then disable the Content & Privacy Restrictions option by clicking on its toggle button.

Fix 4 – Update the iPhone Software
There are always some standard practices that should be done on a regular basis and one of them is updating the software on a device. All iPhone users share their feedback about feature experiences, bugs, etc. with the Apple Team and they release a build every now and then in order to fix many underlying issues.
So we suggest our users download and install these updates from Apple on their iPhones and once the iOS software is at the latest version, check if this fixed the issue on your iPhone.
Fix 5 – Reset the Network Settings on your iPhone
When none of the above explained methods are working in your favor, it could mean that there might be some network connectivity settings that are changed on your iPhone which led to this issue.
For fixing this issue, you can try resetting the network settings on your iPhone and after it is reset, you may have to provide all the sign-in details for all the network connections like Wi-Fi, VPN, etc.