Data recovery programs are a boon to those who have lost their data due to some reason that we do not want to know now. All that matters is the deleted data to be retrieved somehow and that's it. Whether the drive is damaged in error, data loss while formatting, files deleted by accident, due to software crash or ran it through a wash, all you want is your data back. But fret not, as the data that you might have recently deleted and then further cleared from the Recycle Bin are usually still found on the Hard Drives that include USB drive, flash card, smartphones, etc. Here comes the free USB data recovery software to your rescue which can help you recover all your lost data no matter how you lost it.
While there are many data programs available that can help you to retrieve your data efficiently, we have listed the best free USB data recovery software for Windows today that will hand over your data to you equally efficiently with no costs attached. So let's take a quick look.
Recommended:

Undoubtedly one of the best free data recovery programs, Recuva is an extremely user-friendly and a powerful tool compared to any other free programs or the premium versions. This exceptional tool comes in handy when you are unable to retrieve your lost files even from the Recycle Bin.
Talking of its features, it has an interactive interface that asks you the relevant questions related to your concern and works discreetly. Not just that, it keeps updating its Piriform program and is also available in a compact edition which gets rids of the need for the installation procedure, which is a big plus.
While it offers a quick typical scan along with a Deep Scan as an alternative to trace the lost data, it also helps retrieve data from different types of hard drives viz. flash cards, iPods, CD/DVD discs and more importantly USB drives. Recuva is compatible with most of the Windows versions that is, Windows XP, Windows Vista, Windows 7, Windows 8-8.1 and Windows 10. Recuva works with drives as large as upto 3TB and is available in 64 bit versions for maximum performance in 64 bit architecture of Windows.
The only negative aspects that we could find in Recuva that there is a possibility of the addition of other programs by the installer and the Piriform site offers a complicated page for download.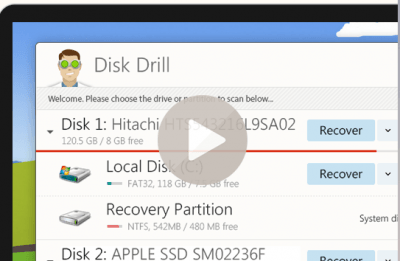 Disk Drill is known for its salient features, but what we also like about it is its user-friendly wizard. Even though some of the functionalities offered by the tool are quite advanced, we must say that they are extremely easy to use and requires least learning curve. This benefit of Disk Drill makes it is a recovery software that can be used by both beginners and experts alike.
Disk Drill is an extremely user-friendly tool that helps you to recover files from nearly any storage device that includes memory cards, internal hard drives, external hard drives, USB drives and more. Apart from the quick scan option, it also offers various other scan methods to help you recover your lost files viz. Undelete Protected Data and Deep Scan. It runs through all of the scan methods one at a time till it finds your lost files and all without any charges.
You also have the facility to pause the scan and then resume it some other time. The scan findings by the tool can be stored and retrieved at a later time so that you do not have to comb through the files at present. Using the Recovery Vault feature helps you to track the lost data from the files that you mention and arranges them into a particular zone of the program. While it helps find the lost files easily rather than scanning them through the full hard drive, it also keeps your PC protected from any data loss in future.
This recovery program can trace data from most of the file types used by the memory cards and the hard drives. It can scan different file types like FAT, NTFS, EXT2/3/4, exFAT and HFS+. While you can conveniently find your files from the results using name, size or date, you can also trace your lost data from the results quite easily as they are arranged in the form of different folders such as Photos, Documents, Archives, Audios and Videos.
Additionally, if your USB drive has lost one of the partitions or has been reformatted, but the files are still left in the drive, the program can help you track the design of the old partition and reconstruct it for your files to be retrieved. Overall, Disk Drill is a user- friendly software which is compatible with all recent edition of Windows. However, it does not display the condition of the file before it retrieves it and must be installed only on the hard drive.
With Wise Data Recovery you can retrieve lost files like pictures, emails, word documents and text for free. It is an easy to use tool that gets installed in minutes and scans your PC for the deleted files in a jiffy. It can scan different types of USB drives like flash cards and similar other hard drives.