15 Best Free Logo Design Tools: –  Having a logo for your company or website is much in demand these days, as it helps you create your brand name. It is a symbol which is extremely important to create your organization's (social or commercial) identity and for your brand's promotion. A logo helps people identify your organization and relate to it. So, if you want to leave that lasting impact on your customers, you need a great logo for your business.
To get a unique logo for your startup you usually need help from a logo designer, however, it may not always be possible for most us to seek help from an expert. Hence, in such cases, we can make use of the online logo design software that can produce some incredible logos. These tools are not only extremely useful but also reliable and competent.
Also read: 21 Free Online Receipt And Invoice Maker Tools
If you are new to this concept and wondering how to get a top-class logo for your brand using the logo design software and which one to use, then fret not as we have come up with a complete list of some great logo design software that will help you to create great logos in no time. While there are definitely the best in class options like, Adobe Illustrator, Adobe Photoshop, Coral Draw and more of the paid versions, there are quite a few free logo design software that can produce nearly equal results. So let's see which are the ones.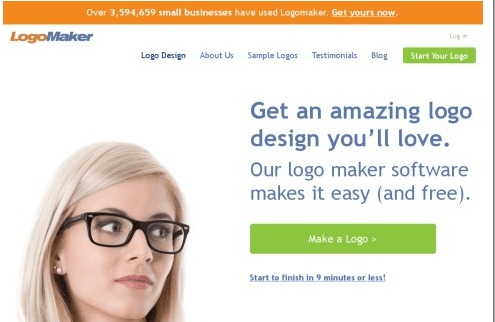 If you are a novice in this field, Logomaker can be certainly the hand-holder for you. It has an extremely user-friendly and an easy to understand interface that directly gives you the industry options you belong from. You simply need to select your icon and customize them according to your preference.
From adding your preferred text to selecting the font type, color or size it gives you all the options that you need to make a perfect logo. You need to register to save the logos, however, to download you need to purchase the same. But, if you want to use it for free you can just copy the logo code and add it your website.
Logomaker ensures best quality logos, fast turn-around time and the free trial version that helps you to learn how to make amazing logos professionally. Moreover, as a registered member, you can design the first 6 logos for free.
Price: Free trial version with first 6 logos free; $49 to purchase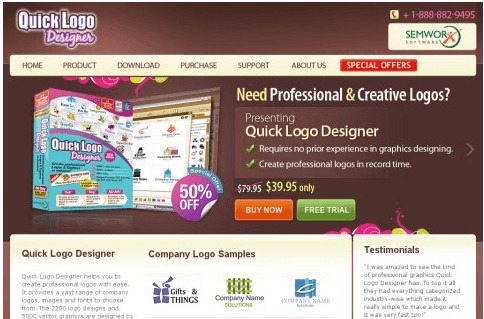 Quick Logo Designer is not just quick but is also easy to use and straightforward. It enables you to create unique logo designs that help promote your business effectively. It works even better for graphic designers as they will find this extremely handy for their imaginations.
On the other hand, if you are an amateur trying your hand on a basic logo for the first time, this is for you too. While it charges you a nominal fee to unlock all the features, you can also download the software under the free trial offer. Quick Logo Designer offers over 2200 templates, 5000 fonts, and symbols and also allows you to export your logo into 9 different formats viz. GIF, JPEG, PDF and more.
For the free trial, you can either fill in your details before downloading or simply click on the "click here" option to download and save the binary file on your PC.
Price: Free trial period; $39.95
Compatibility: Windows 7, Vista, Win XP, Win 2000/8/10