15 Best Free Logo Design Tools: –  Having a logo for your company or website is much in demand these days, as it helps you create your brand name. It is a symbol which is extremely important to create your organization's (social or commercial) identity and for your brand's promotion. A logo helps people identify your organization and relate to it. So, if you want to leave that lasting impact on your customers, you need a great logo for your business.
To get a unique logo for your startup you usually need help from a logo designer, however, it may not always be possible for most us to seek help from an expert. Hence, in such cases, we can make use of the online logo design software that can produce some incredible logos. These tools are not only extremely useful but also reliable and competent.
Also read: 21 Free Online Receipt And Invoice Maker Tools
If you are new to this concept and wondering how to get a top-class logo for your brand using the logo design software and which one to use, then fret not as we have come up with a complete list of some great logo design software that will help you to create great logos in no time. While there are definitely the best in class options like, Adobe Illustrator, Adobe Photoshop, Coral Draw and more of the paid versions, there are quite a few free logo design software that can produce nearly equal results. So let's see which are the ones.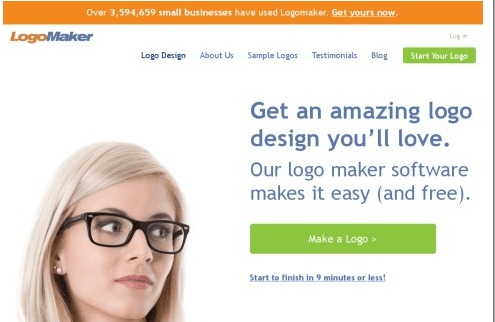 If you are a novice in this field, Logomaker can be certainly the hand-holder for you. It has an extremely user-friendly and an easy to understand interface that directly gives you the industry options you belong from. You simply need to select your icon and customize them according to your preference.
From adding your preferred text to selecting the font type, color or size it gives you all the options that you need to make a perfect logo. You need to register to save the logos, however, to download you need to purchase the same. But, if you want to use it for free you can just copy the logo code and add it your website.
Logomaker ensures best quality logos, fast turn-around time and the free trial version that helps you to learn how to make amazing logos professionally. Moreover, as a registered member, you can design the first 6 logos for free.
Price: Free trial version with first 6 logos free; $49 to purchase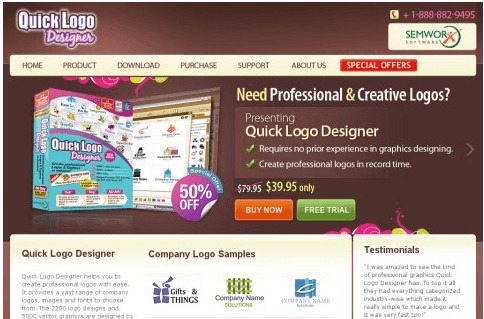 Quick Logo Designer is not just quick but is also easy to use and straightforward. It enables you to create unique logo designs that help promote your business effectively. It works even better for graphic designers as they will find this extremely handy for their imaginations.
On the other hand, if you are an amateur trying your hand on a basic logo for the first time, this is for you too. While it charges you a nominal fee to unlock all the features, you can also download the software under the free trial offer. Quick Logo Designer offers over 2200 templates, 5000 fonts, and symbols and also allows you to export your logo into 9 different formats viz. GIF, JPEG, PDF and more.
For the free trial, you can either fill in your details before downloading or simply click on the "click here" option to download and save the binary file on your PC.
Price: Free trial period; $39.95
Compatibility: Windows 7, Vista, Win XP, Win 2000/8/10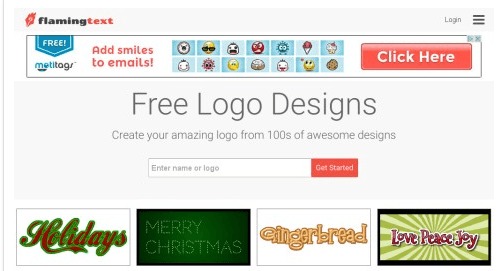 Looking for something different than the usual? FlaminText provides you with logos that stand apart not only in looks but also in quality. It is a high-end software that can be used in the web browser itself and does not require to download. You get access to a wide selection of finest logo designs that can be customized, however for advanced editing options you need to upgrade to premium.
FlamingText features ImageBot, which is svg0based robust graphics editor that equips you with unlimited options to improvise different features like, size, resolution, design and more. With this software, you can enjoy some well-designed logos for free and enhancing tools that can further intensify the entire look of the logos.
Price: Free; Paid versions start from $2.99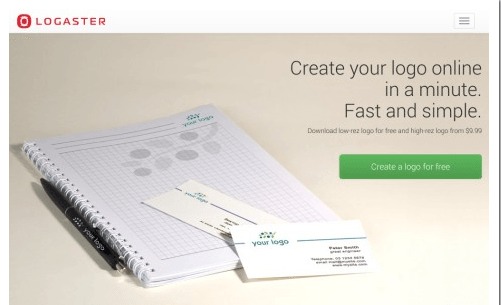 With Logaster you can download the basic logo absolutely free of cost. It boasts a magnificent collection that consists of over 12000 exclusive logo layouts and text vectors. It features a highly simple interface that gives you all the tools to start making logos for your business right away and within a matter of seconds.
Logaster helps you to create some really good looking logos that include three different components such as, logo, brand name, and the slogan. You can then customize these three components according to your requirement along with the ability to change the text color, slogan, and the font. The final step allows you to check through the vast list of 12000 logo designs.
Edit your logo colors with fill and stroke and then eventually have a glimpse of what you created before you use them for your business. Export them to different formats like PDF, JPEG, PNG and SVG and create high-quality logos with precision.
Price: Free; Premium starts from $9.99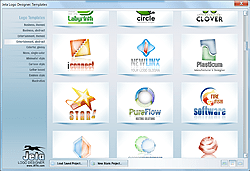 Design quality logos for free with Jeta Logo Designer that assists you with a wide variety of templates, styles and objects and many other beneficial features. With this application, you can create awesome logos using over 50 free logo templates from different categories.
Create stylish logos using over 70 objects some of which are square, circle, triangle, pentagon etc. from different style categories such as, simple gradient, button style, bold stroke, glossy and much more. Furthermore, you can also add images and texts in popular formats viz. TIFF, JG, GIF, PDF and more.
One of the interesting aspects about Jeta Logo Designer is that you can create logos with transparent backgrounds and then export it in different image file formats such as BMP, PNG, JPG or GIF. This is a compact software utility (10MB file size) that barely takes up your PC space. For more advanced and useful features you can upgrade to the paid version.
Price: Free; Business – $49.95
Compatibility: Windows 7, Windows Vista, Windows XP, Windows 8, Windows 10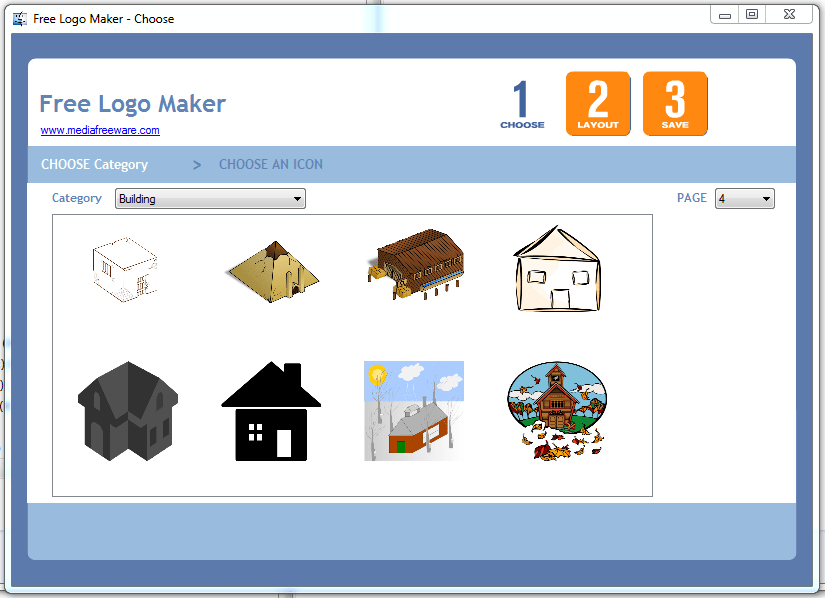 Make your desired logo using the wide variety of icons offered by the Free Logo Maker along with two text lines in various font styles. It is a handy logo design software that offers many useful features. It offers a large number of icons from 14 different categories that include food, medical, technology, transportation, and more.
You even have the option to customize these icons or texts by rotating them clockwise or anti-clockwise or resize them. Moreover, with Free Logo Maker, you can customize the text fonts of the logo in over 50 font styles. The completed logo can be then converted into different image formats such as PNG, BMP, GIF or JPG.
While you need to install this software on your computer, the installation is ad supported resulting in third party software being installed automatically.
Compatibility: Windows 98/Me/NT/2000/XP/2003/Vista/Server 2008/7/8/10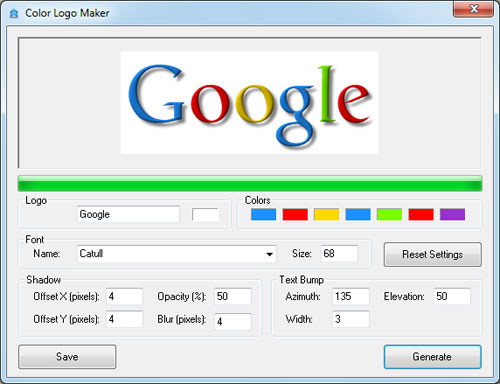 Color Logo Maker is a basic logo design software that enables you to create only text logos. However, the distinct feature about this software is that you can create text logos in various colors. Apart from color text logos, you can also use many different fonts and add shadows for an enhanced look.
The completed text logo can be then converted to some of the popular image formats like BMP, JPG or PNG. The best part is that Color Logo Maker is free and a compact software that can be downloaded in a zip file of only 50 KB size. It is available to download in a portable format.
Generate professional looking logos by choosing your preferred graphics logo from the pool of professional graphics that Graphic String updates on a daily basis. You can design logos and even customize them by editing the text, colors, graphics and more. The completed logo can be converted in PNG, JPG or JPEG formats. It is an easy to use software that makes it easier for you to design your logo effortlessly.
Cool Text is one of the best graphic logo generators for free that helps you to perk up your web pages and brands with no hard work. The process of logo making could not be easier than this, as with this software you simply need to select the image for your logo, fill in the information and you have your logo ready in minutes. One of its striking features is, that it offers a huge collection of fonts (over 1900) from where you can select the one you like and download for any of your requirement.
If you are looking for a faster solution, Designmantic can surely meet your threshold with no hold barred. It is an extremely easy to use and a creative software that offers a wide variety of innovative fonts, colors, and designs. The best part is that you can even customize these options to suit your requirement moreover, what makes Designmantic different from others in the category is that it allows you to view or edit your finished logo designs from various other devices like, iPads, smartphones or tablets. Designmantic is the first do it yourself logo creator in HTML5 format.
Price: Free to use; $29 for logo download
Make the best logo for your business in flat eight minutes with Logo Garden. Neither does it require you to have any prior experience in designing, nor does it need your credit card details. It can be used even by the novice and is a simple software that allows you to make your desired logos in no time. You can even share the logo design on your Facebook. The different styles that it offers for your logos make it a class apart from others.
GRSites
GRSites offer Text Logo Maker for free that helps you to design logos in 2D and animations. If that animated part is not enough to excite you, let us tell you that you can also customize the style, color and the fonts of your logo as well. Not just that, you can also add to the beauty of your logo with different textures. You can choose from the huge collection of icons to create the best logo for your business or personal purpose.
Price: Free to use; paid subscription required for download
LogoEase
LogoEase is a completely free logo design software that helps you to create logos directly from your web browser. It requires no download and no installation and offers a fast solution to your logo requirements that's extremely easy to use. Pick the color of your logo, fonts and even styles from the huge collection and customize according to your requirement. Whether from your business, designing tasks or for social organizations, LogoEase makes it easier for you to get your logo done within a few minutes.
One of the intelligent software utilities for designing your logo is undoubtedly the Logo Design Shop. It is known for the many useful features that it offers to help you design a high-quality logo. With this tool, you have access to over 20 categories of templates related to business, construction, health & beauty, technology, etc.
It allows you to create logo templates of your own with the help of different colors, shapes, effects and canvas shapes with four different types of effects. That's not all, as this free software also offers a wide range of objects from four different categories. Additionally, you also get to use many taglines to be added in the logo.
While it allows you to import images from the PC in various formats like PNG, JPGBMP, etc., you can also export the completed logo designs in the popular formats such as, GIF, JPG, PNG, HCK, and more. the software requires you to register for the installation.
LogoYes
With a simple interface that lets you make the best of logos for free, LogoYes is surely one of the biggest contenders in the category. Create professional looking logos for your startup in minutes, while you have the option to customize them with over 20,000 elements and even change the logo size without losing the design details.
The best part of this application is its quality output that looks great in both black & white, and colored forms. So make your desired logo using LogoYes in just three simple steps that involve finding the industry type, select the symbol and customize. The free software supports file formats like PNG, PDF, JPEG, GIF and more.