hether you want to send an invoice to your client or want to make a receipt for some reason, you have a digital solution for that at your fingertips with online receipt and invoice maker tools. When you feel you are short of time to design an invoice or wish to create a professional one instead for the maximum impact, these tools can be really handy to you. There are chances that you might have lost your receipts or forgotten them somewhere and hence, want to create a similar receipt the receipt and invoice maker tools can be useful for you.
All you need to do is just fill up the empty fields with the required information and you have your custom receipt/invoice ready in minutes. Using these tools not only you would be able to create your own custom invoices, and you can also download the same and save it your computer. Alternatively, you can also send the invoices to your client though their server directly.
See also : 8 Free Billing softwares for your PC
So, let us take you through some of the top free online receipt and invoice maker tools that we have listed today for you to choose the one according to your requirements.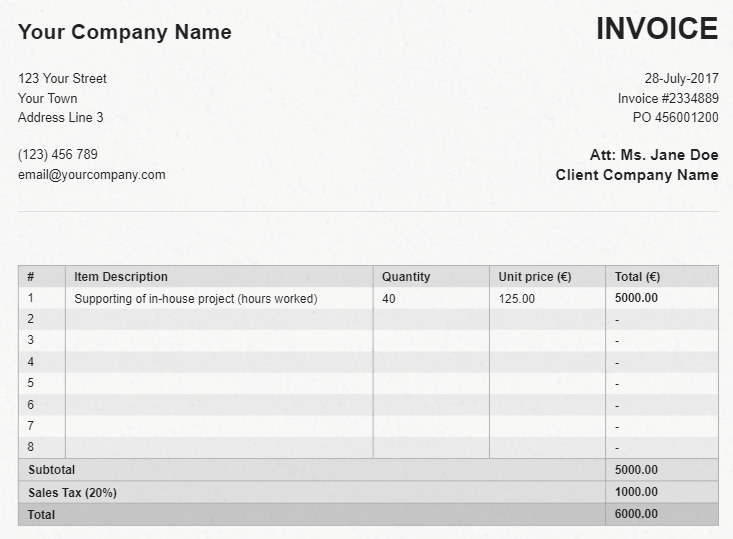 As soon as you open Invoiceto website it takes you directly to the invoice template. It offers an extremely simple process that's also easy to navigate. You have got the instructions clearly mentioned at the left side of the invoice like, edit template, get PDF and the option to resize table (Add/Delete row). You simply need to enter the company address, phone, email, name of the client (Att) and the required invoice details in the table. You can then export it to PDF format for free and email your client. It's as easy as that!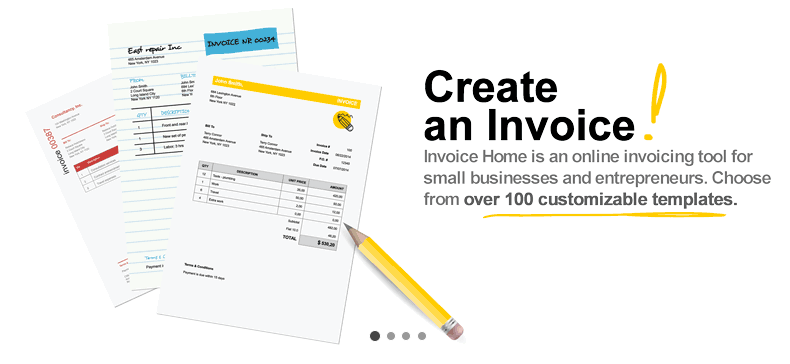 If you are looking for a quick solution for your invoicing needs, Invoice Home can be the right solution for you. It enables you to create invoices effortlessly which can then be saved in PDF format using the invoice templates collection. The tool also lets you email your invoices to your clients who have the option to pay the invoices by card. Invoice Home generates invoices spontaneously using the wide range of templates, letting you download them and email it your clients in matter of seconds. Best of all it's free!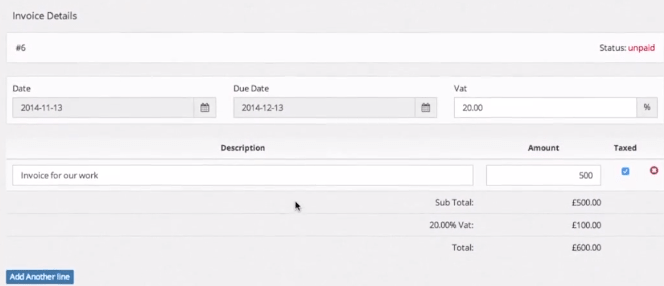 One of the top free invoice maker tools online is Fastinvoice.com that allows you to create custom invoices for business. This application is especially built for freelancers and those with small businesses that help them automate their client's billing by creating subscriptions for your products/services, prepare professional invoices sealed with your business logo, setting up tax rate for your business or remind your clients automatically over payment overdue.
Generate easy to follow reports and convert them to PDF format for your convenience. Fastinvoice is mobile friendly that helps you to use PayPal account for transactions with your client. You need to sign up for this tool.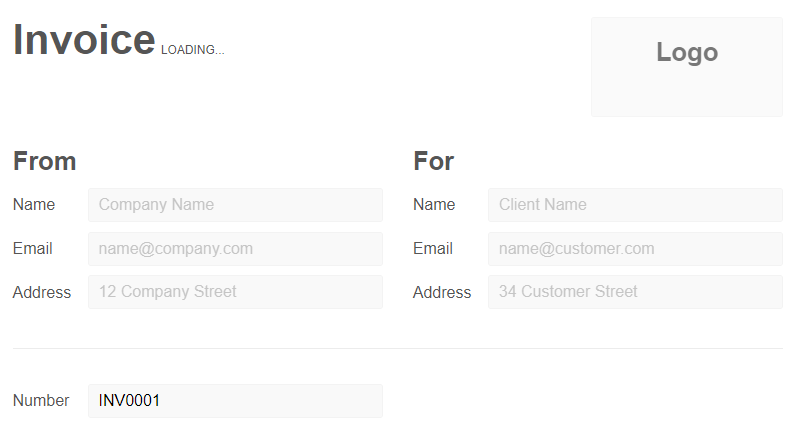 Free Invoice Maker is one of the other best online invoice making tool that helps generate invoices in few simple steps. You have the option to change the current date and the due date. You can then enter the Job Description, upload your logo, Bill From details and Bill To details. There is an option to Add Item or Time Entry below post which the Invoice total is auto generated.
If required you can also modify the Invoice Settings on the right side of the screen. You can preview the invoice just to make sure if everything is perfect, download the invoice and then email it to your customers. You have an option to create a free account and you need to sign in. It's an easy to use tool that takes you directly to the invoice page that helps you to generate invoices in seconds, keeps you organized with secure process and helps you get paid faster with secure payment options like PayPal.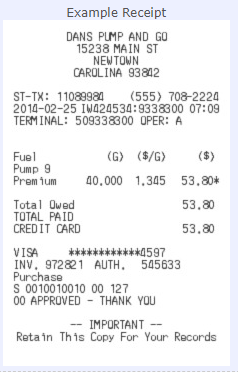 Looking for a user-friendly fuel receipt maker that would help you replace your lost or forgotten gas receipts? Try "Make Receipt" that may be just what you need. It is a web-based tool that helps you create fuel receipt right within your web browser. What's good about this tool is that it takes you directly to the receipt making page without requiring you to register or sign in. The entire receipt making process is quite easy and gets your job done in few quick steps.
Input fuel price per gallon or liter in the first box followed with number of gallons or liter and then hit the "calculate total price button". Now calculate the quantity by filling up the required fields on the right, by adding the price per gallon or liter followed with total price calculated in the first step and then hit the "calculate fuel quantity" button. Now enter the required information for the Gas Station and the Fuel Purchase and hit the "Create/Update Receipt" button to generate the receipt. The receipt or any errors will show up on the right. Right click on the receipt and save for your use.

Create Quick Invoice is a resourceful online invoice making tool that allows you to create invoices meeting different purposes such as, tax invoices, business invoices and simple invoices. Best of all you do not need to register to generate free invoices. You simply need to choose your preferred template from the gallery and start entering the required details in the blank fields.
That's not all as you can also set discounts, currency, calculate tax percentage or go for the advanced options that help you with online billing and accounting using the software. You need to create a free account to avail of the advanced option. You can either Preview/Print the invoice, download the receipt in PDF format or email it to the respective client using the buttons on the top right corner of the screen.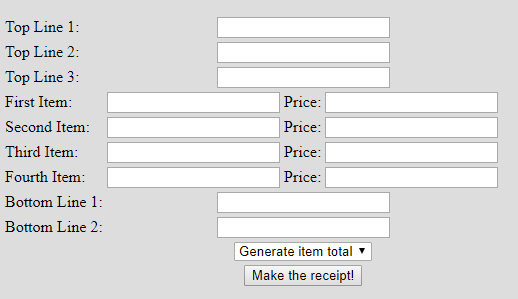 Custom Receipt Maker allows you to create custom receipts effortlessly with the help of its simple process. You simply need to fill up the blank fields and click on the "Make the receipt" option beneath. Once completed your custom receipt will appear at the top of the screen. The best part is that while you enter the receipt details you can be creative by adding a fun slogan at the last box. Whether you enter the amount in dollars or non-dollars that's up to you.


InvoiceApe welcomes you to an attractive home page that offers a well-arranged layout. You need to select the template first from the gallery followed with the page size and color theme. You can choose to upload your logo and signature if needed. Then follows the most important step of entering the basic information, document information, your information and customer information. Finish with transaction details, additional notes, balance summary and click on the "Generate" button below to get your free invoice. You also have the option to sign up.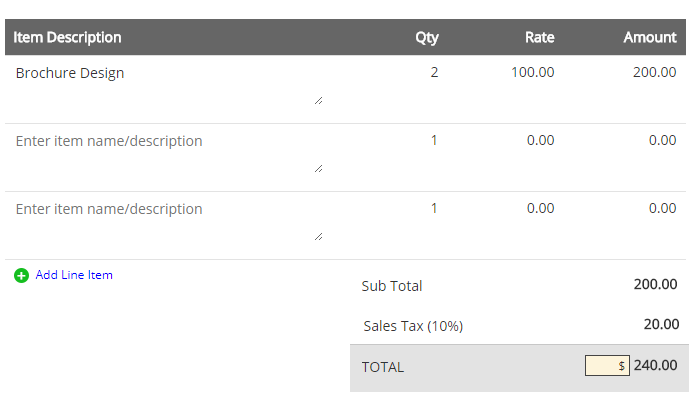 If you are a business owner, you would most certainly know about Zoho Invoice which is one of the leading invoice maker tools in the category. As an entrepreneur you have several options to create your custom invoice using this tool. It provides you with a pre-made invoice that simply needs to be edited with the required details and you have your custom invoice ready!
All you need to do is fill in your billing address; client's address, set the invoice number and add the sold item description. You can then save the invoice or send it to your client. You also have the option to print your invoice or get a PDF as you wish. It's an easy to use tool that allows you to do exactly what you want without any additional hassle.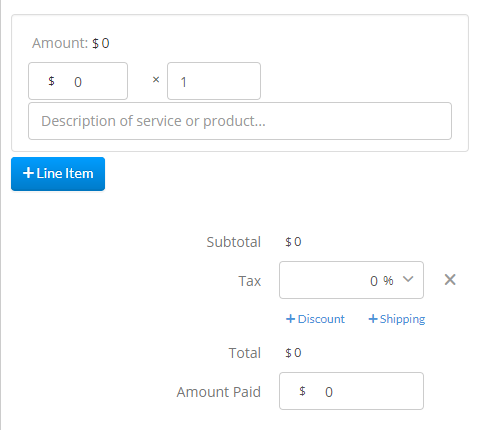 Quickly generate invoices using the Invoiced Lite Free Invoice generator that offers beautiful looking templates to start with. You can simply open the website and create invoices for free directly from your web browser. Simply fill in the required details in the blank fields and click on "Send Invoice" to deliver it to the client. Each time you add an invoice it gets saved in your "My Invoice" section. The currency is in US Dollars by default. You can also download the invoice for your purpose.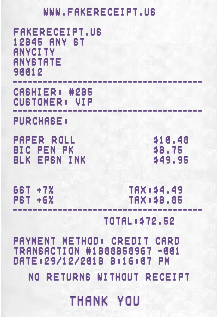 Free Online Receipt Maker provides you with the most basic receipt making platform for free. Using this free tool you can not only generate receipt for your customers effortlessly, but it also saves your time and money. The entire process of creating a receipt is so easy that it does not take much time for you to learn the software usage. You simply need to choose the payment method, input your company and store address, store return policy, two separate sales tax percentages and names, and upto 5 items bought.
You can further choose to input your company tagline, your company's website, a "Follow us on Facebook" statement, or anything that you wish which is optional. While the taxes and the total payments due are automatically calculated, the transaction id changes with each new invoice that can be used to record your sales or as a testimony to your sales. Suitable for both fake and real receipts, it allows you to get a print out for the receipts along with registration marks. You can further customize the invoice according to your requirements.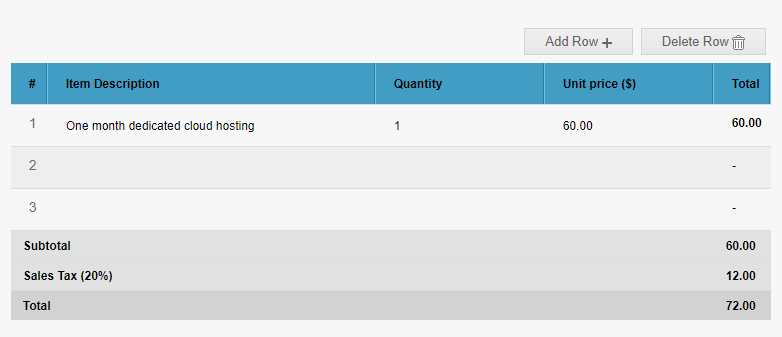 Create a custom invoice right within your web browser with no fees whatsoever, using the Online Invoice Generator. What's interesting is that this simple and hassle-free tool takes you directly to the Invoice template where you can edit the details according to your requirement. You can then confirm the invoice in PDF format, download it after you see the prompt, save it to your devices' hard drive and email it to your customer.
ExpressExpense is undoubtedly one of the best free receipt maker tools online that offers extensive options for you to create fake or custom receipt in matter of minutes. From shops, restaurants, cash or for taxi, this tool helps you to generate receipts using the several pre-made templates available on its site.
You can select a template of your choice followed with the right size that includes options like, parking, itemized, squared or sales. Additionally, you can also mention what the purpose of making the receipt such as, restaurant, taxi, generic, and more. It's an easy to navigate site that needs you to sign up to get access to the tool.


Free Invoice Template is a boon for small business owners as it offers free invoicing solutions for them. It offers an extremely easy process to create invoices that are professional at the same time. So, if you are especially a freelancer or a service provider you can use this tool to generate invoices for your clients effortlessly. Enter an "x" in the column that says "Taxed" that points out which items are taxable. You can fill up the required details in the spreadsheet and it will automatically populate the subtotals and the tax amount.
Choose from 3 different templates and item description samples available based on your rate per hour work, parts, materials or project. For a printable copy of your invoice that you want to complete by hand, you can add a logo, name, your address and clear the cells for a blank copy. Isn't that amazing? So, get to their official site today and create your custom invoices in no time.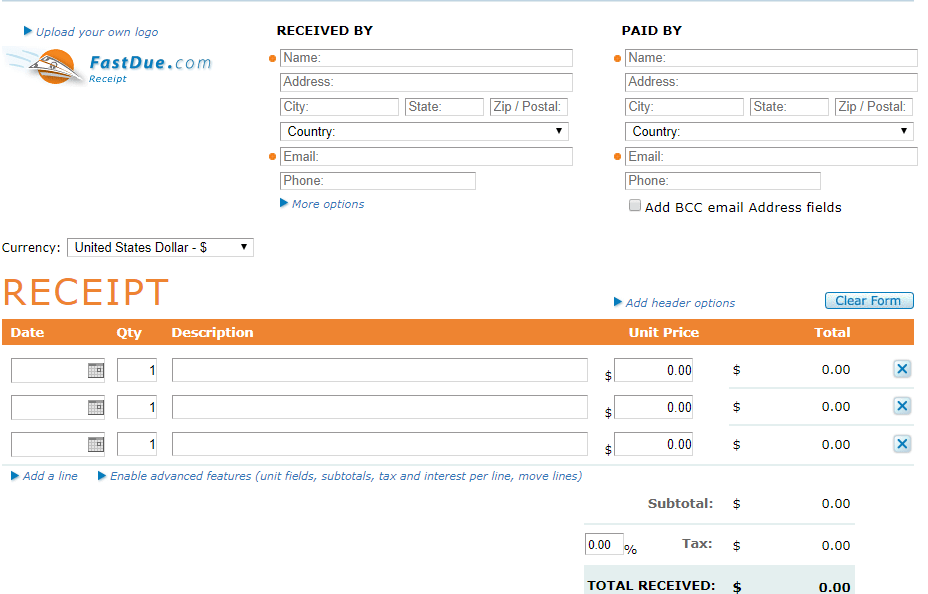 FastDue.com is perhaps one of the easiest and comprehensive online receipt making tools that allows you to create custom receipts for your customers in a jiffy. You simply need to choose the receipt option, fill in the required details under "Received By" and "Paid By", select the appropriate currency from the drop down menu, and it automatically calculates the payment due.
You can then select the preferred payment method, click on the "continue" button to preview the receipt and send it your customer. What we like about this tool is that you can enter your own custom header message and that you have the option to choose your preferred currency, and all this for free!
Save your time and effort with Online Invoices which is offered as a completely free plan. You do have an option to upgrade for heavy usage with no set up fees, but that is usually not required. To proceed making a free invoice you need to sign up with your details and then it takes not more than a few minutes to generate a custom invoice. It involves a simple process with extensive options for reporting and analysis. This easy to use tool is available to access anytime of the year from anywhere in the world.
Simply select the Pre-Filled templates, save unlimited of products or services with details that are pre-set so that you can use the saved format next time, customize your email messages using the "Email Templates" option or preview the invoice before sending it over to the client with Online Invoices. There is more to the product for which you can visit their official site and browse through it comprehensive features.
Free Invoice Creator is yet another invoice creating tool that offers a solution to freelancers and small business owners for free. You have a pre-made template which simply needs to be edited with the required details like, your Billing Address, your company logo, your client's address, and your work description. It will auto-populate the subtotal. You can then save it and send it to your client. It's an easy to use free tool that requires no registration.
Shopify is basically a free software that allows you to build your custom online shops, however, it also deals in invoicing solutions which is free for user. You can create your own custom invoices right in your web browser that helps simplify your billing and collection. The entire process just requires three steps to generate a free invoice. For help, you can refer to the sample invoice provided by the site.
All you need to do is to enter your company information, add your logo, enter client and invoice details, fill in your work description, add any memos and zap, you are done! The invoice automatically calculates the subtotal with tax, which you can then download and email it to your client. There's no registration required and is super easy to use.
Invoices Online 2.1 is a comprehensive tool that helps you to generate invoices for your customers for free. The website takes you directly to the pre-made template that is editable. You just need to enter the required details under "create your letterhead", "client's information", "extra details", and "itemizations" and you are done. You can then simply press the button below to generate your custom invoice which can be forwarded to your client.
The best part is that the tool allows you to create your own invoices in either one large form or n modular form. Explore the FAQ section for any help, however, the tool is so easy to understand that it barely takes you any time to understand the process.
Get your due payments from your client on time with the help of Invoice Home which offers free invoicing solutions for small business owners and freelancers in major countries. You have over 100 templates to choose from available in several designs. The tool is fast and responsive that allows you to download the completed invoice in PDF formats or allows you to send via email. For speedy invoicing you have the option to copy invoices, and also benefit from other features like, auto numbering, adding your own logos, and printable version free of "Invoice Home" branding.
You can choose from payments methods like, PayPal and Authorize.Net, and choose your appropriate currency based on your country. So create your business invoice and get paid in minutes with Invoice Home.