16 Best Free Software for Folder Lock: – I lost all my data saved in a folder recently, just because my data was not protected. Apart from the fact that none of the Windows version comes with the password lock option for your personal folders, most of us are casual about the data we save on our PC or laptop and would not even consider protecting them.
What we do not understand is that this lets others get access to your privacy which can be either accidentally deleted by friends or family, or even manipulated by someone else. Hence, it is a good practice to keep your folders password protected so that your data is safe and secured.
While you do have the option to hide the folders in Windows operating system, it is of no use as the folder can be searched or unhidden. Hence, those who want to password protect their data they are forced to seek help from third-party software. So if you want to protect all your stuff in a jiffy, you can use some good applications to encrypt them.
Also read: – 16 Free USB encryption tools to password protect your USB
There are many applications out there that help to lock your folder, however, most of them are paid versions. Today we have compiled a list of some of the best free software for folder lock just for you that will help you save your drives on your Windows platform. So let's get going.
Folder Lock Free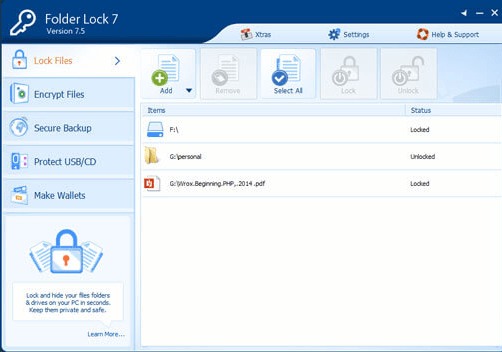 If you have a large quantity of data then you definitely want to secure it, and Folder Lock is one of the tools that helps you to achieve that. It helps you to lock and hide your files, folders, and drives by password protecting them. In addition, it also encrypts files, folders and email attachments, while it safely backs up your data and also safeguards your CD and the USB drives.
It doesn't stop at that, as you can also create wallets to store your credit card details and other personal information with the help of Folder Lock. It prevents your data to be accessed by even the smartest of hackers and the spies with the hotkey-activated secret mode. Clean history and shred junk files with Folder Lock and try all the benefits for free for the first 30 days post which it costs $39.95.
Download: http://www.newsoftwares.net/folderlock/
Price: Free; $39.95 after free 30 days trial period
Compatibility: Windows 2000/XP/Vista/7/8/10
IObit Free (Protected Folder)
One of the best choices of a folder locker goes to the IObit's free Password or Protected Folder which is user-friendly, captures less disk space and offers a solid elementary protection for your files and folders. With IObit you can hide your files and folders from any outside access. While all outsiders are blocked to access your data, they cannot even view it in your absence.
It offers an extremely simple dashboard where you can just drag and drop your preferred data to be locked. Additionally, the program also keeps itself secured by password protecting itself so that no one can uninstall it either. Even though IObit's Password Folder is a free application it is completely free of malware and viruses.
Download: http://www.iobit.com/en/password-protected-folder.php
Price: Free
Compatibility: Windows 2000/XP/Vista/7/8/8.1/10
Lock-A-Folder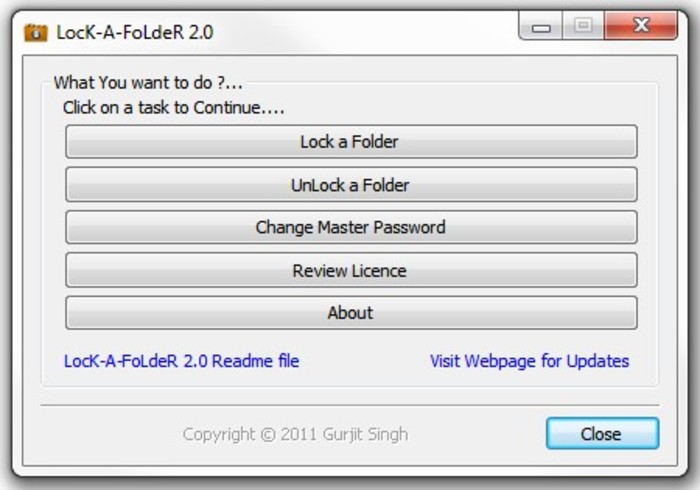 Even though the developer has shelved the project meaning that there would be no updates to the product, you still have the option to download the archive Lock-A-Folder application for free. It is a user-friendly software that takes up a small disk space and helps you to lock or hide any private folders on your PC or laptop. This action blocks other users to have access to your files and makes your data invisible.
You need to create a master password to select the folder you want to hide or lock. Simply click on the option to make them invisible. You can again enter the password and select the desired folder to unlock it. Even when you need to uninstall the application, you need to enter the master password which means that no one in your absence can uninstall the tool without the password.
Download: http://lock-a-folder.en.softonic.com/
Price: Free
Compatibility: Windows XP/ Windows Vista/ Windows 7/8/10
Safehouse Explore
A free encryption software, Safehouse Explore helps to maintain the privacy of your data by protecting them with passwords. It effectively covers your data from snoopers or anyone else who should not have access to it. With passwords and strong encryption of maximum 256-bit to make your data disappear completely from the outside world.
From photos, videos, delicate files, spreadsheets etc. to any kind of files, it protects and hides your data completely. It can also defend the data contained in your USB and CD drives, memory cards, iPods and even network servers. It allows you to access your files only when you enter the password, which also makes it safe from external forces.
Download: https://safehouse-explorer.en.softonic.com/
Price: Free
Compatibility: Windows XP, Windows Vista, Windows 7, Windows 8
Easy File Locker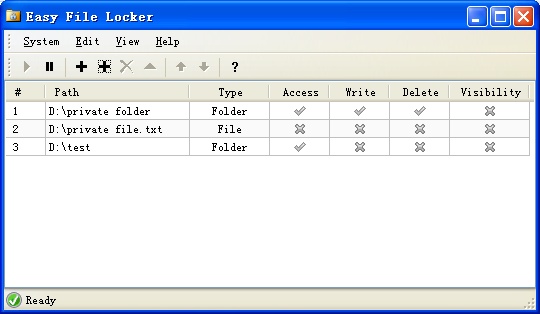 Easy File Locker is a free software that is user-friendly and lightweight. Perfect for Windows operating system, this tool helps defend your files and folders from getting lost or stolen. It provides solid protection to your data that is secured from other users and blocks them to view, open, read, change or remove info, copy or even move folders. The files or folders are completely hidden from being seen by any other user or spy program.
Easy File Locker is developed to protect your private files and folders on your private computer. The best part is that it does not slow down the speed of your system, does not modify or damage any data on your protected folders.
Download: http://xoslab.com/efl.html
Price: Free