Top 9 Softwares for Email Marketing (FREE):- Email marketing is a very huge part of digital marketing now a days. Be the case you want to reach your numerous followers or publicize a particular product or event, email marketing can play an important role in doing so.
You might already have blogs and other pages to help you reach out to your audience and connect with them, but this is of no use, when trying to connect and promote things personally. You can not text everyone and you can not surely try to reach out every person individually on any social platform. Email marketing can help you very well in such situations. Free email marketing services out there allow you to do the very same, reach out to your followers personally, without putting too much baggage and work on you, as an individual. You can use a service's predesigned templates, or design your own if the opportunity is provided by the service. There are many services out there that cater to the needs of different users with their different features. You can go through each service's features and decide which on suits you the best.
There are email marketing services on the internet that allow you to design your own design template , from scratch using html coding and other features, which can prove very useful for some of you , if you are looking for that kind of marketing service.
In the list below, i have included all the free email marketing services out there, and even services that have premium plans , but offer free services in the basic package as well, you can select the service you want according to your needs.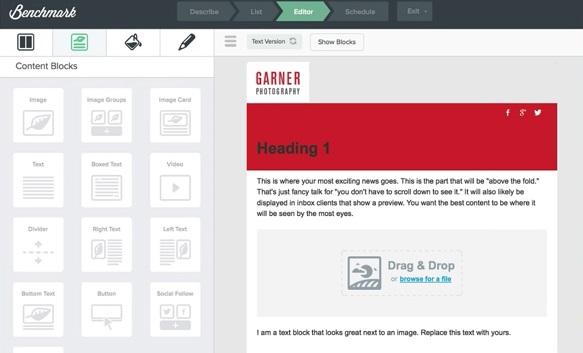 Benchmark is one of the few services out there that offers most of its features in its free package.
In the basic package, you can send 7 monthly emails to 2000 subscribers or followers for absolutely free.
In the process of sending these 7 emails each month, benchmark provides you with all of its features for use, which can help you enhance the look and impact of your emails greatly.
Features offered by benchmark email marketing.-
– Email Designer
Benchmark email has its own email designer that is highly convenient to use, and is full of features. It allows you to drag and drop elements into the already designed template for better functionality and ease of use. This can allow even beginners to create intriguing content for their followers or subscribers.
– Compatibility
Benchmark also makes sure that the email designed and selected by you is compatible with all devices , on all platforms and browsers. This is a huge plus point because many emails are not compatible with mobile devices by default.
– Image Editor
Benchmark is also equipped with its own photo editor to help you edit and include images in your emails for better impact and influence.
– Pre-Designed templates
The BenchMark offers various predesigned templates and designs for you to choose from which can help you get your target met with very less effort. The templates have been designed with different occasions and designs in mind , to help you in almost any situation.
– HTML editor
For those of you familiar with coding and designing their own emails, you can use the built in HTML editor to edit and design emails using the various tools provided.
– List Builders , Surveys and Polls
The site also gives you the option to conduct surveys and polls among your subscribers without any extra effort, to enhance your understanding about your own market. You can also use the inbuilt list builder to send sign up forms and grow your fanbase or market.
2- MailChimp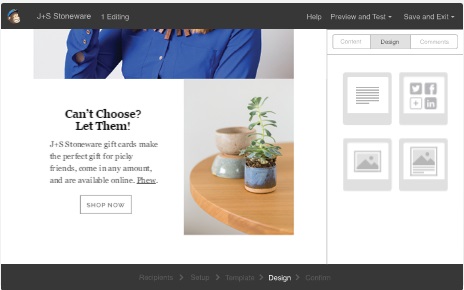 MailChimp is a very old email marketing service, started in the 2001. It is one of the best and most widely used email marketing service out there, all over the world. According to the company statistics, 10 million people use it to send more than 600 million marketing emails daily, without fail.
MailChimp is reliable and trusted by thousands of bloggers and start ups. All in all it is a great service packed with the following features-
– Drag and Drop Email designer
You can use your mouse to drag and drop design elements in the editor, and create your own email design template. You can then use this template to your desire and send emails to your subscribers.
– Email Automation
This is one feature unique to the MailChimp for now. The service allows you to target specific subscribers from your pool of subscribers, based on their browsing history, behavior and other preferences. You can even set an condition that will trigger an Api request to send emails to the specific person when the condition is met.
– MailChimp Analytics
The company analytics service makes sure it gets hold of every possible data for you out there after configuration. You can use it to monitor the visits on your website, the sales of your products and the average revenue report for future planning. This is a very important and useful feature, especially for upcoming start-ups.
– Integration with major social platforms/apps
MailChimp has support for the following services, for your ease of use. You can integrate these platforms into your MailChimp account to access different kinds of data.
Following are the platforms
A) WordPress, B) Twitter, C) Magento, D) Facebook, E) SalesForce, F) Shopify
Other Important features of MailChimp include
– Multi-User Accounts
– Email Beamer
– Custom Forms
– Segmentation and Groups
– GeoLocation
– Email Delivery by Time-Zones
– Comparative Reports
– Social Profiles
– Social Sharing
3- Vertical Response
This is another good email marketing service out there. For free, it offers its users the ability to send 4 emails per every month to upto 1000 subscribers. This is good compared to the restrictions applied by other various sites. Some of its important features are listed below
– Email Creator
You can either use the pre designed templates available in the service, to create and design your own emails in a matter of minutes. This significantly shortens the amount of time it takes to design an email compared to the method of coding HTML to design your email.
– Universally Compatible
Emails created using the in built templates and designer are all compatible across all
Platforms and devices. The emails are automatically resized depending on the platform and device they are being sent to. This ensures that each and every recipient is able to view the content emailed by you, without any hinderance.
– Pre-designed Sign Up Forms and Welcome Letters.
Vertical Response also has the option to set and design custom sign up forms. These forms can then be set up on your website to attract more subscribers and can even be shared on all the social platforms for maximum reach. This can come in handy for start ups and upcoming businesses to establish their own market and a relationship of trust between the company and the proposed customers.
All in all Vertical Response is a great Email Marketing service offering free services without any charge or requirement of registration and thus should be a good candidate for your choice.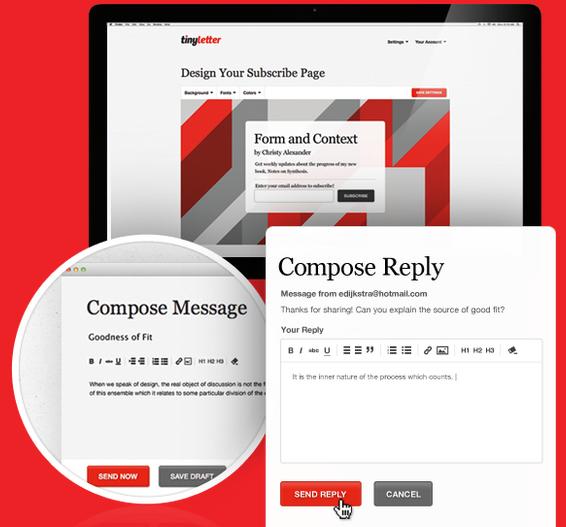 This is another email service that allows you to send mass emails and newsletters to your followers and subscribers, free of cost. TinyLetter is a straightforward, simple email marketing tool, with very fewer features, to make it simple and easy to use. TinyLetter is targeted at fairly new users and beginners for the lack of features makes the process of sending multiple emails and newsletters to your subscribers and followers, rather simple. There is no hidden or additional cost when you sign up for TinyLetter, and registration is absolutely free for everyone. You can visit their link and get started right away after registration. Registration is a process that takes maximum of ten minutes and does not require any personal details like credit card information or bank account information, you are simply required to provide your email address in order to register with The service.
Though the UI and the service itself is targeted at new users and beginners, it still comes with features that should allow you to grow your database once you have the hang of the service and its features.
– Sign Up Forms
The service has the basic option to create customized sign up forms with your desired content, in order to get more and more followers or subscribers. You can email this form individually to different people, embed it in your blog or newsletter or even invite twitter users to follow your content via the sign up forms.
– Straightforward Design
The service is designed to help beginners and people new to email marketing. This straightforward approach of the service is very useful for newer users as many features used by corporates and other businesses like image editors, html coding etc, are useless to people newer to this part of marketing. The service on the other hand offers a special feature that actually makes the life of a newer user, very easy. Apart from using the service's editor to create your email, you can even create and send mass emails directly from the user interface of your original email client, like gmail, yahoo etc. making this a great feature for beginners . You can now use your own email client in association with TinyLetter to send mass emails to your followers and subscribers.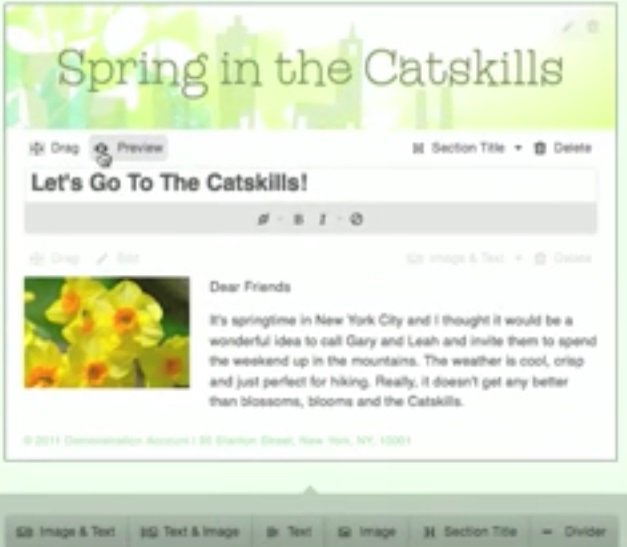 Mad Mimi is a popular email marketing service, used by many businesses and startups to send weekly newsletters and product promotions, to their customers and subscribers. Many bloggers use it to connect with their readers, followers and even subscribers. Many content websites are known to use Mad Mimi in order to send monthly or weekly content to its subscribers.
Mad Mimi boasts a whopping 40 million emails being sent everyday through it's servers, which is a lot. The service has the following important features, that make it the prime choice of many users worldwide.
– Free Plan
The free package offered by the service is a unique point as it has no catch or any hidden costs. You can use the free plan for completely free of cost for as long as you want which is a huge plus, as most of the services either have one or two restrictions.
The plan also allows you to store up to hundred contacts on the service's database, and send unlimited amount of emails at any point in time.
– Designer
Mad Mimi has its own , in built , email designer, designed to help users to create their own templates. Often when sending emails to masses, you might realize that predesigned templates offered by the service are not that eye catching and have been used by many services and other users overtime. Hence Mad Mimi's designer and its easy to use , user interface is designed to help you create your own email designs from scratch. This is a great feature for anyone to create eye catching and unique content for their subscribers or followers.
– Tracking
One of the best features of this service is the ability to track emails in real time, and give you detailed information about the recipient's actions. Using the tracking feature of Mad Mimi, you can track your email in real time. You can also get notified if the email was opened of not, the service will let you know about users unsubscribing to your emails and let you know about bounced emails as well, so that you can edit your database of recipients for better results. The service can also notify you about the number of links opened by the user via the email, number of referrals and even show you detailed pie charts for the same, to help you track the progress of your emails and improve on every possible aspect.
All in all Mad Mimi is a great email marketing service used worldwide, by thousands of users for its feature rich experience and reliability. Mad Mimi should be a good choice for all mainstream bloggers and start up businesses looking to grow themselves.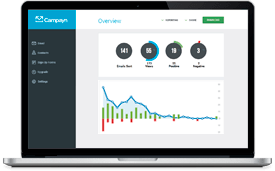 Campayn advertises themselves as The Email Marketing service/tool for small businesses, but is a bit more than that. It can be considered as a more feature rich TinyLetter. The pricing of the service is very competitive and frankly very tempting. The free package of the service is also nothing short of a godsend for those of you in need of a free email marketing service. The service offers you the ability to send unlimited emails to 500 of your contacts for absolutely free. You can sign up for a free account using your email id and get started as soon as you complete registration.
Apart from all the general features, Campayn provides its users with the following facilities in order to try and enhance the experience and make it as hassle free as possible.
– Contact manager
Campayn automatically manages all your contacts and automatically deletes unsubscribing users, adds new subscribers, handles complaints and keeps your database, spam free. You can also use Campayn's inbuilt exporter and importer , to export and import contacts to and from either excel sheets, Gmail accounts or as a matter of fact, any email account.
– Designer
Like every service out there, Campayn has its own designer with umpteen features like drag and drop, image editing etc. The designer can also guide you in creating your own email designs rather than using the predesigned templates, already included by the service. Campayn has its own database of images to chose from, which can save you a lot of hassle. All these images are free to use and without any copyright issues, making the job much easier for new users and beginners. The designer creates emails that are mobile friendly and can be opened on every device.
– Sign Up forms
Rather than offering the normal signup forms, Campayn gives you the ability to select full page sign up forms which drastically improves your form's visibility among your followers and subscribers because it will cover all of the page once it is triggered. You can send this sign up form to your recipients directly through email, or embed it in your website or WordPress page/blog to increase your database of recipients.
All in all Campayn is a good contender when it comes to the best email marketing software, and its unique features make it stand out from the rest. Campayn might just be a good choice for you , depending on your needs.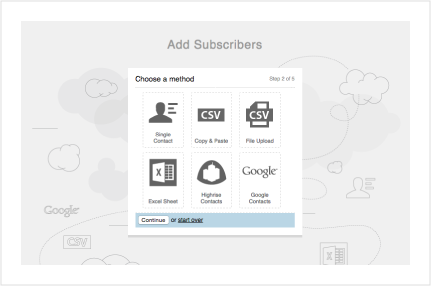 SendLoop is great email marketing service that is easy to use, has reasonable amount of features and offers great free packages for those of you looking for a free email marketing service. Apart from this another feature of SendLoop that makes it stand out is the API integration directly into the service which can be used greatly by those familiar with coding.
Among others, below are some important feature of the service for you to select from. You can then decide wether SendLoop is the right service for you or not.
– Around hundred predesigned email templates to choose from that can help you enhance the look of your email.
– Drag and Drop email designer to help you create enticing emails.
– Ability to import contacts from various platforms and local devices , to create database of contacts and subscribers.
– Detailed reports about the emails being sent and real time statistics for detailed analysis and future planning.
– Support for mobile devices and operating systems to ensure the proper delivery of your content to all your recipients, no matter what device or platform they might be using.
– Geographically locating the sent emails and their read or unread status along with link opened statistics help you as a marketer, improve your game and get better results.
– Rss to email integration helps you inform your subscribers about new content on your website as soon as you upload it. The service will detect your new RSS feed and automatically email the desired recipients to inform about the new content.
– You can schedule emails to be sent repeatedly every few days depending on your preference.
– Realtime tracking helps you single out high value recipients and schedule emails specifically for them.
– SendLoop also integrates Facebook lead ads and helps you get subscribers from Facebook as well using Facebook lead ads.
All in all SendLoop is another great, feature rich, email marketing software that can be used by bloggers and small businesses to connect with their followers on a personal basis.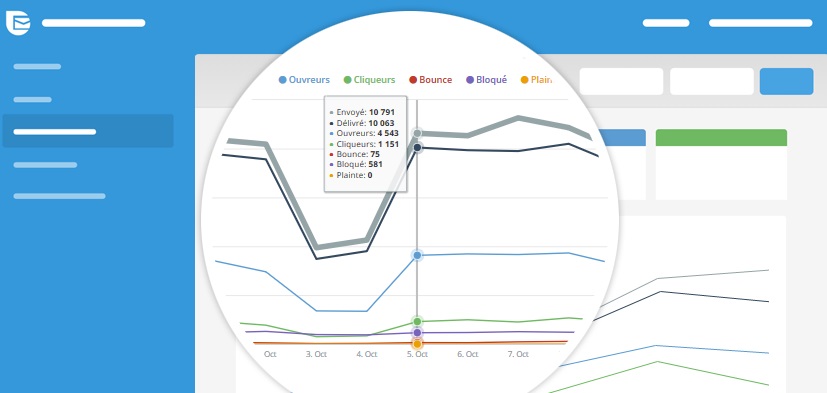 SendinBlue is a profess email marketing service with tons of features that make it stand out from the rest of the email marketing services out there. SendinBlue is a service catering to users residing in over 140 countries, worldwide and boasts a whopping amount of 30 million emails sent everyday. SendinBlue is feature packed and meant for users familier with email marketing tools. It is not recommended for new users and beginners as the service can prove to be a little complicated, because of all of its features. Although nothing should be taken away from SendinBlue as it is one of the best out there , when it comes to email marketing services. Apart from the general features , SendinBlue boasts the following,
– SendinBlue has prompt customer service to take care of any problem or obstacle faced by you. You can drop an email or simply place a call to their customer service professionals in order to receive support at the earliest possible time.
– The free account, allows you to store unlimited amount of contacts in your database and send upto 9000 emails per month, which is pretty good compared to what is offered by other services
– Apart from the drag and drop designer, you can use the email designer to create personalized content for your users, by creating designs with usernames or user ids included.
– Apart from the ability to create normal lists, you can also create dynamic lists, with specific conditions and parameters which will be updated according to the set parameter whenever a change takes place.
– You can also use the service's API to create custom email design templates right from the scratch.
– The service also offers you the ability to use DMARC and DKIM security protocols, with their own pre selected dedicated ip, in order to put proper signatures on the email and maintain your and your company's reputation.
All in all SendinBlue is one of the best email marketing services out there with a professional approach and a feature rich design for all your marketing needs. SendinBlue is trusted worldwide and even offers free accounts for its users. SendinBlue is highly recommended for businesses and start ups looking to make it big globally.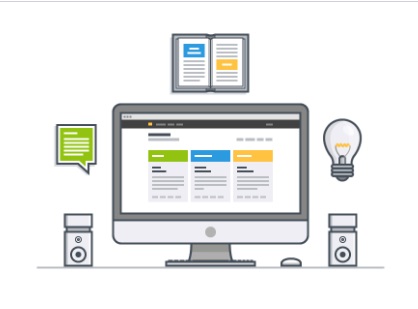 This is a fairly new email marketing service that is growing rapidly and making a name for itself, faster than anyone could have imagined. MailJet is a great email marketing service with very few hassles and complications. The service has a very easy to use interface, and can be used by a professional or a beginner, alike. The service has a simple intuitive design, that makes it a total delight to use. It has its own restrictions but offers a free account as well, which you can upgrade anytime according to your growing business needs.
– MailJet has its own dedicated email Newsletter designer named Passport , which you can use to create your own Newsletter templates and design custom newsletters according to your reading audience or recipients.
– The service has both, an SMTP infrastructure and a API for all your email marketing needs of faster and reliable delivery without any chance of adulteration.
– You can contact the company and design custom subscription plans for your and your company's growing needs. This is important for someone or a business looking for a customized monthly subscription plan.
– You can use the personalized variables of users, like name, location, product, time etc. to create dynamic designs of marketing email that can then be sent to all the contacts in your database, and the email will seem like it has been personally designed for the recipient.
– Advanced tracking softwares ensure that you get enough data and statistics to analyze and plan your future steps accordingly. The tools will provide you detailed information about referrals, unsubscribing users and unopened links as well, which can help you change the target of your marketing campaign and improve your efforts as well
All in all MailJet is a great upcoming email marketing service, that can be used by individuals and businesses alike for all their email marketing needs at a very competitive price.