21 Best Free Software for Finding Duplicate Files : – Is your life primarily dependent on a PC? If you have a job that's solely reliant on a PC or a laptop or you have tons of music, downloads, photos, videos and other documents, you must have already realized how difficult it is to manage your files and folders. Having duplicate files can really create a messed up registry that creates further confusion for you. Not only that you are left wondering which copy to use, but the multiple copies also jam up your computer's storage space.
Constant modifications only create multiple unproductive files resulting in junk that puzzles you of which file to use and slows down your PC. Keeping only one file for your data and deleting the identical files is the best solution to increase the efficiency of your computer. Freeing up your computer's disk space and reducing costs should be your ultimate aim, and hence applications that can find duplicate files can do the trick for you.
Also see: Windows 10 advance search tricks with operators
Today we have compiled a comprehensive list of the best free software for finding duplicate files that can even delete the identical files from your computer's hard drive and other external drives. These applications help you to trace multiple copies of ZIP, RAR, and MP3 files with the help of different methods like SHA1, CRC32 or MD5. You can further transfer the identical files to any one of the various formats such as CSV, TXT or HTML.
So recover the much-needed disk space of your PC today with the below-mentioned list of the free software for finding duplicate files.
Advanced Uninstaller Pro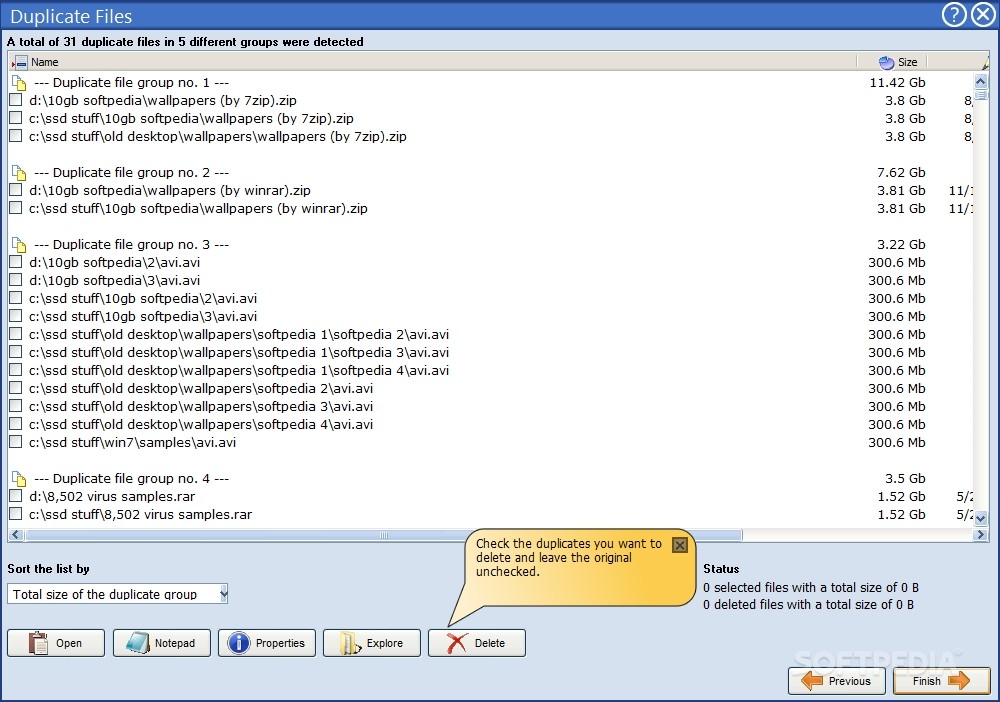 Advanced Uninstaller Pro by Innovative Solutions is a great solution for your Windows OS that equips you with a set of different tools and comes with a user-friendly interface. Among the many tools that it offers, there is also a tool that tracks the duplicate files and displays them in form of a list. You can then remove the unwanted files and free up your computer's disk space for increased productivity.
Compatibility: Windows 10, Windows 8.1, Windows 8, Windows 7/10, Windows Vista, and Windows XP, all editions, 64-bit and 32-bit
Download: http://www.innovative-sol.com/advanced-uninstaller-pro/
SlimCleaner Free

If you are looking for a software that can hunt down all the identical files scattered in your computer's drives, SlimCleaner is a perfect solution. Apart from the other tools that it offers for disk management, it also features a tool that helps clean the duplicate files from your computer's registry. It comes with three different scan options viz. IntelliMatch Accurate, Moderate and Quick Scan, and also offers you a choice to find with all or specific file types.
While you can ignore a list of folders, you can also delete the unwanted duplicate files that you get from the search results and improve system speed with recovered disk space.
Compatibility: Windows XP/Vista/7/8/10
Download: https://www.slimwareutilities.com/slimcleaner.php
Comodo System-Cleaner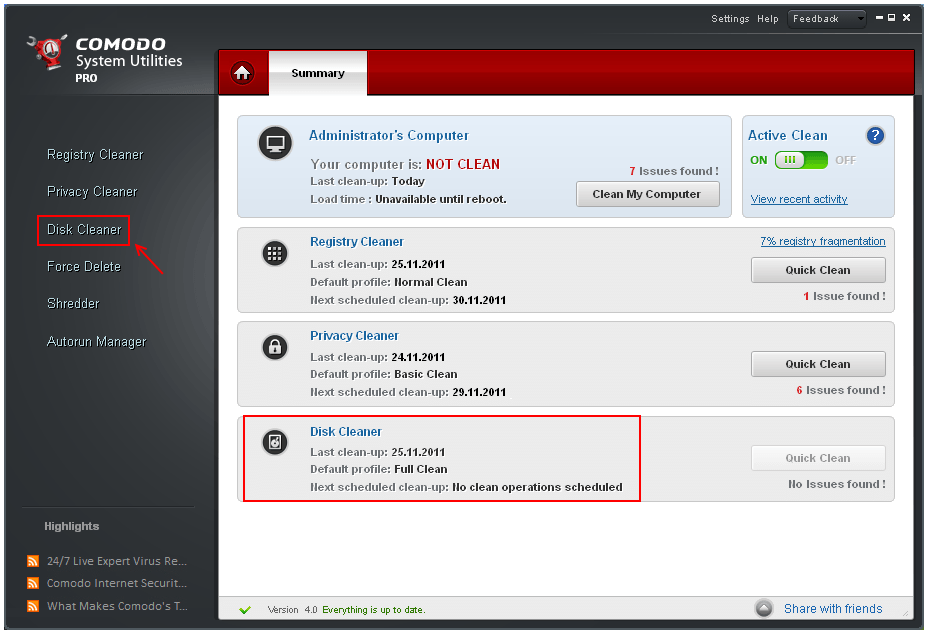 Along with other tools that protect your computer from any external risk, Comodo System-Cleaner also features Disk Clean tool that helps you to track down the duplicate files and eventually delete them. It offers three useful cleaning tools that are Registry Cleaner, Privacy Cleaner and Disk Cleaner. These utilities free up a majority of your computer's disk space, thereby improving PC performance.
Comodo System-Cleaner comes with an easy to navigate utility that creates a system backup before the cleanup procedure in order to avoid any loss of data.
Compatibility: Windows XP/2003/Vista/7/8/10
Download: https://www.comodo.com/
CloneSpy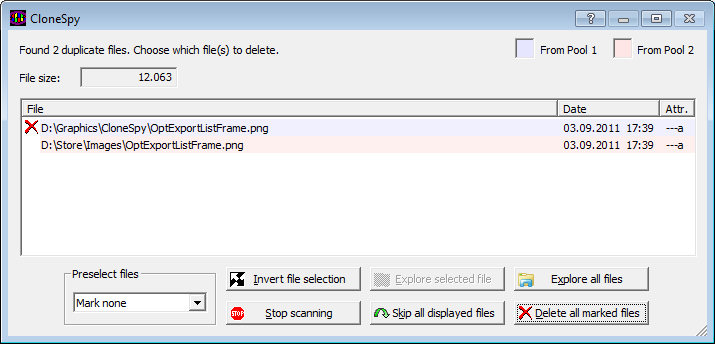 CloneSpy is a dedicated duplicate file finder that provides several options to help you find identical files. It helps you recover your valuable disk space by detecting the duplicate files and eventually delete them. With this tool you can not only track duplicate files but also find files with the same name, the same size and that are zero bytes long.
It helps delete junk files, moves junk files to a specific location, exports a list of duplicate files without deleting them and more. CloneSpy also helps detect older variants of the same file that may be somewhat distinct but are out-of-date. The software also detects files that have no data but are just jamming up the disk space.
Compatibility: Windows 2000/XP/Vista/7/8/10
Download: http://www.clonespy.com/?Download
AllDup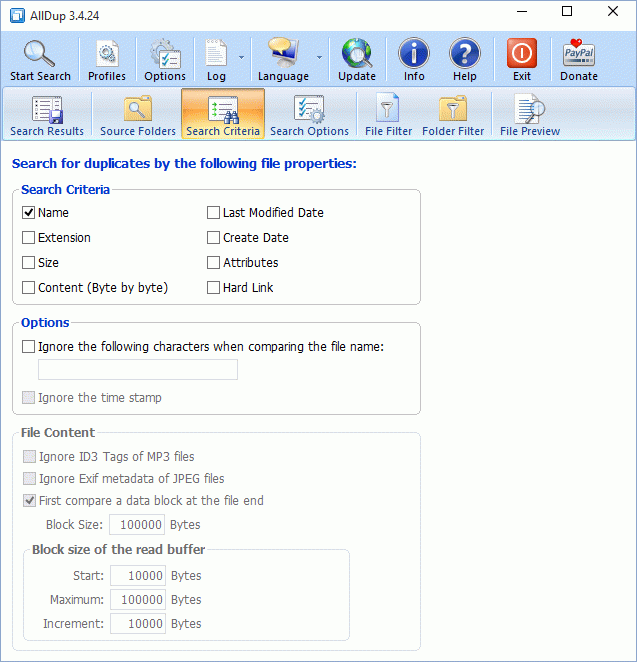 AllDup is a free application that helps find duplicate files wherever they hide and eradicate them to recover disc space. From music, pictures, movies to text it tracks down any type of duplicate files using its fast search algorithm. The powerful software helps find identical files with the help of a mix of the file name, file size, file content, hard links, file extension, file attributes and file dates.
AllDup also helps to find duplicate files of digital photos, ignore ID3 tags and MP3 files, creates shortcuts for the last original file, display a list of non-duplicate files, export the search results to CSV or TXT format and offers many other advanced features that make it stand out in the category.
Compatibility: Microsoft Windows 2000, Windows XP, Windows Vista, Windows 7, Windows 8, Windows 10
Download: http://www.allsync.biz/en_download_alldup.php
CCleaner
CCleaner is an easy to use utility that helps clean junk files from your computer's registry for free and thereby, enhancing its overall performance. It lists all its tolls with clear instructions on its easy to understand interface that makes it easier to comprehend by users. It has four options including, Cleaner, Registry, Tools and Options. While the system maintenance software offers various tools like, to remove your temporary files, cleaning up your registry and deleting dormant cookies from your web browser, it also helps find the duplicate files and delete them to optimize PC performance.