With easy access to the internet these days, downloading videos is much easier. We can download any video, any time for personal use, learning, or business purpose. However, one of the major concerns during the process is the video format. Whether you want to connect an outdated monitor to a new one (or vice versa), download and save videos from social media to watch later, want to watch on all devices irrespective of the fact that it does not support all formats, or you want to make some basic edits to the video.
That's when you need a video converter that simplifies your life by converting videos into a workable format without fiddling with the quality of the video. Here's a list of some of the best video format converters for the video buffs.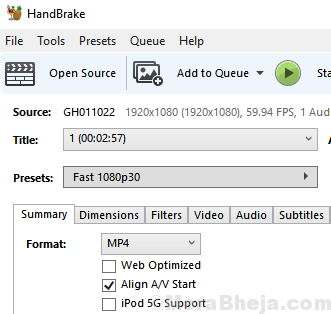 Handbrake is a widely known and extensively used video format conversion tool that converts videos from nearly any format to a range of the latest, and popularly supported codecs. This free and open source tool works with all major platforms that include, Windows, Mac, and Linux.
You can select a profile that specifically suits your device, or selects a common profile for usual or high-quality conversions, and you can start using the program in a matter of seconds. It's a straightforward tool, that's speedy and easy to use. However, if you are looking for more selections, you can adjust the basic and advanced choices to optimize the encodes.
It supports almost all major and widely used multimedia file formats and any BluRay or DVD sources without any copyright on them. It also comes packed with other significant features like Title/Chapter and range choices, VFR and CFR support, markers for chapters, preview for live static and videos, subtitles, continuous encoding for quality or average bitrate videos, and more.
Price: free and open source

Wondershare Video Converter offers all that you need to make videos thus, making it the most comprehensive video converter around. All you need to do is to download the software and then you can edit, convert, and burn videos effortlessly. As a result, you get the finest video either in 3D, VR, or Ultra HD with all the keyframes intact and with no redraw concerns or crashes.
It allows you to convert videos in more than 150 formats that include all the major and optional formats. In fact, the converter also supports 4K and VR video formats. Besides, the program supports all popular devices such as an Apple device, Android Device, Windows device, and more, thus, allowing you to convert and enjoy videos across all devices.
Best of all, the program converts videos 30 times faster than any other converters out there. You can start downloading or recording videos from popular sites like YouTube, Vimeo, Dailymotion, etc. in just one click. Moreover, it enables you to download videos in any format from over 10,000 sites. Additionally, you can also take advantage of the integrated video recorder that helps you to record online streaming content from movie sites like Netflix, Hulu, and more.
Price: free download available; upgrade starts from $29.95

Freemake video converter is another great video format conversion tool that enables you to convert videos to different popular formats like mp4, 3gp, wmv, and avi, and also perform different functions like extract mp3, cut, join, paste, upload photos and videos to YouTube, burn DVD and Bluray, and much more. In fact, you have a choice to convert movies and videos to over 500 different formats and devices for free.
One of its exclusive features is that it rips online videos using the video links picked up from video sites like YouTube, Dailymotion, Vimeo, and from more than 50 other similar sites. It allows you to convert YouTube content to different major formats like MP3, MP4, AVI, and so on. You can also convert online FLV to MP3 or any format using this online tool. Best of all, this is also compatible with iOS, so, you can download YouTube to iTunes.
Price: free
If you are looking for a free and open source video format converter, then this can be the solution. It develops libraries and programs that are capable of handling multimedia data. This top multimedia structure helps you to encode, decode, mux, demux, stream, play, transcode, and even filter almost anything that you can think of. It offers support for even the oldest and primitive formats that may be on the verge of extinction, to the latest formats.
Steps to convert video using FFMPEG : – 
Download the FFmpeg tools from the website ffmpeg.org
Extract the file and click on ff-prompt.bat.
A command prompt window will Open up.
Now to convert a video with a name sample.mp4 to sample.avi, just try the command given below (please provide full path of both the files):
ffmpeg -i /path/to/file/sample.mp4 /path/to/new/file/sample.avi
It's an extremely portable program that offers different tools for developers and ends users alike. FFmpeg is a command line tool that helps convert multimedia content into different formats. This offers speedy audio and video conversion using real-time audio/video source. It also enables you to convert content into random sample rates and rescale videos on the go using an excellent polyphase filter.
Within its library, it features libswscale that performs image resizing and color space or pixel format conversion, with precision. It also features something called libswresample that performs audio resampling, rematrixing, converting sample formats in a highly improved manner.
Price: free and open source
This video software helps you to create, cast, and play your preferred videos up to 4K. It supports a wide range of video formats including DivX®, AVI, MKV, and HEVC. This free software comes equipped with three components that offer conversion of videos, high-quality video playback, the option to cast content from your system o the television set.
DivX offers a lot more than just video playback, for instance, you can watch a wide range of video formats that include AVI, DIVX, MKV, and MP4. You can also enjoy smooth FF/RW feature or the chapter points. The smooth FF/RW feature helps you to swiftly visit your preferred scenes or look up for various scenes using Chapter Points. If you subscribe for the pro version, you can take advantage of the AC3 surround sound, DTS studio, or DFX Audio Enhancer.
The pro version also allows you to access Cloud Connect that helps you bring in videos straight from Google Drive or Dropbox. Additionally, the media drive keeps all your videos organized at one place, and you can also cast videos, music, and images to any device supporting DLNA.
Price: free download available; pro version priced at Rs. 1508. 13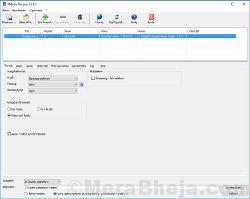 Xmedia Recode is another great video format converter that can convert almost all well-known video formats that include formats like 3GP, AAC, AVI, AVISynth, DVD, FLV, H.261, M4A, MPEG-1, MPEG-2, MPEG-4, MP4, MP4V, MOV, WAV, WMA, WMV, and more. Apart from converting, the program also offers the usual editing features, output option for Video and Audio, Audio Only, and Video Only, copy audio and video tracks from input file, Profile (presets) for different media gadgets such as iPhone, PS3, etc., available in various languages, and so on.
While it offers support for up to 2 audio tracks, it also features Bitrate-calculator that helps you to calculate the video bitrate in demand which helps you to get a required file size depending on different media such as CD, DVD, etc. It also enables you to select a certain ratio of the media for fine-controlling, shows basic media details about individual videos with the MediaInfo, or provides support for batch processing of multiple videos are some of its other major features.
Price: free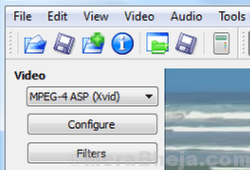 If you are looking for a free and open source video format converter, then Avidemux can be your best. It's designed in such a way that it offers simple ways to cut, filter, and encoding tasks. It provides support for different types of files such as MP4, AVI, MPEG files, and ASF using a wide range of codecs. It also automates tasks through options like projects, job queue, and strong scripting.
The program is compatible with Mac OS X, Linux, BSD, and Windows.
Price: free and open source
One of the leading video format converters around, Any Video Converter is freemium that's known for its capabilities in converting videos to different file formats (AVI, MPEG1/2/4, MOV, MP4, 3GP, and more). It's also popular for its speedy conversion capabilities and high-quality video. This universal and resourceful tool is an all in one video converter that comes equipped with a range of preset options that are compatible with different devices.
It also offers the facility for batch processing and customizing of different files at once. While it supports ripping audio tracks from CDs to different formats (MP3, WAV, WMA, etc.), it can also extract audio, sound, or background scores from videos. Option to download videos from YouTube or the integrated media player is some of its other significant features.
Price: freemium


It's an easy to use video format converter that allows you to convert videos to different formats. All you need to do is to simply paste the video link to be converted or upload a file from your system or cloud storage. You can then choose the format to be converted and configure your settings. Now, press the "Start" button and the conversion process begins. Once the conversion is complete, you can then download the file and enjoy it anywhere, any time.
This free online media converter does not even need software to be installed on your device. It works perfectly with all major browsers and is known for its high-quality and speedy conversions to several audio formats like .mp3, .wma, .m4a, .wav, .aac, etc.) and video formats like .mp4, .avi, .mpg, .mkv, .3gp, and more. It also supports an extensive range of video websites that includes names like YouTube, Vimeo, and Dailymotion.
Price: free
MakeMKV
This program helps you to convert your videos in a single click into a free and patent-free format that is supported by all major platforms to be played. This transcoder converts video clips from patented and encrypted state to a collection of MKV files. It stores the majority of the details without modifying it. The program allows you to save plenty of audio or video tracks along with all the metadata and saved chapters.
Besides, the program can stream decrypted video content immediately with no requirement of transitional conversion to a wide variety of players. In that case, you can also watch Blu-ray and DVD discs using your preferred player on your desired OS on your favorite device.
It reads DVDs and Blu-ray discs, reads Blu-ray discs encrypted with the upgraded AACS and BD++, saves chapter details, no added software required for conversion or decryption, saves all video and audio pieces along with HD audio, or speedy conversions are among its major features.
Price: free
Conclusion
Downloading and watching videos has become a part of our lives for different reasons. Whether it's for personal use to entertain or educate yourself, or business related to demonstrate an idea or for marketing purpose, there could be no better way than visual content these days. Therefore, having a video converter is almost a must nowadays. We have listed some of the best video format converters above that make conversion easier for you for all your devices. So, choose wisely and don't let the format stop you from watching your favorite videos anymore.