What does IDM do?Internet Download Manager, also known as IDM is software that helps the user to download files over the internet into the computer in very less time, and also in an organized way.
To have greater speeds, this software can be installed. Internet Download Manager is one such software which will boost to the downloading speed by manifold. Not only the speed, but it will present you with lot of options for organizing your download 'tasks and files' in a better way. Internet Download Manager typically would break down the file into smaller components or parts. And then these parts will be downloaded simultaneously at a uniform speed.
Also Read: – 6 best BitTorrent alternatives
IDM download manager alternatives
We do have certain alternatives to the Internet Download Manager, out of these alternatives; there are some which are available for free usage. Amongst those, we will discuss some really good alternatives to Internet Download Manager, those which come free.
Free Download manager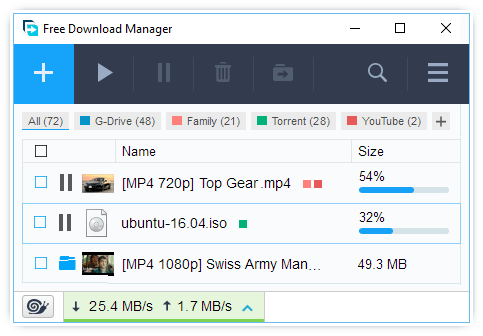 has been in the markets for about a decade or so. It is one of the oldest software and also quite popular amongst the users. Free Download manager is more commonly known in the market for its ability to download videos faster. Orbit Downloader supports a range of file formats like HTTP, MMS and RTMP.
Videos can be downloaded from various websites like YouTube, MySpace, Pandora and RapidShare. Orbit Downloader supports various browsers like Internet Explorer, Firefox and Opera.
Under some categories, it even outperforms Internet Download Manager. It does come with some basic functions, but very fundamentally important. Those are 'Pause and Resume' function. A user can use these features to stop a file from downloading and then start some other file and then again resume the previous one. A major scope for prioritization can be seen with this software.
This software is convenient to manage and the major strength with Free Download manager is certainly Video-downloading capability from major Video libraries over the internet.
The software can be downloaded from the following links:-
http://www.freedownloadmanager.org/
Download Accelerator Plus
Download Accelerator Plus (DAP) is quite recent software as compared to Orbit, but is quite efficient. The strong point that Download Accelerator Plus has is its ability to split the file into fragments and downloads them simultaneously. Download Accelerator Plus does download the file parts quickly because of its ability to download from multiple sites. This amazing feature gives DAP an upper hand over some of the softwares in the same market.
It is available for MAC and Microsoft Windows Operating System as well. It has around three versions of it. DAP has got a great capability to find the best source over the internet to download the file quickly. On finding one source slower, it just jumps to another one for the download, which saves a lot of time for the user.
Videos can be converted easily with Download Accelerator Plus. DAP lets the user view the videos simultaneously when they are still being downloaded. They have devised their own method which is different from Internet Download Manager. More than 250 million users have downloaded DAP.
Other provisions are arranging the files into the queue according to the priority and managing media files. DAP also provides the information about the file being downloaded by the user, and determines any potential security threat, if any.
The software can be downloaded from the following link:-
http://www.speedbit.com/dap/
Internet Download Accelerator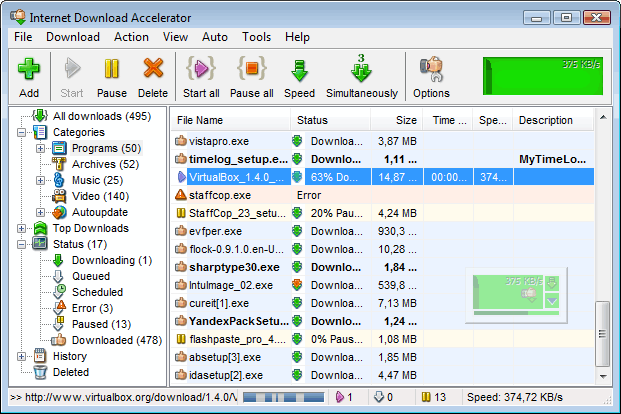 Internet Download Accelerator (IDA) was developed by WestByte Software for Microsoft Windows Operating System. It is also known as Download Master in some places. When the IDA is installed, it can be added to any of the running browser on the machine like Internet Explorer, Google Chrome, Opera and Firefox. As soon as the downloading has been invoked for any file, IDA would kick into the action.
Internet Download Accelerator can also be used by placing the URL into it, which would ultimately trigger the download. There is a provision for speed control, for the highest download speed and its adjustment.
IDA optimizes the bandwidth of the connection which does not deter the speed of the file download. There is 'Scheduler' available to schedule your file download for a specific time. Type of the file can be automatically detected and also placed effortlessly in the categories consequently. Categories are already pre-defined in IDA.
You can also search for files using IDA. It is compatible with all types of protocols such as HTTP, FTP and HTTPS. When IDA hit the market, there were some problems in the software, but later on, they were fixed by the developers subsequently, making it one of the most efficient downloader software.