What does IDM do?Internet Download Manager, also known as IDM is software that helps the user to download files over the internet into the computer in very less time, and also in an organized way.
To have greater speeds, this software can be installed. Internet Download Manager is one such software which will boost to the downloading speed by manifold. Not only the speed, but it will present you with lot of options for organizing your download 'tasks and files' in a better way. Internet Download Manager typically would break down the file into smaller components or parts. And then these parts will be downloaded simultaneously at a uniform speed.
Also Read: – 6 best BitTorrent alternatives
IDM download manager alternatives
We do have certain alternatives to the Internet Download Manager, out of these alternatives; there are some which are available for free usage. Amongst those, we will discuss some really good alternatives to Internet Download Manager, those which come free.
Free Download manager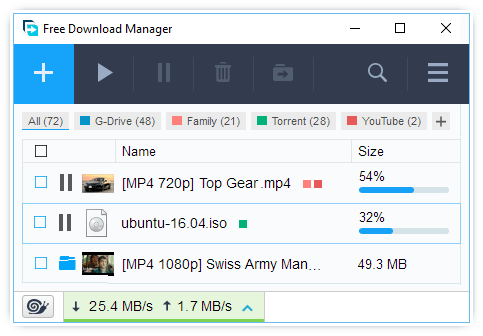 has been in the markets for about a decade or so. It is one of the oldest software and also quite popular amongst the users. Free Download manager is more commonly known in the market for its ability to download videos faster. Orbit Downloader supports a range of file formats like HTTP, MMS and RTMP.
Videos can be downloaded from various websites like YouTube, MySpace, Pandora and RapidShare. Orbit Downloader supports various browsers like Internet Explorer, Firefox and Opera.
Under some categories, it even outperforms Internet Download Manager. It does come with some basic functions, but very fundamentally important. Those are 'Pause and Resume' function. A user can use these features to stop a file from downloading and then start some other file and then again resume the previous one. A major scope for prioritization can be seen with this software.
This software is convenient to manage and the major strength with Free Download manager is certainly Video-downloading capability from major Video libraries over the internet.
The software can be downloaded from the following links:-
http://www.freedownloadmanager.org/
Download Accelerator Plus
Download Accelerator Plus (DAP) is quite recent software as compared to Orbit, but is quite efficient. The strong point that Download Accelerator Plus has is its ability to split the file into fragments and downloads them simultaneously. Download Accelerator Plus does download the file parts quickly because of its ability to download from multiple sites. This amazing feature gives DAP an upper hand over some of the softwares in the same market.
It is available for MAC and Microsoft Windows Operating System as well. It has around three versions of it. DAP has got a great capability to find the best source over the internet to download the file quickly. On finding one source slower, it just jumps to another one for the download, which saves a lot of time for the user.
Videos can be converted easily with Download Accelerator Plus. DAP lets the user view the videos simultaneously when they are still being downloaded. They have devised their own method which is different from Internet Download Manager. More than 250 million users have downloaded DAP.
Other provisions are arranging the files into the queue according to the priority and managing media files. DAP also provides the information about the file being downloaded by the user, and determines any potential security threat, if any.
The software can be downloaded from the following link:-
http://www.speedbit.com/dap/
Internet Download Accelerator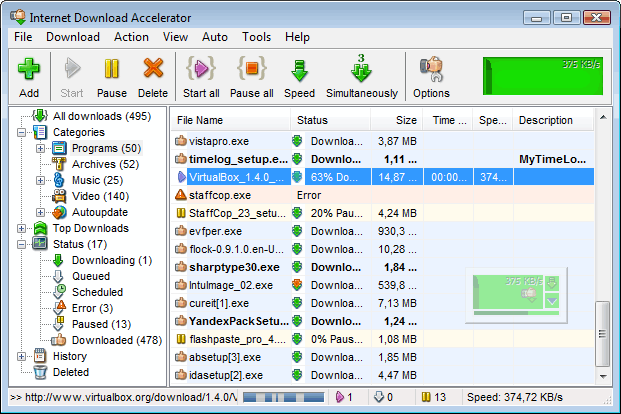 Internet Download Accelerator (IDA) was developed by WestByte Software for Microsoft Windows Operating System. It is also known as Download Master in some places. When the IDA is installed, it can be added to any of the running browser on the machine like Internet Explorer, Google Chrome, Opera and Firefox. As soon as the downloading has been invoked for any file, IDA would kick into the action.
Internet Download Accelerator can also be used by placing the URL into it, which would ultimately trigger the download. There is a provision for speed control, for the highest download speed and its adjustment.
IDA optimizes the bandwidth of the connection which does not deter the speed of the file download. There is 'Scheduler' available to schedule your file download for a specific time. Type of the file can be automatically detected and also placed effortlessly in the categories consequently. Categories are already pre-defined in IDA.
You can also search for files using IDA. It is compatible with all types of protocols such as HTTP, FTP and HTTPS. When IDA hit the market, there were some problems in the software, but later on, they were fixed by the developers subsequently, making it one of the most efficient downloader software.
IDA comes up with noticeable rich user-experience by providing a better interface than other similar softwares. It also gives you details on how to correct errors while downloading, if there are any. It has also got a media-player of its own. The updates for the softwares keep coming in as you move ahead using it. Other basic features like pausing, resuming and stopping download are available with just a click.
The software can be downloaded from the following link:-
http://www.westbyte.com/ida/
FlashGet
FlashGet, initially known as "JetCar" for its amazing download speed is a download manager. It has got two versions, one is a paid-version and another is the free one, but comes with ads. Even FlashGet has got the ability to download the files from various sources by file division method.
Like the above mentioned softwares, even FlashGet supports a lot of protocols. Without the user having to operate download seeds, FlashGet does all that automatically. The user can find a lot of categories that are already defined. Torrent files are also supported with this software and lot of multi-tasking with the file downloads can be possible.
Another additional feature is that as soon as the file-downloading is complete, FlashGet will be triggered to check for malwares and viruses. It has the capability to fix the bugs immediately, if any are found post-download. Ofcourse, it goes without saying that the speed given by FlashGet software is really impressive and it proves to be stable software. Interestingly, it has a unique technique which makes the optimum use of the resources and not affecting the system by any degree.
There are too many people who are using FlashGet software, mainly because of the above mentioned features. FlashGet is certainly the software that can be recommended to the users.
The software can be downloaded from the following link:-
http://www.flashget.com/en/download.html
JDownloader
JDownloader is built on java Platform. JDownloader soon after its debut, made quick success by having too many downloads, primarily known for its competency in providing speed for downloading. Its website had too much traffic and also won few awards as the 'newcomer.'
Not only is it compatible with Windows operating System, but also with Linux and Mac. Operating System. So, for Linux users, JDownloader have to be one of the best options to Internet Download Manager. With JDownloader, you can decide how many files you want to be downloaded together. So, typically with IDM, a user would download all the files together, here with JDownloader, the user has the power to select certain files to be downloaded together. So, preference is given its due. The waiting time is cut down because it allows each download to have a new IP address.
The installation procedure is also quite simple and the working of the software has been consciously kept very easy to operate. JDownloader has strikingly similar features with those of IDM. So, for people who are familiar with IDM, and want a similar free version of IDM, they can always go for JDownloader. It is an open-source downloader, meaning there is lot of area for change and improvement, because too many developers are putting their time in development of the software and exploring various other dimensions.
JDownloader comes with multi-language support and can support various themes on it.
The software can be downloaded from the following link:-
http://jdownloader.org/download/index
Free Rapid Downloader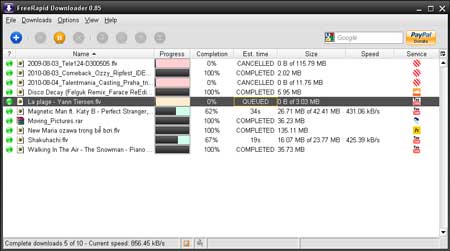 Free Rapid Downloader is also software which is developed in java. Free Rapid Downloader (FDR) specializes in downloading files from platforms like YouTube, Facebook, Picasa and Rapidshare. The technique used with FRD is that you just lift the URL of the desired file on the internet and drop it on FRD. All other processes are taken care by FRD.
Free Rapid Downloader is definitely seen as an alternative to Internet Download Manager for numerous reasons. FRD will have a record of all downloads till date, unless you remove them. This feature will help you if you have to refer them in future. It supports around 700 sites or more. There are updates for Plug-in available regularly. A distinctive feature that FRD provides is that, it will verify if the file is already available on the server or not.
It does have an option for Auto-shutdown and also recognizing CAPTCHA. Apart from Microsoft Windows, it is also compatible with Mac Operating System and Linux.
If you are a major fan of FRD and are just bowled by its functioning, you can make donations on their website. The interface has multi-language support for the users across different regions.
The software can be downloaded from the following link:-
http://wordrider.net/freerapid/download.htm
GetRight
GetRight have been in the markets since very long time. It was released somewhere around 1997. The main feature of GetRight at that point was its ability to provide user with uninterrupted download. Obviously, at that point of time, there were only a handful of players in the market. In order to get great speed, it will hunt for multiple sources of the file.
GetRight has its key power in 'Scheduling.' Scheduling downloads is something that comes very easy with GetRight. You can manage your downloads by stopping and resuming at your will. Even if the file is half way into your system and there is power breakdown, GetRight will resume from the point where the downloading had stopped, this saves a lot time for the user and needless to say, his irritation and efforts. It also has a 'Recovery' option.
It even goes beyond this by allowing the machine to turn off as soon the download is complete. You can always schedule a download for a later point by using GetRight. You can leave the machine and schedule downloads, GetRight will turn on the internet connection get the file for you.
BitTorrent files are supported and the software also can be integrated with a variety of browsers like Mozilla and Internet Explorer. GetRight will protect the system from malwares and take care of security.
There is a free version and a paid version for GetRight Software.
The software can be downloaded from the following link:-
http://getright.com/
Free Download Manager
Free Download Manager is in the market since a decade or more. Free Download Manager (FDM), when released, was paid software, but later was turned into free download software. FDM has its strong foothold in organizing the files 'during downloads' and 'after downloads' as well. It lets you create folders within folders, thus better at managing downloaded files.
Free Download Manager supports common protocols like HTTP, MMS and FTP. FDM enables the user to see the status of downloads, it comes with a progress bar which will tell you the status of your download. It also comes with the support for BitTorrent files. You can also use it on different machines, without having to install the software on each machine individually and further configure it. All you have to do is create a portable version on other machines; rest is taken care of by the software.
FDM can download videos; especially its ability to download FLV format videos is quite amazing. Videos from video libraries like YouTube and Google Video can be easily downloaded at one-click. Moreover, you can also convert the videos into the some of the commonly used video file formats. FDM will allow the user to watch the videos even before they are completely downloaded.
Other common features that can be found on Free Download Manager are Uninterrupted downloads, Traffic-adjustments, downloading apt files, multi-lingual support and obviously, it comes with the fundamental feature of speeding up your downloads. The software is open-source.
The software can be downloaded from the following link:-
http://ccm.net/download/download-66-free-download-manager
Mipony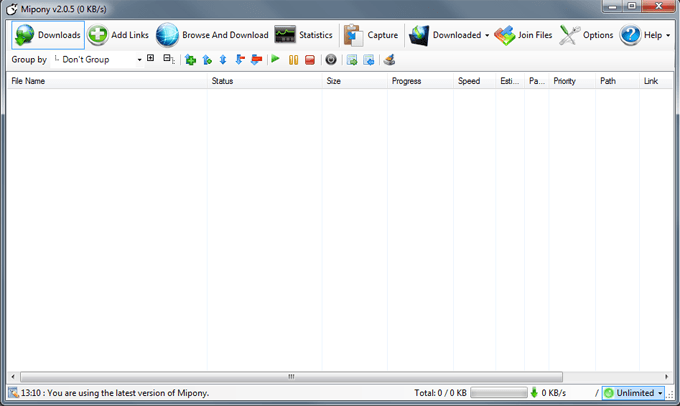 Mipony, software for downloading files from the internet, is also free and stable. Mipony is essentially for Microsoft Windows Operating System. You can download files from Rapidshare using Mipony. Same can be used for Megaupload, Hotfiles and FileServe also. It works on batch-downloading method, where a user can leave the downloading concern totally on Mipony.
Mipony comes with a lot of updates on time to time basis, each time getting better. The interface is designed quite well and can be operated with minimum efforts. Mipony will work on 'prioritization.' The software will decide the number of files that could be downloaded together and meanwhile also giving a user the option of ranking them in order of importance.
Mipony will tell if the links aren't available on the servers. Mipony also has Premium services as well, but you will need Premium Mipony only if you need to download mega files in size, otherwise, the normal version, which is free, will serve you more than better. One differentiator with Mipony is that it is also available for Android Platform, therefore, mobile users also can avail it. So you have Mipony for Android users, Microsoft Windows and also Mac Operating System. Mipony also comes with lot of CAPTCHA Plug-ins. The embedding in the browser is very convenient as it has got the ability to find links all by itself.
The software can be downloaded from the following link:-
http://www.mipony.net/en/download.php
EagleGet
EagleGet is specifically designed for Microsoft Windows Operating System. EagleGet is also software which is reliable to be used for downloading; it will give you great speeds without any interruptions. EagleGet uses the 'Multi-Threading' technique proficiently, which breaks down the files and then downloads them. And problems like the crashing of the system or failure of power in your locality can be tackled using EagleGet as it can resume the downloading from the point, where it was halted.
Most commonly used browsers are supported by EagleGet. Videos can be downloaded, and even High Definition videos are supported. It allows converting videos from the internet, even the HD one into an audio format. The concern of security by virus threat and malware is looked after well by EagleGet, as it verifies them thoroughly.
There is a special feature available called as Video Sniffer, that enables the user to download videos without any ads. Downloading speed can be controlled with EagleGet as well. And around 20 languages are supported with EagleGet. It controls the speed, as in it adjusts accordingly for the batch downloading. "TaskMonito" is a feature which lets the user watch the tasks on the software.
There were some bugs in the initial version of this software, but most of them have been fixed in the current version. The interface can be used very comfortably with a minimum expertise of the software.
The software can be downloaded from the following link:-
http://www.eagleget.com/
http://download.cnet.com/EagleGet/3000-2071_4-75843811.html
These ten softwares are certainly the best in the market and are recommended alternatives to 'Internet Download Manager.' Apart from the above mentioned downloading softwares, there are some others as well, which can give you above-the-average performance. Find below the names of such softwares and the links to download them:-
Go!Zilla Download Manager
Link: – http://www.gozilla.com/
Download Accelerator Manager.
Link – http://www.damdownloader.com/
Link – http://download.cnet.com/Download-Express/3000-2071_4-46310.html
Link – http://freshdevices.com/freshdown.html
Link – http://star-downloader.en.softonic.com/