Images are a critical aspect of every online business these days because it creates that visual impact. Having fresh looking, properly sized photos for your blog or website is a priority these days. High-quality photos enhance the overall look of the blogs, articles, or for that matter, any website content with an instant effect. Hence, it's important to edit your photos properly.
Resizing the photo is one of the most important aspects, but to get the correct ratios you would need the assistance of a photo resizing app. The best part is, you do not need any special skills or prior experience to use these apps. These are easy to use apps, easily available on the internet that helps you to resize your photos without making them look awkward.
However, since, there are many such apps available online, it can be difficult to pick the one that suits you the best. Here are some of the best photo resizer for Windows that can help you shrink your photos to a lower resolution or change them into a better format that's size efficient.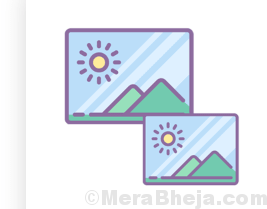 It's a Windows native app that helps you resize images quickly and easily. All you need to do is to open an image file, pull the slider (you can also add the image width manually), and finish resizing the picture. It not just helps you to resize images at once, but also provides a wide range of features like rename, rotate, and even convert file formats for bulk photos. It carries out all those functions with ease while maintaining the same image quality.
It comes with an easy to use and responsive interface where you can edit more than one images, effortlessly. Additionally, you can also fine-tune the image position, make use of pre-set configurations to quickly increase/decrease the size of the images, and more.
Price: free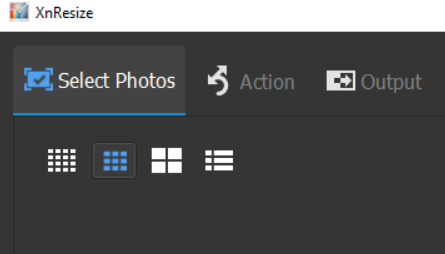 xnresize is a very popular software which is available for almost all available platforms that helps you resize images easily. Its features are given below:
You can Adjust height and width of image as per your choice.
Simply drag and drop multiple images or a folder containing images in bulk at once.
You can correct wrong image orientation and can rotate the image in desired way to get correct orientation.
You can set the desired output filename
Price: free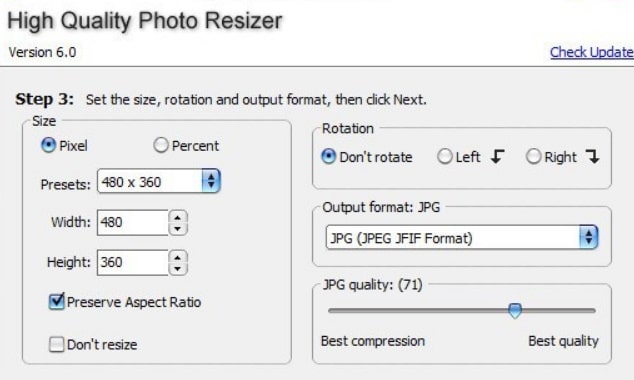 It's a freeware that's perfect for resizing digital photos in batches. This user-friendly app is best for those who want to create small-sized images of high-quality to be published online, to share on social media platforms, or to share with friends and family. Best of all, it features more than 37 effects that you can add to your photos such as, Sharpen, Spray, Blur, Swirl, Tile, Wind, Contrast, Mosaic, Noise, High Pass, Anti Alias, Colorize, etc. In addition, you can even spin the photos 90 degrees to the right or left.
While it provides support for a wide range of input formats like BMP, GIF, ICB, DIB, EMF, JPG, JPEG, PBM, PNG, WMF, etc., it also provides support for 8 output formats like JPG, PNG, GIF, BMP, TIF, TGA, WMF, EMF.
Price: freeware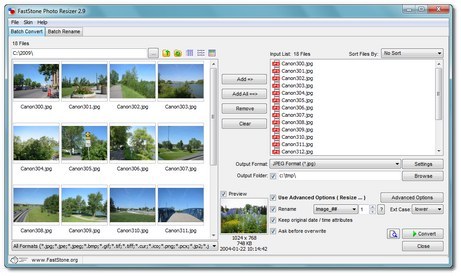 This image converting tool also helps you rename images quickly and easily. It helps you resize, convert, crop, rotate, change color intensity, add text, and to carry out a lot of other advanced editing functions in a fast and convenient batch mode. It also features Drag and Drop function using the mouse and is well supported.
In addition, it offers support for a folder or non-folder structure, enables you to rename photos in sequence, load settings and even saves them, provide support for multi-threading, and much more. Best of all, it comes with no ads and no spyware.
Price: free version available; resizer priced at $19.95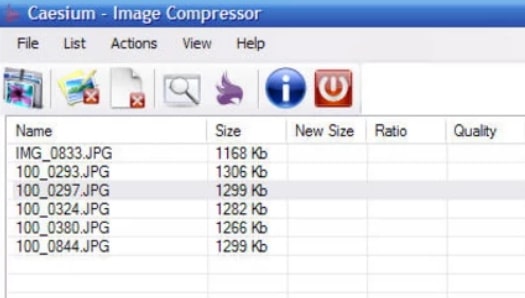 This award-winning software is known for its ease and efficiency. This popular image editing software offers a simple yet extremely useful interface where you can preview your edited images in real-time. It also processes multiple images at a time offering the opportunity for all users to arrive at the best results. If you are an advanced user, you can also take advantage of features like metadata storing options or support for folder structure.
One of its primary features is resizing images where it reduces the size of your images while maintaining the original quality. This helps save system memory that's useful for storing your HD images rather. Those using MacOSX or Linux can use the command line tools. It also allows you to compress image formats like JPEG and PNG using advanced tools, much faster. Best of all, you can also quickly share your images in compressed form while saving much of your time and bandwidth.
It works with Windows, Linux, and MacOSX.
Price: free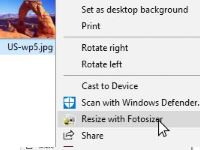 As the name suggests, this is dedicated software for photo resizing that rescales your images in a matter of minutes. The app allows you to implement your resizing action in 3 simple steps and to multiple photos at the same time. You can carry out resizing, rotating, and renaming functions for batches of photos. The batch resizing feature also allows you to rename and apply watermark on the images at the same time. The best part is, all these functions are carried out in a single click, in just a few minutes. Moreover, to enhance your photos you can also add rounded corners to them. If that was not all, you can also add your name, copyright text, or your logo as a watermark on the images. This will help you to claim ownership of your photo.
You can right click the context menu, select the option "Resize with Fotosizer", and select your images from the Windows File Explorer. Whether you want to use the dark display mode instead of the classic look, move your completed photos to a different folder, remove or permanently delete them, there's a lot that you can do with this software. It also offers a live preview of the resize settings, and supports 35 international languages.
Price: free trial available; pro version starts from Rs. 1085.


If you are looking for software that can scale down your photos and pictures effectively, FILEminimizer Pictures can be a great choice. It helps you reduce the photo size by up to 98% using the built-in file improvement technology. Once the photos are done compressing, the photos still remain in the original image format and are of the same quality as earlier. But they are much smaller in size that helps occupy lesser system space, thus, saving your system memory.
You can further share the resized images on Flickr, easily, and even share images via email. Uploading the resized and optimized images on Facebook is also equally easier using the Facebook upload feature that also saves you a lot of time. It also features a search wizard that helps you find and compress images on computers and networks.
Moreover, it also allows you to select from the 4 different compression levels. Compressing photos in batches, facility to apply lossless compression, compatibility with different formats like JPG, BMP, GIF, TIFF, PNG, and EMF are some of its other major features.
Price: free trial available; upgrade starts from € 39.95
It's a free and cross-platform app that helps you process images in batches. This is specially designed for Windows and Linux where you can use the app to resize, rotate, flip, and convert multiple photos in a single click. The best part is, the program has the ability to convert a complete PDF file into multitudes of images with your preferred characteristics. Additionally, you can also select from more than 100 formats, and even fix the size, resolution, and the name of the file.
Moreover, it supports over 100 image formats that include DPX, GIF, JPEG, PNG, SVG, TIFF and so on. Overall, it's a user-friendly, swift, and practical app.
Price: free
PhotoBulk is an essential app for Mac and so, specially designed for the Apple gadgets. It can manage batch image editing easily and quickly. It comes with tons of features that include image resizer, watermark application, image converter, and image compressor as its chief functions. You can do all these and more in just a single click.
With a stylish dark interface, the program offers a completely fresh visual experience. It offers more effective management of images and of course, the editing process on MacOS. The updated version offers a preview of the edited images before even you save them. You can even resize or rotate the watermarks live. Best of all, you can also add multiple watermarks to the photos at the same time.
While you can preview the edited watermark settings, you can also edit them. In addition, you can also preview the images with the watermarks added. While resizing a multiline text watermark, it also allows you to reposition the text as per your liking.  What's more? You can even shift the watermark way past the photo limits as and when required.
Price: free trial available; priced at $9.99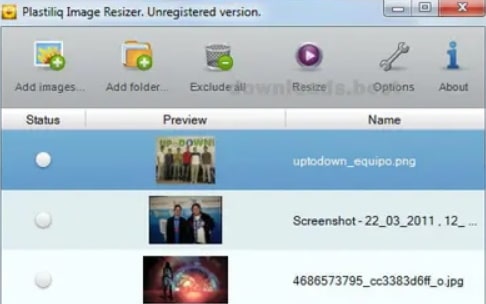 This resizing tool enables you to batch resize images and even convert them in a single click of the mouse. It requires minimum efforts and offers maximum convenience while rescaling photos. It provides support for many different image formats like the JPEG, JPG, PNG, BMP and TIFF. Besides, it comes equipped with 7 handy modes that helps you to customize the phot height, width, percentage, fit, and desktop.
It also features an optimized drag and drop facility for files, folders, and subfolders. It also provides support for drag and drop facility for shortcuts of files and folders. It's extremely user-friendly due to the convenient options like the drag and drop function, image previews, and other features.
Price: starts from $19.95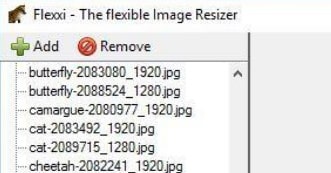 If you are looking to resize multiple images at a time, then this is the perfect software for you. Rescaling images is a breeze with this application and can be carried quickly and easily, in just a few clicks. It helps you resize your images as per your requirement so that it fits on any online location you want. Apart from resizing your photos, you can also convert them, rotate, and even apply a watermark, effortlessly.
While it offers batch support for all the above-mentioned features to batch files at the same time, it also supports multiple image formats like JPEG, BMP, GIF, PCX, and PNG. This easy to use the program also comes with a native image viewer, photo comments option, and more.
Price: free trial available; priced at $29.95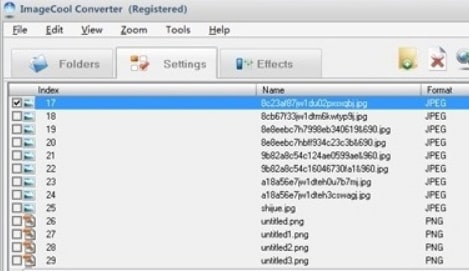 It's a user-friendly photo editing app that comes equipped with a dynamic and robust image converter and functions for image processing. The best part is, it offers support for more than 500 image formats and 22 vector formats. It helps you to convert more than 500 image formats to PDF documents in bulk, or convert the PDF documents to more than 130 image formats in bulk.
It supports export multi-page formats like TIF, GIF, PCX, AVI, WFX, FLI, FLC, offers complete support for Alpha channel in 32-bit PNG or ICO formats, helps convert batch images with 40 filters and 13 image effects, and more. Additionally, it's also known for supporting 9 robust functions like the Watermark, Cropper, Splitter, Frame, Combination, Resizer, etc.
Price: priced at $99.99
ACDSee Photo Studio Professional 2018
This software is specially designed for professionals. Although it's pretty lightweight, it's also a dynamic and fast tool to work with. It offers numerous advanced features among which RAW editing and digital asset management tools are extremely useful. These tools help to streamline your image editing process.
It also offers other advanced features like face detection and face recognition, ability to import and export presets and tasks, added tools for complete control over assets, color handling features, and so on. All these features make the entire process a breeze, especially the important actions related to your photography process.
Apart from resizing, it also supports color grading for images, option to adjust contrast, option to select brightness in the images, and much more.
Price: free trial available; starts from $29.95
Conclusion
Resizing the images properly will not just ensure that it fits your content perfectly, but it also enhances the overall appeal of your content, website, or blog. It, therefore, helps get you more business with the visual appeal that's most important for customers. So, simply select from the above list of the best photo resizer for Windows and resize your image quickly and easily for the maximum impact.