We are dealing with data on our computers day in and day out, and all these data are getting stored in files and folders. Computers are structured in such a way that they perform everything methodically while organising the data in specific categories like in folders, that are saved in a local drive. However, with more and more downloads of games and media content, the hard drive is getting saturated with data. In short, it's taking up most of its storage space, thereby, slowing down your PC.
With files being added every day on your system, instead of keeping them on your disk and clogging the space, it's better to clean up space for more important data. For this, you would need an efficient disk space analyser that can run a scan, locate such data, and present it to you for easy understanding. It can pull up all kind of data including files, videos, installation files for applications, and more, thereby clearing your disk space.
Here are some of the best disk space analysers that can help you free the space of your hard drive, efficiently.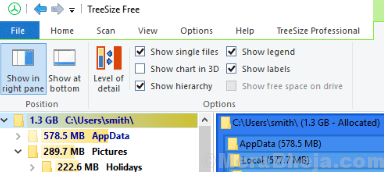 If you are looking for a simple alternative with a slick interface, then TreeSize Free can be your best bet. It pulls up all the details regarding the remaining useful space in the hard disk quickly and effortlessly. The software keeps a check on all activities irrespective of whether it's a detailed view or a tiled program.
You can also use it for smartphones and mobile devices by accessing the storage manager from the context menu of a folder or a drive. It then shows the directory size along with the size of all subdirectories. Additionally, it also runs a scan on the network drives and on the cloud drives that are locally integrated. Best of all, it can be installed in various other international languages apart from German and English.
Price: free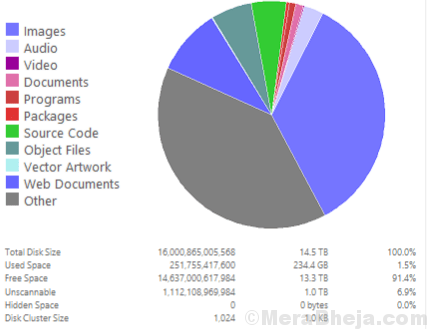 SpaceMonger helps free up the hard drive space on your computer and also the shared network storage. It can run a scan, or map your system, network, and OneDrive cloud storage while managing them all. In addition, it allows you to copy the data, move the files, and even remove them to clear up the storage space. You can also quickly search for bulky files and folders using the Treemap visuals.
What's more? It also looks up for files based on size and type, and also by any of your own criteria using flexible search. You can also clean up the drive based on file lists created effectively.
Price: free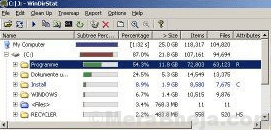 This disk pace analyzing software not just helps you view the data usage, but also double up as a cleanup tool for different Windows versions. As you launch the program, it reads the entire directory tree at one go followed by which it introduces the directory tree in three convenient views:
list of directories that are similar to the Windows Explorer tree view, however, is classified by file size or subtree size.
treemap view that presents all of the directory contents of the directory tree in a flash.
list of extensions that work as a heading while indicating the data related to the file types.
Each file is indicated with a color rectangle by the treemap, and the area of each of the rectangles is equivalent to the file size. The arrangement of the rectangles (files) helps the directories to form more rectangles containing the files and the subdirectories. This makes their area equivalent to the size of the subtrees. In short, each colour represents each file or rectangle indicated in the extension list.