We are dealing with data on our computers day in and day out, and all these data are getting stored in files and folders. Computers are structured in such a way that they perform everything methodically while organising the data in specific categories like in folders, that are saved in a local drive. However, with more and more downloads of games and media content, the hard drive is getting saturated with data. In short, it's taking up most of its storage space, thereby, slowing down your PC.
With files being added every day on your system, instead of keeping them on your disk and clogging the space, it's better to clean up space for more important data. For this, you would need an efficient disk space analyser that can run a scan, locate such data, and present it to you for easy understanding. It can pull up all kind of data including files, videos, installation files for applications, and more, thereby clearing your disk space.
Here are some of the best disk space analysers that can help you free the space of your hard drive, efficiently.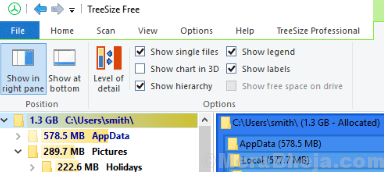 If you are looking for a simple alternative with a slick interface, then TreeSize Free can be your best bet. It pulls up all the details regarding the remaining useful space in the hard disk quickly and effortlessly. The software keeps a check on all activities irrespective of whether it's a detailed view or a tiled program.
You can also use it for smartphones and mobile devices by accessing the storage manager from the context menu of a folder or a drive. It then shows the directory size along with the size of all subdirectories. Additionally, it also runs a scan on the network drives and on the cloud drives that are locally integrated. Best of all, it can be installed in various other international languages apart from German and English.
Price: free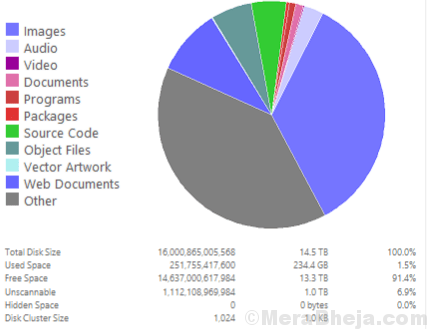 SpaceMonger helps free up the hard drive space on your computer and also the shared network storage. It can run a scan, or map your system, network, and OneDrive cloud storage while managing them all. In addition, it allows you to copy the data, move the files, and even remove them to clear up the storage space. You can also quickly search for bulky files and folders using the Treemap visuals.
What's more? It also looks up for files based on size and type, and also by any of your own criteria using flexible search. You can also clean up the drive based on file lists created effectively.
Price: free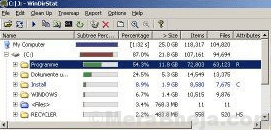 This disk pace analyzing software not just helps you view the data usage, but also double up as a cleanup tool for different Windows versions. As you launch the program, it reads the entire directory tree at one go followed by which it introduces the directory tree in three convenient views:
list of directories that are similar to the Windows Explorer tree view, however, is classified by file size or subtree size.
treemap view that presents all of the directory contents of the directory tree in a flash.
list of extensions that work as a heading while indicating the data related to the file types.
Each file is indicated with a color rectangle by the treemap, and the area of each of the rectangles is equivalent to the file size. The arrangement of the rectangles (files) helps the directories to form more rectangles containing the files and the subdirectories. This makes their area equivalent to the size of the subtrees. In short, each colour represents each file or rectangle indicated in the extension list.
Price: free
If you intend to clean up your hard drive junk, the first option could well be the CCleaner. This disk space analyser can either clean the storage space easily or can also run a fully automated PC maintenance. It comes in two versions, standard (free) and paid. The standard version clears storage space, frees up your online activities, and keeps your system up-to-date so that it speeds up.
The paid version offers all the features combined for the free version plus the advanced ones. It comes with powerful automation features that help to clean up your PC while making fast and secure.
Price: free version available; pro version priced at $19.95
This is another great storage analyser tool that offers cleaning and defragmenting for free. It clears all the unwanted data, browsers, and redundant Windows files. At the same time, it also defragments your hard disk. It cleans up all the unwanted or temporary files that are jamming up the storage space of your computer. This helps make your system run faster.
In addition, it clears any online activities, cookies, and browser history for Chrome, Internet Explorer, Safari, Firefox, and Opera. It basically cleans up any remains created by the Windows system and other apps. The program also focuses on PC performance through defragmentation. As a bonus, it also allows you to set automatic disk cleaning to be carried out daily, weekly, or monthly based on your requirement.
Best of all, it's completely free software and is virus free.
Price: free
This compact software helps you find out the way the files and folders are placed on your hard disk. It uses Treemap view format offering an instant insight into the placement of the big files and folders on your system. The program also scans the drive to check the situation inside. All you need to do is to click once and the chosen element will display all the details of the content.
If you are looking for detailed information, you need to continue selecting the elements and they will display all the required details accordingly. To see the small folders in a bigger view, you simply need to double click on it and it enlarges the view to the maximum. Further, to get an insight into why there's no more free space available on media, simply type the file type in the filter option and hit enter. To keep a check on the analyzed files, it allows you to tag them.
Price: free
Wiztree is a portable disk space analyzer that helps you find files and folders on your hard drive, quickly. This fast tool not just reads the MFT (Master File Table) straight from the hard drives in NTFS format, but helps you find even the bigger files on your disk that's been jamming up most space. You can also find the large files and group of small files in the Treemap view.
While you can swiftly find the files using name or wildcard match, you can also organize the complete hard drive contents by folder size and may also remove files and folders. It allows you to export the file details to CSV, lets you scan all types of hard drive file systems such as NTFS, network, FAT, etc., and much more.
Price: free
This tool helps you to find out the exact amount of hard drive space occupied by which files and directories. In addition, you can also discover any outdated files and folders in the drive. The program scans the disks and drives to looks for all the data and then gathers them and presents them to you in the form of synopsis charts and details tables.
The software comes with no ad, comes with no charges, and is lifetime free. It's compatible with all major platforms that include Mac, Windows, and Linux.
Price: free
It manages your disk space usage better. It's one of the most powerful disk space analyzing tools around that helps to check any types of storage device that a host computer has access to. It can be network shares, local disks, network connected storage, and more. It offers a dynamic and interactive detailed report in column view offering in-depth details of the covered disk space.
You can also view the allocation of the elements throughout your file systems as the scan continues. Furthermore, it generates file-based reports throughout different local and network file system categories. Besides, from strong presentation of local and network volumes with integrated trend reports, option to locate different file systems for files and folders by name, age, size, attributes, owner, etc. to scanning and viewing different local and remote file system categories on multiple threads ta the same time, or producing highly customizable analysis with the specific details required, there's a lot it has to offer.
Price: 14days free trial available; upgrade starts at $60 for single user pro license
This is another great disk space analyser that's simple, yet one of the most efficient tools for analyzing files and folders arrangement on the hard disk. It comes with a user-friendly interface that's simple and easy to understand. This makes it easy to use which can be used straight away without any written guidance required. All you need to do is to select the drive from the menu and click on the button that says "Scan Drive". It also allows you to put a check on the analyzing procedure to only specific folders.
Hit the "Scan Folder" button, select the folder to evaluate, or simply click on the drop-down menu and quickly run a scan on the common folders like music, pictures, videos, documents, etc. The program is in fact, known for generating effective reports in easy to understand format. You can view the report in a tree view with a plain bar graph that indicates the amount of space used by which folders and which folder uses the most space.
Price: Freeware
This storage analyzing tool not only analyses the disks, but also scans the network shares, NAS systems, and the business storage devices. You can have access to several features that include disk usage analysis and file categorization options that help you to get an insight of how the disk space is utilized, how the reports are saved, and the files management operations are carried out.
So, if you want to see more than just data with size, you can use the special filters that allow you to view data with the help of useful classification. For instance, you can view based on categories like time created, extension, user name, the time accessed, and more.
Price: free version available; starts from $50
Disk Analyzer Pro
Disk Analyzer Pro helps you to clear your hard disk storage while structuring your files on your Windows system. It also manages the usage of your disk space smartly, thus, improving your Hard Disk space. As you analyze the hard disk, it pulls up the usage data of the storage space and shows you the file size, count, and percentage. The program helps you locate the larger files and folders and also any deleted or redundant files to free up the data. This helps retrieve the useful disk space while keeping the disk space in an orderly manner.
The software also manages the disk space usage classified by file size, type, date, ownership, and attributes. You can now go deep to check which files are consuming the most disk space. It also allows you to look up for junk files using your own search parameters. What's more? You can even delete any temporary or unnecessary files jamming up your disk space. Best of all, you can find the largest files and folders, and even the outdated ones that are occupying a lot of your hard disk space for nothing. You may also have the option to delete these files with immediate effect, making the storage space clutter-free.
Price: free version available; upgrade starts from $39 for a business license
Conclusion
While there are many such disk space analyzers these days, these are the best few that can help free up your disk space quickly and efficiently. The hard drive is one of the most neglected parts of the system and we do not realize the importance of it till out system starts giving a slow performance. Considering that we use our computers daily, we should make sure that we run a scan for unwanted and redundant files time and again to help the system run smoothly. So, pick from the best disk space analyzers and make your system run faster.