How to Share Files and Photos with Skype on your Mobile: – The revolutionary application Skype  defines a whole new meaning to social networking. For starters, it has free instant messaging in store. It offers free voice and video calls. Apart from usual emojis, Skype offers Skype Mojis. Skype mojis let you send short video clips in Skype chat. Its availability on leading OS platforms has given about 250 million users. Currently, Skype is one of the most popular medium to connect to friends and family. Apart from this, professionals have opted it for conducting interviews and meetings. You can also send files through Skype. The best part is, all these features are available for free!
This article introduces the features of Skype on mobiles. On how to share files and photos, keep reading!
Also read: How to share files of any format through whatsapp
How to Share Files and Photos with Skype on your Mobile
Skype offers a media bar. Spot the bar near instant message box.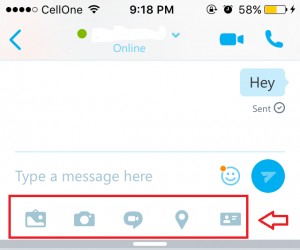 Send whatever you wish using the sharing options offered.  Tap on photo icon to send an image. Tap on camera icon to capture a photo and send.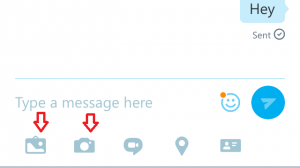 You can also share your location through Skype. The pin icon is used to share location. It is quite useful when you want your friends to know where you are.
For Android phones, these features look as shown below.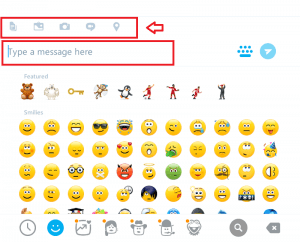 Using Skype for Android, you can share files. All kinds of files are supported for sharing.
Tap on the file icon to share a file.


Use these sharing options to send files or images to your groups.  You can also save video messages in Android.
Skype renders a smooth video calling experience with its anti-shake technology. Face to face calls are available through 3G, 4G, or WiFi connection. In  addition to these features, you can also connect with your friends who are not Skype users. Skype offers low-cost calls and SMS. You can even call to landline numbers.