Many users have reported a problem stating File explorer crash as soon as they do a Right Click on Desktop. This happens due to incompatible shell extensions which have made place forcibly  on your Context menu and are incompatible to Windows 10 and thus causing this problem. This problem can be easily fixed by trying the steps given below.
Fix – By using ShellExView
1. Go and Download ShellExView
2. Extract the software and and Click on shexview application to Open it.

3. Click on Options > Filter By Extension Type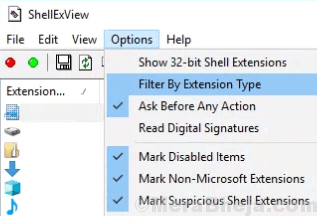 4. Select Context Menu and Click on OK.
5. Press and hold CTRL  key and keep selecting items with Pink background.
6. Do a right Click and Disable Selected Items.

ADVERTISEMENT


Thats it. By doing this you are disabling problematic Context Menu entries and thus in turn fixing the File explorer crashing problem on windows 10 PC.

Saurav is associated with IT industry and computers for more than a decade and is writing on The Geek Page on topics revolving on windows 10 and softwares.