Best Free Keyboard Apps for Android: – Tired of using the same old boring keyboard all the time with no extra add-on features on your mobile device? With some of the best keyboard applications in the Android market, you can get rid of this situation. All you need is a device with Android as operating system, and an internet connection to download such utilities and you are good to go.
Android market features exceptional keyboard applications with much notable individuality. You will be amazed to know these features. These applications come with thousands of different themes and skins to provide you the flexibility of customizing and personalizing your very own keyboard, the way you like.
These keyboard applications also enable to perform different tedious operations like cut, copy, paste and select with ease. These keyboards will let you adapt your typing practices and enhance your typing speed by coming up with auto-correction, auto-prediction and auto-suggestions. You will also have the capability to design the keyboard layout with these keyboard applications.
Also see: – 8 Free virtual keyboards for windows 10
Below mentioned are some of the best keyboard applications for each and every type of Android devices: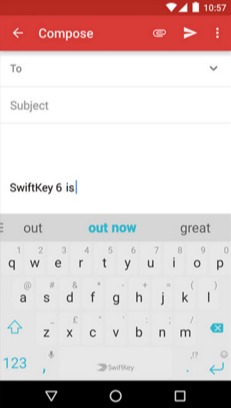 SwiftKey is the most popular keyboard application in the Android market. This keyboard application has a very user friendly interface with best functionalities as compared to other apps. It provides you with dominant prediction and autocorrect features. The more you use SwiftKey, the smarter it gets and provides you with excellent predictions.
Wondering how does SwiftKey do this? The app actually learns your pattern of typing from your messages, emails, Facebook, Twitter along with the usage of phrases and choice of words. SwiftKey uses keyboard's prediction engine to predict, and offers excellent suggestions. It will also help you with precise sentence suggestions to choose from.
SwiftKey also comes with the feature of "Flow Style" typing, where you can easily type words by just dragging your fingers without actually having to type them. You can also insert spaces between the words without lifting your fingers from the screen.
Are you somebody who loves customization? SwiftKey also enables you to customize your experience while using the keyboard application. You can change the original layout of the keyboard according to your specifications like split or floating designs.
The most appealing feature of the keyboard app is that it comes free of cost, and is easily downloadable from Google Play store. The only charges levied are when you want to purchase a different theme and emoticons from its themes store.
The keyboard application follows a strict privacy policy and keeps all your confidential data like login information and bank details safe. SwiftKey also provides you with the flexibility to choose from more than 60 languages with text predictions. This app also comes with a different version for the Android Tablets. The application is a great experience.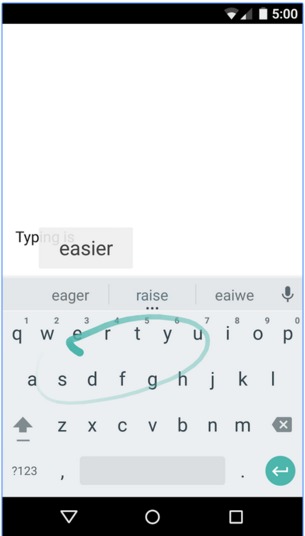 Google keyboard is one of those default applications from Google, which is extremely reliable and consistent in performance. This keyboard application provides an enriching tap-typing experience, smart auto-correct with user-friendly interface. The most unique functionality of this app is that it is compatible on both Android mobiles and tablets.
The keyboard application from Google assists you with around 65 different languages and related words to choose from with brilliant predictions. Google Keyboard learns from your typing patterns across Google's other applications and also provides you with gesture typing, which enables you to float through letters, and it can automatically complete the word. You can start another without even lifting your fingers from the screen. Want to mention names while typing? You can. It also remembers your contacts details and suggests names when you type.
Google Keyboard is completely free to use with its huge database of words and emoji. This keyboard application is mostly pre-installed in the Android devices but can be easily downloaded from the Google Play store for LG, Samsung or HTC devices that have their own keyboard applications.
It also enables you with the feature of text-to-speech engine using that you can verbally dictate the word or sentence that is needed to be typed. You can also teach the keyboard application to remember proper names, nicknames and different slangs, which make Google keyboard even more fascinating.
It gets a beating only on one parameter that is Google Keyboard. It doesn't provide many customization and designing options to the users, and is available only for Android 4.0 or above devices.
Swype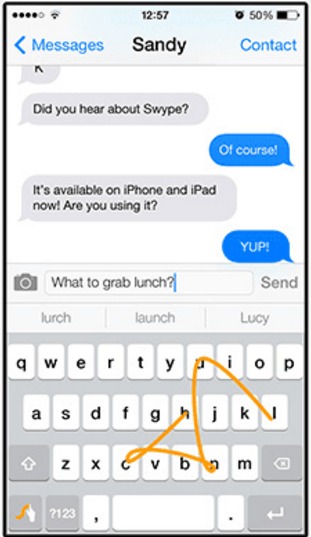 Swype is an excellent keyboard application with an elevated user experience and tracing feature. It leads the Android market for its own swiping features where you can type words faster, and do it an imaginable accuracy by just sliding your fingers.
Swype provides you with split-keyboard options, 10 different themes to choose from, and excellent customizing features with easy typing options. It also helps to carry out the Copy, Cut, Select All and Paste shortcut operations with the help of simple gestures and audio-response typing on the keyboard. Swype offers you with the options to customize your keyboard by making changes in the keyboard height, vibration durations and align keyboard to your left or right in landscape mode. So this takes care of customization.
Swype offers you with the flexibility to use two languages at a time. This application automatically updates the dictionary with the trending words and phrases, and also takes your messaging practices into account. If you are fond of expressing emotions, then you can visually express your emotions with the help of Emoji's.
This keyboard application also automatically provides spaces between two words and thus help to increase your typing speed. Swype also provides you with the voice-to-text option that makes the use of dictation feature powered by Dragon's voice engine. Swype is linked to Android's Accessibility features like TalkBack and Explore by Touch, which makes this keyboard application very useful for visually-challenged people.
Swype is available free as demo version for 30-day, but for using the complete package you have to pay a minimal fee of $1. This keyboard application helps you to backup and sync your data on a cloud account with the help of any Android device. So no worries about data loss.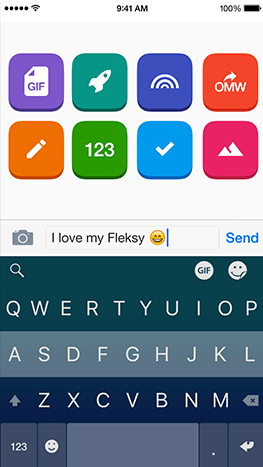 Fleksy is one of the most efficient keyboard applications with lots of customization options for the users. It is one of the fastest and accurate keyboard applications in the Android market. Fleksy is majorly designed for users who love tap-typing, not just gesture-typing. So if you happen to be one of those, Fleksy happens to be a perfect application for you.
The keyboard application has also won a "Guinness Book Record" for fastest typing experience provided to the users. Fleksy uses "Geometric Intelligence" concept to precisely predict what you want to convey. So for all speed-conscious people, this is a perfect platform for you.
The application provides support in almost 42 languages with around 40 different themes to choose from, and auto-punctuation feature. With Fleksy's around 800 emoji, transparency settings, three different size options and gestures, you can customize your typing experience and take it to a whole new level. It is compatible with every website or application you visit from your Android device. It will offer one of the best autocorrect engines to make the typing faster.
The keyboard application interestingly comes with special extensions that will allow you to send GIFs, and also allow you to work offline. It is a quite good prediction engine with the provision for gesture typing.
Fleksy comes with a 30-day free trial option after which you have to pay $1.99 to further use it. Most of the premium themes offered by the Fleksy store are also chargeable, even after you pay the keyboard charges. Fleksy also consists of reward systems where users can master the keyboard usage and its features to earn rewards and badges. It is compatible with Android 4.1 and above devices.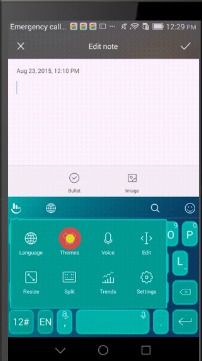 TouchPal, though it is less popular relatively, has gathered around 50 million installations till date and made it to the top list of keyboard applications in the Android market. TouchPal has a dominant error detection and correction engine with the help of which you can correct the typo errors like misspelling, mistyping and wrong capitalization automatically.
The keyboard application comes with exceptional sentence gesture typing with support for almost 70 languages. TouchPal also provides you with the flexibility of Cloud Prediction feature, where predictions are done with the help of cloud computing. If you are high on using different themes and emoji stuff, TouchPal provides you with more than 100 themes and huge collection of emojis to choose from.
The application also offers a clipboard to fasten the copy and paste operations with ease. TouchPal provides its users with excellent swiping options, where you can use backspace button to delete any word or spacebar to access the emoji collection.
Have a difficulty in operating the system? The keyboard application provides its users with 24*7assistance from the developers and beta community whenever there is an issue. TouchPal is available free of cost in the Google Play Store. The only time you have to shell out money is while purchasing premium themes or opting for the service of cloud sync to protect your data.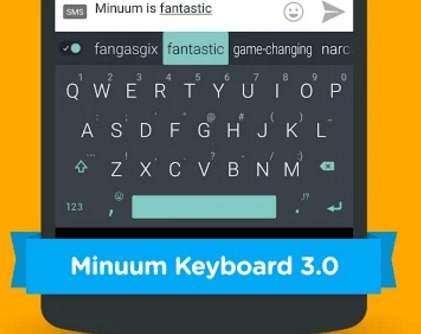 If you are bored of using the same QWERTY layout for keyboards, you are in here for a treat. Minuum is a keyboard application with diverse keyboard layout by default to help increase the typing speed. It is the only smallest keyboard in the Android market and provides you with an exceptional user interface.
Minuum uses a text prediction algorithm to guess exactly what is it that you want to type next. It also comes with an option to turn on and off the auto-correction feature. You can adjust the size of the keyboard by shrinking rows of letters into small subsections with multiple letters on each key. Google Voice typing comes handy to provide you with the option of voice-to-text typing.
So if you are a fan of Emojis, you will love to find out that this smallest keyboard application provides you with around 900 Emojis to choose from, and also allows you to access the internet at a go. The facility of floating mode of the keyboard will enable you to access the keyboard from the top of the screen, and save a lot of screen space on the small screen devices. If you like doing more than one task at a time, then Minuum also enables you to multitask with split-screen capability.
Minuum has a free demo version for 30-days, but the full featured application is high in cost for $3.99 and is compatible with Android 4.0 or higher devices. The keyboard application is high in demand over various emerging platforms like Google Glass and smartphones where a compact keyboard is a necessity.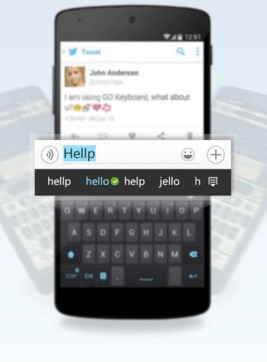 Go Keyboard, one of the Google Play Best Apps of 2015, is a keyboard application best known for its personalization features in the Android market.
The app has around 200 million users who prefer to use this app to make their typing fast and with minimal errors. The keyboard application also provides you with excellent correction options to recognize errors like mistyping, spelling mistakes and provide auto-suggestions to correct the same. Go Keyboard enables you to use shortcuts and swiping to type feature.
Go Keyboard provides variety of emojis and stickers, and around more than 1000 themes to express your emotions at any point of time.
The app supports almost 60 languages with gesture typing facility. It is also flexible to automatically type what you speak by recognizing your voice pattern and also provide suggestions.
Go Keyboard is absolutely free and very convenient to use. It allows you to switch between different keyboard layouts. All you have to do is swipe the layouts left or right to switch windows. If you opt to slide the keyboard layout down, then it can be made hidden from the screen.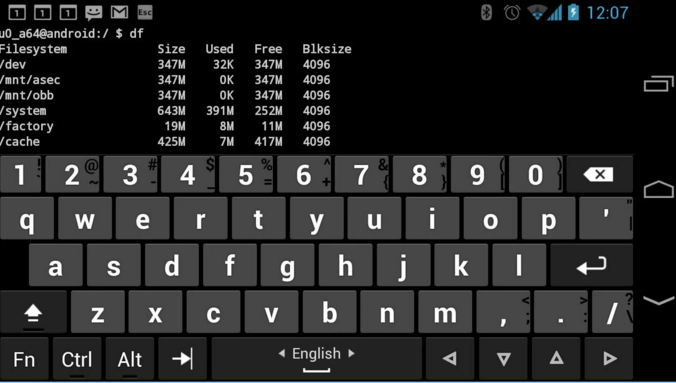 If you want to set up a keyboard similar to that of other applications or if you want to resize the keyboard, Hacker's Keyboard application is just what you are looking for.
This app enables you to design a keyboard similar to that of Windows personal computers with different functionalities and number keys. You can even insert or delete number of rows from the Hacker's keyboard application and also can be transformed into portrait or landscape mode. So basically if you like to play with customization and designs, this is what you are looking of.
Hacker's keyboard is handy when you have to use ConnectBot, which doesn't have trackball. This keyboard application provides Tab, Ctrl, Esc and arrow keys to handle such device with ease.
Hacker's keyboard is a standard keyboard app which is available free of cost without having the need to learn its working, as you are already familiar with its layout.
Multiling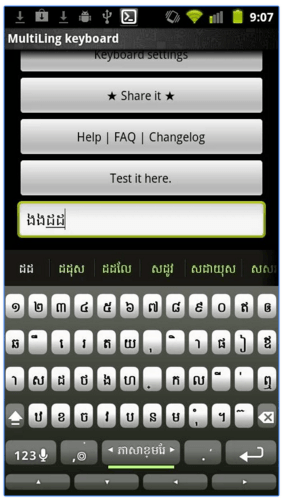 Multiling Keyboard is full of similar functionalities like that of other keyboard applications like language support, customization and layouts all for free.
The keyboard application provides support to more than 200 languages. You can switch the keyboard app to floating type so as to change its place on screen. It also enables you to choose from different 4 row or 5 row layouts, and even change the color so as to customize your keyboard.
This app also provides you with the flexibility of gesture typing. You can swipe right or down to change the number layout or completely hide the keyboard.
Multiling comes with an additional tool of calculator and also auto-text option, which suggests you with correct style of writing. It also helps you perform select, cut, copy and paste operations with the feature called Edit mode.
This keyboard application allows you to use different languages while typing on your Android device. If you are not comfortable using English as a language, use Multiling to switch between languages by quickly sliding the spacebar key.
AI Type Keyboard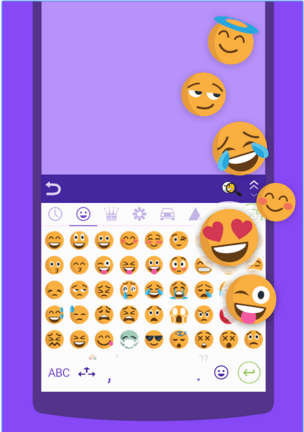 AI Type keyboard is one of the smartest multipurpose keyboards with excellent user interface and personalization features. The keyboard application is very well designed with lot of customization options like layouts, themes, colors and fonts available for the users.
AI Type keyboard provides you with exceptional themes to choose from. It also provides accurate word predictions, auto-corrections and suggestions for around 50 languages. You can also design a keyboard layout and share it with your friends by uploading the theme in the Theme market where others can download and rate your designed layouts.
This app helps you to type faster with accuracy after learning your exact style of writing. It also provides you with options such as prediction, auto-completion, swiping and usage of around 800 emoji and 1000 graphical characters.
AI Type keyboard is available with a 10-day trial and charges of $3.99 for availing its full-fledged services.
Smart Keyboard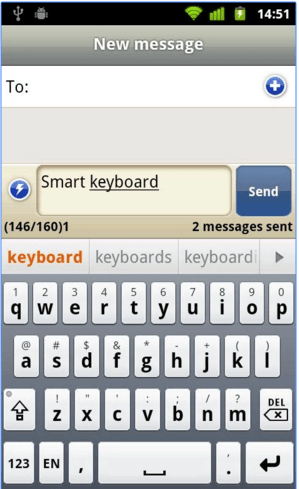 Smart Keyboard distinguishes itself with it's over the top personalization assistance with solid structured layout at your disposal. It comes with i-Phone style keyboard by default, and has the option of switching to Android keyboard version.
Users can change the dimensions to those suits their needs. This keyboard application provides you with the ability to adjust the height of the keys on the keyboard, where you can increase or decrease the size of the keys according to your preferences. Smart keyboard excels in the auto-text and customization options over other keyboard applications.
Smart Keyboard is available with a free trial option on the Google Play Store, but to avail the full version you will have to shell out $2.91.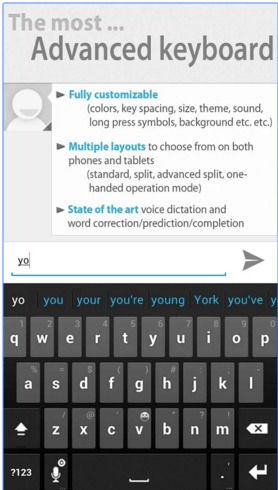 Thumb Keyboard focuses mainly on core functionalities rather than personalization and customization options. It provides you with creative split-keyboard layout so as to minimize errors while typing and use the numbers with your thumbs. Thumb keyboard is available in portrait or landscape mode to exactly suit your needs while typing.
This keyboard application also provides you with the options of adjusting your screen size and changing themes from 25 themes at your disposal.
There are few negatives with this application. Thumb keyboard's drawback is that it comes with a price tag with no option of free trial. This keyboard application provides less updates compared to other keyboard applications. Also, Thumb provides less assistance for different language usages.
Adaptxt Keyboard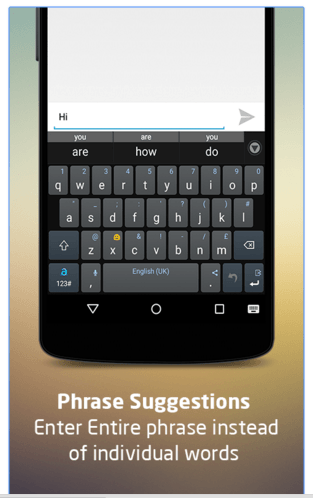 Adaptxt Keyboard is one of the most unique keyboard applications with attractive keyboard layout. This keyboard application comes with a standard features like auto-text predictions, themes, emojis, and keyboard color options. It helps you to customize each and every part of the keyboard layout with ease. So try changing settings until you come across one that you like one.
With the help of Adaptxt keyboard, you can easily visit your social media websites like Twitter or Facebook and post your comments without actually opening the relevant applications. One of the most unique features of this keyboard application is that whenever you search some information on internet, Adaptxt keyboard pops up a light bulb icon at the bottom of the screen, and on clicking it you will be redirected to related Wikipedia pages.
This keyboard application also helps you to remove unnecessary accents and words that lead to addition of characters in your text message. If you are privacy concerned person, then Adaptxt provides you with a Private mode feature, with the help of which you can select words or phrases that can be hidden in keyboard's dictionary, so that you don't have to worry when you lend your device to other person.
Adaptxt keyboard is free of cost but to avail all the features you will have to pay minimal charges of $0.99 via in-app purchase.
Keymonk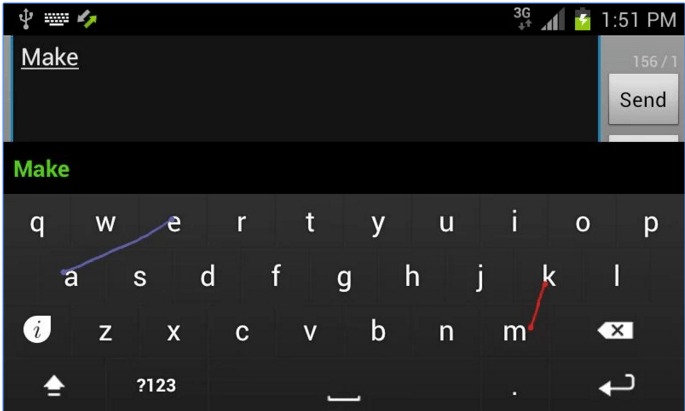 Keymonk is one of the most unique applications that allow you to use the keyboard app the way you want to use. You can use the gesture typing functionality of the keyboard application by swiping with the help of multiple fingers.
This keyboard application allows you to use both your thumbs to swipe keys and thus enhances your typing speed. Keymonk also provides standard features like auto-prediction, auto-correction and suggestions to help you improve your writing.
Keymonk's service can be availed free of cost. But if you have to use full-fledged version of the keyboard then you will be charged a fee of $3.99.
KII Keyboard
Note: – Currently deleted from appstore
KII Keyboard is one-stop app solution for your keyboard search in the Android market. It has combined some of the best features from Go Keyboard, SwiftKey, Swype, Thumb Keyboard and Jelly Bean Keyboard to provide you with best keyboard experience.
KII keyboard comes with all the standard options available in Android keyboards like auto-correction, text prediction and provision of themes with different emojis to choose from. KII also has the facility of gesture based input so as to minimize your efforts. Users who are not familiar with English language do not have to worry. This keyboard application supports around 80 languages and different keyboard layouts at your disposal.
KII keyboard is absolutely free to use, including all the premium functionalities like Swype like input method with next-word predictions and HD themes. These features will be reset every hour until the time you upgrade to premium version via in-app-purchase.