16 Alternatives to Kindle -: Think of an eBook and the first name that floats in your mind that can enable you to read your favorite book effortlessly, is Kindle. Amazon's Kindle has become so symbolic with the eBook concept that we overlook its alternatives that are equally good and some even better.
It's amazing how just this one compact piece of gadget has taken over the world of books and compressed all your favorite reads under one platform. It not only makes reading a pleasure with on the digital space with advanced technology but also eliminates your space constraints that you suffer while carrying an actual book.
See also : Best Free E-book Creator softwares
But, with all the controversies building up against Amazon about their marketing strategies that include moves like, offshore business registrations and manipulative deals with the publishing industry has displeased many. Despite all the negativities, Amazon Kindle is a great e-reader, however, if you are still looking for alternatives to Kindle that performs equally well, we have a host of options for you.
We have listed 15 alternatives to Kindle in this post today that are not only at par wth Kindle, but are also cost effective for the regular reader.
EReader Device
Nook Simple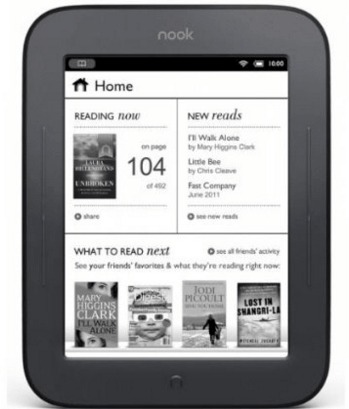 Nook is the range of eBook reading devices offered by Barnes and Noble that's one of the biggest competitors of the ultimate e-Reader, Kindle. While it gives a tough competition in its price which is only $50, it is also an extremely simple device to use. Moreover, at that price it offers excellent performance.
Nook Simple comes with a 6-inch screen and Wi-Fi connectivity. You can purchase books and download them directly to the gadget using Wi-Fi network. The entire process is quite simple and is carried out smoothly. If you want to explore more with Nook Simple, you can get into the internal architecture of the device using your tech skills and makes use of the Android system installed deep below.
Accessing the Android underneath will cancel your warranty and if you mess up things your device can even crash, however, if fortunate you can then easily access your emails and even surf the internet. In short, if successful you can convert your eBook reader to a tablet in minutes.
Archos 90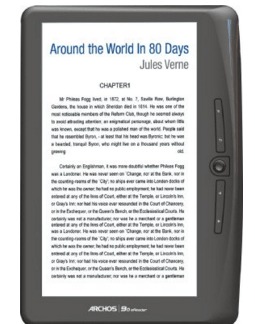 With a huge 9-inch display, Archos 90 is sure a great alternative to Kindle when it's about reading your favorite books. This digital reader belongs to those conventional e-Reader categories that do not come with Wi-Fi connectivity and rather requires you to transfer books via USB.
Archos 90, which comes at an extremely reasonable price of $65, cuts off all the fancy stuff like, playing games or media and provides a simple e-Book reading experience for you. This device is for those who are dedicated readers and do not want to be distracted by any additional features like, the internet etc.
Nook GlowLight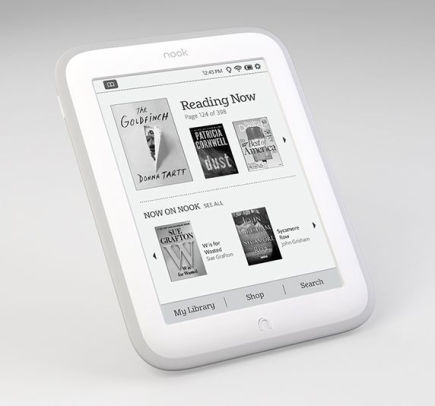 Barnes and Nobles turn innovative with Nook GlowLight tagged at $99.99 and offers some unique features over its forerunners such as advanced lighting pattern, E Ink screen with improved resolution, outstanding battery performance and clearer text. The in-built anti-glare display provides the much needed comfort to your peepers while reading, even under the sun.
While the device switches on an off in a jiffy making it easier to handle, you can control the screen brightness with simply a touch of your finger. The display is considerably brighter with softer light emission and this time Nook Glowlight does away with the awkward flashing as noticed in the traditional Ink displays.
With Nook GlowLight you have the option to customize the fonts in six different patterns that appear sharper based due to the latest technology implied. The infrared touch technique with the E Ink Pearl screen, improved resolution, smart design and lightweight feel makes it an excellent alternative to Amazon's Kindle.
Kobo Glo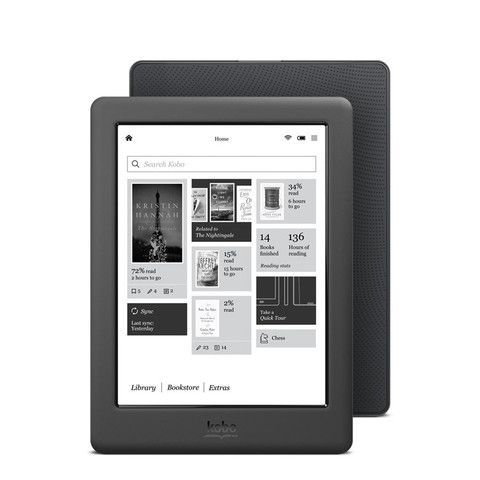 If you are looking for an e-Reader that meets your needs while it provides you with a stylish and svelte feel. As the name suggests, this $159 device comes with evenly distributed lighting that makes reading a pleasurable experience. Yes, you can also adjust the light according to your comfort in the Kobo Glo e-Reader, that is you can change modify the contrast and the sharpness.
The E-Ink technology fused with a resolution of 212 pixels per inch gives it a paper-like feel and with a considerably higher contrast ratio, it generates sharper and distinct text. That's not all, as the Kobo Glo comes equipped with features like, glossary, touch to turn functionality and a translator as well.
Highlight notes, share text portions on social networking sites, bookmark and even create your own library with Kobo Glo. The sleek device makes for a perfect on the go digital reader that is smart, comforting and compact, and therefore a perfect high-end alternative to Kindle.
Sony PRS-T1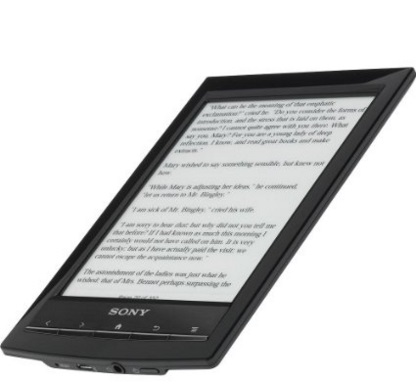 While the brand Sony may not be a budget buy bat $120, but you are sure to receive the best of features. So when it's about an e-Reader, Sony gives quite a competition to the others in the genre with PRS-T1. It is your perfect companion wherever you go packed with all the features you require in a digital eBook.
While you can purchase books and download then directly via the Sony Reader Store to your gadget, you can also download your favorite reads using the Wi-Fi connectivity option. With an E Ink display that's a touch screen makes reading a comforting and a smooth process.
In the absence of a Wi-Fi network, you can simply use the USB feature to manually transfer books. Drag and Drop your desired books from online libraries like Google Books, Waterstones, WH Smith and others.
Sony PRS-T3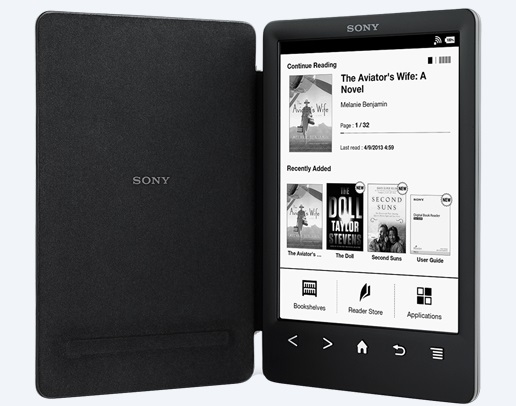 Sony PRS-T3 is a high-end e-Reader that allows you to access their massive library at any time of the day. Available at a price tag of $169.99, this digital reader is one of the slimmest in the category. While it attracts reader with its elegant and slender looks, the snap-cover that protects the touch display, anti-glare screen that's comforting to your eyes or the quick page turning facility with Advanced Page Refresh Technology makes it a unique option over the others.
Moreover, you can also zoom in for a better view and read effortlessly on a paper like finish and with sharper text quality due to E Ink technology. That's not all, as you can also bookmark your favorite pages, highlight excerpts and even modify the size of font styles.
Overall, Sony PRS-T3 (though expensive) makes for an excellent alternative to Kindle with its slim frame, classic design, Wi-Fi connectivity, advanced reading features and its portability.
Nook HD 7″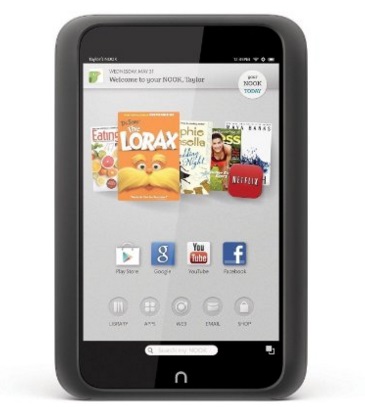 Nook HD 7" is an upgraded version of the Nook Simple by Barnes and Noble. With a 7-inch screen, 1.3GHz processor and 8GB RAM, HD 7 is more of an Android tablet than a digital book.
Available at a price tag of $175 this device is a complete package that enables you to even watch videos, play games, check your emails, browse the internet and more apart from just downloading books or magazine. Even though it has the looks of the Nexus 7, the interface is intricately designed for reading.
Kobo Aura HD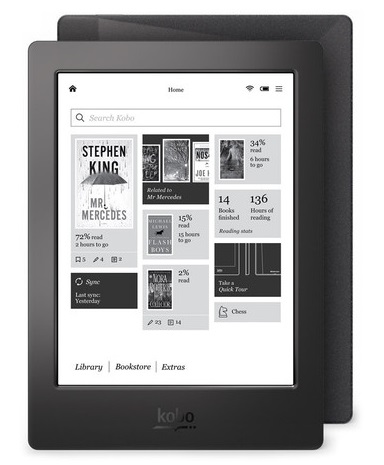 Okay, so Kobo Aura HD is not really a budget friendly e-Reader, but definitely provides a superior experience with its avant-garde features and attractive appearance. If you want your eyes to be relaxed with crisp and clear fonts this is just what you need.
Kobo Aura HD gives you the paper like finish, offers a higher resolution of 1440 x 1080 pixels and a broader surface for a better page view. Additionally, it also comes packed with TypeGenius that allows you to select from the 10 different styles and 24 font sizes while you can also control the front lighting on the screen and keep the backlight on or off according to your preference.
Lightweight, easier to carry and stuffed with features like, adjustment of brightness, font size, alignment, text highlighting, automatic bookmark option, adding to the wish list, turn by page option or sharing of information at the social network sites makes it an excellent alternative to Kindle.
Ectaco jetBook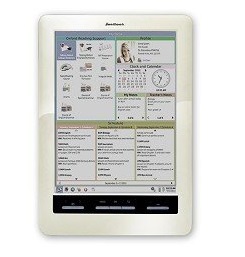 Want to add some fun to your read? Then lay your hands on this high-end beauty called Ectaco jetBook that does away with the mundane monochrome format. Priced at $549.99 this digital eBook reader offers reading in both black-and-white and colored text. That's not all, as it has more in store for you with colored images and videos.
Featuring an anti-glare and anti-reflection screen with E-Ink technology, packed with educational software, crisp text, vibrant color combinations, option to be read even under the sun, massive display of 9.7-inch, CPen support, rechargeable battery and many other advanced features this is definitely a perfect alternative for Kindle (only if we ignore the exorbitant price!).
You can also Forget Devices and go for E-Reader Smartphone Apps on your Phone
Kindle app – Android & iOs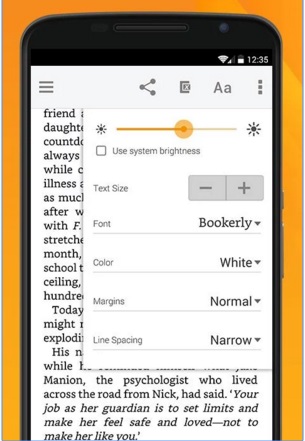 In the generation that's solely dependent on smartphones and tablets, apps only add to the glory. There is an app designed for almost anything that you think on earth, hence having an e-Reader app is no surprise. Now for those who are looking for a rather cost-effective alternative to Kindle or its expensive competitors, downloading the free Kindle app for iOS, Android or for the desktop is the best bet.
Moreover, using the Kindle app you can read books directly on the Amazon website. Well, we cannot assure how beneficial it could be for your eyes and you may not get the book like feel as with the E-Ink format, but it's definitely a cheaper alternative to Kindle.
Mantano –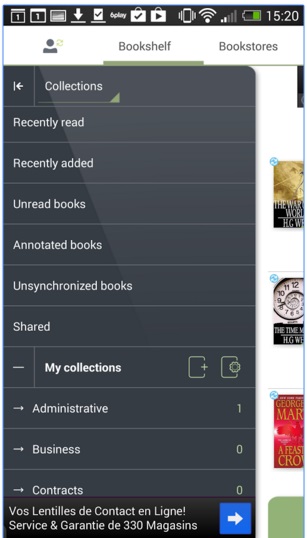 Mantano provides you with one of the fastest eBook reading experience as a mobile phone reader app. It is an extremely easy to use and a powerful app that can be customized by the user. Using Mantano, you can download numerous books either free or paid, highlight texts, add notes, arrange books and notes, listen to your favorite books with Text to Speech feature and more.
Whether you are just a reader, professional or a student, you can use Mantano for a smooth experience that offers you features galore. You can also have access to its huge selection of books from its library, organize your notes and books using the advanced library, arrange your notes using the notes manager, sync your library with any of your other devices or share notes or books via Mantano Cloud (paid).
Mantano is backed up by most of the usual book formats like, PDF and EPUB2, Adobe DRM that lets you read books while protected from hackers, allows to add your own URL to be able to customize your bookstore zone, lets you imports books from android library or Dropbox, allows you to use notes manager for multi-books etc.
Additionally, it offers the feel of real page turning, allows you to customize the EPUB books interface by changing the colors, fonts, size, etc., lets you scroll, zoom, crop or even lessen margins of your PDF books, underline, highlight or bookmark excerpts, make your own content table, read books in night mode and more.
Overall, Mantano is a complete app that allows you to read your favorite books and do a lot more with its wide array of features for just $6.99.
Moon+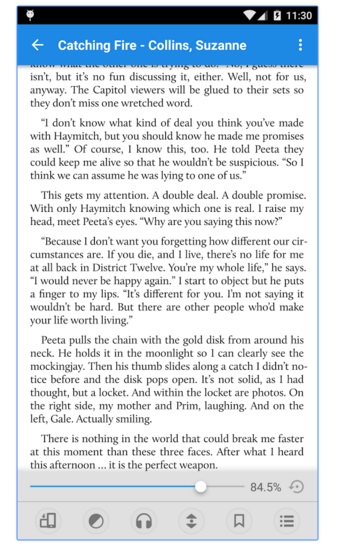 With Monn+ reader for your Android, you can read thousands of books Ebooks for free. While you can access online libraries for eBooks with this app, you can also read local books that enable you to scroll up and down smoothly and with many advanced functions.
Moon+ offers many avant-garde features for you to read effortlessly such as, more than 10 themes with day & night mode, plenty of visual options like, bold, italic, alpha colors, font scale, etc., allows you to tweak the brightness by simply sliding your finger or with gesture, comes with several paging options like, volume keys, touch panel, search keys, even camera and more, 5 modes of auto scroll, options to customize pages in 24 variants like, bookmark, themes, font size, navigation, screen click and many more.
Moreover, you also get "keeps your eye health" feature for relaxing your eyes while reading, realistic page turning feel, backup information to the cloud using Dropbox, take notes, highlight excerpts and several other features that you can think of. Moon+ is available to access in 40 languages and can also be upgraded for better functionalities.
AlReader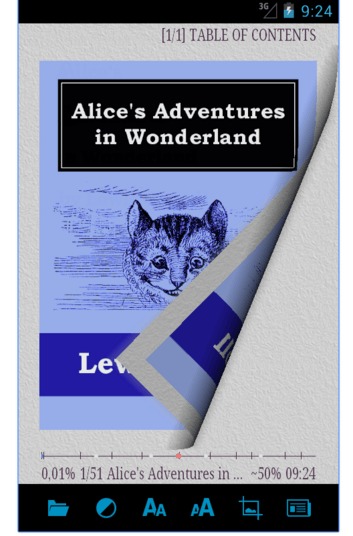 If you are an avid fiction reader, AlReader is just the right app for your Android device. It is compatible with Android 1.6+ and supports formats like, txt, epub, doc, html, mobi, docx, fb2 and many more along with ZIP and GZ archives. Among its wide range of features are text to speech function, access to local and network libraries, support international languages like, English, German, Russian, Chinese, Turkish, Bulgarian, etc., and even works with external dictionaries.
Moreover, it allows you to edit TXT files and Fb2, gives access to four profile with separate color, font, brightness etc., lets you modify display patterns, view 3D animation on pages, offers content table, displays footnotes, horizontal and vertical view of the screen, works with E-Ink screens and a lot more.
In short, AlReader is an able alternative to Kindle if you are on a budget and want to make use of your smartphone as a reader.
Bookmate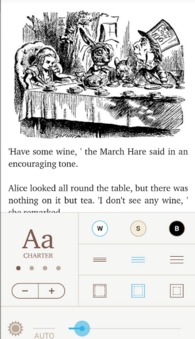 Designed for both iOS and Android platforms, Bookmate allows you to read over 500,000 books from their massive library in nine different languages. That's not all, as you can also read the books offline, get suggestions from friends and experts, and can even upgrade to pro version to access their entire library.
Using Bookmate app has its own perks as when you check out their fully packed library you will also get see new titles each day which feature all the latest releases. These latest additions range from poetries, fictions and classic literature to travel guides and more. While you can get recommendations on new titles from editors, experts and friends intermittently, you can also customize your eBook by choosing your preferred font, background or the brightness for a smooth reading experience.
Google Play Books
Now this is a no brainer and does not require much effort to search for the suitable app and then download books, as Google Play itself offers a wide range of books on your smartphones, whether on iOS or Android Platform. Select from the millions of books that they offer under a single platform and that even includes latest releases, free classics, textbooks or the bestsellers from New York Times.
With Google Play Books you can also read books offlne while on the go, equally effortlessly as you can read online. Additionally, it also comes with enhanced features that allow you to bookmark pages, highlight excerpts or annotate. That's not all, as it has more in store for you with classy 3D page flips, syncing facility of notes, reading postions, or bookmarks to other devices, search for geaographical details, information within books, utlize the embedded dictionary, find web results and Wikipedia on the page and more.It also allows you to customize the font size and design of the text books that you are reading, read under both day and night modes, use text to speech feature to listen books and save EPUB or PDF files to your library. With 4 million books to download instantly which you can either rent and read, purchase or read chapters for free from the previews, Google Play Book is an excellent alternative to Kindle for those looking fr a budgetary option.