The all new Windows 11 offers an enhanced experience for the PC users with its MAC like look, refined Settings panel or the User Interface. Along with the a new look and improved features, it also offers a revamped design that covers the Start menu placed at the center, the Taskbar, notification center, etc.
Talking of the Notification Center, even that has got an all-new design, and can now be accessed from the date and time icon located the bottom right end of the screen, instead of the Action Center hub. This area will display any notifications received and the notification banner is visible for 5 seconds after which, it disappears. This is the default time for the banner.
Not just that, this area also displays the number of notifications from different apps and services. If you receive multiple notifications only from one app or service, you will see "1" count. For example, if you receive multiple messages on Skype, you will see "1" notification for Skype. If the notifications are from two different apps, you will see "2" count and so on.
The best part is, you can also see the notifications on Windows lock screen. However, if the notifications on your system are turned on and you do not see it on the lock screen, chances are, that the notifications is turned off for your lock screen. Here's how to show notifications in lock screen on Windows 11.
How to Show or Hide Notifications on Lock Screen
Yes, you can also choose to show the notifications on the lock screen of your Windows 11 PC for your comfort. Let's see how:
Step 1:  Press Windows Key and I together at Once to open settings.
Step 2: Click on System from the left menu and then click on Notifications from the right side.

Step 3: Next, click on Notifications and it will get expanded.
Step 4: Now, check the box next to Show notifications on the lock screen option.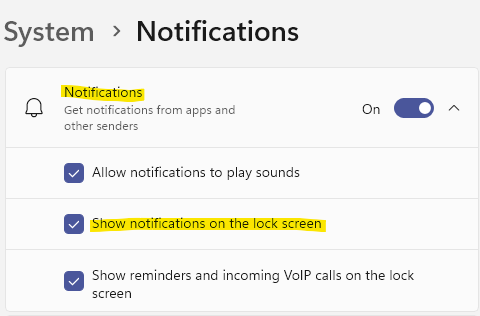 Once done, close the Settings app and check your system's lock screen, and you should now receive the notifications.