16 Free USB Encryption tools to Password Protect Your USB Drive: – Most of us love to own things that require less space and are easy to carry. Considering that we are on the go most of the times in this fast paced life, having a portable alternative is always a big solace. So when it comes to our computer data even in that case we would rather prefer to save it in the USB drives which are compact and portable.
USB drives are the perfect solution to save or backup any digital data that can be conveniently carried wherever you go. Moreover, using these pen drives you can also transfer data between computers.
While the USB flash drives are the most popular portable storage mediums based on the convenience and reliability, they are also prone to get lost, stolen or damaged. And, if you had any sensitive or private data in the USB it can be a great matter of concern. Hence, encryption of your USB drive becomes extremely imperative.
Encryption is a process of protecting information to prevent access by other users unless they have the password to unlock it. It is basically a process to protect highly confidential documents; however, it can be used by anyone to maintain the privacy of their stuff.
Also read: Top free software to password lock your folder
Therefore, today in this post we will let you know about the top free USB encryption software utilities that are available to download for free online that help you to not only encrypt your data but can also be locked with a password. This will help secure your data even if you forget your device somewhere ensuring that no one is able to manipulate your confidential data.
Rohos Disk Encryption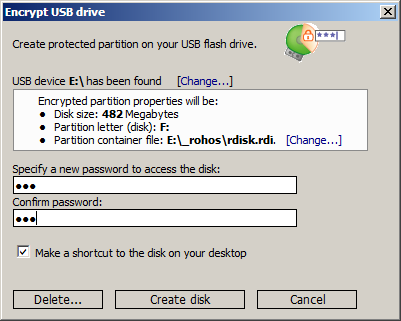 Rohos Disk Encryption is another powerful freeware by Rohos that helps prevent any external or unauthorized access to your USB data by creating concealed and secured partitions on your PC, and also by providing a password lock option. The other excellent features offered by this tool are:
Automatic and on-the-fly encryption.
Creating a backup with the help of the partition password reset option in case you forget your password or misplace the USB code.
Easy to use as you can enable your first encrypted drive in just a single click.
Offers you a unlimited number of extra encryption space.
Allows you to use a USB drive to access all the protected disks automatically
Lets you keep a secured partition on a USB drive and then use it on any PC.
Enables you to open the secured documents directly from the MS Word or Excel
Does not need you to have administrator privileges to use your virtual drive on a USB
Allows you to expand a virtually encrypted partition anytime
Conceals you're your protected disk in a media container like MP3, WMA, AVI and others.
Price: Free
Compatibility: All Windows versions
Download: http://www.rohos.com/products/rohos-disk-encryption/
USB Flash Security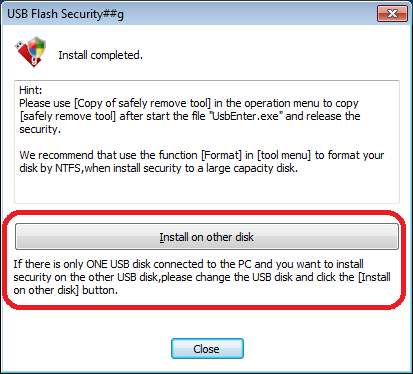 USB Flash Security helps enhance your potential to protect all your sensitive data in the USB device and prevent it from getting stolen. It is a portable app from Japan that can offer AES 256-bit encryption choices up to 4GB in its free adaptation.
It is a lightweight application that is very efficient and useful in saving data
Gets installed super quick
Works with any USB stick type
Requires admin rights for PC use
Price: Free
Compatibility: Windows XP, Windows 2003
Download: http://kashu-sd.co.jp/en/
USB Safeguard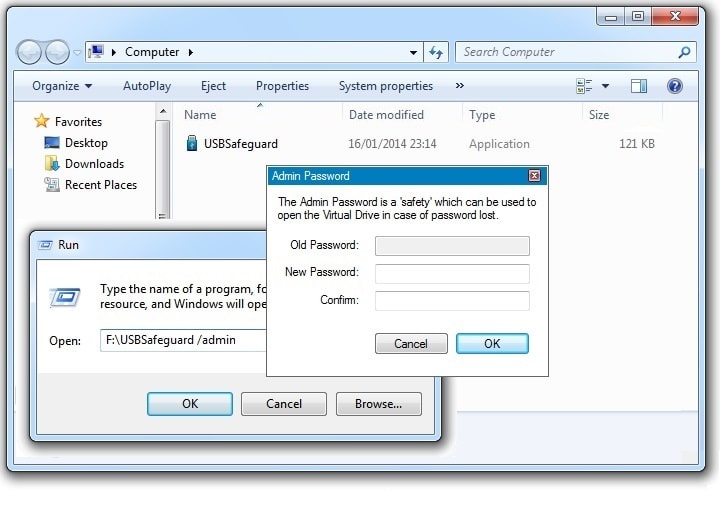 If you wish to protect your sensitive files with a password, USB Safeguard can be your best option. This freeware is a portable solution with AES 256-bit encryption that is used to protect confidential data on a virtual drive like, a USB drive, memory card, SSD and hard drive.
Data is strongly protected and can be only recovered with the correct key
Encrypted partitions has a limit of up to 2GB for the free edition
Functions right from the drive and hence does not require to be installed
No requirement of admin rights
User-friendly with a compact size of just 535.5KB
Price: Free
Compatibility: Windows XP/Vista/7/8/10
Download: http://usbsafeguard.altervista.org/
DiskCryptor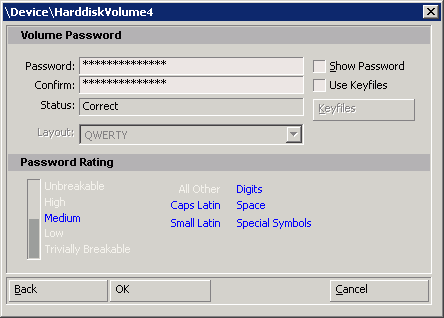 DiskCryptor is an open source application that helps encrypt all data that also includes system partitions. It works perfectly with Truecrypt which is another well-known open-source disk encryption tool.
File size is as small as 590 KB
Helps encrypt all drives
Easy to use application
Apart from USB drives the encrypted containers can also be for CDS, DVDs, and internal drives
Supports different types of algorithms like Twofish and AES
Functions on both 32 bit and 64 bit Windows system
Offers a detailed Home page with abundance of information
Price: Free
Compatibility: Windows 7, Windows 8 Desktop, Windows Server 2003, Windows Server 2008, Windows Vista, Windows XP/windows 10
Download: https://diskcryptor.org/
Gili USB Stick Encryption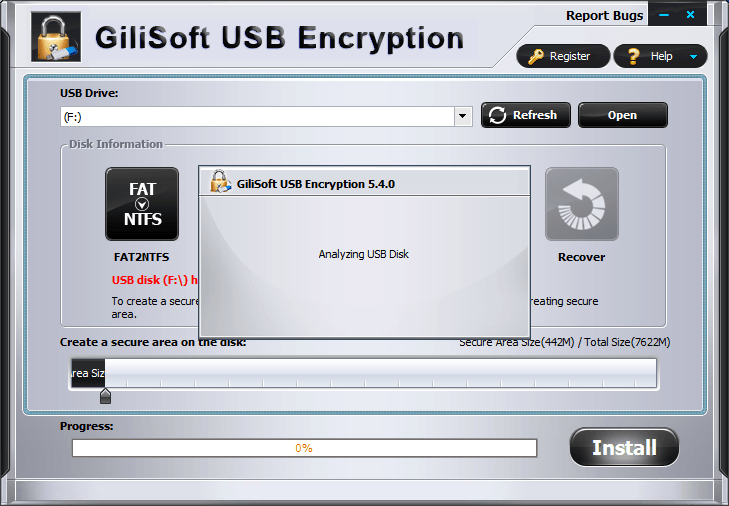 Gili USB Stick Encryption is an extremely efficient software that helps provide a faster solution, file sharing, portability and even backup files. You can encrypt your USB flash drive using this application effortlessly.
Easy to use and a complete tool targeted for the protection of your USB device
Ability to create a partition between the external drive post encryption
Transforms a normal USB drive into a protected drive pretty quickly
Secure area data is encrypted by on-the-fly 256-bit AES
Can be installed and uninstalled fast
Alerts you on the password strength
Removes everything on the USB stick during the installation process.
Price: Free trial period with a maximum limit of 10 usages
Compatibility: Windows 10, 8, 7, Vista, and XP
Download: http://gilisoft.com/product-usb-stick-encryption.htm
SafeHouse Explorer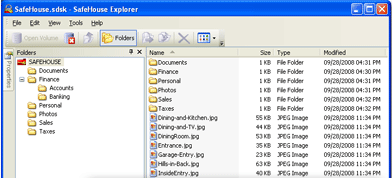 Launched in 2009, SafeHouse Explorer is a straightforward application that helps protect your sensitive files. It's an easy to use program that uses passwords of maximum strength and 256-bit encryption to entirely conceal your private data that includes images, databases, videos, spreadsheets etc.
It is a portable tool that is easy to carry and compact enough to fit into a USB flash drive
Protects file saved on any drive that includes CDs and DVDs, external USB drives, memory sticks, iPods and even network servers
Creates hidden secret storage zones on external media device or local hard drive to store your private data
Files are completely hidden unless password entered which can be then accessed using the drag-and-drop feature.
Price: Free
Download: http://www.safehousesoftware.com/SafeHouseExplorer.aspx
VeraCrypt
Talking of free encryption software, VeraCrypt protects your confidential data super efficiently. While it encrypts your hard disk perfectly along with securing your USB drive, it offers many other advanced features.
Creates password locked disk volumes that are encrypted with encrypted algorithms like, Twofish, AES and Serpent
Protect the encrypted volumes with the help of key files and passwords
Encrypted USB drive can be further accessed by setting it through VeraCrypt once the required password is keyed in
Price: Free
Compatibility: Windows 10, 8, 7, Vista, and XP; Mac OS X 10.6 and above, Linux
Download: https://www.veracrypt.fr/code/VeraCrypt/
LaCie Private-Public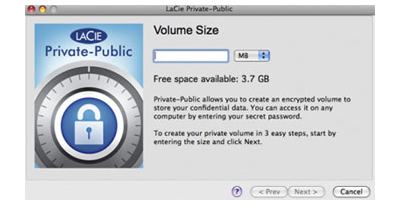 LaCie Private-Public is an extremely simple software that provides excellent encryption to your USB devices. Encrypting becomes a smooth process for your USB flash drives and the fact that it is a compact app it can be executed directly from the flash drive. Simply point out the flash drive disk size that you wish to encrypt with the password along and LaCie Private-Public will encrypt the drive using the 256-bit AES algorithm.
Easy to use
Does not need to be installed
Allows you to protect your private that includes, images, passwords, documents and other confidential information
Reliable and super quick
Price: Free
Compatibility: Windows XP, Windows Vista, Windows 7, Windows 8, Mac OS X 10.5–10.9, Windows 10
Download: http://www.lacie.com/as/en/products/software/private-public/
Kakasoft USB Security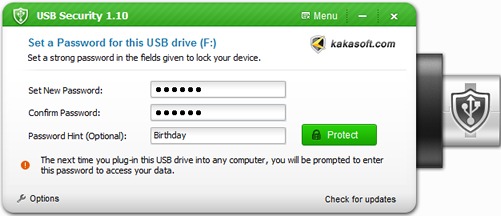 The best part about Kakasoft USB security is that even though it does not offer loads of other features, it works great to simply encrypt your USB flash drive. Just like the LaCie Private-Public software, it is entirely self-contained in the USB flash drive.
The tool installs itself on its own on the USB drive and can be set to function automatically each the device is plugged in
Along with USB drives, it also supports other devices like memory cards and external drives
At the mere specification of the encryption password, the utility will encrypt the drive completely along with any other data inside it
You can access the encrypted data by the same procedure of unlocking with password and mounting via the app.
Price: Free download available up to 1.5MB
Compatibility: Windows 10, 8, 7, Vista, and XP
Download: http://www.kakasoft.com/usb-security/
BitLocker To Go
BitLocker To Go is a Microsoft Windows utility that helps you to encrypt your private files on your USB drive without needing any other software along with it. It is built in directly into certain versions of Windows and can be configured in a jiffy with the help of the BitLocker Drive Encryption app on the Control Panel.
It is an extremely easy to use application
USB drives are encrypted via the 256-bit AES algorithm
A forgotten password can be recovered using the automatically generated recovery key that can be saved in a file or can be synchronized with Microsoft account
Provides a reliable method of USB data encryption
Price: Free
Compatibility: Windows 8.1 Pro and Windows 8.1 Enterprise editions
iSafe USB Security
An updated version that is available to download for free, iSafe USB Security allows you to password protect your USB flash drives, memory cards, external drives and USB disks in just one click.
Prevents your sensitive data to be stolen with solid encryption
Offers standalone EXE data security
No installation needed
Data is automatically encrypted and gets decrypted only when used
The USB devices play automatically on plugging in
Easy to use and offers innovative features
Price: Free
Compatibility: Windows 2000/XP/2003/Vista/Server 2008/7/8/10
Download: http://www.isafesoft.com/usb-security/
File Secure Free
Secure your private files and protect your privacy with File Secure Free. While it can lock your sensitive files with a solid password restricting access by other users, it allows you to makes use of its safe File Shedding functionality during removal of important files.
Uses AES encryption algorithm of military standard
Password locks the USB drive and any other compact devices using USB Lockup feature
Backup files and folders with File Backup feature and store them on your preferred location or on external hard drives.
Price: Free
Compatibility: Windows 2000/XP/Vista/7/ Windows 10
Download: http://download.cnet.com/File-Secure-Free/3000-2092_4-75729419.html
SecurStick
If you are looking for a portable encryption software utility for your media device, SecurStick is the perfect solution for you. It uses 256-bit AES encryption to protect the data stored on the USB drive or another removable device.
Does not require an administrator to run the app on your workstation
Even though the web page is in German, you can get it translated using the Google translation option located at the top right-hand corner
Apart from English and German, the web page can also be read in Italian
Price: Free
Compatibility: Windows XP/Vista/7/10
Download: http://www.withopf.com/tools/securstick/
Cryptainer LE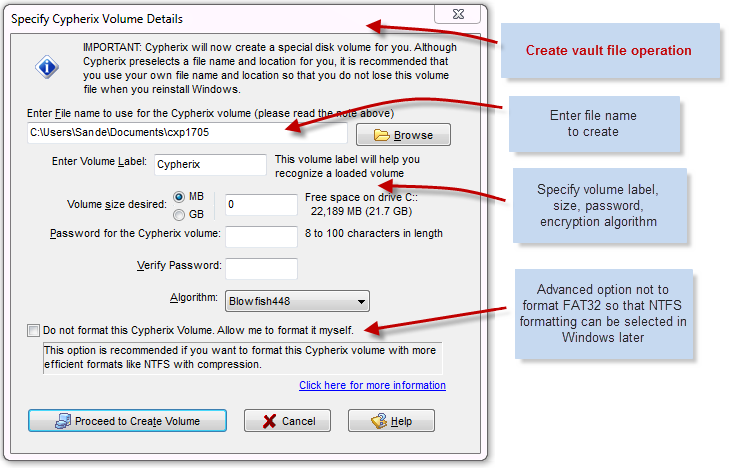 Powered with a 448-bit strong encryption, Cryptainer is a free software utility that provides a robust and comprehensive protection to your private data.
Creates an encrypted disk volume that helps save any type of information
Offers a simple option to drag and drop the data you want to be protected
Works perfectly well with both 32 bit and 64-bit versions
It also has a mobile version that encrypts information on any media including USB drives, Flash Disk and CD-ROMS
Help to send secure emails
Absolutely free of cost that never expires
Price: Free
Compatibility: Windows 95, 98, ME, 2000, 2003 Server, XP, Vista, Windows 7, Windows 8.1, Windows 10
Download: http://www.cypherix.com/cryptainerle/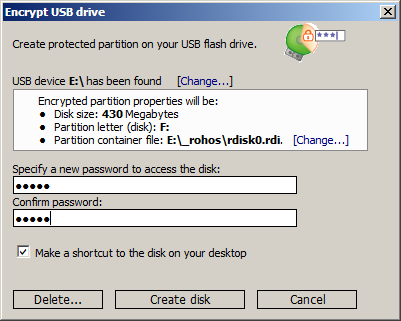 A user-friendly, portable, lightweight and a powerful USB encryption software, Rohos Mini Drive not only helps you to protect your USB data through the partition but also throws in some real good additional features.
Allows you to password lock and encrypt your confidential data
Offers on-the-fly and automatic encryption
Lets you use an encrypted partition on any computer without the need of installing the software
Secures sensitive information located in the registry, temp folders, recent list of documents and more
Allows you to protect the hotkeys to an encrypted disk from a keylogger
Free version limits the encryption size of up to 8GB
Price: Free
Compatibility: Windows 7/ 8/10
Download: www.rohos.com