What works on a PC without internet connection nowadays? Our life is so much dependent on the internet in the recent times that we are online even while on the go that is, on our smartphones. But, what happens when there is no internet connection or there is a disruption in the network? We are in a fix all of a sudden and feel utter helpless in such situations. Most of the applications presently are dependent on an active internet network and so is the case with most of the Dictionaries.
Read: New weird words added to Oxford Dictionary
While there are plenty of Dictionaries available online that can be downloaded for PC, most of them either require an internet connection or there is a fee attached to them. Even though you may get a free dictionary, it may not possess the full range of features and lack most of the words. In such cases having a fully featured dictionary on your PC which can be accessed offline and is free of cost too, is a great alternative for many.
Today in this post, we have compiled a list of best offline dictionary for PC which will be helpful for that quick word search. They will not only provide you instant solution without any internet or Wi-Fi connection, but will also help you with a comprehensive data base that has almost all the words that you can think of. So let's get going..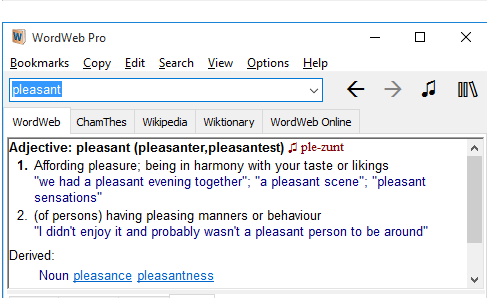 Wordweb is one of the finest dictionary software available in the recent times which is absolutely free of charge. You can download the complete edition without any cost that offers a huge database of source words which is about 15000 in number. Not just that, using its translator service is equally convenient as it provides you with the word translation in just one simple click even when you are offline.
The application remains in the system files and can be started from any of the computer programs. For MS Word, Wordweb is embedded in it by default and can be accessed with just one click from the Word file itself. Wordweb not only defines the words that you are looking for, but also displays synonyms, analogous words and the source of the words.
While Wordweb offers a compelling pro version and a free version with limited features, the free software is being used by abundance of people across the world as not many are unable to bear the costs of a premium dictionary.
Wordweb offers over 150000 source words and synonym combinations over 120000 in number with regular updates and additions on international words (English).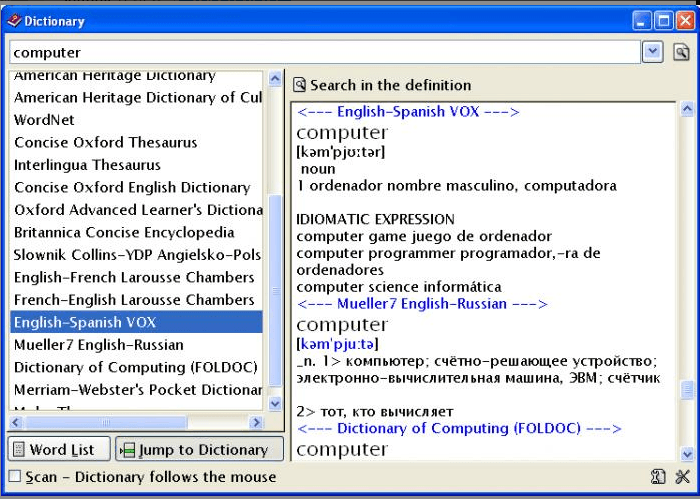 Ultimate Dictionary is a free software for desktop (Windows) that is as easy to use, as it is to install. It offers an exhaustive collection (close to 61) of dictionaries which includes word choices for languages like, English, French, Polish and Spanish along with glossaries, dictionaries and thesauruses. Being a compilation of almost all the information that you need related to a word, this program provides you an all-round solution for your queries. It helps you to find your information for a word search in just one lookup from all the 61 dictionaries at once.
When you are looking for a words meaning and enter into the search box of the tool, it searches for the same in all the 61 dictionaries that it features all at once and displays the definition pulled up from each dictionary where the word was traced in the pane on the right. As you enter the word with the cues the solution starts getting shown on the pane.
This dictionary offers an uncomplicated, organized and user-friendly interface, and helps compare various dictionary descriptions smoothly. Ultimate Dictionary also controls the dictionaries effortlessly using the administration tools like that lets you add , omit, or even rearrange dictionaries. Moreover, it also recognizes the format used by Stardict Dictionary.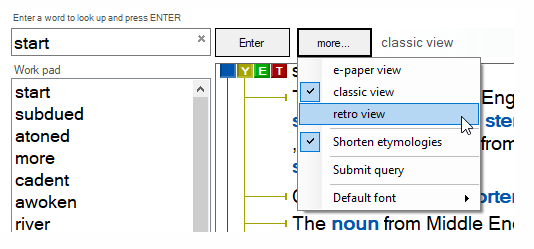 TheSage is an exhaustive and a 100% free professional Dictionary and Thesaurus that is also available offline for PC users. It consists of a huge dictionary that includes over 210,000 word meanings along with a comprehensive thesaurus that offers more than 140,000 links among definitions that consists of synonyms, hypernyms, holonyms, antonyms, hyponyms etc.
Its interface includes tabs that let you find numerous words simultaneously using appropriate and exceptional search tools viz. wildcards and more. You can also retrieve the history of the words that you have looked up for. The best part about the software is that it assimilates into the context list of the Windows that helps you to be able to find definitions from practically any source from your PC.
While with The Sage you have the permission to use online sources such as, from Google or from Wikipedia, you can also have access to the huge collection that already contains usage illustrations of around 50,000. It also lets you use other online search options like, real-time search, anagram search and permission to use services like, system tray assimilation and the skill to run program through a USB drive. The Sage also includes more than 70,000 phonetic notations.
Some of the other features that sets it apart from other programs are its ability to find information from most of the applications in just one click, providing a definite thesaurus for individual definition, any of the words can be clicked upon starting a fresh search, works perfectly even when run via a portable device like a USB, offers clipboard function that lets you copy the look up results, definitions, examples, etc., allows you to customize with choice of colors and fonts, lets you browse its list real-time, reminds you of the word you are looking for with its assistant tool, works as a speaking dictionary and also lets you save the words from different sources.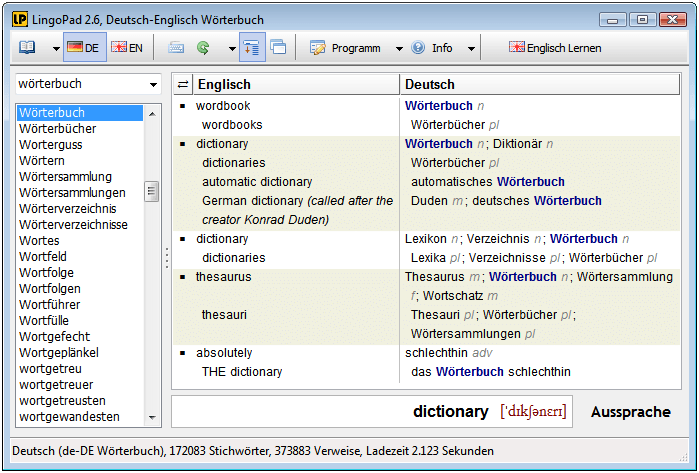 Lingopad is an offline dictionary that is available for use on Windows PC and is perfect for those who are looking for a fantastic German to English glossary. Not just that it also offers a host of other dictionaries in different languages like, French, Turkish, Spanish, Norwegian, Italian, Arabic and Japanese.
It allows you to import your own set of terminologies, specify your own, build word stocks and even edit them, and use them alongside the current dictionaries. It's absolutely free of cost to download with no hidden charges. Using the search functionality you can look for the start, middle or the last part of a word look up for collocation and look at the index of the recently searched words. You can also press a hotkey on your PC to look up for a word that is tagged or a copied word, however, if you want to search for words on Wikipedia or Google there are direct links for the same.
Note that LingoPad is currently available only for Windows OS and there is no other update expected for this program for Windows soon. However, LingoPad is apparently planning to create a program for Mac OS X, Windows and Linux which will be multi-platform.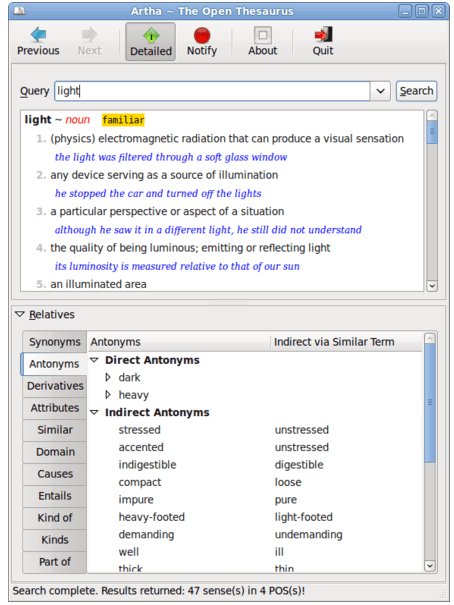 Artha is multi-platform Thesaurus in English that is offered absolutely free of cost and is available for only offline use. The program is built on WordNet which contains a huge lingual database of English created at the University of Princeton. Every word that you search on this software will pull up possible related words that comprises of, synonyms, antonyms, similar words, entails, domain words, derivatives, attributes, causes, hypernyms etc. that's called sense-mapping.
All these links point direct you to the interpretation and illustration of the analogous category and when you choose a correlated word in the software, it automatically takes you to the analogous definition that is highlighted for better understanding. As soon as you start typing, Artha shows up an index of probable match words based on whatever you have entered so far. Also, in case you enter a word with incorrect spelling the program suggests some close matches.
Arha remains in the system tray of the computer after you have downloaded it. It helps you to search words from any of the open windows by choosing the text and by pressing the already fixed hot-key. You can elect to have Artha display a passive alert while using the hot-key or you can also choose to have the program show a balloon tip which will help you to quickly proceed with your current action.