What works on a PC without internet connection nowadays? Our life is so much dependent on the internet in the recent times that we are online even while on the go that is, on our smartphones. But, what happens when there is no internet connection or there is a disruption in the network? We are in a fix all of a sudden and feel utter helpless in such situations. Most of the applications presently are dependent on an active internet network and so is the case with most of the Dictionaries.
Read: New weird words added to Oxford Dictionary
While there are plenty of Dictionaries available online that can be downloaded for PC, most of them either require an internet connection or there is a fee attached to them. Even though you may get a free dictionary, it may not possess the full range of features and lack most of the words. In such cases having a fully featured dictionary on your PC which can be accessed offline and is free of cost too, is a great alternative for many.
Today in this post, we have compiled a list of best offline dictionary for PC which will be helpful for that quick word search. They will not only provide you instant solution without any internet or Wi-Fi connection, but will also help you with a comprehensive data base that has almost all the words that you can think of. So let's get going..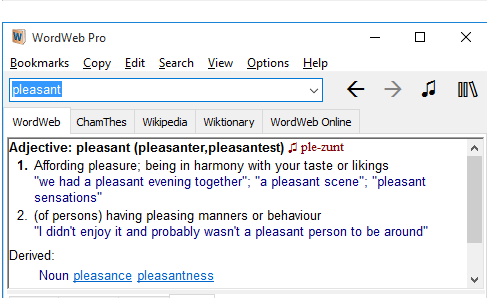 Wordweb is one of the finest dictionary software available in the recent times which is absolutely free of charge. You can download the complete edition without any cost that offers a huge database of source words which is about 15000 in number. Not just that, using its translator service is equally convenient as it provides you with the word translation in just one simple click even when you are offline.
The application remains in the system files and can be started from any of the computer programs. For MS Word, Wordweb is embedded in it by default and can be accessed with just one click from the Word file itself. Wordweb not only defines the words that you are looking for, but also displays synonyms, analogous words and the source of the words.
While Wordweb offers a compelling pro version and a free version with limited features, the free software is being used by abundance of people across the world as not many are unable to bear the costs of a premium dictionary.
Wordweb offers over 150000 source words and synonym combinations over 120000 in number with regular updates and additions on international words (English).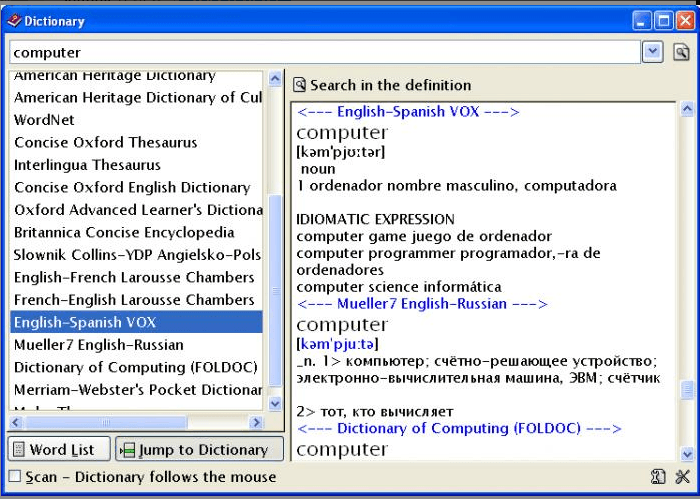 Ultimate Dictionary is a free software for desktop (Windows) that is as easy to use, as it is to install. It offers an exhaustive collection (close to 61) of dictionaries which includes word choices for languages like, English, French, Polish and Spanish along with glossaries, dictionaries and thesauruses. Being a compilation of almost all the information that you need related to a word, this program provides you an all-round solution for your queries. It helps you to find your information for a word search in just one lookup from all the 61 dictionaries at once.
When you are looking for a words meaning and enter into the search box of the tool, it searches for the same in all the 61 dictionaries that it features all at once and displays the definition pulled up from each dictionary where the word was traced in the pane on the right. As you enter the word with the cues the solution starts getting shown on the pane.
This dictionary offers an uncomplicated, organized and user-friendly interface, and helps compare various dictionary descriptions smoothly. Ultimate Dictionary also controls the dictionaries effortlessly using the administration tools like that lets you add , omit, or even rearrange dictionaries. Moreover, it also recognizes the format used by Stardict Dictionary.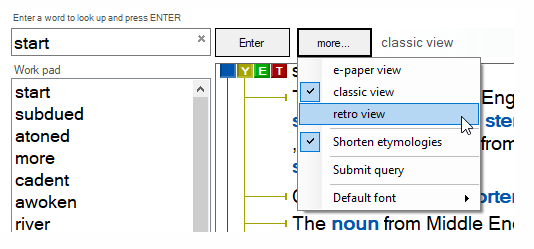 TheSage is an exhaustive and a 100% free professional Dictionary and Thesaurus that is also available offline for PC users. It consists of a huge dictionary that includes over 210,000 word meanings along with a comprehensive thesaurus that offers more than 140,000 links among definitions that consists of synonyms, hypernyms, holonyms, antonyms, hyponyms etc.
Its interface includes tabs that let you find numerous words simultaneously using appropriate and exceptional search tools viz. wildcards and more. You can also retrieve the history of the words that you have looked up for. The best part about the software is that it assimilates into the context list of the Windows that helps you to be able to find definitions from practically any source from your PC.
While with The Sage you have the permission to use online sources such as, from Google or from Wikipedia, you can also have access to the huge collection that already contains usage illustrations of around 50,000. It also lets you use other online search options like, real-time search, anagram search and permission to use services like, system tray assimilation and the skill to run program through a USB drive. The Sage also includes more than 70,000 phonetic notations.
Some of the other features that sets it apart from other programs are its ability to find information from most of the applications in just one click, providing a definite thesaurus for individual definition, any of the words can be clicked upon starting a fresh search, works perfectly even when run via a portable device like a USB, offers clipboard function that lets you copy the look up results, definitions, examples, etc., allows you to customize with choice of colors and fonts, lets you browse its list real-time, reminds you of the word you are looking for with its assistant tool, works as a speaking dictionary and also lets you save the words from different sources.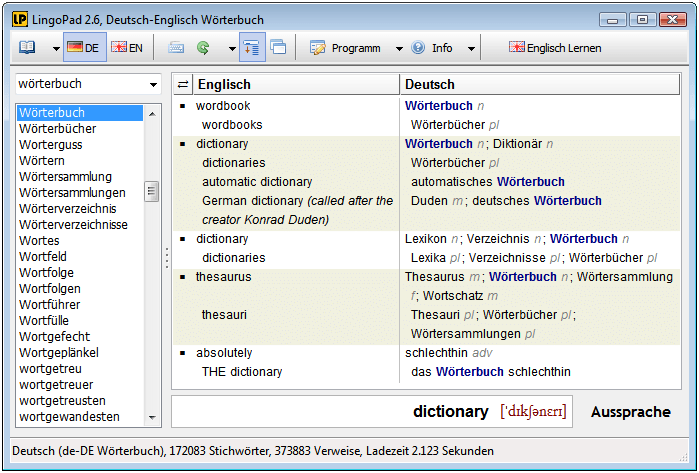 Lingopad is an offline dictionary that is available for use on Windows PC and is perfect for those who are looking for a fantastic German to English glossary. Not just that it also offers a host of other dictionaries in different languages like, French, Turkish, Spanish, Norwegian, Italian, Arabic and Japanese.
It allows you to import your own set of terminologies, specify your own, build word stocks and even edit them, and use them alongside the current dictionaries. It's absolutely free of cost to download with no hidden charges. Using the search functionality you can look for the start, middle or the last part of a word look up for collocation and look at the index of the recently searched words. You can also press a hotkey on your PC to look up for a word that is tagged or a copied word, however, if you want to search for words on Wikipedia or Google there are direct links for the same.
Note that LingoPad is currently available only for Windows OS and there is no other update expected for this program for Windows soon. However, LingoPad is apparently planning to create a program for Mac OS X, Windows and Linux which will be multi-platform.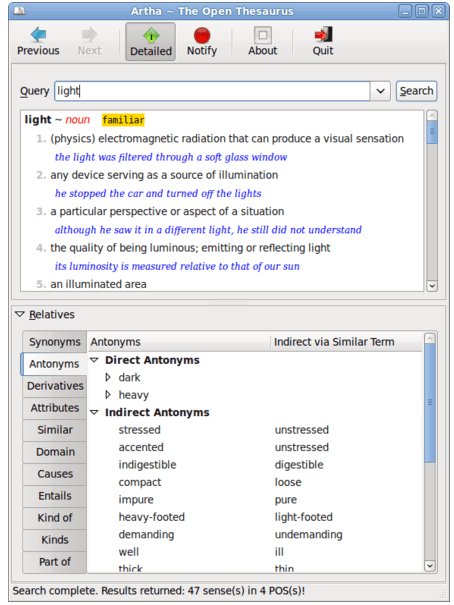 Artha is multi-platform Thesaurus in English that is offered absolutely free of cost and is available for only offline use. The program is built on WordNet which contains a huge lingual database of English created at the University of Princeton. Every word that you search on this software will pull up possible related words that comprises of, synonyms, antonyms, similar words, entails, domain words, derivatives, attributes, causes, hypernyms etc. that's called sense-mapping.
All these links point direct you to the interpretation and illustration of the analogous category and when you choose a correlated word in the software, it automatically takes you to the analogous definition that is highlighted for better understanding. As soon as you start typing, Artha shows up an index of probable match words based on whatever you have entered so far. Also, in case you enter a word with incorrect spelling the program suggests some close matches.
Arha remains in the system tray of the computer after you have downloaded it. It helps you to search words from any of the open windows by choosing the text and by pressing the already fixed hot-key. You can elect to have Artha display a passive alert while using the hot-key or you can also choose to have the program show a balloon tip which will help you to quickly proceed with your current action.
Additionally, Artha keeps a record of all your word search history and equips you with buttons like, "Previous" and "Next" in order for you to browse through your look ups conveniently.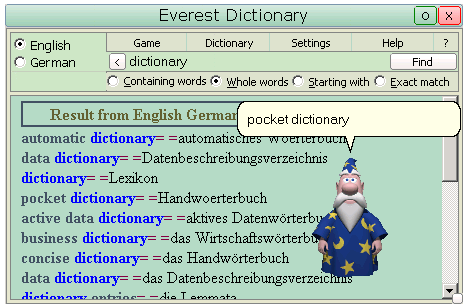 Those who are looking for a free offline dictionary for their PC, Everest can be just the right solution for them. Till now there are 35 dictionaries that are available under this program and claims to keep adding more dictionaries from time to time. While it allows you to search words across many dictionaries, one of its striking features is that it keeps a watch on the clipboard which allows you to start the automatic look up of the term in the dictionary during the use of any program by simply copying the word to the clipboard with the help of the command "Copy".
Everest offers results for all chief European languages and also helps you find the terms using the index. The application comes attached with a speech aid that helps you to pronounce the words correctly in addition to the responsive feature. Moreover, it also allows to customize words, initiates automatic look up on double-clicking the term, displays a Back button that helps you to go back to the earlier interpretation, shows one random new word on a small pane for learning purpose, allows you to customize word colors, lets you test your knowledge, translates various languages, allows you to build your own dictionary, share and translate them to your buddies, and even control your favored websites.


Aard Dictionary is an open source and free cross-platform offline dictionary that offers word solutions in multiple languages. It comes along with a dictionary module that allows you to look up for search terms in the dictionary along with a quick search from Wikipedia even while you are offline. You need to download the software just once and you are all set.
Aard offers a wide range of dictionaries which are available in several languages on their website that contains a Wikipedia index in different languages like, English, Portuguese, Spanish, French, Italian and many more. Other databases offered by the program are WikiQuote, WordNet, Wiktionary, etc.
Moreover, it allows you to include over fifty different dictionaries to its directory, offers great new features like, on-the-fly search and filtering options, the ability to look at the recent look ups or a history, enables you to zoom in and out of the result page, and quick word search. The terms that you have found on Wikipedia using the program are displayed in form of an entire article which you can save in the HTML format on your preferred hard disk.
You also have access to many shortcuts on the keyboard with Aard which is for those people who rather prefer using the keyboard and not the mouse for navigation.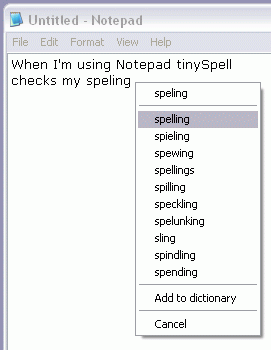 Well, tinySpell is more of a spellchecker than a traditional dictionary and is absolutely free of cost. This program can be especially useful for those who refer to a dictionary to check the correct spelling of a word instead of a spellchecker. It is a really handy tool for all as it also comes along with an American to English Dictionary featuring over 110,000 terms.
It can keep a watch on your typing skills in progress and notify you whenever it finds a word that has been spelt incorrectly. Not just that, it also runs a quick spelling check on the text that is being copied to the clipboard, and can also get auto installed in the taskbar notification section for easy reach.
tinySpell is a compact tool that lets you analyze your text in any Windows program and spot correct it quickly and effortlessly. So when you simply need to run a quick spellcheck on your text, but do not want to get into the hassle of starting the word processor that is when you can use the quick and efficient tinySpell. In short, it is one of the most needed tools in your system task bar for those who write frequently.
Another well-known free offline dictionary in the category. Goldendict is an open project that intends to create a dictionary search software that's full of features. It's one of the fastest dictionary apps in the market that comes in multiple formats and supports different dictionary file formats like Lingvo, StarDict, Babylon, and more.
Features:
It deploys WebKit for a completely accurate article with correct formatting, photos, colors, and links.
It helps you to get a reference from Wikipedia, Wiktionary, other similar websites to carry out your searches.
Uses templated URL patterns to use random websites, runs random programs to play audio, or generates content.
It allows you to search for and listen to pronunciations.
It generates results, even if you type a term with the incorrect case, punctuation, or missed spaces.
Additionally, the app opens a new window pop up with a translated word from another program, allows to relaunch the program window at any time, or straightaway translate a word from the clipboard, offers a tabbed browsing option, and more.
Stardict is an open source free cross-platform offline global dictionary that accommodates over 100 free dictionaries currently. While you have access to this huge database of dictionaries for free, you have to install each of these dictionaries after you have downloaded the crust of the Stardict dictionary.
It has come up with new engaging ideas for example, Fuzz query that reminds you of how to spell a word correctly when you are unable to recall the same. It gives you the matching results that are closest to the word that you entered, after it has figured out the correlation amid two words using the Levenshtein Edit Distance tool. You just need to add "/" prior to your entered word and then hit the Enter button to develop a fuzzy query.
Net Dict is another new offering from the program that does not require you to install a dictionary to your PC. You can simply click on the icon on the top right end of the pane which is the main menu and select the option that says Preferences. This will allow you to set the Net Dict feature from here which you can begin using after you sign up and log into your account. This will now let you use the Net Dict feature with your own dictionaries.
While the full-text translation option lets you translate from one language to another by clicking on the icon on the left hand corner that says "text translate" and using the different search engines such as, Excite Janpan translation, Yahoo, Google, you can also get the words using the mouse for translation by clicking on the "Scan" button.
Search results are shown at the tooltip during the scan mode that allows you to find the desired words extremely conveniently. In conjunction with Freedict, it provides approximate translations of any website in foreign language. This program is available for Windows, Maemo, Solaris and Linux at the moment.
Offline Dictionaries available on Microsoft Store
Offered by the Microsoft app store as an in-app purchase, Perfect dictionary is a complete offline dictionary for your Windows system. It allows you to look up word meanings from different dictionaries for free. It offers a wide database to search for and in more than 50 languages.
Features:
Auto-suggests words as you start typing.
Allows you to view the previously searched words.
Let's delete the previously searched words from history, at any time.
It offers you the option to save a searched word as a favorite.
It also allows you to pin your favorite words to the Start menu.
Comes with an advanced and clean interface.
Features a wide range of dictionaries that includes names like Cambridge and more.
Best of all, just like Google, it also lets you hear the pronunciation of the words.
WordBook is another great free offline dictionary for those who want an online alternative for their word search on the go. This is an award-winning software available to download from the Microsoft app store for free. It's an English dictionary and thesaurus combined in one software, thus, offering a wide database of words from all across the web.
Features:
Comes with a slick, speedy, and responsive interface, designed especially for the Windows 8 platform.
It boasts 150,000 words with over 220,000 meanings.
It offers around 70, 000 samples for usage and around 30, 000 word origins.
It provides nearly 120, 000 pronunciation assistance.
For those who want to hear the words and pronunciations, it offers 150, 000 audios in human voices.
It comes with an integrated Thesaurus and word links.
Additionally, it allows you to navigate to the content just like you would do in a browser and also the option to place your cursor on the word to check the definition.
Although The Oxford Dictionary requires no special mention, it's amazing to see how one of the oldest dictionaries evolved with time and technology. Available to download through the Microsoft Store, this app has grown into a huge database with over 350, 000 words, and also includes phrases and meanings.
Features:
It features the latest vocabulary and a wide range of words specific to the regions that make it stand apart from the other dictionaries.
It offers the most complete search experience with its range of search tools to look up for the closest match of your search word or a suggested word.
It generates suggestions automatically for the words you search, thus, helping you find words, quickly.
It also offers keyword search that allows you to find between compound words and phrases.
Known for its abundance of words, The Oxford Dictionary is the perfect app to find words from across the globe.
With a huge database of words, the Advanced English Dictionary not just offers word definitions, but also comes with images for a better understanding of the meanings. Also, it offers synonyms, etymology, and also word pronunciations in US and UK accents.
Features:
Features over 400, 000 words and comes with a clean and advanced user interface.
Words come with clickable links helping you with further learning.
The related words are represented with a button that directs you to a wide range of similar word entries.
It allows you to refer to the word of the day, history, and most searched words, conveniently.
It also offers Thesaurus, word translation to English, and also definitions for diction.
It's a significantly easier dictionary that can be followed by even kids and is available to download for free. You can also start your search from anywhere in the app and also comes with a search charm.
Sidebar Dictionary as it's called appears as a sidebar so that you can access it even while working. The dictionary supports multiple languages along with an efficient translator. So, if you are working on an important project or writing some paper, this side-by-side tool could be handy.
Features:
It's an easy-to-use and refined software that makes it easier for you to find different definitions.
It comes with a pronunciation feature and easily translates phrases in different languages.
It's compatible with all versions of Windows and is available to download from the Windows Store app.
It features a simple yet advanced interface that can be moved from left to right and back to copy and paste the content in other windows.
The interface is divided into two sections, one of which contains the history and other favorite tabs, and the other comes with a text area, translation function, and dictionary.
Guides you through the process as you start it for the first time.
Enable the clipboard for the copied words to be added to the app automatically.
It allows you to change themes, switches interfaces, translate languages and removes previous searches.
Best of all, all you need to do is to copy the words and those are automatically added to the field with the definitions displayed automatically with complete details that include, adverb, adjective, verb, and noun, along with examples. Whenever the languages are changed to English, the translation is enabled. Google and Bing are the major interpretation sources used for this.
One of the best free offline dictionaries in the category, Dictionary features over 200, 000 words and definitions, minus any ads. This app is perfect for both the original English speakers and those who want to learn English, or for those who are studying and researching English. The definitions are saved locally and hence, it does not need an active internet to function.
Features:
On its home page, you would see an arbitrarily selected word cloud that helps sharpen your vocabulary skills.
You can look up word meanings by typing the words in the search box. You can then refer to the links on the page to find more definitions.
It also allows you to play word games using the Wildcard characters that include, crosswords or scrabble, looking up for an anagram, spelling, etc.
It offers synonyms and antonyms as definitions, and that works a lot like the Thesaurus.
Get to know the correct pronunciation, using the speech function.
Among its other important features are the option to check previously searched words and definitions, create a list of your favorite words, refer to the word of the day, free from ads and any paid options.
The English Dictionary is another great offline dictionary app, that's available to download for free from the Microsoft Store app. It offers meanings for words, definitions, similar words and more. The best thing about this software, that, while you can download it for offline use, you do not need to download any further files for it.
Features:
Along with meanings and definitions, it also offers synonyms, related words and a faster performance.
It also offers audio pronunciations for your word searches.
It comes with an easy to use and a responsive interface.
The pronunciations for the words, definitions or the meanings are in UK accent.
It also notifies or offers live tile for word of the day.
It allows you to look up for random words and even offers the option to customize the program's interface by changing its fonts, hyperlinks, background color and more.
Among its other major features are its ability to offer synonyms, antonyms, hyponyms and parts of speech with examples. It also offers suggestions for your word searches and checks them for spelling as well. Best of all, it offers accurate results in matter of seconds.
Dictionaries for Different Languages and Professions
The world has people speaking different languages across the world and so, having just an English dictionary may not be sufficient. So, if you want to understand a word written in Hindi, Urdu, French or Korean, you may be in a fix. In such cases, having a foreign language offline dictionary can prove to be handy. Fortunately, the Microsoft Store app features some such foreign language dictionaries that are available offline. Also, you can access dictionaries for different professions.
Conclusion
There is no dearth of online dictionaries these days, but getting a reliable and free offline dictionary can be challenging. We have tried our best to shortlist some of the best free offline dictionaries in the market that can help you with your word queries on the go, anywhere.