Your PC desktop is the place where you save most of your important files. These are the files that you need to access frequently. You keep adding files and as they pile up, you need to look for them using the Windows Search function. But, with so many files saved on the Desktop, you need to create separate folders for each file type and this can mess up your desktop.
So, when you want to look for a certain file, it can be challenging to find the right one quickly. Here's when you need to use the search feature and the one that you automatically think of is the Windows search box. But the Windows search box does not usually livup toto the expectations. It can get really slow and flawed searching for files with a lot of indicators such as file name, type, size, location, etc.
So, for those who are frequently looking for files on the desktop, the Windows search is pretty basic. Hence, it would be better to use third-party search tools for Windows. Here we have listed some of the handpicked desktop search tools for Windows that make searching for file super convenient.

Everything is one of the leading desktop search tools that pulls up files and folders by name, instantly. It comes with a compact installation file making it easy to install. It sports a neat and straightforward user interface. The best part is, it indexes files quickly and even offers quick search. This tool takes up minimal resources to find the files you are looking for. While it helps you share files with others effortlessly, it also offers real-time updates.
Price: free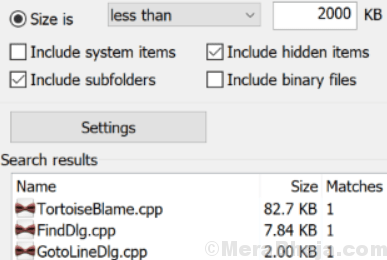 It's a simple desktop search software that can use standard expressions to search the files. This helps the tool to carry out more dynamic searches and restorations. The software adds an input to the shell context menu to look for the chosen folders, effortlessly. Once the software is launched, it lets you customize the search function or restoration feature in multiple methods.
Price: free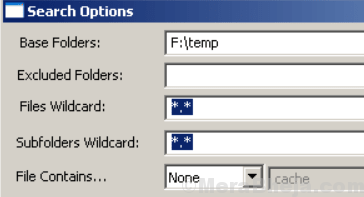 If you are looking for a lightweight app that's also available for free, SearchMyFiles can be the best option for you. It offers comprehensive criteria for carrying out the searches throughout the different drives and discs of your system. What's interesting is, it's ready to use from the beginning without the need of an extended setup.
That's not all, as you can also set searches to find in certain drives or folders, and omit others if required. The program also allows you to look for files with certain text or binary details, define the file size, and so on. You also have the option to search for read only, discreet, compressed, and password protected files. Overall, it's a detailed and effective desktop search program.
Price: free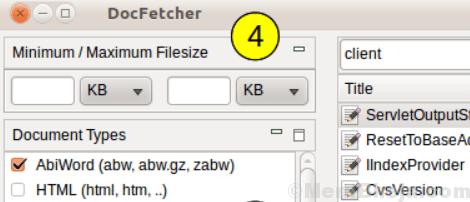 DocFetcher is a free and open source application targeted for desktop search. It lets you search the details of the documents on your system. It works more as Google that saves your local documents. The software offers preview pane with highlighting of the search term. Moreover, you can also sort and filter the results. The program supports various document formats such as MS Office, OpenOffice.org, PDF, HTML, plain text, RTF, etc.
Among its major features are,
supports Unicode,
offers support for archive,
search in source code files,
outlook PST files, finding HTML pairs,
regex-based omission of files from indexing,
Mime-type revelation,
query syntax.
It's a cross-platform tool that's available for both Windows and Linux.
Price: free and open source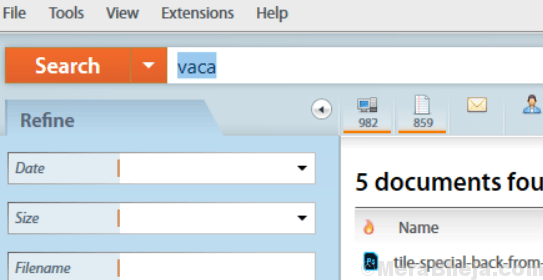 For those who want to search their computer files and emails, Copernic Desktop Search serves best. The free version offers users to index and searches more than 119 file types. The pro version offers to search for frequently used files such as Microsoft Office, Outlook, PDF, Cloud Services and so on. It allows you to look up for files everywhere, on each drive of your computer. Best of all, you start getting results as soon as you start adding your search query in the search bar.
You can even truly dig deep into the system files and recover just what you are looking for using the refine pane on the left side of the interface. On right-clicking on any file on the preview pane you can instantly find the file's context menu. Moreover, the tool completely supports Boolean operators like the AND, OR, NOT, Near, etc. What's more? The software also takes up the least memory and uses the lowest computer resources in the industry.
Price: 30-Day free trial available; upgrade starts from $10.99/Yr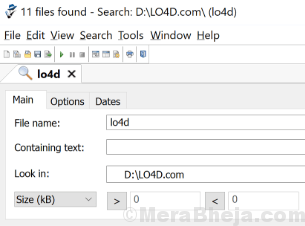 Agent Ransack is a free and highly customizable desktop search tool that helps you search with several parameters that are non-Windows search utility. Moreover, it starts working quickly on startup. It comes with a simple and responsive interface where you can search file names or text files. You can also mention the file size, search within a date range when the file was last changed, created, or accessed, and more.
While the software displays the search results in one window, it displays the items searched and found, and the search length in another window. It can locate even those files that Windows search cannot, and that is pretty fast. It's an easy to use program that comes with a well-written instruction manual and can be easily used even by the beginners.
Price: free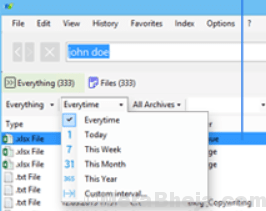 Lookeen, as they claim, is an ultimate desktop search software that finds all that you need and whenever you need. From searching in Microsoft Outlook, PST archives, or on Exchange servers, to Public folders, on the desktop, the program looks up for every email, every file, and every image instantly, despite its saved location. It indexes and searches endless list of files in all major formats. That's not all, as it can also be added as a search plugin in Outlook and does away with opening multiple programs.
Best of all, this easy to use program comes with a clean and responsive interface. It offers a clear view of all your data in the list of the search results, the advanced filters, and more. It can also be accessed from the Windows taskbar, or you can also double-click the CTRL key, irrespective of the program you are using. While it offers the freshest search results using the automatic real-time indexing, it also offers colored highlighting for the search results.
Price: 14-Day free trial; upgrade starts from $49.80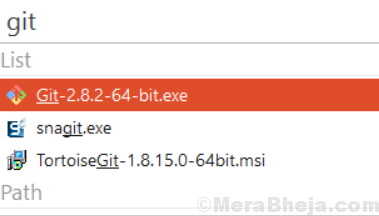 Listary is another great desktop search tool that offers a revolutionary way of searching your files on Windows. It helps you search your files and launching applications super fast, for both casual and advanced users. It does away with the hassle of browsing through folders, searching for the correct name, and looking through Windows restricted menus.
It features a lightweight interface that doesn't slow down your PC or stress your system resources. It also syncs with your favorite utilities, for instance, Total Commander, Directory Opus, XYplorer, Xplorer2, WinRAR, FileZilla, etc.
Price: free version available; upgrade available for $19.95


This lightweight program, AstroGrep is specially designed to search for files in a user-defined location. This is a portable application that doesn't leave any footprints behind in the Windows Registry. What's interesting is, you can transfer it on any USB flash drive or on any other devices. You can then carry it as and when you need to look for files on the go without needing to install it.
The program features a clean and responsive interface that helps you perform most of the functions easily. Using the application, you can mention the target location, or add filters by defining the extensions while you add the text. Among its other significant features are, an option to filter the search results by date and size, avoid private files and directories, prepare omission lists, and so on.
Price: free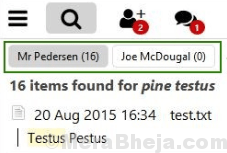 Exselo Desktop is another desktop search program that lets you search, collaborate, and share information in real-time through the password protected peer-to-peer technology. Using this software, you can productively look up and find the data you want from files and emails on your system, cloud storage, and network. Moreover, it allows you to quickly share your data with friends and co-workers, and even safely connect with them.
Among its major features are:
robust search engine
option for a local data index
simple and easy to use user interface
unified with Outlook
option to search for files, text, and images
quick result generation
quick data sharing
powerful password protection
distributed search facility
instant messaging facility
While the free version offers search, collaboration and sharing for all, the pro version offers functionality and priority support for all experienced users. The enterprise version, on the other hand, offers software deployment, single sign-on, access control, and logging of activity.
Price: free version available; $1.95/month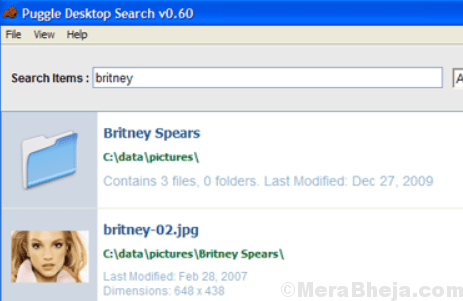 Look for the most used files on your system in a blink using Puggle Desktop Search. Setting up the software is a quick and easy process. Once the setup is complete, you can explore the features. But before that just make sure that your computer has Java Runtime Environment installed on it. Additionally, you can also use the Portable Puggle on the fly.
As the software runs for the first time, the configuration window comes up which allows you to take some time to define the behavior of the general application. It means that you can order the application to store the index file in a specified location. You can then start looking for files that interest you.
It sports a clean and simple interface that's easy to use. Overall, it's a trusted application that helps you find out and recover files that you want.
Locate32 is another great desktop search tool that looks up for files and directories based on names of the files and folders saved in a database. The program stores the names of all files to a database on the hard drives. Once the file indexing is complete, you can detect file quickly using the program's search option. It works similar to the "updatedb" and "locate" commands in Unix.
It means that it makes use of databases to save data about directory structures and makes use of these databases in the search functions. Using these databases helps in blazing fast searching speed. The program also comes with an application (dialog-based) along with console programs which can be used to update and use the databases. The tool is not chiefly designed to look for text or data inside files, but it has a basic feature to perform this function.
Price: free
Searching for files and folders on a cluttered desktop can be tedious, using the usual Windows search box. These are some of the best desktop search tools for Windows that serve as great alternatives to the Windows search option. So, switch to fast search with any of these tools and be productive with your time.