Microsoft PowerPoint is one of the widely used tools for making presentations. At any moment across the globe, there would be thousands of people engaged in creating a presentation or watching a presentation. The application offered by Microsoft has grown so popular that any corporate meeting is incomplete without a customary Powerpoint deck. While most presentations are boring and put the viewer to sleep, there are a few well-crafted ones that are a delight to watch. There are various ways to design a wonderful deck so that there is no dull moment in a meeting. However, while designing the presentation, there is a feature called the Design Ideas pane. This feature tries to provide ideas to improve the design layout of your presentation. While some may like this feature there are some who would not like all the suggestions shared. This might interrupt the flow of creative work for some people. This article will look at turning off the design pane when it is no longer required.
Turning off the Design Pane in Powerpoint
Step 1: Press the Windows+R button on your keyboard and type powerpnt in the dialogue box and click on OK.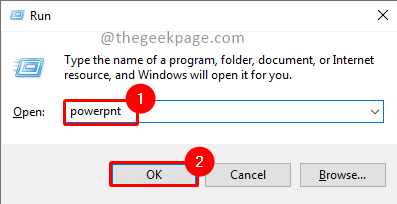 Step 2: In the Menu, go to Insert and click on Picture.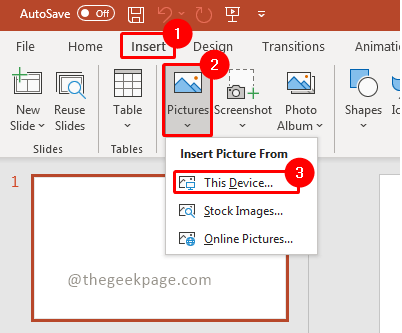 Note: For this example, we used an image from the PC. You can also use Online Pictures and Stock Images option as per your need.
Step 3: You will notice that the Design pane will appear on the right side of your slide.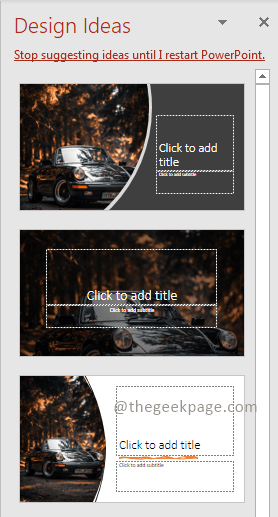 Note: The design pane can give you ideas to improve your slide layout and the visual appeal of your slide.
Step 4: Click on the File menu.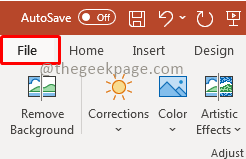 Step 5: In the File menu, select options.


Step 6: In the box that appears, scroll down under the General tab and you will see a section called Powerpoint Designer. Uncheck the checkbox that states Automatically show me the design ideas.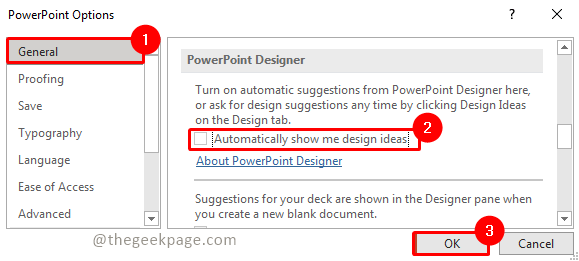 Note: this is the section that controls the Powerpoint design pane and it is checked to appear by default.
Now clearing the checkbox will ensure that next time you insert a picture there will not be any design pane with automatic suggestions for you. This will allow you to freely create the best presentation on the Powerpoint while annoying suggestions are not present.
Step 8: If in the future you want to use design ideas, go to the Designs menu and select Design Ideas. This will manually bring up the design ideas pane whenever needed, not automatically as before.


That's it!! Isn't it simple? Hope now you got rid of the annoying design ideas pane automatically popping up when you add a picture. Comment and let us know how you like to use the design ideas pane. Thanks for reading!!