Recycle Bin is "temporary storage" system software for files/folders which are no longer in use and are deleted from their directories. Files or folders which are accidentally deleted can be restored to their original location with the help of Recycle Bin. Files can be deleted permanently by deleting them from Recycle Bin.
What you want
Whenever a file or a folder is deleted from any of the hard drives (i.e. local disk drives), a confirmation box is displayed on the screen which says "Are you sure you want to move this file/folder to the Recycle Bin?" For this you have to enable attribute of Recycle Bin which allows a user to confirm whether he/she wants the specific file/folder to be removed from the directory.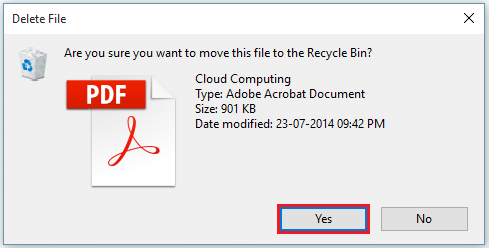 This feature was included in Windows 7 and all older versions of Windows. However, it was "turned off" based on the recommendation of many users in Windows 8. In Windows 10, this feature was brought back sighting the unawareness issues of deleting files/folders by the users.
Also read: – How to delete Files saying in use in windows 10
How to bring back delete Confirmation alert in windows 10 while deleting files
Step 1:
Right click on the "Recycle Bin" in your desktop screen. Click on "Properties".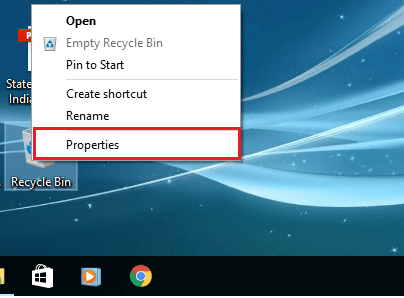 Step 2:
Here, you can enable the check mark to turn "ON" display deletion confirmation box.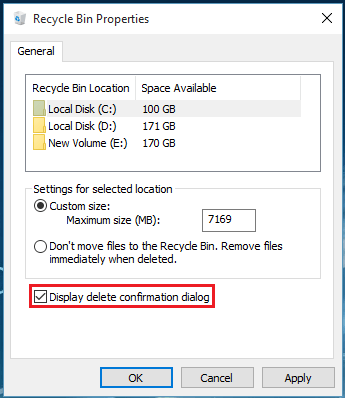 Step 3:
Now, whenever you wish to delete a file, right click on the file and click on "Delete". Alternatively, you can select the file and Hit the "Delete" Key. For instance, here we have selected cloud computing.
Step 4:
As we have enabled the option, a confirmation dialog box displays on the screen. Click on "Yes" to temporarily delete the file from the given directory.
Note: If you want to restore the given file, go to Recycle bin and right click on the file. Click on "Restore". Your file will be restored immediately.