The SafeSearch filter feature in Windows allows you to block adult content while searching on web. The new settings allow you to edit the SafeSearch filer in Windows 11 according to your requirement.
A built-in feature of Windows 11 helps you to search for content, files, apps, folders, answers and more from the web related to weather, stocks, or tools like currency converter, etc. All these information can be searched straight from the Start menu or Taskbar.
However, while searching on web for your queries, the links may often get directed to pages with content that are not fit for kid's viewing. As a matter of fact, while searching through the Windows search, it can preview content that's not appropriate for age. This may happen, especially, when the keywords you type, matches with the keywords of the results containing adult content.
Fortunately, Windows 11 comes with the SafeSearch filter feature that allows you to change the security level based on how you want it. For example, you can changes the settings to Strict, Moderate or Off. Best part is, the changes will also be applied to the Bing SafeSearch settings automatically as you search for an answer. Therefore, the SafeSearch filter helps to control what the search engine returns to you as a result.
But, not many users are conversant with the new changes and may face it as a challenge, especially if you are using Windows 11 for the first time. Hence, in this post, we will explain how to edit the SafeSearch filter in Windows 11 to restrict content that's not age appropriate.
How to Restrict Adult Content in Windows 11 via settings
Those who want the search results to return and show up in the Windows search function, SafeSearch can help you with that. Using the SafeSearch filter feature in Windows 11 you can control whether you want to see adult content in the search results or not. This can be done by editing the SafeSearch filters through the Settings app. Let's see how:
Step 1: Press the Win + I keys simultaneously on your keyboard and the Settings app opens up.
Step 2: In the Settings window, on the left side of the pane, click on Privacy & Security.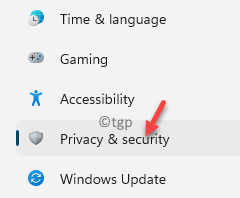 Step 3: Now, navigate to the right side of the pane, scroll down and under the Windows permissions section, select Search permissions.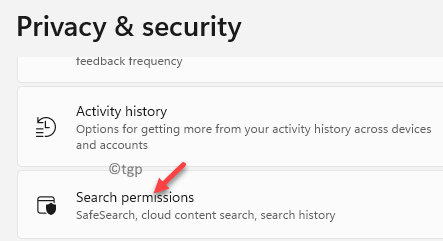 Step 4: In the next window, under the SafeSearch section, select Strict, Moderate or the Off option based on what you want.
Strict – Will filter out adult text, images and videos from my web results.
Moderate  – will filter adult images and videos but not text from my web results.
Off  – will stop filtering adult content from my web results.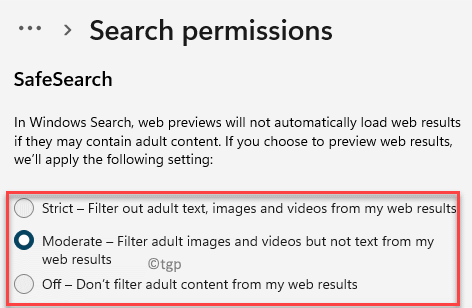 Once done, exit the Settings window, the web results should not show adult text, images and videos or only adult images and videos, but text, based on whether you select Strict or Moderate.
However, if do not want the filter to work, simply select Off and that should be it.
Turn on or off SafeSearch Filter in Bing
1: Go to Bing.com
2: Click on three horizontal lines icon at top right
3: Click on SafeSearch from the popped up menu

4: Select Off to turn off Safesearch or Strict to turn it On.