Our computer becomes clumsy with duplicate files and it's a whole lot of work to delete duplicate files manually. Windows do not give you the option to conveniently search for and delete duplicate files. There are many software tools that can do this job for you. One of them is SearchMyFiles by NirSoft. It's a simple and easy tool that can remove duplicate files in windows in a faster way.
With a variety of search options to filter the data, SearchMyFiles makes the search process easier. You can search using wildcards. You can narrow down your search by excluding file extension types and folders. You can use the Creation and Modification times to refine your results. Filters based on file size and content are also available. By selecting multiple folders, you can search numerous folders at once. It's a small, portable piece of software that you may put on a USB drive and use by plugging it in. Search results can be saved in XML, CSV, HTML, and Text formats. Let's look at how to delete/remove duplicate files in Windows using SearchMyFiles.
Steps to Remove Duplicate Files using SearchMyFiles:
First of all download the SearchMyFiles software from the official website of NirSoft here.
Step 1: Double click the application SearchMyFiles to open it.
Step 2:  In the Search Options window, keep the settings as in the below image. You can select multiple folders in the Base Folders option so that you can perform this action for multiple folders at a time.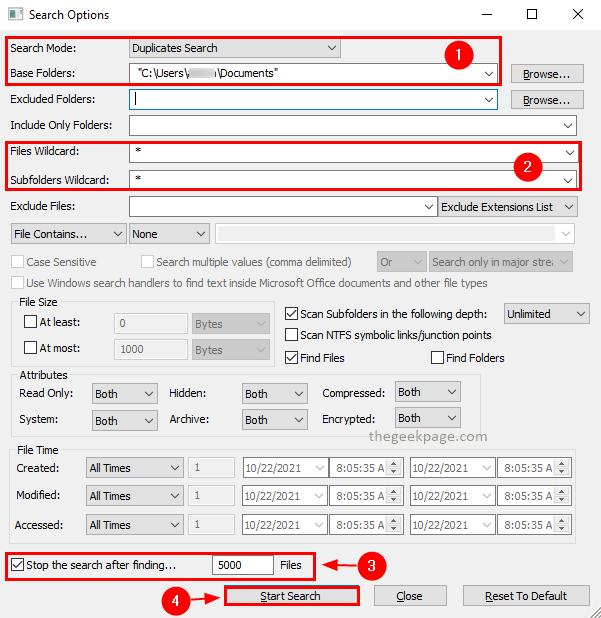 Note: It's best to leave the Stop the search after finding checkbox selected and use 5000 as the value. This is to avoid the tool being sluggish as a result of large files being processed. When there are a lot of files, it's also difficult to examine the results and take action.
Step 3: Once the Search Options are set, click on Start Search.
Step 4: After completion of the search, results will be displayed in the search results window.

Step 5: You can go to the Options menu and click Duplicate Search Options and select Show Only Duplicate Files in the context menu.

Step 6: Now the result will show only the duplicate files. You can select them all by pressing Ctrl+A. Now you can delete them by pressing the Delete key (Files will be moved to recycle bin) or Shift+Delete keys (Files will be deleted permanently). Press Yes in the confirmation popup to proceed with the action.
That's All! Now you don't have duplicate files. All duplicate files are removed for free by SearchMyFiles with easy steps. If you find this article useful leave us a comment below. Thank you for reading.