Outlook.com is a highly popular email service by Microsoft and is used by millions of users worldwide. While it's known for its added features, it also comes with its set of problems. For instance, many users have been reporting this strange issue where they can't find the Drafts folder on the navigation pane all of a sudden.
Imagine yourself in a situation where you have saved a draft of an email to be sent later and you don't find the entire Drafts folder. This can be frustrating, specially if you were supposed to send an important email. In this case, you must first check if the folder has been moved or deleted accidentally, and if it can be restored. If that's not the case and the folder is still missing, you can try the below fixes.
Method 1: By Resetting The Outlook Folders
Step 1: Shut down the Outlook mail box and press the Window key + R together on your keyboard to open the Run box. Now, type outlook /resetfolders in the search box and hit Enter.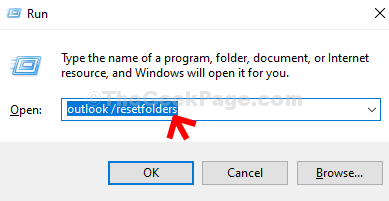 This will reset all the Outlook folders and then the Outlook mail will open with all the folders intact, including the Drafts folder.
Method 2: Running A Virus Scan
It can be possibly due to a virus or a harmful software that can hack your data or attack your apps. Therefore. the first thing to do would be to scan your apps for viruses and get rid of them accordingly.
While you can run a virus scan using a third-party antivirus, preferably a paid software for better results, Windows 10 users can also run a virus scan using the built-in Virus and threat protection.