With Windows 10, Microsoft unveiled its new browser called Microsoft Edge. Despite its impressive performance, better html5 support, new rendering engine and many more, it lacked one major feature dubbed "Extensions". For those who are unaware of extensions, these are the little software or we call it the plug-ins that can be installed on the browser for additional features. Like we can install an ad blocker to disable the ads and many more. But with Insider Preview, Microsoft is getting a whole lot better. Though Google Chrome has been offering them for quite long now. Recent updates of Microsoft Edge squashed some major annoyances and bugs. But Now it seems Microsoft, has finally been finally preparing Extension support for Microsoft Edge as promised earlier.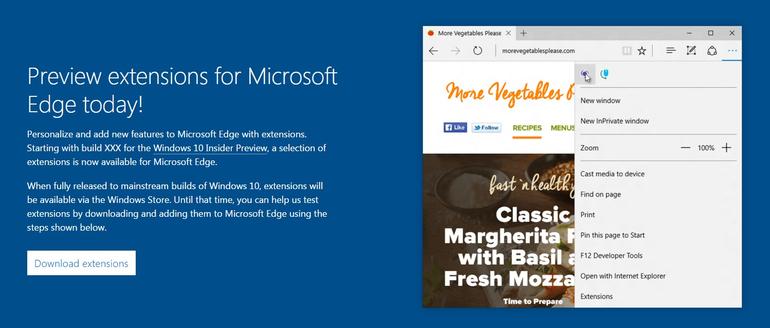 If leaks are any true, then we can finally expect to see the first test version of Extension support for Microsoft Edge in the upcoming 'Redstone' Update builds of windows 10. Initially Microsoft wanted to release the first preview version of extension at the end of 2015. But things didn't go the way they wanted, and Microsoft was forced to delay the extensions to first half of 2016. Hope this time they won't mess it up and deliver the update as planned.
According to the Microsoft Extension Edge Page (which is now pulled down by microsoft), Insiders will be able to see extensions such as Microsoft Translator, Reddit Enhancement Suite and Mouse Gestures in the upcoming builds.
According to the page, The Microsoft Translator is believed to be able to "translate foreign language pages for 50+ languages", while The Reddit Enhancement Suite extension is "a set of modules" for enhancing Reddit Experience, and the Mouse Gesture Extension will be able to "allow customers to perform basic browsing tasks by right-clicking and then gesturing with the mouse."
The page also describes on how to install the Extensions. According to it users should download the extension, select the ellipses button (…) > Extensions > Load Extension then should choose the extension folder and "select folder". It is also believed that once they are developed, the users would be able to download them from the unified Windows Store.
Microsoft's placeholder page also says: "These extensions have been validated by our team and are expected to work with the preview build XXX. We'll be adding more extensions as we build out our extension platform with your help."
It's now only a matter of time before we finally begin to see extension support coming to Microsoft Edge.