While buying a used laptop, we generally check for its performance, screen display and other ports if its still working or not. But most of the people forget to check the battery health of the laptop before making the buying decision. Laptop batteries are rechargeable batteries so it gives you battery cycle after its been fully charged. Battery cycle count shows the sign of battery capacity which will last the battery for several years depending on the charging pattern. For Eg:- If the fully charged battery is drained till 80% and later charged again to 100%, then battery cycle count is incremented. So it is always a good practice to let the battery cycle count be the minimum. The less the battery cycle count, the healthier will be the laptop battery. So in order to know how to check your laptop battery cycle count or capacity, please continue reading this article which will guide you through simple steps.
Steps to Check Your Laptop Battery Cycle Count
Step 1: Launch the Command Prompt.
Press Windows Logo key + R together to open Run Dialog box.
Then, type cmd and Hit Enter key on your keyboard.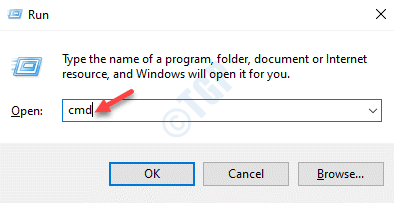 Step 2: In the Command Prompt window, Copy and Paste the following code snippet.
powercfg /batteryreport
Hit Enter key.

Step 3: The Battery life report will now be saved to the following path.
C:\Users\%username%\battery-report.html
To access this report:
Open File Explorer by pressing Win Key + E together.
Go to address bar and Copy & paste the above path.
Then, Press the Enter Key.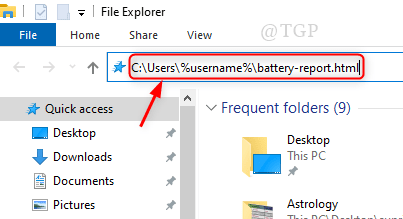 Step 4: This will open the battery report in the default browser (eg:- Google Chrome) on your system as shown below.
You can scroll down to read the rest of the battery report which contains battery capacity and history.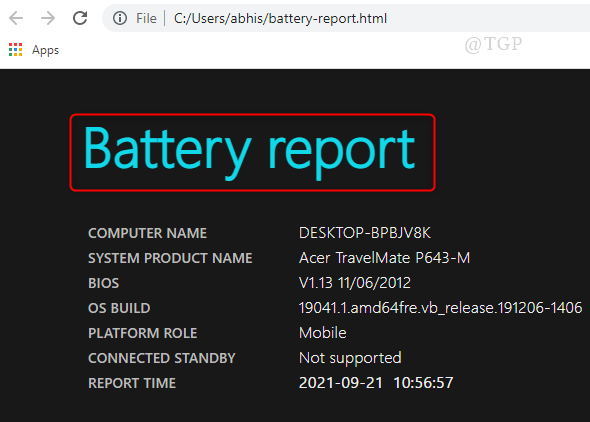 This is the easiest way to check your laptop battery health before buying new battery or used laptop.
Hope this article was helpful and if there is any doubt, please leave us comments below.
Thanks for reading!