Users are facing the issue of the keyboard is not working in Google Chrome. It becomes tough to operate when the keyboard doesn't work. Users are not able to type anything in the browser and hence frustrating to use Google Chrome. Are you one of those users? Don't worry. We have tested fixes for this problem which will help you to resolve your issue.
Fix 1: Press the Windows key twice
Yes!! It works. Many users have resolved the keyboard not working issue in Google Chrome by pressing Windows keys twice in the browser.
Step 1: Open Google Chrome.
Step 2: Press the Windows key twice.
Step 3: Check whether the issue is solved.
Fix 2: Try switching between applications
Sometimes due to minor bugs application will not be in the active state, even though it is open. Switching between apps will help to make the application active.
Step 1: Open Google Chrome.
Step 2: Press Alt+Tab keys to switch to another open application.
Step 3: Press Alt+Tab keys again to open Google Chrome.
Step 4: Now check whether you are able to type in Google Chrome.
Fix 3: Open task manager and close Google Chrome
Some processes turn zombie if the app was not closed properly due to bugs.  This makes it a stale process, creating confusion in software functionalities. You can end that process from the task manager and try to relaunch Google Chrome to solve the issue.
Step 1: Press Ctrl+Shift+Esc keys to open task manager. Press Yes in the User Account Control popup when prompted.
Step 2: In the Processes tab, search for Google Chrome process and select it. Click on End task button.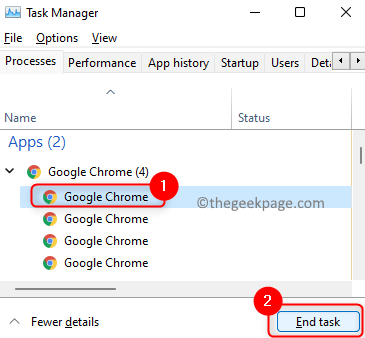 Step 3: Now launch Google Chrome again and check keyboard is working or not.
Fix 4: Modify and check Antivirus
A few users reported the issue has resulted from the antivirus. So check the issue after disabling the antivirus or uninstalling it. If this works, then you might have to think of switching to other antivirus softwares.  Antivirus is very much required to protect your system from malware.  Uninstall only to check whether the issue is resulted by antivirus software. Once tested reinstall or change.
Fix 5: Turn off or Uninstall the Extensions
Malicious extensions in Google Chrome result in this error. If you have recently installed any extension, after which you are encountering this problem, try to disable that extension or remove it completely.
Step 1:Click on the three dots on the top right corner of the browser. From the options select More tools, then click on Extensions in the submenu.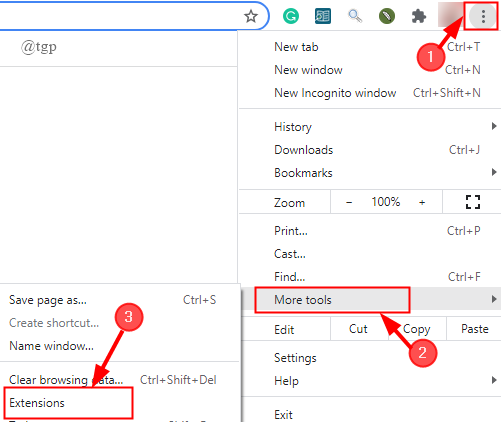 Step 2: Click on the Remove button to remove the extension completely. If you want to disable it click on the toggle button.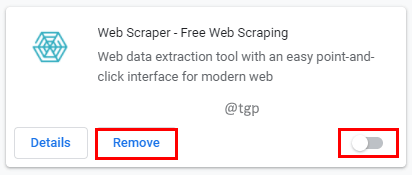 Step 3: Now reopen Google Chrome and check the issue.
Fix 6: Disable Hardware Acceleration
Step 1: Select Settings from the three dots at the top of the screen.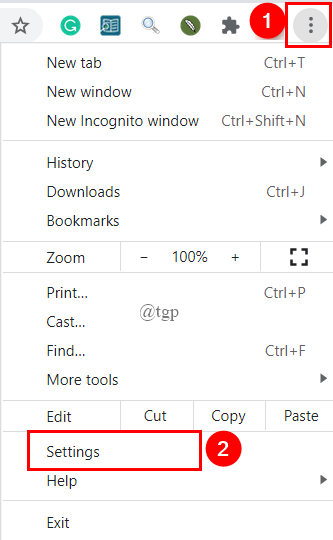 Step 2:  Search Hardware acceleration in Search box of Google chrome browser.
Step 3: Turn off the Use hardware acceleration when available toggle button in the System section.


Now, Close the chrome browser and open it again and then try again.
Fix 7: Clear Browsing Data
Step 1: In Google Chrome, press the Ctrl+Shift+Delete keys.
Step 2: Go to the Advanced tab in the Clear Browsing Data window and pick All time in the Time range. Clear data by selecting all of the checkboxes below and clicking the Clear data button.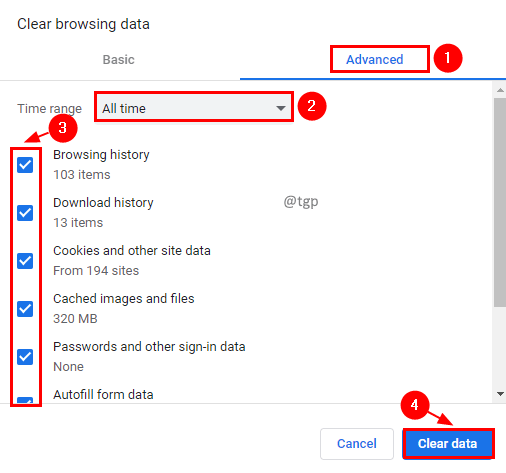 Step 3: Now open the browser and try typing in Chrome again.
Fix 8: Reset the Chrome Settings
To fix the problem, try resetting your browser's settings.
Step 1: Select Settings from the three dots at the top of the screen.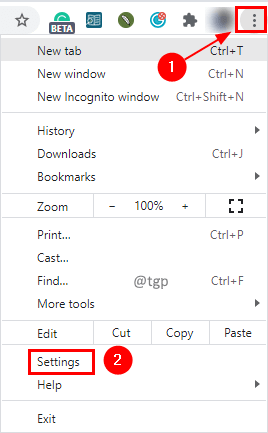 Step 2: Select Advanced Settings from the left menu. Then click on Reset and clean up from the expanded menu.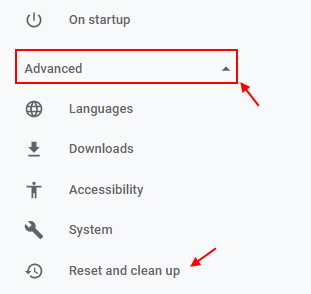 Step 3: Select Restore settings to their original defaults from the Reset and clean up section.


Step 4: To reset the settings, a confirmation popup will display; click Reset Settings.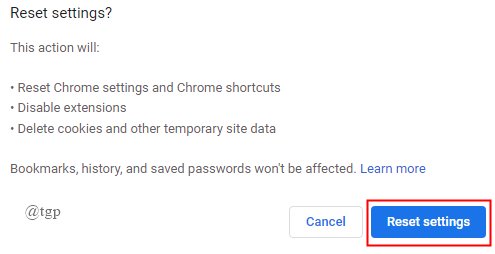 Fix 9: Uninstall and Install Google Chrome
To resolve this issue, try uninstalling and reinstalling the Google Chrome application.
Step 1: On the keyboard, press the Win + I keys.
Step 2: Select Apps from the Settings menu.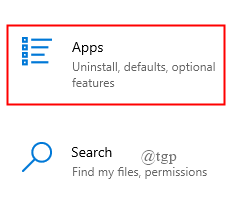 Step 3: Look for Google Chrome in the list of Apps & Features and choose it. Click Uninstall Button.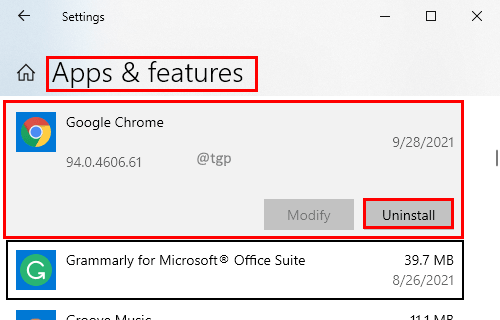 Step 4: After uninstalling Google Chrome, reinstall it from the Windows app store.
Fix 10: Switch to Different Browser
Google Chrome has reported many issues like high RAM usage, Data Privacy, Zombie Process, etc. You can also look into alternative browsers. Safari, Firefox, Internet Explorer & Edge, or Opera could be the ones. In comparison to Google Chrome, these browsers may include new features that you may enjoy and find more useful. It's worth a shot.
Please 
let 
us 
know 
which 
solution 
worked 
for 
you 
in 
the 
comments 
section 
below. 
Thank 
you 
for 
taking 
the 
time 
to 
read 
this!!