Voice recognition has been a boon to the windows users since its launch. Voice access allows users to control and manage the tasks on your windows 11 computer if it is enabled. You can just instruct it by saying like " Go to Desktop " and immediately, it recognizes the voice and follows and you will reach desktop. Imagine you are not working alone and you have few people around talking, then the system will recognize their voice too and can get manipulated and working on your system might get disturbed. Also, the voice access starts up automatically every time windows boots up. In this post, we are explaining how to disable voice access from starting automatically in Windows 11.
How to Disable Voice Access from Starting Automatically in Windows 11
Step 1: Press Windows + U keys together on your keyboard to open Accessibility page on your system.
Step 2: Then, Scroll down the page and select Speech option as shown below.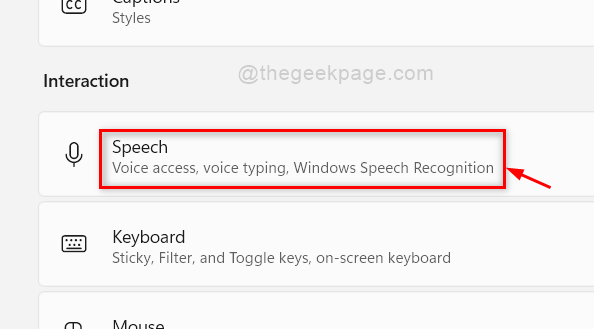 Step 3: In the Speech page, Make sure Voice access is enabled by clicking on the toggle button to turn it On.
NOTE : Voice Access feature was introduced by Windows 11 with the release of Windows 11 Insider Preview Build 22518 or the latest for the users enrolled under dev channel of Windows insider program. Therefore please go to windows update in Settings app and check for updates and download & install the latest release.
Step 4: Then, Uncheck the Start voice access after you sign in to your PC checkbox as shown below.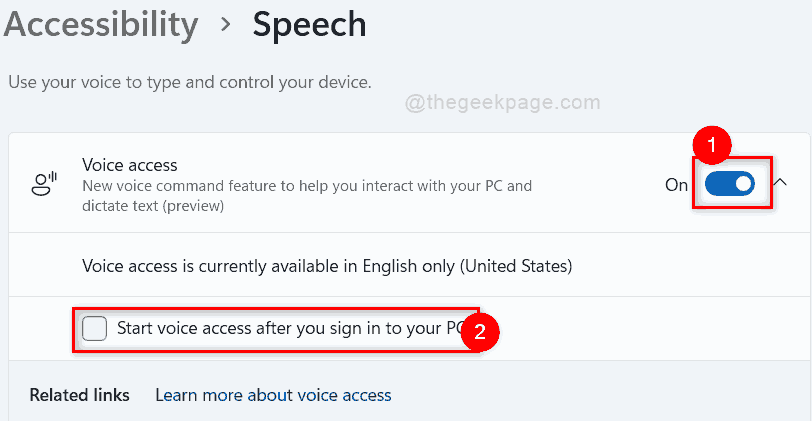 Step 5: Once done, Click the Accessibility window.
Now here after the Voice access will not be started automatically whenever you sign in to your system.
That's it guys.
Hope this article was informative and helpful.
Please let us know in the comments section below.
Thank you.