An Internet browser is a tool we often rely on to navigate through the internet to discover the best of the cyber world. Since the launch of the internet, the browser which always stays in the background has become an indispensable application. Microsoft had entered the browser game through Internet Explorer which was the subject of memes all these years. However now the company has decided to stop Internet explorer for good and launched Edge. The Edge browser is efficient, helps you stay organized, and puts you in control of the browsing all the while remaining in the background. You may have opened multiple tabs and gone through multiple sites on the internet over the course of the day. Sometimes the browser is closed due to multiple reasons and we may find it difficult to get back all the tabs when we reopen the browser. Sometimes you may not get the prompt to reopen such accidentally closed tabs. As a workaround, you can use the below steps to recover accidentally closed tabs.
Reopening all the closed tabs on Microsoft Edge
Step 1: Open the Edge browser to check if you are getting a restore prompt. If you get the prompt, select Restore in the prompt to open the earlier closed tabs.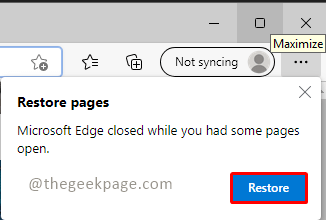 Note: The browser could have crashed earlier or you might have closed it by mistake. The new browser will only open a single tab. If you have not got a Restore prompt, don't worry. Continue further with the below steps.
Step 2: Click on the 3 dotted lines(…) in the top right corner of the browser and click on History from the dropdown.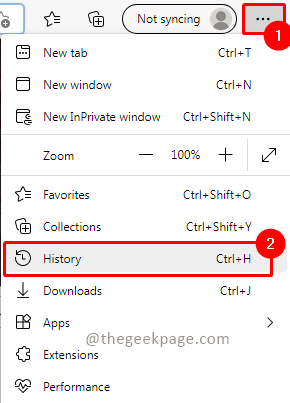 Step 3: In History, In the Recently closed tab, you will have the closed tabs as a group. You can expand it to check which all the tabs will reopen. Just click on the group to open all closed tabs.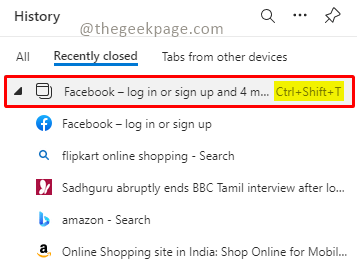 Note: As you can see in the above screenshot, you can use the shortcut Ctrl+Shift+T to restore the tabs as well.
Now you have the restored tabs ready to use and you can start browsing and navigating to your favorite sites. Did you know some people keep up to 30  active tabs at any given moment? Please let us know in the comments how many minimum browser tabs you keep open while browsing?