Sometimes you might feel like your Taskbar is taking up way too much of your Desktop space. Well, is there a toggle button that you can slide that will magically reduce the size of the Taskbar and its icons? Well, not a toggle button, no! But there definitely is a way even though it is not very straightforward.
In this article, we explain in some simple steps how you can easily reduce the size of your Windows 11 Taskbar and its icon with a simple registry tweak. Enjoy!
Note: Since this method involves making changes to your registry settings, it is highly recommended that you take a backup of your registry settings before you go ahead. Please note that incorrect registry settings can cause serious system instabilities.
Steps to Reduce the Size of Taskbar
Step 1: Launch the Run window by pressing the Win + R keys together. Once it launches open, type in regedit and hit the Enter key to open the Registry Editor.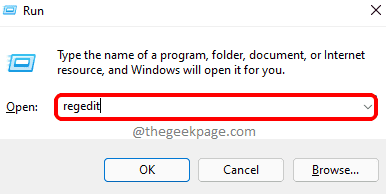 Step 2: In the Registry Editor window, copy & paste the following location in the navigation bar.
HKEY_CURRENT_USER\Software\Microsoft\Windows\CurrentVersion\Explorer\Advanced
As next, right click on the folder named Advanced, click on the New option and then on the DWORD (32-bit) Value option.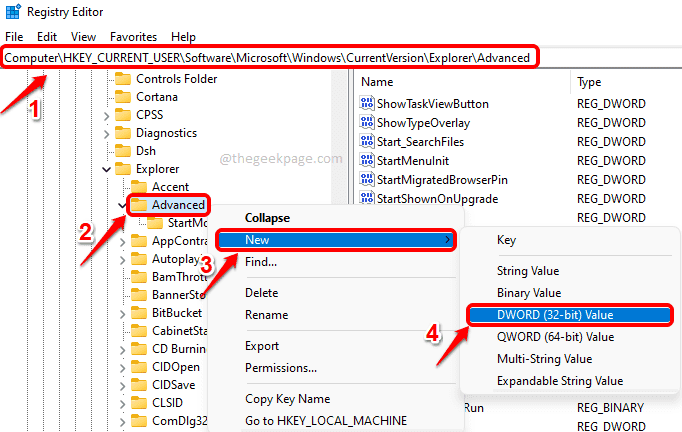 Step 3: A new DWORD (32-bit) Value would now be created on the right side of the Registry Editor window.
Click on the newly created key and then press the F2 key to rename it.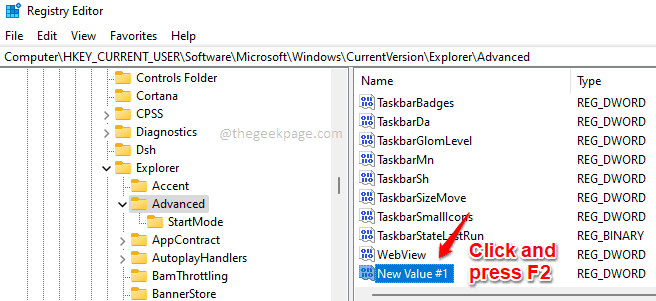 Step 4: Give the name of the newly created key as TaskbarSi.
As next, double click on TaskbarSi and give 0(Zero) in the Value data field.
Hit the OK button once you are done.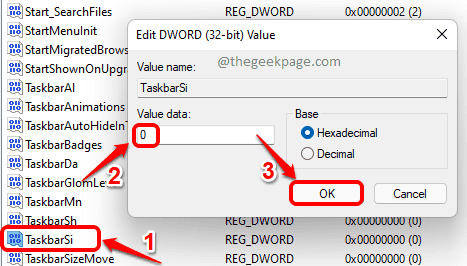 That's it. You are done. You now need to either restart your machine or simply restart Windows Explorer for the changes to take over.
Follow steps 5 and 6 to learn how you can restart Windows Explorer.
Step 5: Right click on the Windows Start menu icon and then click on the Task Manager option.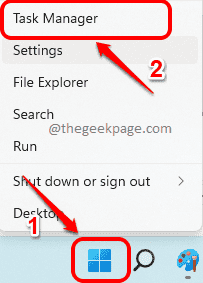 Step 6: In the Task Manager window, click on the Processes tab at the top.
Now scroll down among Apps listings and find the one named Windows Explorer. Right click on it and then choose Restart option from the right click menu.
Note: If you can't find Windows Explorer under Apps, then scroll down and look for the section named Windows Processes. Under this section, you should be able to find Windows Explorer.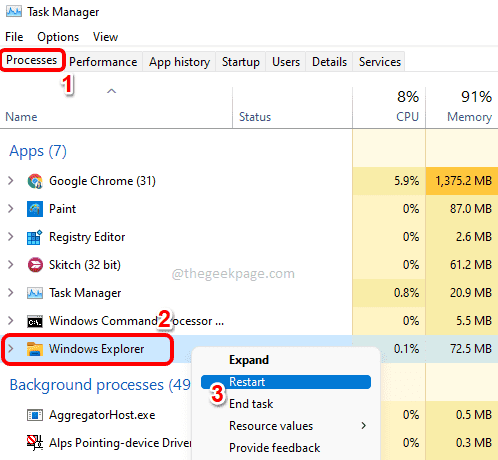 Your Taskbar should now be smaller. If you want to revert this feature, simply click on the TaskbarSi DWORD value that you created on Step 4 and press the delete key.
Hope you found the article useful.