Some of Windows 10 users are reporting about a shutdown problem on their device. As they are shutting down their system, their computer is showing a black screen even when the device should be completely switched off. The users are able to shut down their devices completely only with the power button. This problem generally happens when Windows turn off the Intel Management Engine Interface to save power on your device. If you are facing the same problem on your device, don't worry. There are fixes available to solve your problem. Follow these fixes to solve the problem.
Fix-1 Disallow your computer to turn off IMEI-
1. Press Windows Key+R to launch Run. Now, type "devmgmt.msc" and hit Enter. This will open Device Manager window.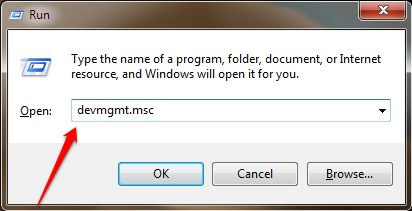 2. Now, in the Device Manager window, expand "System devices" and then in the expanded list, double click on "Intel(R) Management Engine Interface".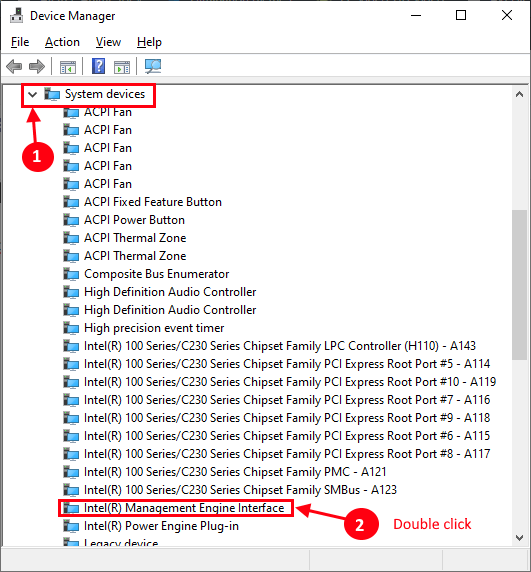 3. In the Intel(R) Management Engine Interface Properties window, go to the "Power Management" tab. Uncheck  the option "Allow the computer to turn off this device to save power" and click on "OK" to save the changes.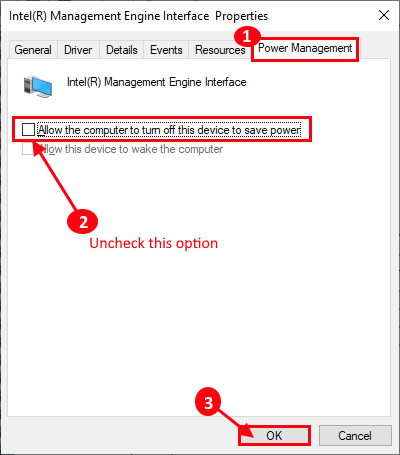 Close Device Manger window.
Shut down your computer and check if you are still seeing the black screen. If the problem continues to bother you, go for the next fix.
Fix-2 Change what power button does-
1. Press Windows key+R to launch Run window, and type "powercfg.cpl" and hit Enter. Power Options window will be opened.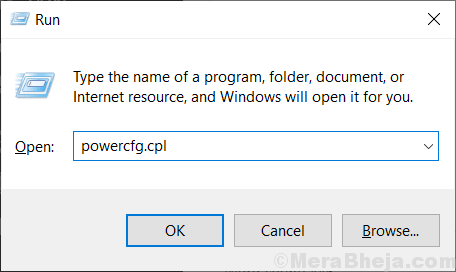 2. Now, on the left hand side of Power Options window, click on "Choose what the power buttons do".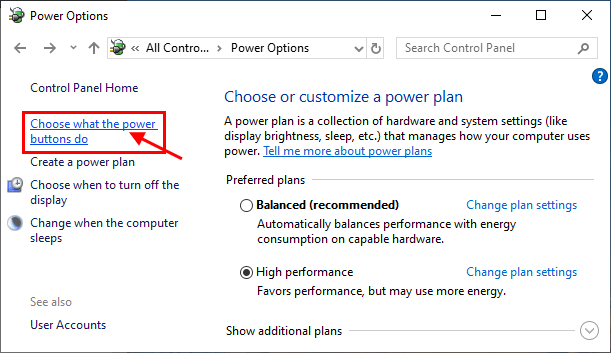 3. Now, in the System Settings window, click on "Change settings that are currently unavailable". Uncheck the option "Turn on fast startup (recommended)"  and finally click on "Save changes" to save the changes on your computer.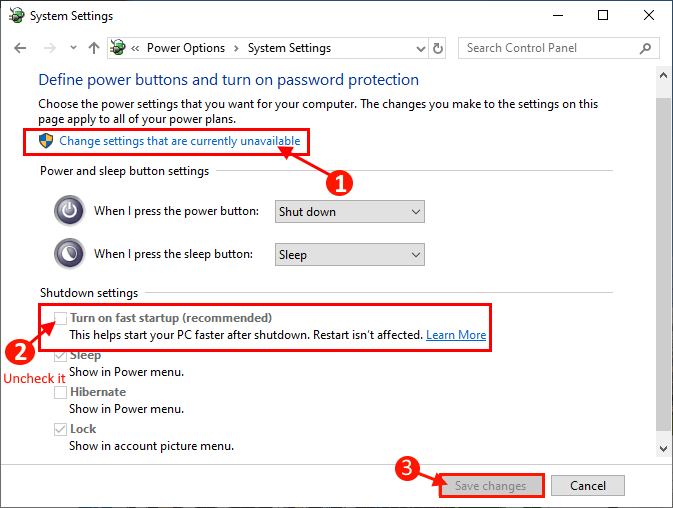 Shutdown your computer and check if black screen is still appearing or not. If you see the black screen is still there, then go for the next fix.
Fix-3 Update your Graphics driver/Display Driver-
1. Right click on the Windows icon on the left most corner of your screen, and click on "Device Manager". Device Manager utility will be opened.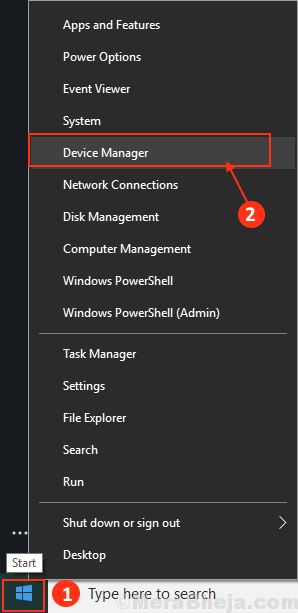 2. Now, in the In the Device Manager window, find "Display adapters" from the list, click on it to expand it. Now, from the drop-down right click on the graphics driver (Example- "NVDIA Geforce GTX 1050 Ti" for our system) you are using and then click on "Update driver".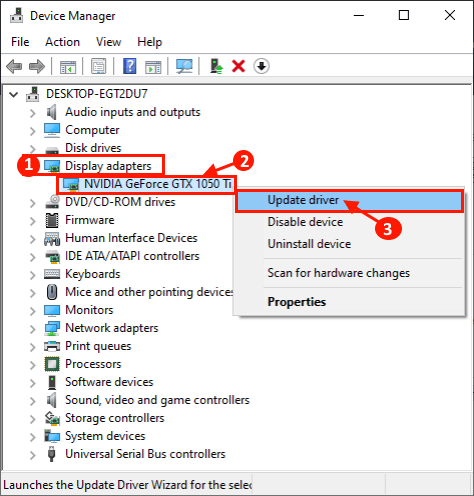 3.You will be asked "How do you want search for the drivers?". Just hit Enter to choose the option "Search automatically for updated driver software".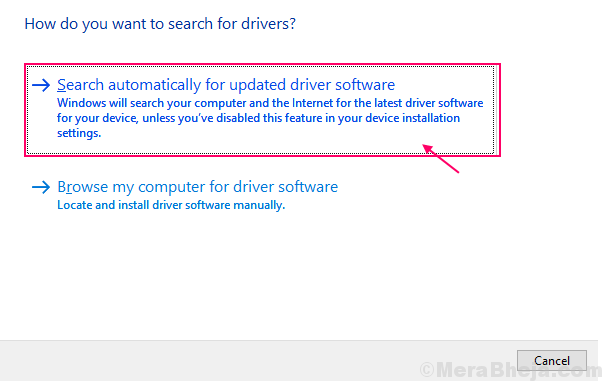 Wait till Windows searches for compatible driver for your graphics , downloads it and installs it.
Now, if you see a window saying "The best driver for your device are already installed.". Then, click on "Search for updated drivers on Windows Update". You will have your driver installed along with the future Windows Updates.

5. Press 'Alt+F4' to close the Device Manger window.
Reboot your computer.
Or, you can update your graphics driver manually –
(FOR NVIDIA DRIVER USERS ONLY)
Search "Nvidia drivers" from your browser and click on "Download Drivers|NVIDIA".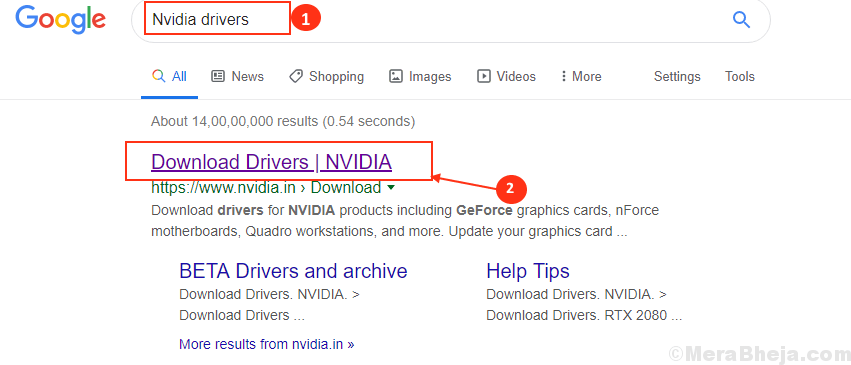 2. Now, in this window, under 'NVIDIA Driver downloads' section choose "Product type", "Product series", "Product", "Operating System", "Windows Driver Type", "Download Type" according to your driver specifications. Now, click on the "Search".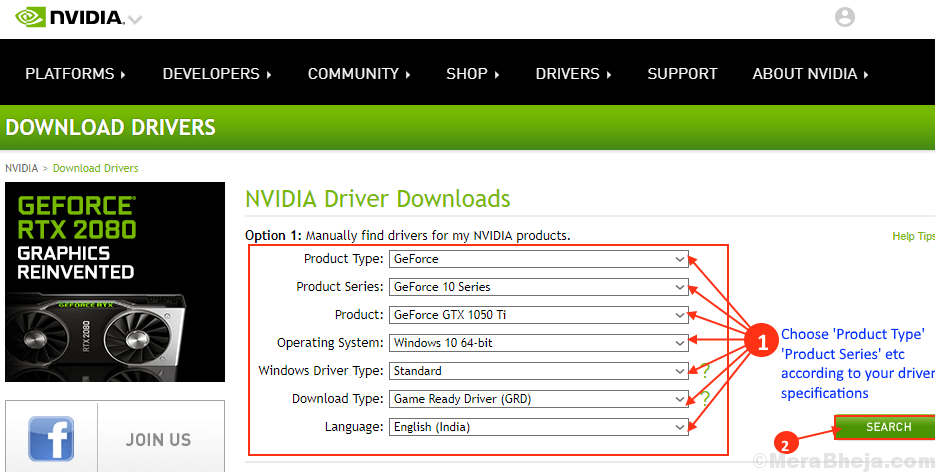 3. Now, click on "Download" to download the driver.

4. Locate the downloaded application on your disk. Now, double click on it to start the installation process of the driver. Click on "Yes" when you are prompted by User Account Control.

Follow the on-screen instructions to complete the installation process. Restart your computer to finish the installation process.
After rebooting, you should not be seeing the black screen on your computer.

Sambit is a Mechanical Engineer By qualification who loves to write about Windows 10 and solutions to weirdest possible problems.