There are two types of apps that run in your android phone.One of them starts  when you open them up and the other would open up without your knowledge. The apps that open up without your opinion are those which would help other apps find your location,contacts and other important information related to you. Though they are very helpful as you don't need to retype your information and sync your contacts, they consume a lot of battery and memory which you might feel a bit disappointed with. It depends on how well they are coded.A well coded one wouldn't consume much battery and RAM compared to the poorly coded one.
A notification will pop up when the ones in the background start running.If you find that your phone's battery is draining fast,or your storage isn't much up to the mark,then you can very well check for them in the Application Manager. Also the ones always running can be found out along with the battery they consume.
See also : How to find and stops running in Background in Windows 10
Here are the tips to disable and stop a few of them.
To find out the apps always running in background
Step 1:
You should first enable Developer options.To do  that,go the About device option in the settings page and tap on build number option many times.Developer option turns on automatically.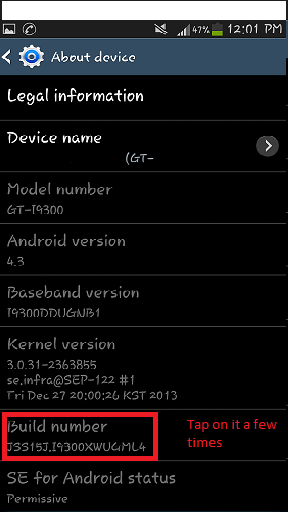 Step 2:
Now go the Settings and tap on the Application Manager option.