Do want to check which version of Microsoft Powerpoint you are using on your computer? It is easier than you think and you can do it in just a few steps and in under a minute. In this article, we have enlisted all the possible ways you can check the current version of Microsoft PowerPoint (or any other MS Office app).
Way 1 – From Account settings
You can do this easily while using Microsoft PowerPoint.
Step 1 – On the Microsoft PowerPoint page, click the "File" menu.
Step 2 – Then, click "Account" to open that up.

Step 3 – Now, just look at the right pane.
You shall see which version of Office you are using.
In our case, it is Microsoft Office Professional Plus 2016.
Way 2 – Using Settings
You can easily do it using the Setting page.
Step 1 – Open Settings.
Step 2 – Go to the Apps page.
Step 3 – There, you have to open the "Installed apps" section.

Step 4 – Then, write in the search box "office".
Step 5 – You will see Microsoft Office in the search result.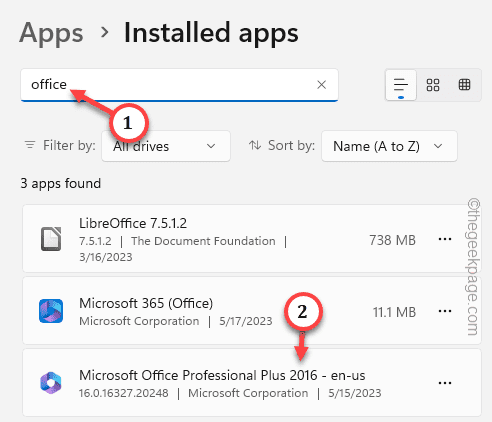 It will show you the current version of Office installed on your computer.
Like, in our case, it is "Microsoft Office Professional Plus 2016 -en -us". So, the version of the installed PowerPoint is 2016.
Way 3 – Use the Office 365 app
You can directly know the version of MS PowerPoint directly from Office 365.
Step 1 – Just hit the Windows icon on the taskbar.
Step 2 – You can see the Office 365 app on the Start menu page.

You can directly view which version of the Microsoft PowerPoint you are using.