Often, a good game from the Windows Store takes a lot of space in gigabytes and the default download location of Windows / Microsoft Store is set to C Drive. If your C drive is getting cluttered even more because of this, a simple solution would be to change the default download location of Windows Store app to some other drive so that your C drive is left with some free space. Read on, to learn how to achieve this in some very simple steps:
1. Bring up the Windows Settings app by pressing the WIN+I keys together. When it opens up, click on the tab that says System.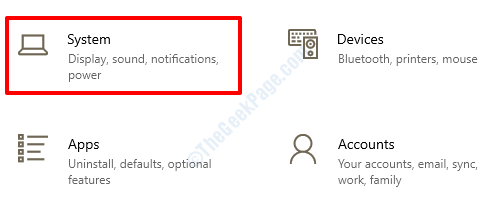 2. Now in the left pane of the window, look for the option that says Storage and click on it to open the Storage Settings.
In the right window pane, you will now be able to view the Storage Settings. Scroll down and find the section that says More Storage Settings. Under More Storage Settings, click on the option Change where new content is saved.

3. Under Change where new content is saved, you will find a section that is named as New apps will save to. This will, by default, be set to Windows (C:) drive. Click on the dropdown menu associated with this section and choose the drive where you want the new apps from the Microsoft Store to get downloaded and get installed at.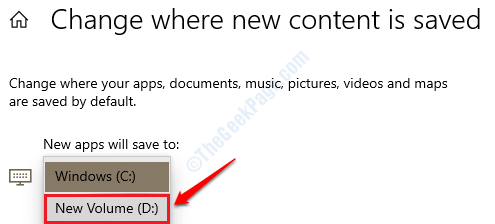 4. Once you change the drive, you will get the Apply button as shown below. Click on it for your changes to take over.


5. That's it. You can now go and install a new application from Microsoft Store. To verify whether it is getting downloaded to your newly chosen drive itself, open that drive in windows File Explorer and look for the folder named WindowsApps. If it is present, it means you're all set.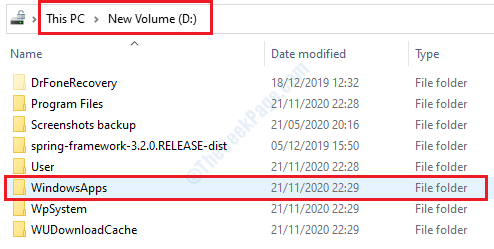 If you already have some apps installed in C drive, but want them to be moved to a different location, you do not have to re-install them all over. You can simply move these apps to a different drive. All the steps to do this are detailed in our article How to move apps to another location Windows 10.