A man earns money to satisfy his needs. He can buy products and services by paying adequately. But, sometimes it may so happen that he spends too much on unnecessary products. Unnecessary here means things that may not be required at all at that point of time. These things can be either postponed to be bought at some later date or not bought at all. And we also know the fact that the resources are limited and there is a need of 'Prioritization'. Commonly, it is called as managing expenses or managing money. And in a more technical term, it is known as 'Money Management'. 'Money Management' is all about control. How much will you spend? How much will you save? Where to invest? Which investment can yield best result? There are incomings and there are outgoings, and then we have something called as Balance. And this is specifically difficult to manage. Warren Buffet does have amazing tips on this part for sure.
Read: Best PayPal Alternatives
Technologies undoubtedly have made lives easy. And there are softwares in the market that help you in managing your expenses. Yes, you read it right. These 'Money Management' softwares help you in organizing your cash-flow in a better way. Softwares which help you in planning your finances and that have a systematic approach. Some Softwares are capable of analyzing your spending pattern and give you inputs by a drawing out charts. While some softwares let you set alerts and reminders about invoices and bills to be paid. There are powerful softwares available in the market which can let you forecast future trends based on the current patterns. One should carefully pick softwares based on his requirements, as the complexity of the softwares may vary.
Also read: – Top Free Online Invoice maker tools
Now, let us dig deeper into this by discussing specifically the Money Management Softwares available for Windows.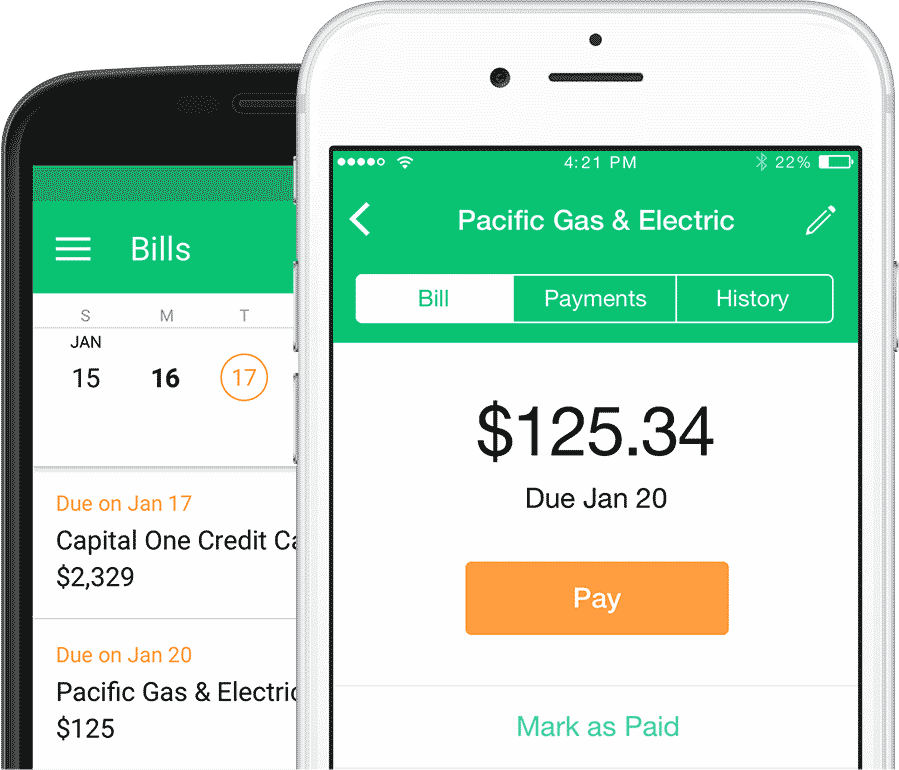 Mint is one of the best personal money management apps all out there. it currently has more than 10 million users on its platform. With Mint you can Create budgets and  See all your bills and money together so that you can easily figure out your due bills and the bill amount as well as the finance left in your bank account. users also Receive alerts for unusual account charges which is deflected from the normal to detect financial fraud easily, and get tips for money saving. You can also get your free credit score with mint.
Quicken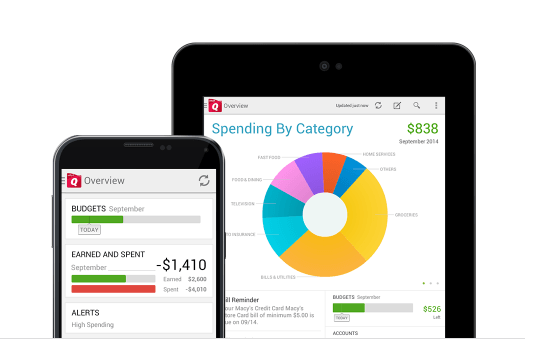 Now, Quicken is some serious software for people who would want to go one level further in using Money Management software. This software is basically designed to handle more complexity. It not only does track transactions but also help in keeping a tab on loans borrowed, retirement plans and other complicated budgeting options. There is a space for a lot of customization to happen with Quicken Deluxe. Quicken Deluxe 2015 has more advanced budgeting options as compared to its previous versions. Quicken also has a mobile version available for mobile users. Quicken also comes with 3 different versions, each version is developed to focus on its special characteristics. For example, the Quicken Basic version focuses more on working on the budget and categorizing the expenses. Quicken Basics is priced around $30. The Quicken Deluxe version focuses on managing the financial accounts and reducing the debt and cutting down the costs. Quicken Deluxe is priced around $65. While Quicken Premier is the most advanced version of all the versions. Quicken Premier focuses mainly on 'investment' part, as to how to maximize them. Quicken Advanced is priced around $95.
The loan feature in the Quicken can give you an idea about the relation between interest rates, EMIs and Principal amount.
Download link:- http://www.quicken.com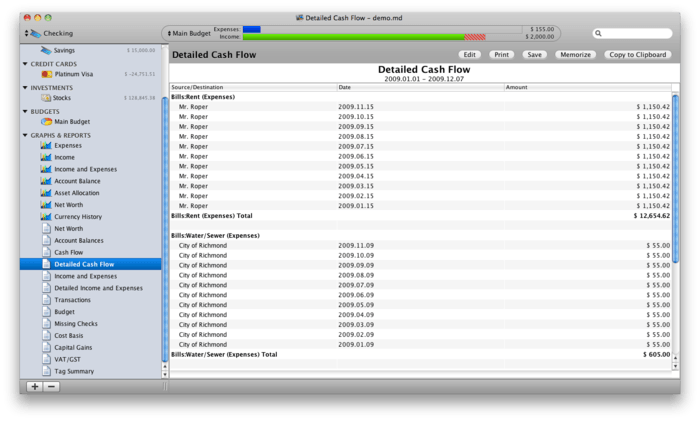 Moneydance is software that allows you to record your transaction according to categories. Initially, you need to set an account with Moneydance. Post this, you can always choose to categorize your expenditures and incomes. Once you are done, Moneydance quickly analyzes your pattern and does all the classification all by itself. This software also helps in making budgets. Budgets either can be made entirely from the beginning or past data can be used to make a new fresh budget. Another common feature is being able to set up reminders on the calendar. One can also manage investments and monitor Exchange rates on Moneydance. It is important to check if all the financial institutions are listed so that transactions can be downloaded. Some institutions charge you a fee to do that. The software has good features and it can be improved further if made more user-friendly and by making it more compatible in terms of appearance and software support.
GNUcash
GNUcash is an open source software which is not at all difficult to manage. Appearance wise it looks quite simple. The installation procedure for GNUcash is quite easy. GNUcash although, does not support auto-download accounts. It also does not have all financial institutions listed. This software is basic and comes with some flaws; one of them is restarting it all over again after changes have been made. The strength of the software GNUcash lies in its report-generation ability and presentation of all its accounts. GNUcash looks a free option to Quicken for people who want a mediocre level of complexity in Money Management software.
Download:–https://www.gnucash.org/
You Need a Budget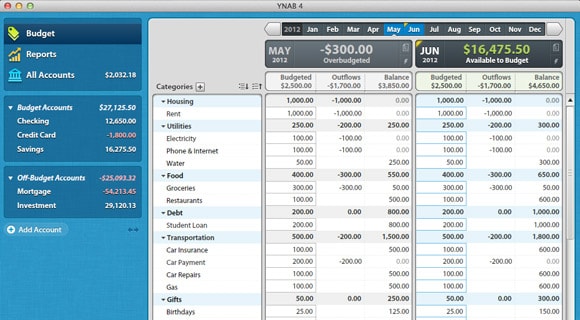 'You Need a Budget' is amazing software to prepare budget and control all your expenses. It categorizes everything and makes every dollar accounted. 'You Need a Budget' has an excellent feature of cloud sync. 'You Need a Budget' runs efficiently on Mac computers. The data is shared across all the platforms using cloud sync. Mobile access is also possible to view the account and get the reminders as well.
'You Need a Budget' actually allows moving from one budget to another. It is one of the most efficient Money Management software available for budgeting. The software makes clear distinction in the budget when it comes to categorizing unutilized money at the end of the month. The same amount is then carried forward to the next month and consumed in the new budget. The statements are obtained precisely at the end of every month. Another interesting feature that 'You Need a Budget' offers is that it allows users to classify under payees, accounts etc. User can also use the timeline to categorize the data. It has a robust support team to help you in learning the tool. 'You Need a Budget' has a 30 day trial pack available. The size is around 30-35 MB. The normal version of the software is available for $60.
You can purchase the software from the following link:- https://purchase.youneedabudget.com/
Microsoft Money Plus Sunset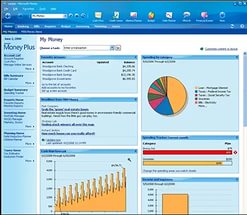 Microsoft Money Plus Sunset is a new version of Microsoft Money. It is basically replacing all its previous versions by getting Microsoft Money Plus Sunset into the picture. All the previous versions were officially closed down. Money Essentials was another version that Microsoft discontinued in the past. But the current version Microsoft Money Plus Sunset does not come with an online support. It does not even have a feature to add financial institutions. It is also required to get permission to have bank statements obtained. Microsoft Money Plus Sunset can open Money and Quicken files, but it cannot import files from any other source as it does not have any online activation.
Download link from the Microsoft website –https://www.microsoft.com/en-in/download/details.aspx?id=20738
SplashMoney
SplashMoney is one easy software for Money management, specifically designed for the amateur users. This software is specially designed to be user-friendly. SplashMoney is not power packed and hence features like retirement plans are given a miss. The user can manage his simple transactions and also get reports and prepare a budget. SplashMoney has got some popular Financial Institutions listed. It can support multiple currencies and have a provision for repeat transactions. The time-consumption is generally low due to attributes like 'auto-fill' transaction. Other features of categorizing the transactions are present along with the ability to sync devices. The software can be downloaded on android version as well. The price for the desktop version is around $19-20.
a) Download Link: – http://www.splashdata.com/splashmoney/
MoneyManager EX


MoneyManger EX is also Money Management Software, but built with cross-functional capabilities. Now, this software particularly helps in tracking minute details of your spending and also lets you use it in a very smooth manner. The software is compatible with 24 languages and has many features that can make it great personalized software. It provides features like Transactions, Repeat Transactions, Budgeting, Reports, and Assets. The software has an additional feature for 'Attachments'. This feature is important for users who want to store various receipts, invoices, and bills. The software enables to reconcile the bank statements every day. It allows the user to use multiple accounts at a time and keep transactions on track. The software is open-source. You can easily organize your money using MoneyManager EX. The software allows you to obtain reports in various formats such as graphs and Pie-charts with a click. MoneyManager EX has also a provision to report bugs on their online website. The reviews so far suggest that the online support team is very responsive. Then there is an Android version available for users to download.
You can download the software from the following link
http://www.moneymanagerex.org/download