How to Add Exclusion of Files, Folders and Apps in Windows 10 defender: – Windows Defender is the default antivirus software of Windows. In order to keep your system free from viruses, malware, spyware etc it periodically scans your system. Windows 10 provides some extended features to Windows Defender. In the latest version of Windows 10, you can exclude some files, folders or apps so that they won't be scanned by Windows Defender. Suppose you have just created a file on your system or you have just copied some photos from your camera. You are  confident that those files are virus free. Then you can exclude those files from Windows Defender so that from next time Windows Defender won't scan them. Similarly, if you feel the same for any other folders, file types or processes then you can exclude them also. When you exclude a process, the files associated with the process will also be excluded.Windows warns you that excluding items from Windows Defender will affect the system the security. But this will help Defender to reduce its load from the next scan onwards. By allowing you to decide what files are to be monitored, Windows boosts up your administrative power over your system. Read on, to learn how to exclude files and folders from Windows Defender.
Open Settings from the start menu.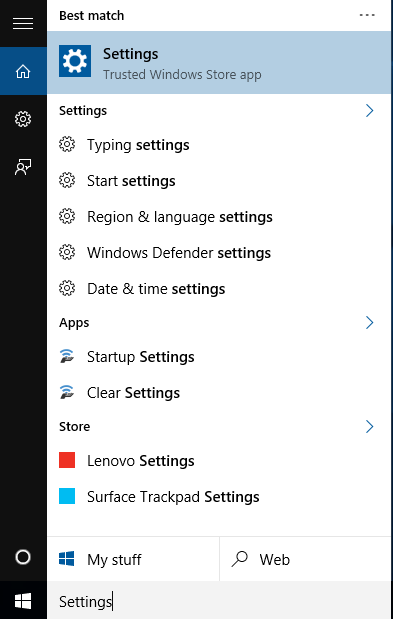 From the Settings menu click on Update & security.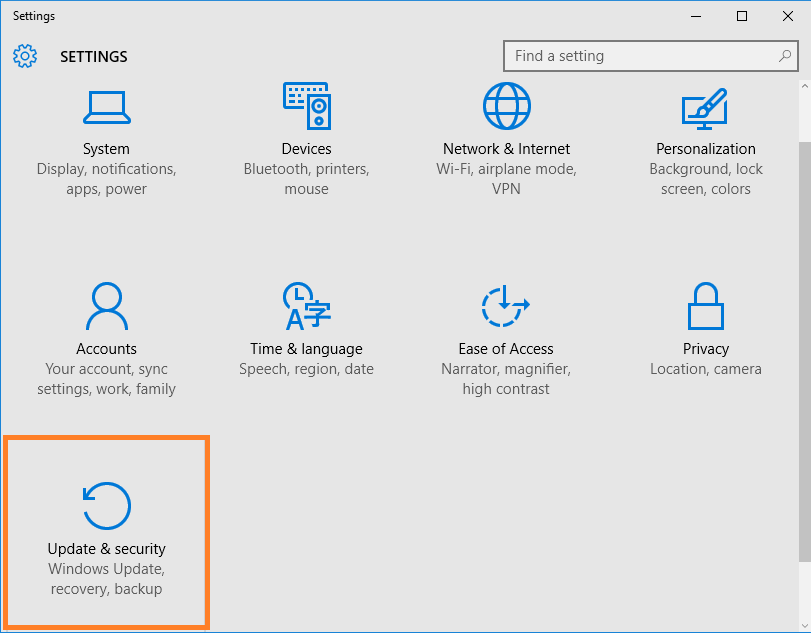 In the left panel tap on Windows Defender to see the settings associated with Windows Defender.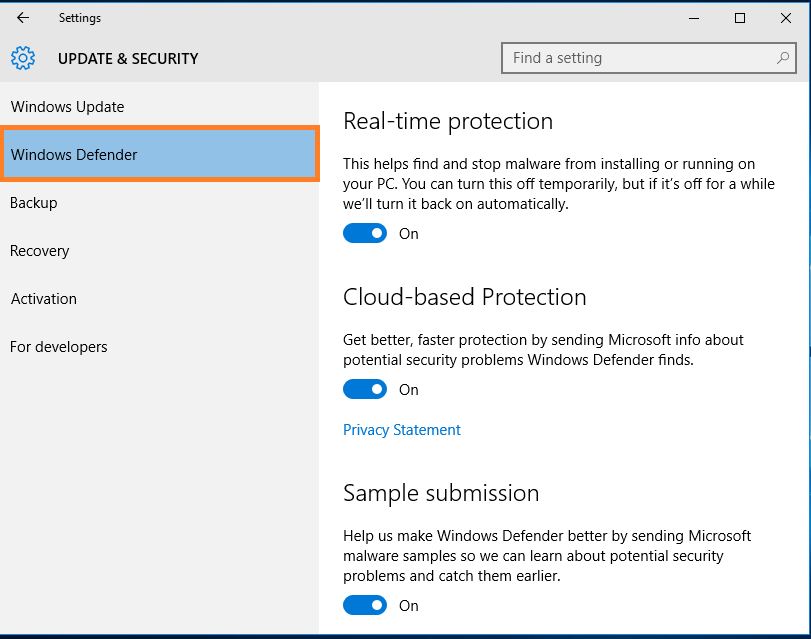 Scroll down to see the Exclusions option. Under Exclusions click on Add an exclusion.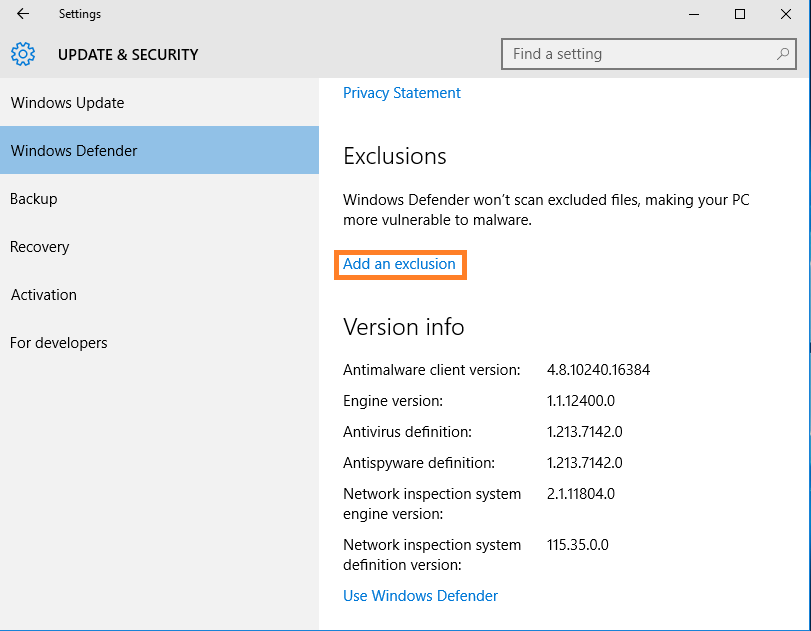 Under the Add an exclusion menu you can find four options. They are Exclude a file, Exclude a folder, Exclude a file Extension and Exclude a process.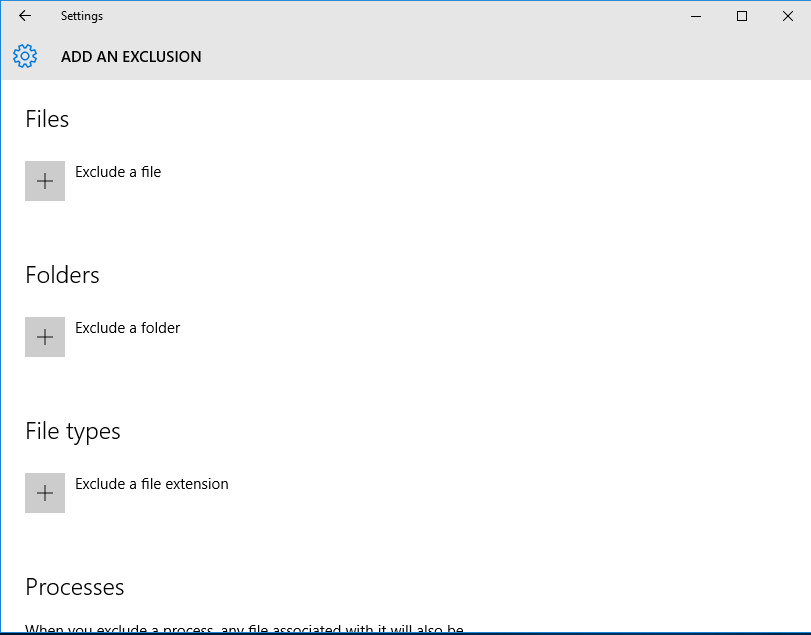 Click on Exclude a file. It will open a new window to select the file to be excluded. Browse the file you want and click on Exclude this file button.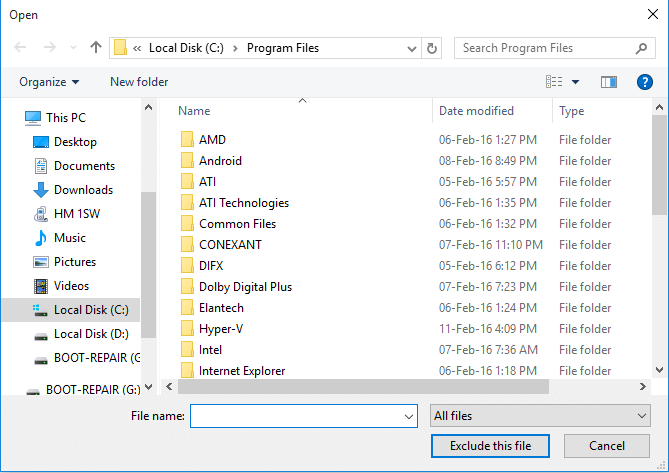 You can exclude folders, file extensions and process in the same way. When you exclude a process the files associated with that process will also be excluded. Under exclude a process option you can  exclude .exe, .com and .scr type of processes.
Excluding files from Windows Defender is a simple task. Excluding a file or folder will reduce the load for Defender. This is not a compulsory setting to be configured. It's all up to you. If you feel that certain files or folders are to be excluded from Windows Defender then you can follow the steps given in this article. Hope the steps were clear to you.