Windows update is a feature which downloads the latest windows updates and installs it on your system and maintains your system up-to-date unless you have manually set it to pause for specific number of weeks. For the performance of the system, it is always better to keep the windows updated by time to time which it does automatically and after the installation, the system needs to be restarted. If it gets restarted during the working hours, then your work will definitely get disturbed. So there is an option called active hours in the windows that will avoid the system restart during those hours mentioned. You can manually change the active hours according to your requirement. Let us see in this article how to change the active hours in order to stop system restart after windows update gets installed.
How to Change Active hours to Stop System Restart after Windows Update Installation
Step 1: Open Settings app
Press Win key on your keyboard and type settings.
Hit Enter key.
OR
Simply Press Win + I keys together on your keyboard.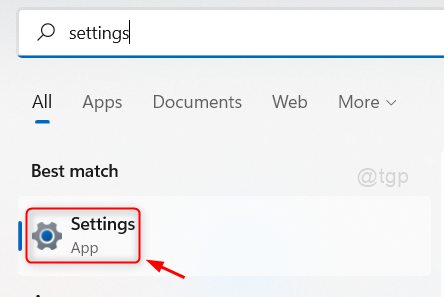 Step 2: In the Settings page
Go to Windows Update > Advanced Options.
In the Advanced Options page, Look for Active hours option.
Click on Active hours as shown below.

Step 3: In the Dropdown section
Click Automatically in the Adjust active hours option.

Step 4: Select Manually from the dropdown list of Adjust active hours option.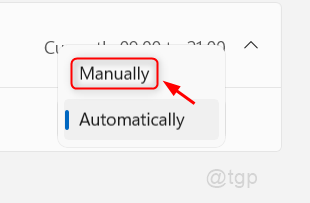 Step 5: In the section below Adjust active hours
Click on Start time and Select the appropriate working hours where automatic system restart is not allowed.
Do the same for End time also.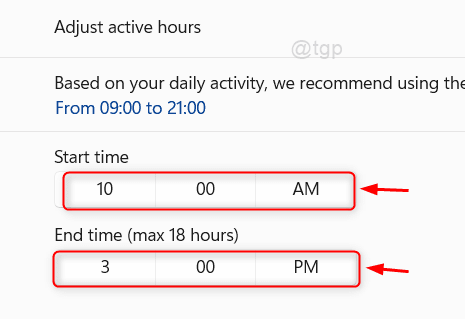 This will set the active hours and system will not be restarted during those hours mentioned by you in the adjust active hours option.
Hope this article was informative and helpful.
Please leave us comments below for any queries.
Thank you!