If you are someone who loves singing and dream to be like your inspiration someday, karaoke is one great way to nurture your passion. A Karaoke software is designed in a manner that you do not have to look for lyrics separately online or on your smartphone. All you need to do is to download the software, play your favourite number, and sing along.
Read More: – 13 Best Software for Making Music on Windows PC
The Karaoke concept was launched in the 1970s when it was just a huge equipment. But, gradually it started getting common in bars and pubs as the primary source of entertainment. Since then, it went through a huge metamorphosis and today all you need is a laptop or smartphone to run the karaoke as an app or a software. So, for all those looking for the best karaoke software online, here's a list that will give you a heads up.
PC DJ Karaoki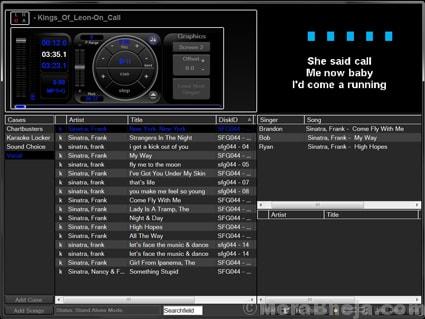 If you are looking for that ultimate Karaoke software that can spruce up a party at your home, then PC DJ Karaoki is the right choice for you. It helps you to add karaoke songs, edit the play options, and consecutively arrange a karaoke night.
While there are umpteen regular features like the history, screen display, singer rotation, or key control, you also have access to advanced features like configuring colour options, drag and drop loading, cloud integration, lock screen, and so on.
It's a simple software with intuitive features that are easy to use. You can also use it's second monitor to view the lyrics while simultaneously using the main monitor to keep editing the playlist.
Systems Requirement: Windows only
Price: Free version available; Upgrade available at $99
Get it Here: https://www.pcdj.com/karaoke-software/
KaraFun Player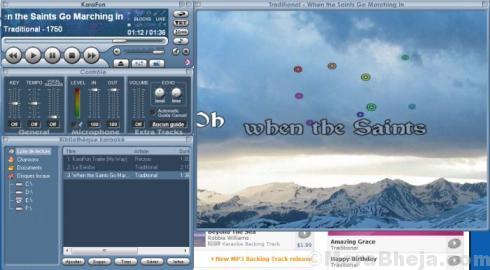 Especially designed for Windows PC, KaraFun Player is one of the most user-friendly software in the category that makes it so popular. Best of all, it's free! While it offers a cool collection of 28000 songs saved in the cloud storage, it also boasts of a highly intuitive interface. The huge collection includes karaoke of studio quality, option to save to the favourite list, history of the songs already played, and so on.
What's more? It also comes with an option to sync offline so that you can enjoy even in the absence of internet connection. What we especially like is the dual display screen along with customizable keys that help you to shift the screen to an external monitor. Bonus – you can save the songs in a wide range of formats for instance, CD+G, MID, MPEG, or KAR.
Systems Requirement: Windows only
Price: Free version available; Upgrade priced at $9.99
Get it Here: https://www.karafun.com/karaokeplayer/
Kanto Karaoke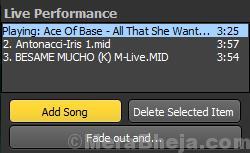 Kanto Karaoke is known to support nearly all video and multimedia formats available in the current times including all major formats like KAR, MP3 and more. Designed especially for Windows PC, it's one of the best karaoke software around. The best part is, it comes with a host of features. Moreover, it also allows you to record your voice as you sing, and even lets you record your own performance.
The software also offers microphone settings with superior quality audio input/output that converts your system into a professional karaoke arrangement. Additionally, you can also see the lyrics of your favourite song in full screen mode, or switch it to live performance mode with endless scores for a complete musical experience.
Among some of its great features are option to create unlimited playlists, audio settings that helps you to change the pitch and the tempo of the song, high-quality playback, and fade out effect. What's more? You can also create a list of singers for the ones lined up for singing, enable the background score, and also the clapping or jeer effects offering a live performance like feeling like in real.
Systems Requirement: Windows and Mac
Price: Free version available; Upgrade starts at $45
Get it Here: http://www.kantokaraoke.com/
One Karaoke

Designed especially for Windows PC, One Karaoke is easy to use. It can run almost any format of file with features like support for major file formats for instance, AVI, WMA, MP3, WMV, and more.
What's interesting is, it can also be used with wired or wireless hardware for example, mice and keyboards so that it can work in both ways. Once downloaded from the Microsoft store, you can access the songs and lyrics from its collections, MP3 music, option to share your video with the karaoke lyrics that comes with the app, and more. All this is possible due to the karaoke social network with song lyrics.
What we especially like is the high-quality MP3 audio that comes equipped with supported tracks and lyrics. It also allows you to make videos of your performance to build a follower base, or simply watch videos made by others.
Systems Requirement: Windows only