The launch of the internet was a revolution in itself, but for it to evolve over the years, we needed the support of a lot of programs and protocols. One of the important aspects that helped internet grow immensely was communication between systems. While email clients help you manage incoming mails, and messaging protocols help you exchange messages among the messaging system's components, a chat room allows you to create a virtual space to chat using IM (instant messaging) system, social networks, etc.
IRC (Internet Relay Chat) is one such revolutionary communication technology that has sustained its place well enough in the current technology sphere. It's a nexus of chatrooms and each one of these chatrooms are known as channels. These channels are hosted on servers, which then individually manage their own set of channel networks. This process allows you to communicate between different network systems connected on the same channels and servers.
Apart from allowing you to chat with different users across different network computers, IRC also allows you to transfer data, one-on-one messages, and more. Although it's a thing from the past, it still holds its popularity among the latest competition with internet forums and message boards. So, let's take a quick leap into the list of best IRC clients for Windows.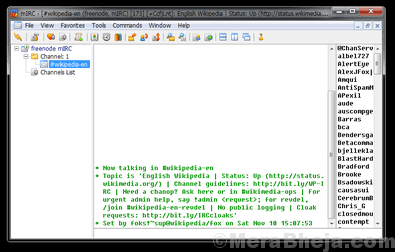 mIRC tops the list with its indomitable features. It's pretty easy to start working with the software, while you instantly get connected by entering some basic information and server details.
mIRC is known for its major functionalities such as, sharing, chatting, playing or working with IRC networks around the globe in one-to-one or with multiple users in a group conference. This boasts a clean and efficient user interface that is super easy to configure. Some of its other important features include file transfers in real-time, connections with multiple servers, proxy support, buddy lists, UTF-8 display, system tray alerts, SSL coding, vocal messages, message logging, and much more.
The software also features a robust scripting language that's proves useful for both automatic mIRC and to develop applications capable of running a wide variety of functions like playing games, or network communications.
Price: free 30-days trial available; upgrade starts from $20 for single user license.

WeeChat is a speedy, lightweight, and an extensible chat client that deserve to be in the top list due to its power-packed features. It's a fully featured IRC plugin that features DCC, IPv6, multiple servers, nicklist, SASL verification, proxy support, and a lot more. With a wide range of colors (256), smart filtering options, configurable bars, and more, it includes a range of such unique features. Moreover, it supports 8 scripting languages with an integrated scripts manager.
What's more? You can even connect to your WeeChat software through Android, your browser, or even Emacs creating remote interfaces. Best of all, it features detailed documentation and is translated to multiple langugaes.
Price: free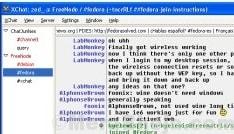 X-Chat is a user-friendly IRC client offering some good features that has been among the early competitors of mIRC. It's a free and open source software that offers a complete method of connecting through IRC networks on major platforms including Windows.
Using this client, you can connect to multiple IRC chat rooms simultaneously, chat in public, or in private (one-tone). In addition, you can also transfer files easily. SSL support, or keyboard shortcuts are some of the features making it a decent IRC client.
Price: free to use.