Email is a major form of communication, especially for those in a business. However, it's an equally important written communication medium for others as well, in different situations. Therefore sending, receiving, and deleting emails becomes a daily process for those.
With emails and attachments adding up every minute, it only eats up your inbox space. To create space and reduce junk, we usually delete the old emails. But, what if one day you realize that one of the emails you deleted was important and now you want it back? That's when the whole thing starts getting tricky. The worst part is, no one knows how long does Google backs up your trashed emails on their server.
It starts getting frustrating when you cannot recover your emails despite all the tricks up your sleeve. That's exactly why you should have an email backup software in your priority list. We have created a master list of the best email backup tools to manage your email backups.

Handy Backup is an automatic backup software that helps recover your data for any personal or business PC. It allows you to view, modify, or recover even a single file using the conventional browsing options like the Explorer without requiring complete recovery. So, you can backup to native file format. It comes with a consolidated user interface that backs up your files, folders, websites, and other data easily.
The best part is, this software offers multiple backup techniques that allows you to take complete, cumulative, distinctive, or combined backups, sync data, or create new versions of data. If you are looking for a home solution or for a small office setup, the standard version helps you with fast and straightforward backup solution for files, folders, and emails from a personal system to local drives, or Google Drive, OneDrive, and more.
For advanced backup solution, you can opt for the pro version that supports ODBC- driven databases, SFTP protocols, websites, etc. For an enterprise, you can use the business software with products specially designed for small server and server networks.
Price: starts from $39

Mailstore Home is an efficient email backup tool that offers quick and responsive email search. While it imports mail from different email systems and software, it also lets you save your private emails from nearly any email source. This way you will never lose an email and search for the emails faster.
It offers support for internet mailboxes like Gmail or Yahoo Mail, any POP3 and IMAP mailboxes, and more. Moreover, it helps you to recover all archived emails using the useful export feature. Besides, we love the dynamic full-text search option that looks up through huge amounts of data and any type of attachments pretty fast.
Restoring emails in one click, managing huge chunks of data, and launching a portable option right from the flash drive, there are many significant features to talk about.
Price: free to use

SysTools MailBakup is known for its unique feature that helps manage multiple accounts from various web mail clients. You can search, scan, preview, and prepare a backup of different accounts from various web-based email clients, all at once. It also allows you to stop and resume the process anytime.
Some of its other major features include, option to delete duplicate emails during the backup process, dynamic search option helping the users search any email easily in lesser time, offering support for multiple back up formats (PST, EML, MSG, PDF and HTML), option to preview emails with attachments, and so on.
Price: free trial available; pro version available for $29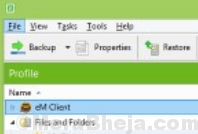 KLS Mail Backup is an easy email backup tool that enables you to backup and recover your Windows Mail, Firefox files, Outlook, and Thunderbird. Moreover, it allows you to backup to FTP server, Amazon S3, network drives, and WebDAV. Some of its other features include, support for standard zip and 7z compression, Postbox and Opera profiles, IncrediMail profile, Internet Explorer Favorites, Windows Live Mail profile and Contacts, and more.
Furthermore, it offers complete and incremental backup mode, built-in email viewer, easy recovery, etc.
Price: free to use


Gmvault Gmail Backup is another popular email backup software that backs up all your emails on disk. Once you have backedup the complete Gmail account to a unique directory using the full sync mode, it can then be easily shifted from one system to another. It can also run a rapid sync mode on a daily basis that keeps your data updated. Among its other major features are:
Restore command allows you to remodel your Gmail boxes in any Gmail account with all the original attribute of Gmail.
Manages all the bugs related issues of the Gmail and IMAP service to offer an even experience.
Allow you to protect all your saved emails in the archive using encryption.
Offers detailed tutorial and installation manual helping users to make the best of the app.
Available on all major platforms including Windows.
Helps you access and move all your emails easily since there are no SQL or NoSQL databases used to arrange the email storage.
Overall, Gmvault Gmail Backup is a highly customizable email backup tool that's used by thousands of users daily. Acclaimed by several tech websites, this open source tool is a perfect option to try.
Price: free and open source
MailBird is one of the leading email clients for Windows that saves your time managing different accounts. It allows you to handle all your emails and contacts from different accounts in one single box, easily. Moreover, you can also select from the huge collection of color themes and turn your email client into an aesthetic app.
Best of all, it supports integration for different apps like Facebook, Twitter, Google Calendar, Todoist, Whatsapp, Asana, and more. Used by millions of people across the world, MailBird is a must try in the list.
Price: free version available; pro version starts from $6
Upsafe Gmail Backup is a free email backup tool that backups your Gmail messages without storing your login or getting access to it. While it filters your files and messages by size/type and helps you narrow your search, it also offers automatically scheduled backup for added convenience.
Moreover, you can also free up space on your mailbox using the Archiving option that helps you save all your emails and remove them from your Gmail account. What's more? You can view the complete backup history, as well as preview backup messages. The Backup view dialog allows you to read text, see attachments, and more. That's not all, as you can also recover selected messages in just a few seconds.
Price: free to use
Looking for a tool that can setup automatic backup? IFTTT is one such tool that can automatically save email attachments to Google Drive, for instance. It's a free software that makes all your apps and devices connect with each other, and in a new way. For example, if you get an email from someone specific, it can be sent to another email account.
All you need to do is to create an account, make your choices, and now you are ready to customize them. From downloading attachments to different destinations like Dropbox, Google drive, OneDrive, it can perform different tasks.
Price: free to use
Spin Backup keeps your business safe from any data loss in the cloud by adding a Disaster Recovery scheme using Automated Backup to a safe cloud storage on AWS and GCP. It's also known to offer protection against ransomware to your confidential SaaS data using automated 24/7 audit and a state-of-the-art incident response strategy.
Using this toll, you can also find out and blacklist apps that are risky and linked to your important data on G Suite. This helps to keep you safe from data violation in the company. Provides powerful protection against leaking of data and from any internal menaces in the cloud.
Price: starts from $5 per user per month
Available as Google Chrome extension, Save and Backup My Emails by cloudHQ helps users label, share, and collaborate emails as easy as a cake walk. You can also keep a track of your emails, make use of the Gmail templates (100% free), and even save emails in different formats like MS Excel, PDF, and so on.
This tool is perfect to backup and archive emails in 3 easy steps. This helps you get a hold on your situation, in case you resign from your job, change your email hosting service and looking for a new account, go higher up with a G Suite email address and not a free "@gmail.com" email, your email account got hacked and is now inaccessible, or you deleted emails accidentally.
Price: free for 100 emails per month; upgrade available for $4.99 per month
Google Takeout is especially designed for its own products, for instance, one of them is Gmail. This tool helps you to save your account data and export a copy of it. Basically, you can create an archive of your data from the Google products. All you need to do is to select from the listed Google Products from where you want to export the data and can even customize the settings for each of the products. The downloaded data cannot be transferred over to a new account.
Price: free to use
Thunderbird is a free and well-known email client by Mozilla Firefox that makes email easier. It's easy to set up and easy to customize, and comes equipped with a plethora of features. The entire process is pretty straightforward, since you just need to add your name, email address and the password, and the tool will check the database and look for the right email settings for you.
Among its other major features are:
Helps you create personalized email address for your personal or business use by setting it up automatically as you sign up for it.
Provides one-click address book that adds contacts to your address book quickly and easily. All you need to do is to simply click on the star icon in the message received, while in the second click it allows you to add more info like birthday, images, and other details.
Offers attachment reminder that identifies the word attachment in your message body and automatically alerts you to add an attachment before you press the send button.
Allows you to chat in real-time with your contacts directly from your preferred messaging app, using multiple supported networks.
Helps you look for both chatting history and emails received easily.
Offers similar experience as the Mozilla Firefox with a similar look.
Allows you to search the web without leaving the app.
Offers Quick Filter Toolbar to help you filter your emails quickly.
Filtering and timeline tools, option to archive messages, activity manager, or options to customize email experience, are some of the other notable features.
Price: free to use
If you are looking for an advanced alternative, eM Client is a perfect option. This email client comes packed with features along with a contemporary and user-friendly interface. This tool also offers features like calendar, contacts, chat, and tasks. Best part is, it supports all major devices.
Some of its new features include,
PGP encryption support that helps send encrypted and signed emails,
Live backup facility that allows backup to continue without leaving the app,
Auto Avatar downloading that automatically downloads and shows avatars of your contacts picked up from the web,
Enhanced table editor to resize a cell, column, or row;
Options for basic editing of photos and auto-resize,
Function to autoreply for Gmail.
With superfast search, touch support, and support for multiple languages, eM client is definitely worth the try.
Price: free version available; pro version starts from $49.95
Outlook is a popular email client offering a smooth email and calendar experience t its users. From staying up-to-date with your inbox to scheduling the next most important task, the tool makes it effortless for you. It helps you stay organized, most efficient, and stay connected at home, office, or anywhere else, much easily.
Price: starts from $19.95
If you do not want to lose your important emails, get one of these dynamic and handy email backup tools to keep a backup of your emails.