Is your computer freezing up while playing some video file on the device? Usually, if you are playing a very high-resolution video on a low-end or even some older mid-range devices, it may slow down the device, making it stutter. But, if you are experiencing this issue on a high-end system, there are some issues with your device. Follow our guide to fixing the problem quickly.
Fix 1 – Check the system specifications
Playing or streaming high definitions or upper requires a minimum system requirement. If your system doesn't satisfy this, your device will stutter because of the over usage or processing resources.
Like if you are trying to play a 4K video on your computer, these are the mandatory requirements –
a. Intel 7th Generation or newer processor.
b. Integrated graphics card or dedicated NVIDIA/ AMD card with PlayReady hardware with DRM. It must have 10-bit video decoders and HVEC codecs installed in your system.
So, if your system doesn't meet this specification, the computer will freeze, and stutter while playing the video.
Fix 2 – Lower the video resolution
Another thing you can do is lower the video resolution. If you are streaming a YouTube video in 4K, lower it to 1440p or 1080p.
1. Look at the lower portion of the video feed. You can see a gear icon.
2. Then, while playing the video, click on that gear icon and click "Quality".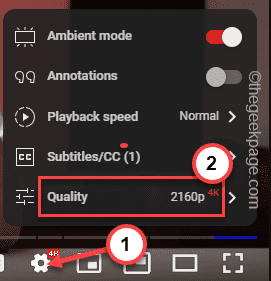 4. Next, from the list of resolutions, select a lower resolution like 1080p or 720p.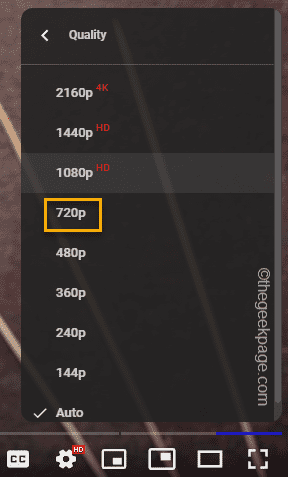 Your computer won't stutter again.
Fix 3 – Install the latest updates
You should install the latest version of Windows Updates on your computer.
1. You can download and install the latest Windows Updates from Settings.
2. So, press the Windows key and I keys together.
3. After that, click "Windows Update".
4. Usually, Windows automatically starts to download the update packages.
5. If you can't see any updates downloading, tap "Check for updates".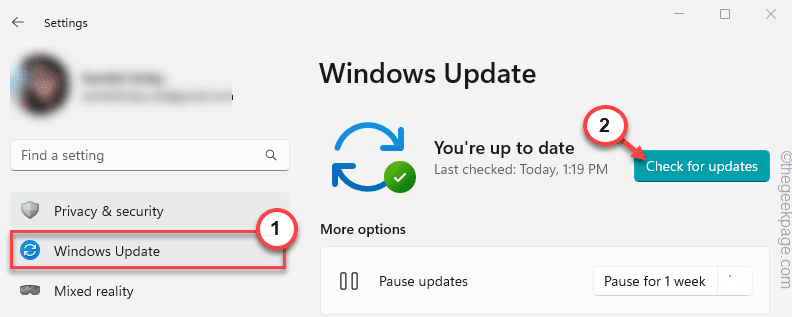 This makes Windows check for the latest driver package. Allow Windows a while to download update packages and install those on your computer.
4. When all the update packages are installed, tap "Restart now" to restart the system.

As your computer restarts, all the downloaded updates will be installed on your system. Generally, it takes about 5-10 minutes to complete this installation.
Fix 4 – Run the Video Playback troubleshooter
There is a video playback troubleshooter that may help you resolve the problem.
1. Open Settings using the Windows key+I hotkey.
2. Then, click on the "System" setting to open all the system-related settings.
3. Next, on the right-hand pane, click "Troubleshooter".

4. After that, you have to tap once on the "Other troubleshooters" option.

5. Here, just scroll down and look for the Video Playback troubleshooter.
6. Tap "Run" to run the troubleshooter.

This way, Windows will now launch the video playback error checker tool.
Fix 5 – Disable the hardware acceleration in browsers
Hardware acceleration feature is available with most browsers. If you are experiencing this issue while watching videos on a browser, follow these steps.
Google Chrome users –
Just enact these steps if you are a Google Chrome user.
1. Launch Google Chrome.
2. Then, paste this term in the address bar and hit Enter to reach the specific location.
chrome://settings/system
3. Now, when the Settings page appears, switch the Use hardware acceleration when available setting to "Off" condition.
A prompt will appear to relaunch the browser.
5. So, tap "Relaunch".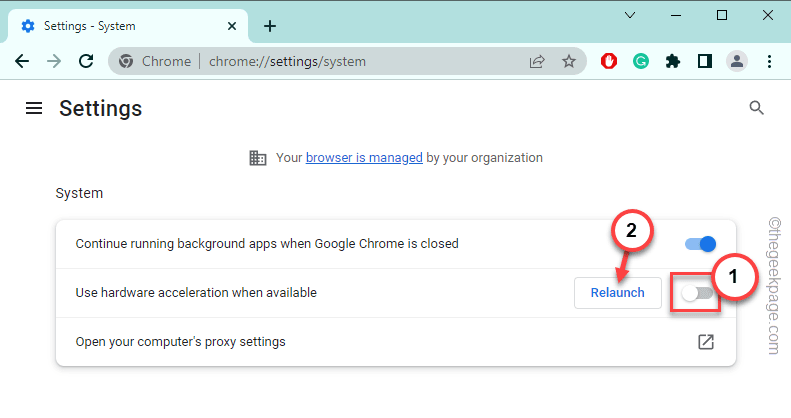 Try to play the video and check.
Firefox users –
If the video is freezing while watching videos in Firefox, follow these steps –
1. Open Firefox on your system.
2. After that, tap the "three bar" menu and click "Settings" on the context menu.

3. Next, scroll down to the Performance section.
4. After that, make sure these two options are unchecked –
Use recommended performance settings
Use hardware accleration when available

Relaunch Firefox and play the video once again.
Microsoft Edge users –
You can disable the hardware acceleration in Microsoft Edge.
1. Launch Microsoft Edge, if it isn't opened yet.
2. Next, open a new tab and paste this line in the address box, and hit Enter to visit that area.
edge://settings/system

3. Next, switch the "Use hardware acceleration when available" feature to "Off".
You can see that For this setting change to take effect, restart your browser prompt.
4. Tap "Restart" to restart the browser.

Once the browser relaunches, stream the video and test.
Fix 6 – Update the graphics card driver
You should update the graphics card driver to the latest version.
1. You can open the search box by pressing the Windows key once. There, type "device".
2. Then, click "Device Manager".

3. When you reach the Device Manager page, you have to the "Display adapters".
4. Then, right-click the display adapter and click "Update driver".

5. Now, tap "Search automatically for drivers" to use that option.

Windows will automatically install the driver. Once that is done, close the Device Manager and test.