The laptop battery is perhaps the most ignored aspect while using a laptop. We tend to forget that it's only due to the battery that the laptop powers up and can work fine only if the battery health is in good shape.
Also, you cannot work on the laptop with the adapter always plugged in. You have to work without it once it's completely charged and that's when you know if the battery has charged properly and will sustain for how long.
Unfortunately, you do not get much information regarding the battery condition on Windows. All you see is a battery icon, remaining time, percentage, and the power mode. To know your battery health in details you would need a third-party software that will not just show you all the added details regarding the battery but will also ensure that you get the max performance out of your battery.
Here's a list of some of the best software to run a laptop battery health check.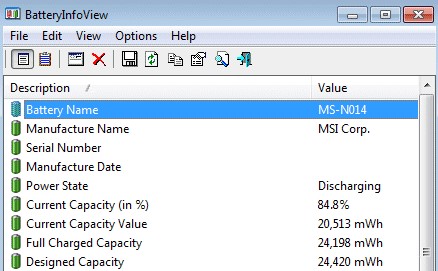 This is perhaps the most popular in the lot due to its simplicity. This free battery testing software offers the battery information in detail on your system.
Features:
It's small in size and provides you with the current battery condition and details.
It shows battery power in current time, battery brand, developer name, serial number, etc.
It offers a log opening that inserts a fresh log series displaying the battery health after every 30 seconds or based on your chosen time interval.
Best of all, it does not need to be installed or load any DLL files and is compatible with all Windows versions.
Price: Free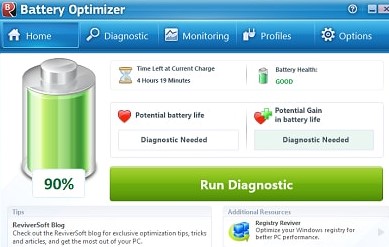 If you are looking for something that not just displays your battery health details, but also optimizes your laptop battery for improved performance, then this is it. It runs a check on your laptop and identifies what can improve your battery performance.
Features:
It helps you to extend your battery life using state-of-the-art techniques to check its efficiency.
Offers easy to understand suggestions to be put into action that includes approximately how much time can it save, etc.
Can track your battery consumption over the period and notify you as and when the battery usage goes beyond a set parameter.
It uses the most progressive technology and functions that enable you to safely, quickly, and conveniently identify, improve, and track your laptop battery efficiency. It does not take up much space and thus, does not slow down your system.
Price: Free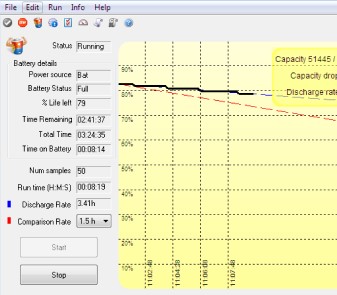 This is a simple battery health checking tool that exposes all your laptop battery-related details on a straightforward interface. It monitors your laptop battery status and performance, thereby, helping you find ways to increase your laptop battery life.
Features:
It provides you with various battery details like the remaining battery, power source, efficiency, drainage rate, current status, and more.
Offers extra battery details via the info menu like the battery name, voltage, serial number, charge, cycle, etc.
It also allows you to view power details for the system, battery histogram, change to mini mode, and more.
Access to different settings options like tweaking the transparency of the mini window, or developing symbol in the desktop system tray, offering user guide, decent response time to commands, and minima usage of resources are among its other major features.
Price: Freeware.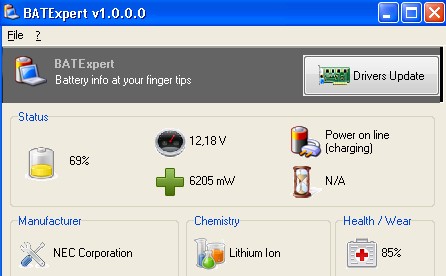 This is yet another simple and easy to use laptop battery testing software that's perfect for all kinds of users, beginners or professionals. It displays all the details regarding your laptop battery health and works with all types of notebooks.
Features:
It covers all aspects of your battery status through the information which includes manufacturer name, current condition, voltage, and more.
Easy to install, and sports a responsive and user-friendly interface.
The integrated identification software rapidly detects the battery. If no battery detected, you are notified.
Moreover, it also reveals the battery temperature, time left before the last warning for battery drainage, or the charge cycles.
Price: Freeware.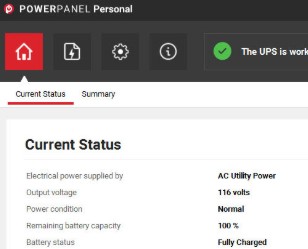 Although this is not the traditional laptop battery health testing software, it does offer battery backup power to keep your laptop/notebook running even when there's a power failure.
Features:
Facilitates a smooth shutdown during a power failure when you connect your UPS to your system using a USB cable.
Saves all the files that are open and protects your system from loss or damage of data.
Displays all the important details regarding your UPS like the power source, the duration for which it runs, and battery efficiency.
Moreover, it also keeps a check on the battery usage and informs you about the price of the powering sources through an easy to use interface.
Price: Free
While extending your battery life may not be possible using the software at all times, it can help you to save on your battery life in different ways, thus, indirectly increasing its capacity. This software does just that by monitoring your laptop battery status and performance to help it last longer.
Features:
It monitors the battery drainage cycles thus, keeping the battery performance measured and extending its overall life.
Easy and quick to install, it is present as a symbol in the desktop system tray.
On right-clicking, it instantly switches the power plan to Balanced, Power Saver, or High-Performance options.
Shows detailed info related to the laptop battery on the main interface including battery status, current performance, and the time remaining.
It allows you to modify the advanced options via the Settings panel.
Among its other important features are, setting it up to provide suggestions for battery calibration, receive notifications when the battery is draining off, configuring the power plans automatically based on the existing power source, or running it in administrator mode.
Price: Free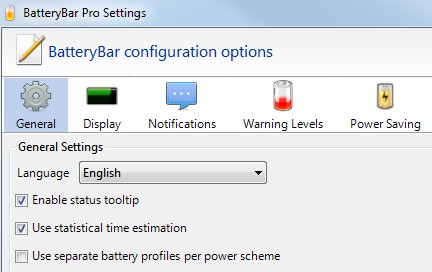 This is a compact battery health software that offers detailed information about your computer battery performance along with the speed with which it drains off. It evaluates the results with the help of previous data of recharge or discharge to offer more accurate estimations related to the pending battery life.
Features:
It places itself as a symbol on the desktop system tray.
Displays a battery meter in the compact window of the interface.
It provides you with the latest battery consumption rate of the time remaining.
It offers advanced battery performance details on the status panel.
It provides a wide range of options to configure through the Settings option.
Moreover, it allows you to use individual battery profiles for separate power schemes, make the tool discreet once the battery is 100% charged, switch the font style, use your own sounds for low battery notifications, and more.
Price: Free trial available; Pro version priced at $10.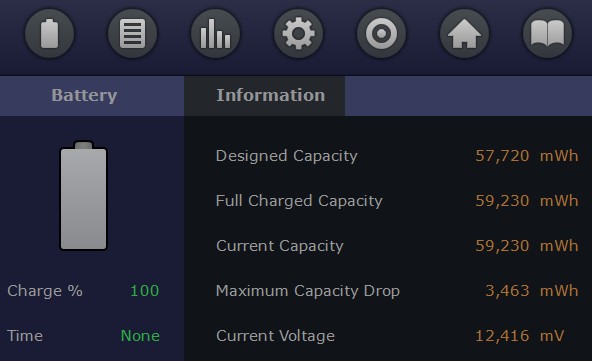 This another great battery testing tool that helps increase your laptop/notebook battery life by keeping you updated with all the battery-related details. It displays the battery performance based on the charge/discharge cycles and evaluates other important specifications such as the deterioration level and the drain off cycles count.
Features:
It comes with a neat and simple user interface that enables you to establish the exclusive guidelines in just a couple of clicks.
It offers detailed information regarding the battery health while it's on charge or not, like the discharge level, cycle count, and more.
Provides you with general information related to the battery such as charge percentage, manufacturer name, current health, device name, and more.
Allowing you to view the battery performance in graphs, save it in JPG format, adjusting the power options or customizing the warnings, are some of its other significant features.
Price: Free trial available; Pro version priced at $14.
Laptops run on battery and thus, you have to ensure that it's properly charged at all times and that the battery performance is at its best even when not on charge. It monitors the overall health of your battery and displays it in the main window in real-time.
Features:
It allows you to change to a display mode with the graphs in view and all the controls covered.
Provides detailed information related to your laptop, for instance, runtime on the existing battery condition, charge level, battery temperature, etc.
It's ready to be launched if the start-up option is activated.
In addition, it also manages the advanced information like assigning your own hotkey to switch off the screen, dim the display and more.
Price: Freeware.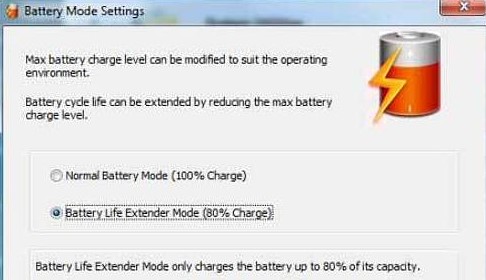 If you own a Samsung laptop, this software is specifically for you. This helps you optimize the battery life of your laptop, thus, helping you to save money which you would otherwise spend on a new battery.
Features:
It offers an easy to use approach with minimal work and that straight away refers to the battery.
Prevents the charging level to go beyond 80% when the charger is constantly attached to the laptop.
Especially suggested for computers that are in fixed areas and are always attached to the computer.
To be used away from the desk, Life Extender mode needs to be deactivated, while allowing the battery to completely charge.
It has the ability to run in the background, uses minimal system resources, and therefore, does not slow down the laptop.
Price: Free.
If all you want to see is the battery condition, then this battery testing software is what you need. This simple tool helps you to see the current battery status and the time left for the battery to drain off.
Features:
Prevents your battery from getting overcharged.
Warns you when the battery is completely charged.
It allows you to choose a battery condition and different configuration options.
Provides you with battery information, battery rate, previous charging details list and chart form, and allows you to export the previous charging details.
It sports a user-friendly interface, sends application status messages, shows battery condition on live tiles, offers four different types of live tiles, and more.
Price: Free.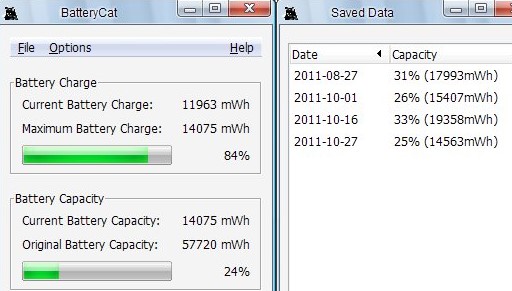 This unique battery testing software not just monitors your current battery status, but also saves the current health condition, thus, tracking the usage and deterioration of the battery in the long term.
Moreover, it also allows you to monitor the current and maximum charge of the battery. You can also check if the charger is connected with the laptop and if the battery is getting charged.
Price: Free
If you have an MSI manufactured laptop or a notebook, this one comes in-built with it. This integrated app analyses the battery health of your laptop or notebook in the current time.
Features:
Scans and tracks your laptop's battery and shows details like the battery health, power level, or the battery efficiency.
It also displays if any damages incurred by the battery, or if it discharges fast due to less charging.
It may be compatible with the stock battery of your laptop, or with the new battery units.
It can work as a background application that can be opened from the system tray.
It can also handle the power-saving configurations.
Moreover, it sports a straightforward interface that shows the current & the total battery life along with the battery condition and the power usage rate.
Price: Freeware.
Conclusion
If you do not want to be caught up in an uncalled-for situation by running out of battery when you need the laptop the most, get one of these battery testing softwares to be on the safe side always. These are some of the best battery health checking tools around that will ensure that you stay updated with the battery condition at all times.